8 Transitional Interior Design Ideas (with Pictures)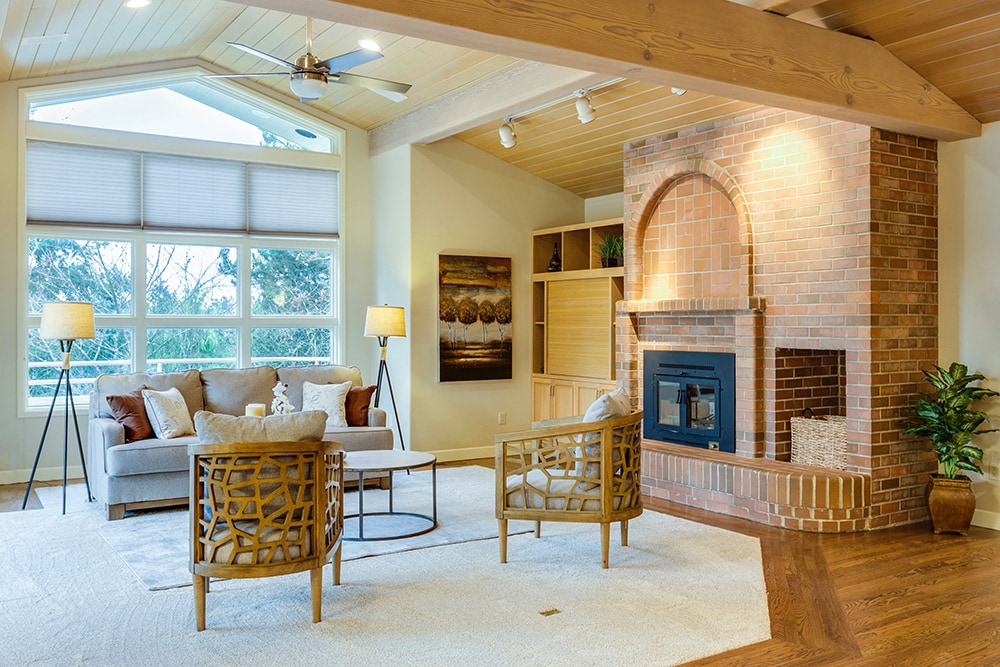 If you are thinking of redesigning your home or adding a bit of elegance and luxury, a transitional interior design style may be the ideal choice for you. Transitional interior design is a perfect blend between modern and traditional, and it is an innovative way to enhance the overall feeling of your home.
If you are looking for a way to transform your home into a peaceful and sophisticated oasis, transitional design can offer you just that.

What Is Transitional Interior Design?
Transitional interior design refers to a unique style that fuses contemporary elements with traditional. Blending modern features with vintage, traditional ones creates a timeless look that always stays elegant and up to trend.
Many homeowners are going for this eccentric style to enhance the overall aesthetic appeal of their homes. This style is perfect for people who love a combination of classic items mixed with modern details and touches.
If you don't have experience with this interior design type, it might be time to try it out in your home, and we hope our ideas will help you get a better sense of how the style should look.
The Top 8 Transitional Interior Design Ideas For Your Home
1.

Neutral Colors
Neutral colors are timeless, and you can combine them with various patterns and materials. That's why they're excellent for transitional interior designs. The most popular neutral colors used for transitional designs are:
Popular colors:
Beige
White
Off-white
Gray
The great thing about these tones is that you can use them to accentuate the colorful accents of a room and create a contemporary environment that's both classic and modern. Also, they can fit in with any type of furniture, which is very convenient.
Other than the colors above, black, deep green, and midnight blue are excellent choices for a transitional design with a more masculine feel.
Advantages:
They match with various patterns and textures
Multiple available colors that fit into transitional design
Elegant and soothing
---
2.

Vibrant, Colorful Accessories
Even though this style of decorating is characterized by neutral colors and soft tones, a bit of color added cannot hurt anyone. Think about adding an accent color with the upholstery or a unique carpet. Adding a splash of color to your neutral room will add charm and liven up the entire space. In this case, the best colors to add would be bold but not too dynamic or vibrant. Ideal shades would be:
Popular colors:
Forest green
Navy
Earthy colors
These colorful accessories still may need to be paired with the rest of the room to maintain harmony, so it would be good to add some decor that will match the accent color.
Advantages:
It livens up any space
Sophisticated and refined look
---
3.

Metallic Accents
Metallic accents are a great way to add a traditional feeling to your interior design. It is a blend of a modern, industrial style with a vintage, rustic touch. The materials that are ideal for this design technique are:
Best materials:
Black iron
Brass
Brushed nickel
Chrome
Steel
Copper
Silver
Many different items can work as metallic centerpieces, such as vintage mirrors, chairs, lamps, vases, candle holders, and frames. The warm and dark earthy colors of the metals will work great with the neutral tones that are the base and the primary palette of your design.
You can also go for a metal bathroom or kitchen details like the faucet, cabinet handles, or other small details that will make a significant impact on the overall look of the place.
Advantages:
Rustic look
Excellent blend of vintage and modern-industrial
Warm tones that can match any shade or texture
Adds dynamics
---
4.

Textured Carpets
Adding carpets with more texture is a bold but wise move in transitional design. The carpet will be the final touch in your decor which will bind the entire space together, so it needs to harmonize with the rest of the room. The best materials to use for rugs and carpets in the transitional design are:
Best materials:
Woven carpet
Knotted carpet
Plush carpet
Another excellent idea for binding traditional with modern would be to layer different styles of carpets, one on top of the other. You can start by adding a rug with a lot of texture and character, and on top of it, placing a carpet in a neutral shade that will neutralize and create a soft blend.
Advantages:
Adds character
Many creative options are available
An ornamental carpet can be a centerpiece of the room
---
5.

Contemporary art
Contemporary art is a great way to transform any traditionally designed space into a transitional space. If you want to keep the harmony of your space intact, make sure to go for more minimalistic works of art. A great way to choose a contemporary work of art that is minimalistic in form is to go for:
Contemporary work of art that is minimalistic in form:
Geometric shapes
Abstract forms
Basic, neutral, or earthy colors
Bold and dynamic brush movement
Monochromatic paintings
Try adding contemporary art to your decor, and it will become a striking focal point that will stand out but at the same time, blend in with the rest of the space. You can achieve this by going for geometric shapes or monochromatic colors that will work with any palette.
Advantages:
Enriches the space
Adds more dynamics
Matches almost any interior design
Creates a sophisticated feeling
---
6.

Wood details
Wood furniture has always been a distinctive feature of traditional design. The good thing is wooden elements are coming back with a huge role in transitional design. By incorporating high-quality craftsmanship, you will bring value to your home. The best handcrafted wood elements you can add to your home are:
Best handcrafted wood elements:
A dining table
A book-shelf
A dresser
Kitchen shelves
Lamps, vases, sculptures, and other wood decor
These art pieces may be a bit more expensive, but the feeling and warmth they bring to your home cannot compare with other furniture pieces.
Advantages:
Timeless
It has a vintage and sophisticated feeling
A great blend of modern and traditional
---
7.

Accent chairs
Another excellent way to add a transitional design to your home is to use accent chairs, preferably from different eras. Don't be afraid to mix different sizes, shapes, and patterns to achieve a timeless but modern design that will add aesthetic appeal to your space. Certain materials can make your chair a focal point of the room, such as:
Best materials:
Woven chairs
Metallic chairs
Wooden chairs
Patterned upholstery
By using chairs from different eras, you'll be able to make a cohesive yet intriguing look that will be a mixture of new and old. Still, remember to keep a balance and not go over the top, as mixing a lot of different looks could lead to a messy and tacky look.
Advantages:
Excellent for tiny spaces
Offers style and functionality
Easy to combine and store
---
8.

Mix modern and rustic materials
Different materials are a fantastic option to make your space contemporary or traditional, so by mixing them, you can quickly achieve a transitional design. Pairing classic pieces such as a wood table with modern chairs or a sleek marble countertop with wooden chairs and shelves can spice the area up and give it that transitional feel. Some of the great materials you can blend and put to use would be:
Great materials you can blend:
Rattan and wood
Metal and stone
Glass and marble
You can use this technique in all areas of your home until you make an aesthetically pleasing environment that matches your transitional design criteria.
Advantages:
Adds dynamics
Gives a unique and interesting feeling
Mixing materials enriches the space

Conclusion
Accomplishing a transitional interior design is not as hard as it sounds. You can let your imagination loose and play with different options and ideas. Overall, you cannot go wrong if you mix modern and stylish details with classy accents to achieve a timeless look in your living space.
Related read:
---
Featured Image Credit: Francesca Tosolini, Unsplash