LifeStraw vs Sawyer MINI: Which Water Filter is Better?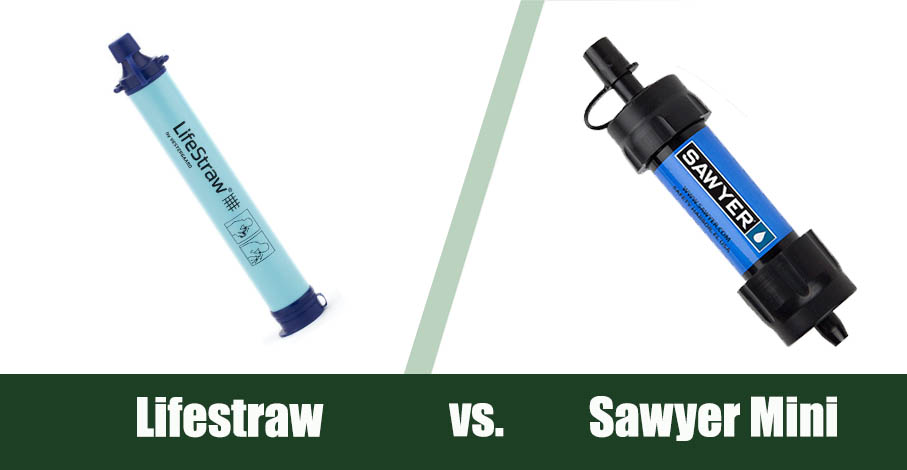 Review Summary
When it comes to portable personal water filters, size, weight, and durability are some of the most important factors. The LifeStraw and the Sawyer MINI are two of the smallest and most portable filters available, but how do they compare to each other?
Both filters have endless shelf lives and no replacement cartridges. But the Sawyer MINI has a lifespan of 100,000 gallons compared to just 1,000 gallons that the LifeStraw lasts for. Despite this, they're both priced very similarly.
Even though they're both tiny, the MINI is less than six inches while the LifeStraw is nine inches long. For backpacking and hiking, this makes the MINI the better bet. But for a disaster situation, the longer length of the LifeStraw makes it easier to drink straight from water sources with no needed accessories. But that's the only way the LifeStraw can be used. While it's simple, the lack of versatility makes the MINI a better bet for many situations since it can be used in many ways.
For us, the LifeStraw is a better choice for emergency kits and disaster preparedness. But the MINI is a better bet for camping and hiking since its smaller and more versatile.

What are the differences between them?
Though they're both compact, lightweight ways of getting clean drinking water, that's about where the similarities between these two filters end. There are a ton of differences that separate these two excellent products, so let's dive into them and see where these filters differ.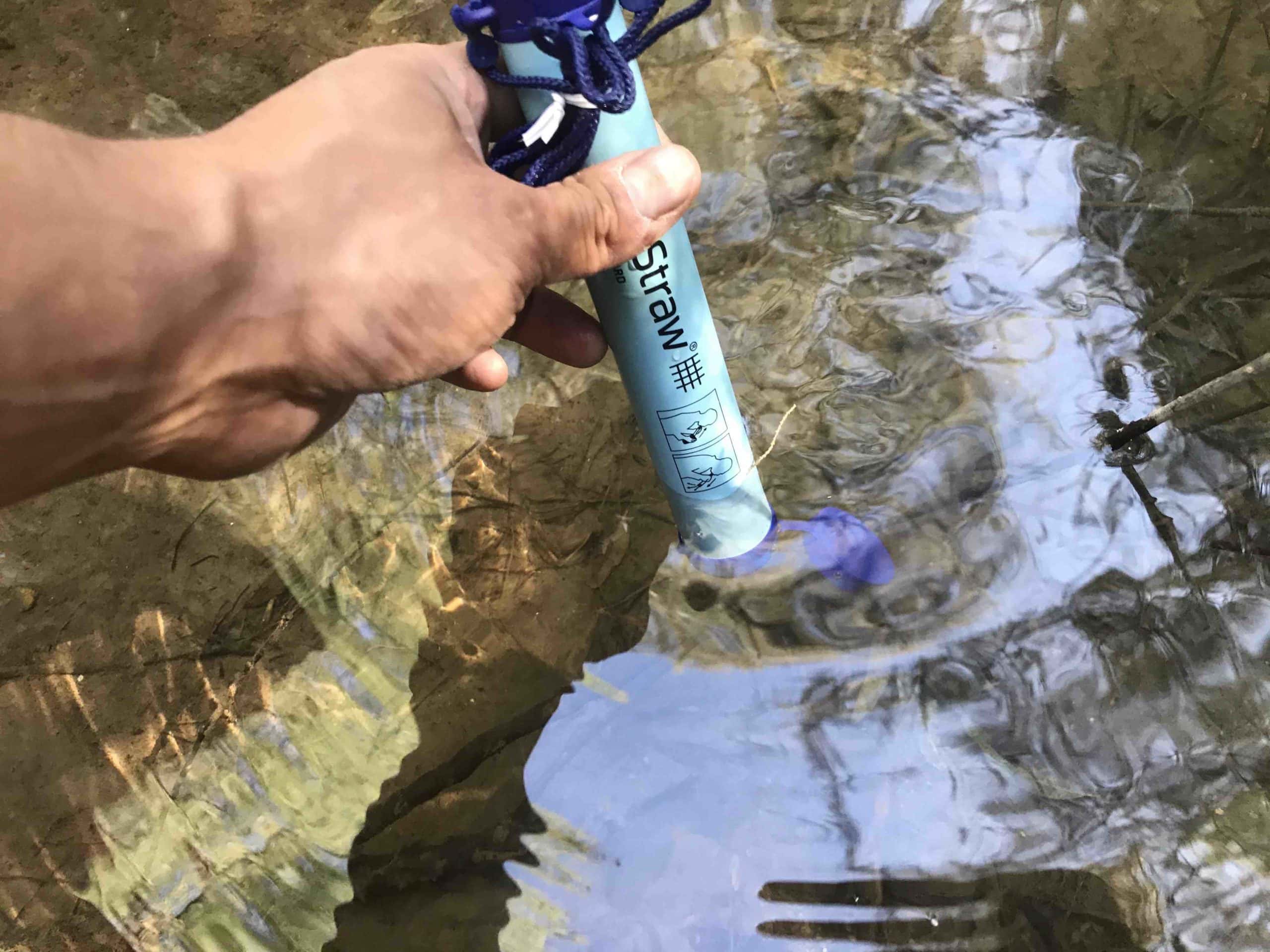 Size and Weight
On paper, they seem pretty similar in size and weight. The LifeStraw is an inch in diameter, the MINI is about 1.5 inches, so very close. They both weigh in at a meager two ounces, putting them in the same weight class. But the LifeStraw is three and a half inches longer than the MINI at a length of nine inches, making it a bit harder to fit in small pockets. But that becomes an advantage in an emergency since it lets you drink straight from a tainted water source with no accessories and you won't have to get so close that your nose touches the water.
Price
This is one place where there is very little difference between these products. Both filters are very affordable, priced nearly the same.
Durability
These are both durable filters. The MINI is built for rugged backcountry life and the LifeStraw is built for disasters. But we've never seen or heard of the MINI breaking. We've never seen the LifeStraw break, but we've heard stories about it ceasing to function after taking a fall. We've dropped our MINI many times and never had an issue, so we feel confident giving it the win for durability.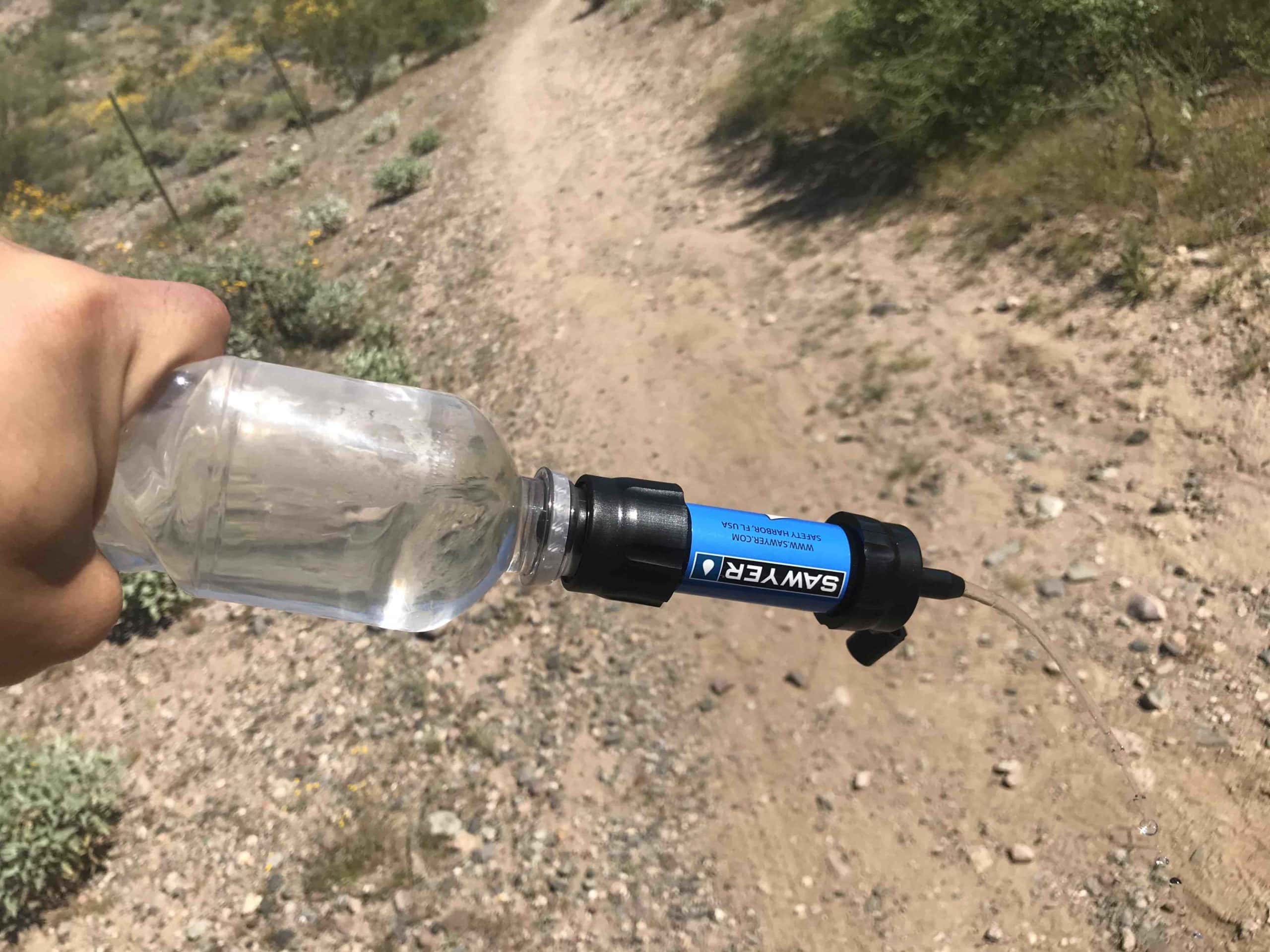 Versatility
When it comes to versatility, the MINI is the hands-down winner. There's no question. The LifeStraw can only be used as a filtering straw. It has no other adapters or ways to connect it with other systems. But the MINI is one of the most versatile filters we've seen. It can be used as a straw, though it works much better if you attach the included straw to the nipple for increased reach. But it can also screw directly onto a water bottle or even be attached in-line with a hydration pack or gravity-fed system.
Lifespan
Once again, the MINI is the clear winner. The LifeStraw has a usable capacity of 1,000 gallons, which is certainly respectable. But it can't compete with the impressive 100,000-gallon lifespan of the Sawyer MINI.

Quick Rundown of LifeStraw Water Filter: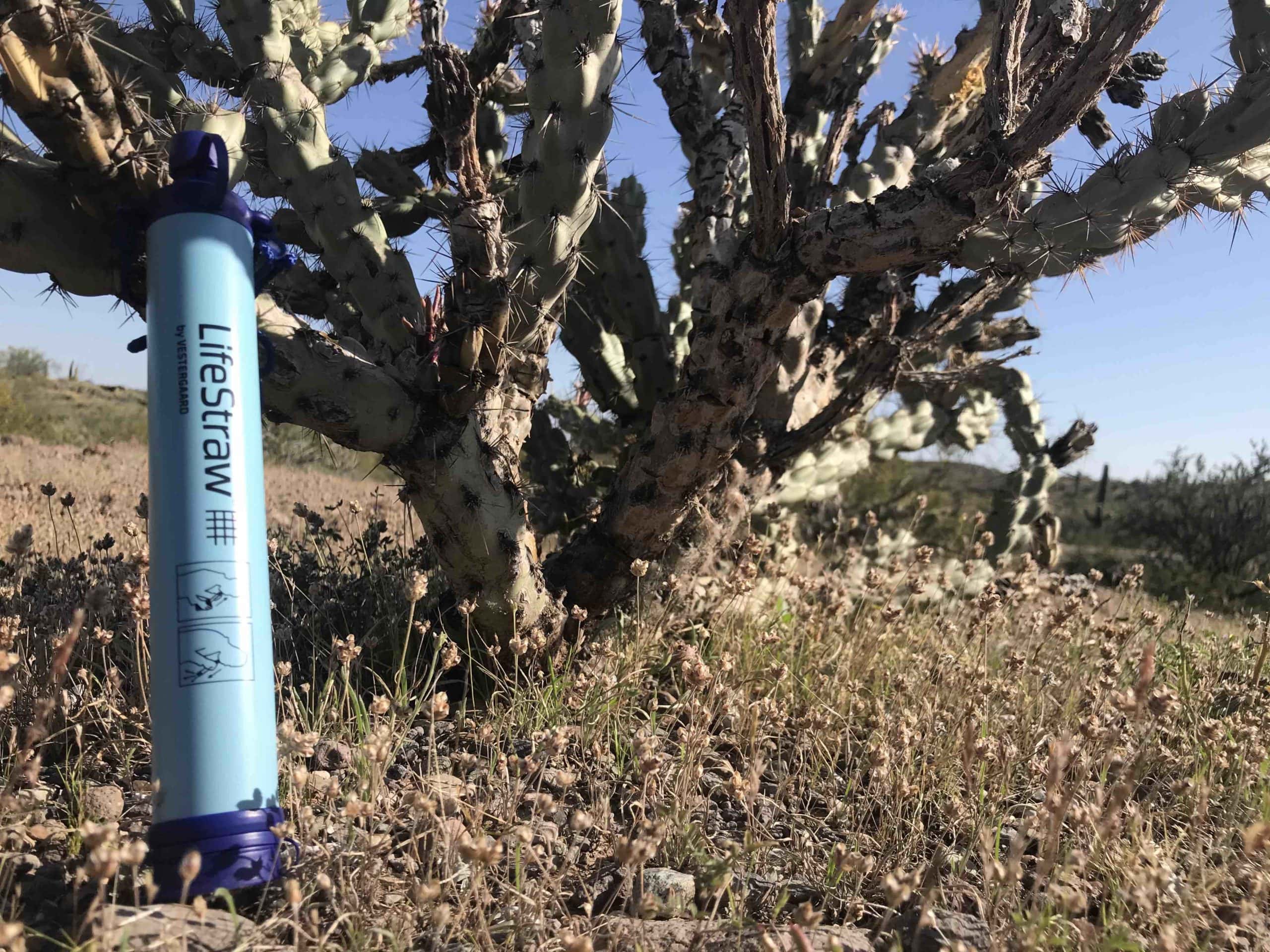 The LifeStraw is one of the original personal water filters. It's dead-simple to use and can be stored indefinitely, making it the perfect water filter for disaster situations. There are no moving parts to break and no attachments or adapters needed to make it work. Just stick it in water and drink. It's also very affordable, making it a great choice for emergency or bugout kits.
Pros
No shelf life or expiration date
Small and lightweight
Very easy to use
Affordably priced
Cons
Not very versatile
No attachments or adapters
Shorter lifespan of just 1,000 gallons
LifeStraw Personal Water Filter for Hiking, Camping, Travel, and Emergency Preparedness, 1 Pack,...
Removes Bacteria & Parasites: The Microfiltration Membrane Removes 99.999999% Of Waterborne Bacteria (Including E. Coli And...
Removes Microplastics: Removes The Smallest Microplastics Found In The Environment (Down To 1 Micron), And Reduces Turbidity Down To...
Rigorous Testing: All Claims Are Verified With Laboratories Using Standard Testing Protocols Set By The Us Epa, Nsf, Astm For Water...
---
Quick Rundown of Sawyer MINI Water Filter: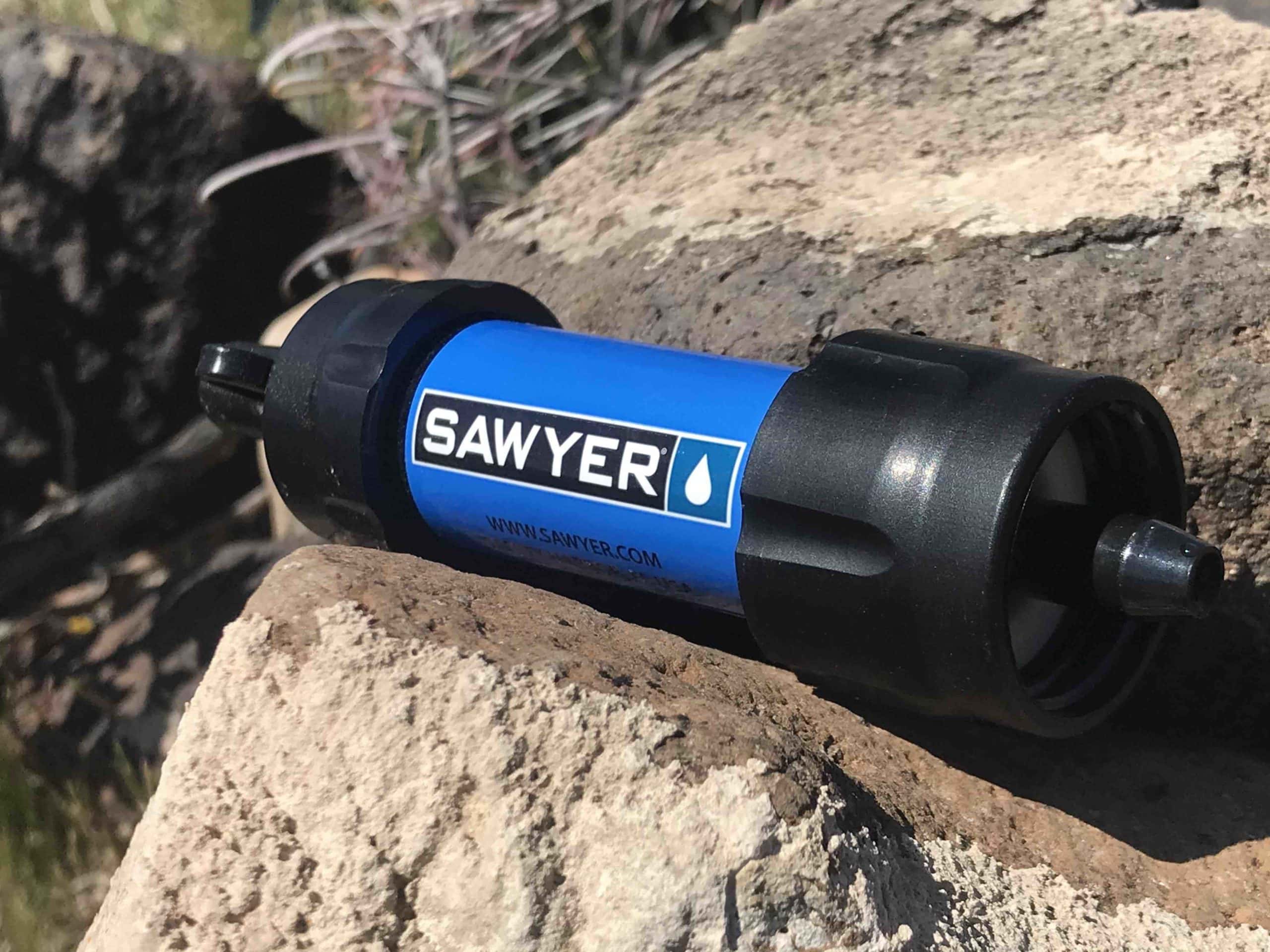 Sawyer has made an incredibly small and versatile filter in the MINI. It weighs just two ounces and is just 5.5 inches long, making it even smaller than the LifeStraw. It's still just as affordable though, and it lasts for much longer.
The 100,000-gallon lifespan is one of the best we've ever seen. Plus, you can use this filter in many different ways. It can be screwed onto a water bottle, attached to a hydration pack, used in a gravity-fed system, or you can attach a straw to the end and drink straight from any water source. But you'll need those attachments to make it usable. Since it's so short, it's very difficult to use as a filter straw on its own. But with so many ways of using it, the MINI has a solution for every situation.
Pros
Affordable pricing
Impressive lifespan of 100,000 gallons
Very small, just 5.5 inches long
Versatile – many ways to use it
Cons
Needs attachments to be usable
Sawyer Products SP128 Mini Water Filtration System, Single, Blue
Ideal for outdoor recreation, hiking, camping, scouting, domestic and International travel, and emergency preparedness
High-performance 0.1 Micron absolute inline filter fits in the palm of your hand and weighs just 2 ounces; 100% of MINI units...
Attaches to included drinking pouch, standard disposable water bottles, hydration packs, or use the straw to drink directly from your...
---
What the Users Say
Now that you know what we think about these two filters, we thought it would be helpful to see what others thought as well. We've searched all over to find reviews and discussions about the MINI and the LifeStraw, and this is what other users had to say.
Many soldiers and personnel deployed overseas opted for the LifeStraw because of its ease of use and simplicity. With nothing to go wrong and no attachments needed, it was the perfect solution for when they needed water in an emergency.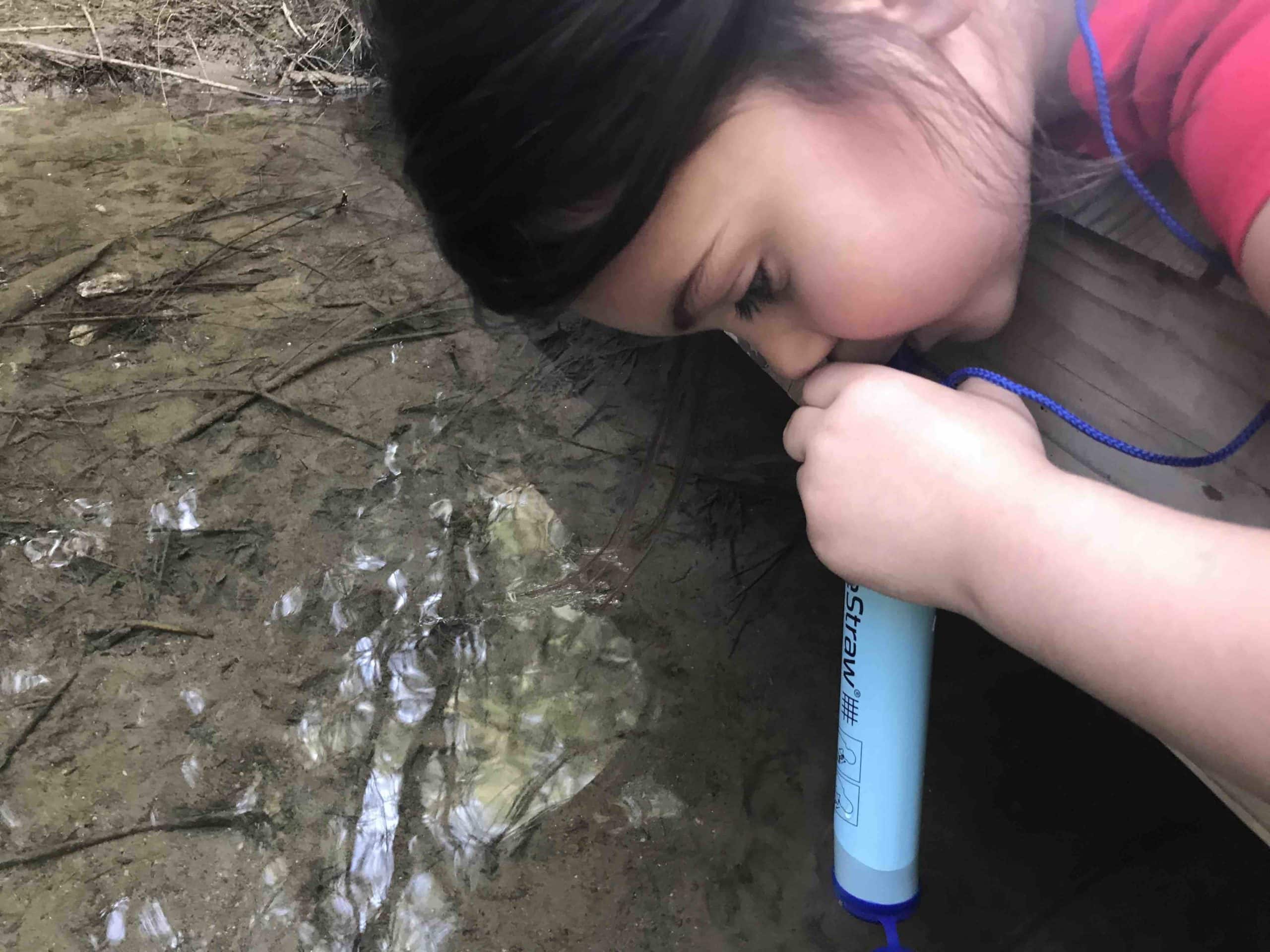 On the other hand, hikers seemed to gravitate toward the MINI, especially longer-distance hikers and backpackers. They appreciated the versatility of the MINI, with many of them utilizing it in different ways. Some people had taken the LifeStraw on backpacking trips, but most replaced it with the MINI after one trip because of its drawbacks.
For emergency kits and disasters, people preferred the simple use of the LifeStraw. Some users noted that the MINI came with a lot of extras, and for their intended purpose, it was more than what was needed.

Conclusion
Both the LifeStraw and the MINI are excellent water filters that can reliably provide you with safe to drink water anytime you need it. They're both compact and lightweight with no expiration date and a long filter life. So, when would one be superior to the other?
The LifeStraw is a better option for emergency kits. It can be stored indefinitely, and it needs no attachments or accessories to be used. The longer nine-inch length makes it easier to drink straight from any water source without getting your face wet.
For hiking and backpacking, the MINI is the definite winner. It's got a better lifespan of 100,000 gallons, so you won't need to replace it for years and years, maybe never. Plus, it's far more versatile, giving you way more options for how you want to use it on the trail.