Sawyer MINI Water Filter Review 2023 – Pro's, Con's & Verdict
We give the Sawyer MINI Water Filter a rating of 4.4 out of 5 stars. 
For backpackers, hikers, and campers, the Sawyer MINI is a tiny water filtration device that won't take up any space in your pocket or pack. It's extremely light at just two ounces, but it's a powerful tool that will filter out over 99% of bacteria and protozoa from water sources you find on the trail.
Like its big brother, the Sawyer Squeeze, the MINI has a 100,000-gallon lifespan with no cartridges to change. Just backflush the filter when the flow rate starts to decrease and it will work like new again. The MINI filters down to 0.1 microns and can be used in many different ways. You can drink straight through it, use it in-line for a hydration pack or a gravity-fed filtration system, or you can use it as a simple filter straw and drink straight from the water source.
Unfortunately, the MINI doesn't have as much flow as we'd like and we sometimes found ourselves struggling to get enough water through it.

The Sawyer MINI Water Filter – A Quick Look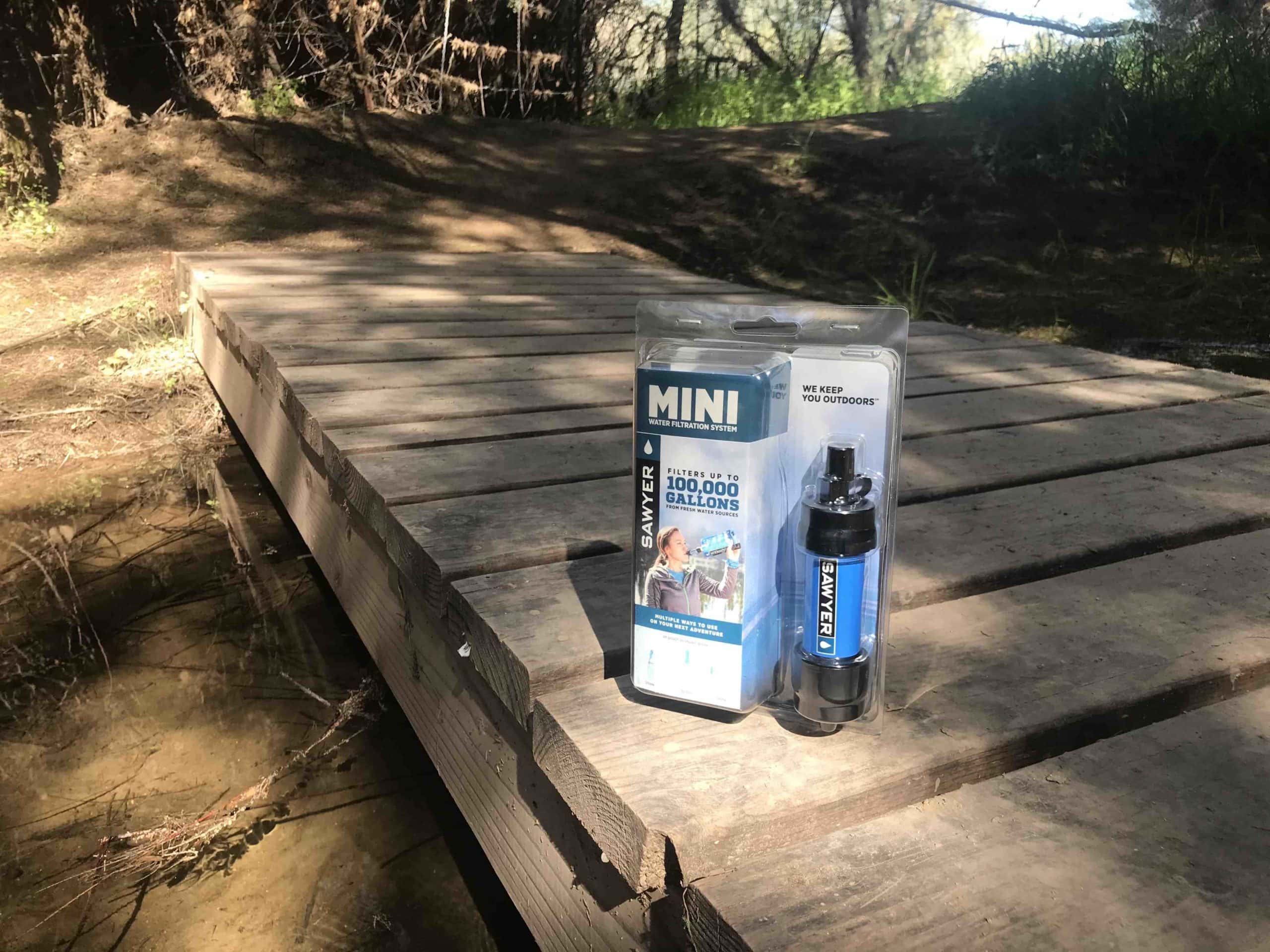 Pros
Ultra-compact and lightweight
Impressive 100,000-gallon lifespan
Many ways it can be used
Very affordably priced
Cons
Doesn't have enough flow
O-ring can fall out and then the filter won't work
Specifications
Specifications
Brand: Sawyer Products
Product Name: MINI
Weight: 2 oz
Length: 5.5"
Width: 1.5"
Filtration size: 0.1 microns
Lifespan: 100,000 gallons
Removes: Over 99% of bacteria, protozoa, microplastics, sediment
Ultra-Compact Design
For backpackers and long-distance hikers especially, weight and size are major elements of any piece of gear. When you have a limited amount of space in your pack and don't want to carry excess weight up and down the mountain peaks, every inch and ounce count.
Luckily, the Sawyer MINI was made for just such situations. It's absolutely tiny. At just 5.5 inches long and 1.5 inches in diameter, it might be the smallest personal water filtration device there is. It's noticeably smaller than its big brother, the Sawyer Squeeze, which is already a very compact filter. For weight weenies, the MINI is a meager two ounces, so even the most thorough gram-counters won't mind adding this to their pack.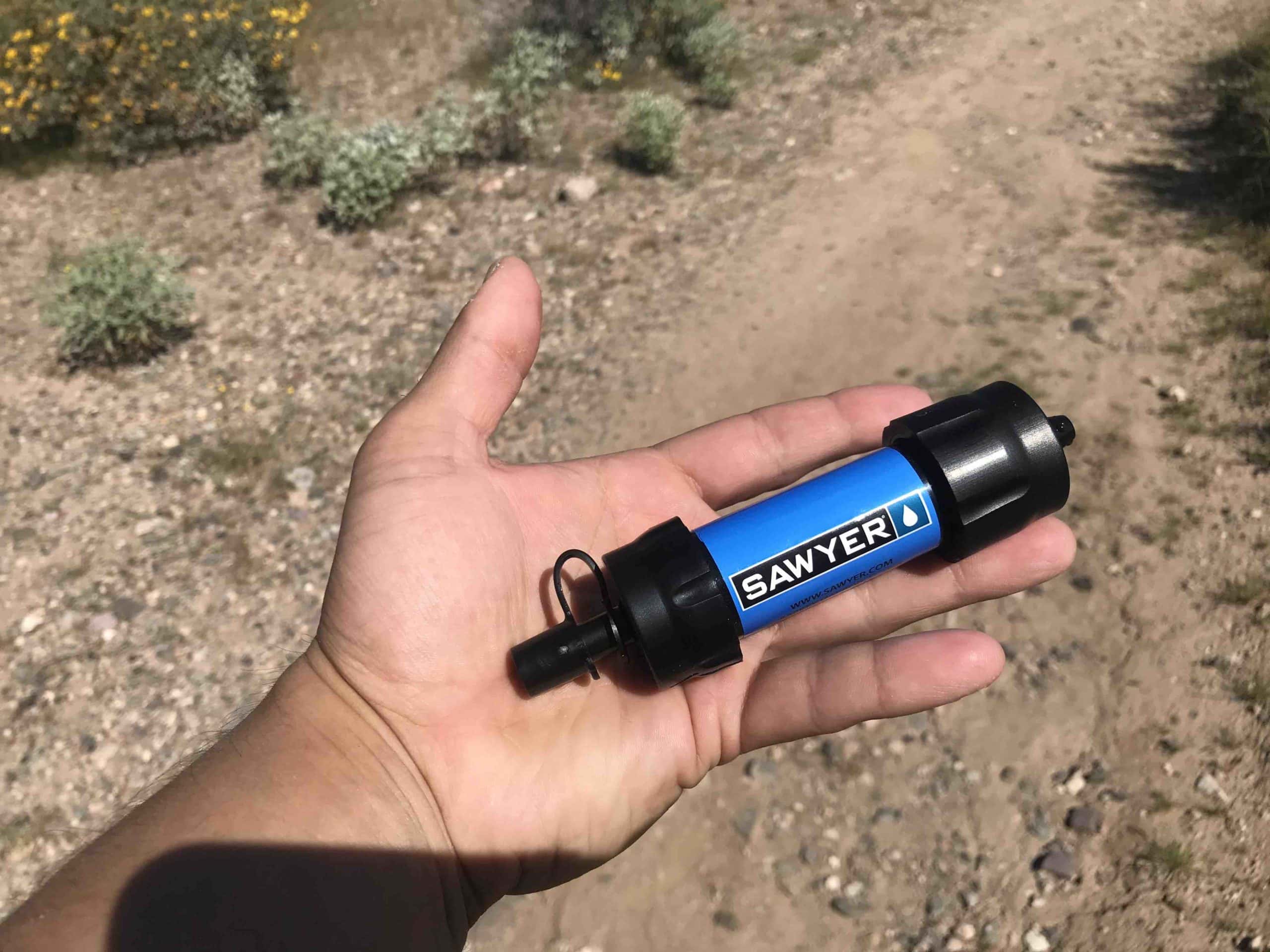 Versatile Filter with Many Uses
Each of us is unique and has our own way of doing things. One trait we love about the Sawyer MINI is that it allows each of us to use it the way we see fit. If you want to use it with a hydration pack, you can attach it in-line. The line from your hydration bladder will attach right to the nipple on the MINI and you can use the straw to then reach your mouth. If that's not your style, you can attach the straw to the mini and drink straight from any water source you find like a LifeStraw.
You can also use it between two bags in a gravity-fed system or even squeeze the water through by hand with the included squeeze bag. If none of those sound like the option for you, then you can do what we do and screw it onto a water bottle. This is our favorite method for a few reasons. The water bottles fill up fast, so it's the quickest and most efficient way to fill up and get back on trail. Plus, you don't have to wait for any water to filter. You just drink the dirty water through the filter and it's clean by the time it reaches your mouth.
Durable and Reliable
One of the reasons that the Sawyer MINI is such a popular product with hikers, backpackers, and campers is that it's extremely rugged. You can drop it on the ground and nothing will happen to it. It's practically bulletproof. And there are no moving parts, which drastically lowers the chances of something breaking. It's a very simple device that just works. There's very little with it that can go wrong and it's very hard to mess this filter up. If you need a filter that you don't have to worry about, then the Sawyer MINI is definitely one to check out.
Slow Water Flow and Lost O-Rings
The one thing we weren't thrilled with about the Sawyer MINI is the flow rate of water. When drinking, we never felt like we could get quite enough water to come through. Especially after cresting the mountain summit, we were panting and short of breath, desperately in need of water that we couldn't get enough of. For those moments, it paid to be prepared and have some clean water already collected ahead of time so that the low flow wasn't a problem.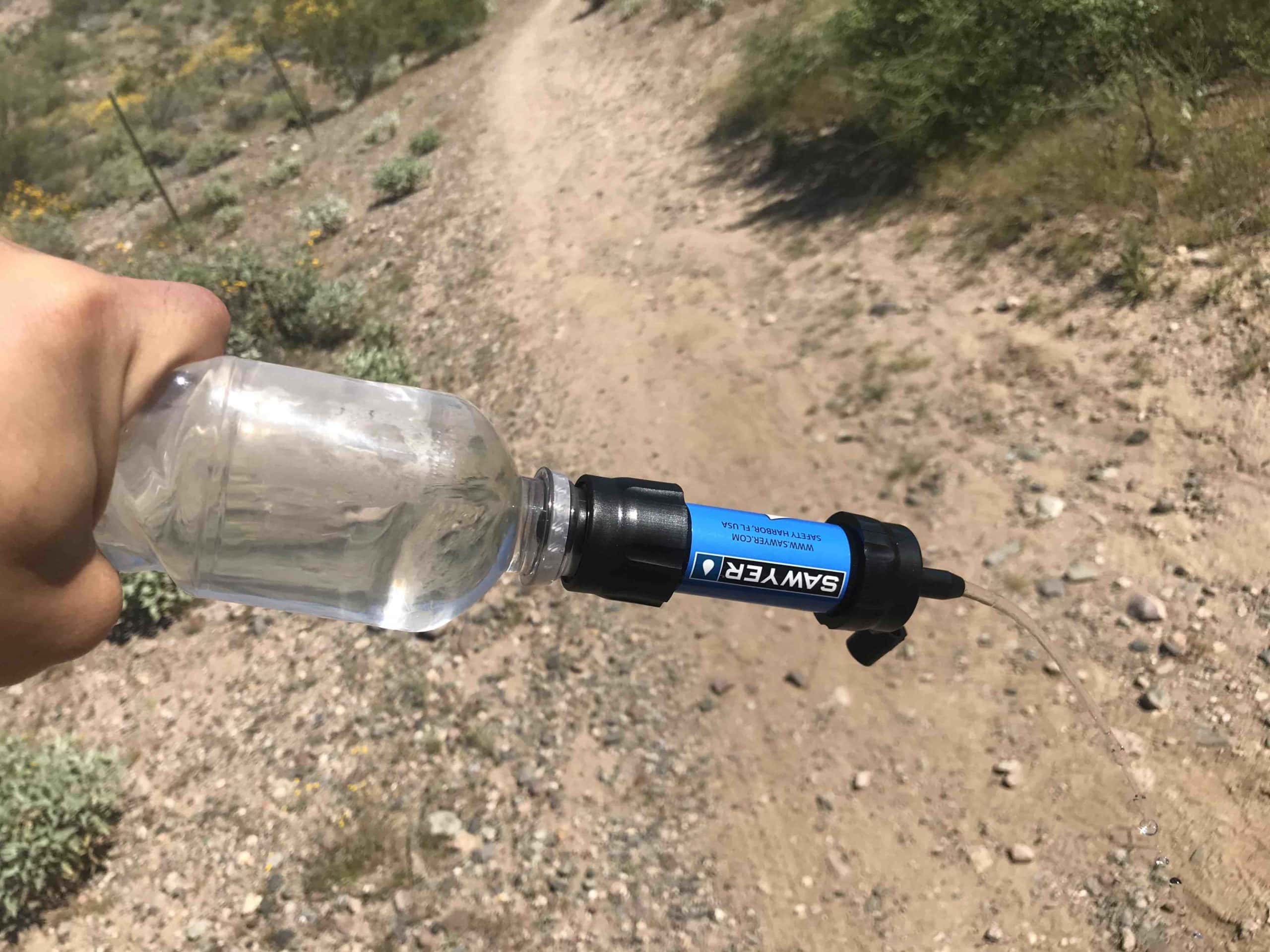 There's a white O-ring in the bottom of the filter that can fall out and get lost. If you lose it, the filter won't seal to your bottle anymore and dirty water will spill all over your face. The O-ring is more likely to fall out when you over-tighten bottles into the filter. If you avoid over-tightening your filter onto any water bottles then the O-ring might not come out. But just keep an eye on it and be aware.
---
FAQ
Does this product filter out viruses?
No, the Sawyer MINI does not filter out viruses.
Does the Sawyer MINI remove salmonella?
Yes, the Sayer MINI removes over 99% of all bacteria, including salmonella.
Does the Sawyer MINI expire?
No, the Sawyer MINI does not have an expiration date. If you store it after use, you will need to sanitize it by backflushing it with bleach and allowing it to dry completely before storing it.
Will I need to replace the filter on the Sawyer MINI?
No. The MINI does not have a replaceable filter. Instead, the filter on the MINI can be backflushed if it fills up and the water flow starts to slow down. Backflushing is simple and can be performed on the trail with ease. The Sawyer MINI is good for 100,000 gallons of filtration if you continue to backflush it.
What if my Sawyer MINI breaks?
Every Sawyer filter is guaranteed for life. If it breaks, Sawyer will replace it free of charge. 
Does the Sawyer MINI remove Giardia?
Yes, the Sawyer MINI removes over 99% of all protozoa, including Giardia.
Doe the Sawyer MINI filter saltwater?
No. The MINI is not intended for filtering saltwater.
---
What the Users Say
You've heard our thoughts about the Sawyer MINI, but we wanted to tell you what other users of it thought as well. So, we searched all over the internet to find the opinions of others who had extensive experience with the MINI to find out what they had to say.
One thing that most users loved was the low price, which attracted many to the MINI in the first place. People also loved that it was so easy to use and could be utilized in so many different ways. This meant that each person could adapt the MINI to their preferences, a trait that many users took full advantage of. From gravity-fed systems using a pair of 2-liter bottles to backflushing using air pressure from a water bottle to suck water through the filter, users got very creative with how they were using the MINI.
But there were also quite a few complaints about the low flow rate that we mentioned earlier. Many users seemed frustrated with how slow the MINI filters water, some going as far as to call it a dialysis system, which we thought was quite creative and a bit of an exaggeration.
Sawyer Products SP128 Mini Water Filtration System, Single, Blue
Ideal for outdoor recreation, hiking, camping, scouting, domestic and International travel, and emergency preparedness
High-performance 0.1 Micron absolute inline filter fits in the palm of your hand and weighs just 2 ounces; 100% of MINI units...
Attaches to included drinking pouch, standard disposable water bottles, hydration packs, or use the straw to drink directly from your...
Some users also mentioned losing the O-ring, or worse, having the O-ring break. We've never experienced it, but several others have, and that would be an awful occurrence on the trail.
Users were happy to see that the MINI continued to function as good as it did in the beginning, for many years of regular use. Some people were taking this device in very rugged areas such as the High Sierras while completing the Pacific Crest Trail. These are intense conditions, and the MINI has lived through them and proven itself to be reliable. But many preferred the Sawyer Squeeze because of the improved flow rate over the MINI.

Conclusion
The Sawyer MINI is an extremely capable device that will give you clean water whenever and wherever you need it. It's small enough to fit in your pocket and versatile enough to be used in many ways. The only thing that holds it back is a low flow rate that makes it a bit difficult to drink. But if you're looking for one of the smallest, cheapest, and most reliable ways to filter water anywhere you go, the Sawyer MINI is a great choice.