DeWalt DCST920P1 String Trimmer Review 2023 – Pros, Cons, & Verdict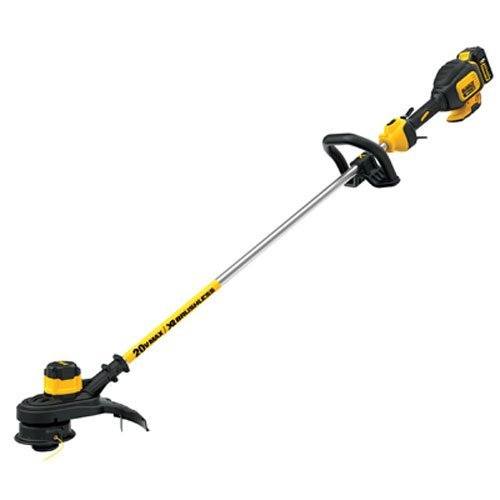 We give the DeWalt DCST920P1 String Trimmer a rating of 4.2 out of 5 stars. 
Build Quality: 4.2/5
Power: 4.8/5
Features: 4.2/5
Price: 3.5/5
Review Summary
If you've ever shopped for tools, the DeWalt name is likely familiar. This company is well-known for crafting top-of-the-line tools. However, their tools also tend to be quite expensive. For this reason, they are more of a high-end company. This string trimmer fits this description perfectly.
It is one of the higher quality options on the market today. It is built for tough weeds and tall grass. If you have many overgrown areas around your home, this string trimmer can likely tackle it head-on. It is optimized to handle tougher weeds that some string trimmers can't take down.
At the same time, this is not a budget trimmer by any means, so it is not going to be suitable for those who are budget-conscious.
Like many electric string trimmers, the DeWalt DCST920P1 isn't the most powerful option out there. It is hard to make electricity perform as well as a gas-powered option. However, it is powerful when compared to other electric string trimmers.

DeWalt DCST920P1 – A Quick Look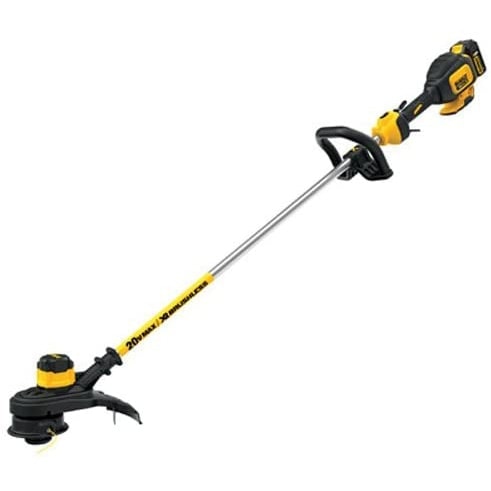 Pros
Reliable warranty
Long battery life
Made to last
Powerful motor
Specifications
Specifications
Battery: 20 volt
Weight: 14 pounds
Cutting swath: 13 inches
Dimensions: 10.94" x 67.81" x 8.75"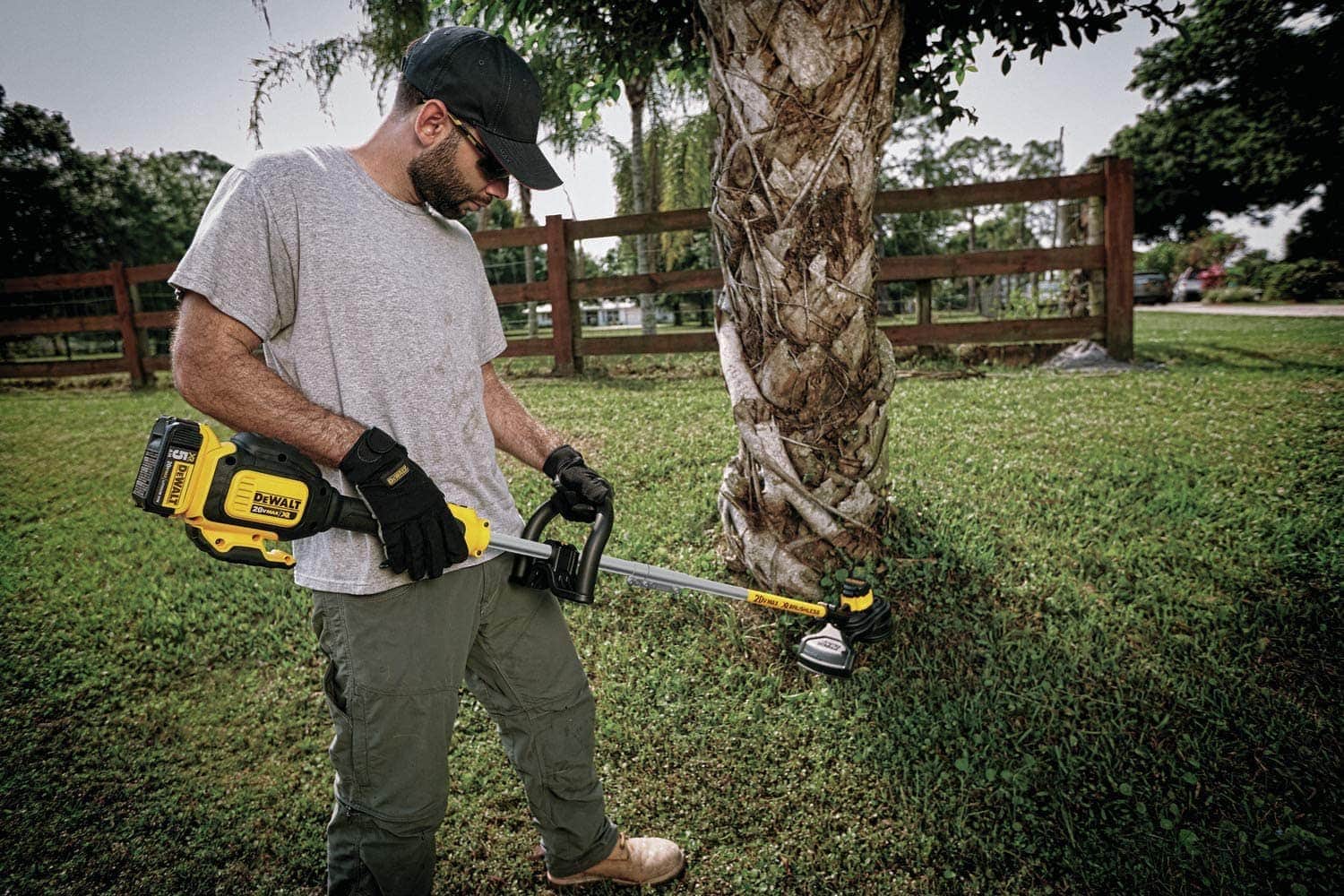 Lightweight
Most electric string trimmers are weighed down by their cumbersome batteries. While some string trimmers are corded, most are cordless, as these tools require quite a bit of portability. Batteries large enough to run a string trimmer for an extended period are quite heavy. A heavy trimmer can wear you out quite quickly. When you have a whole yard to take care of, it is essential to have the most ergonomic string trimmer available.
This DeWalt trimmer is extremely lightweight when compared to the countless other options. While there are many lighter trimmers out there, many of them sacrifice a lot of their power when aiming to be as lightweight as possible. This string trimmer doesn't do that; it is powerful and lightweight – a combination that is extremely difficult to find.
This unit is definitely light enough to avoid fatiguing you quickly. You'll be able to use this string trimmer for quite a while before your arms begin to wear out.
Powerful
This string trimmer is also one of the more powerful options available. Even though it is cordless and electric, it has quite a bit of oomph. This high-power output allows it to tackle thick weeds and grasses that other electric trimmers can't deal with.
We found absolutely no problem with tackling thicker weeds and grasses with this string trimmer. You can cut just about anything, even tougher weeds that would usually require a gas-powered unit.
This feature makes this string trimmer most useful for those who commonly deal with tougher weeds. If you seem to have a problem with your string trimmer stalling out, this one may be the best option for you.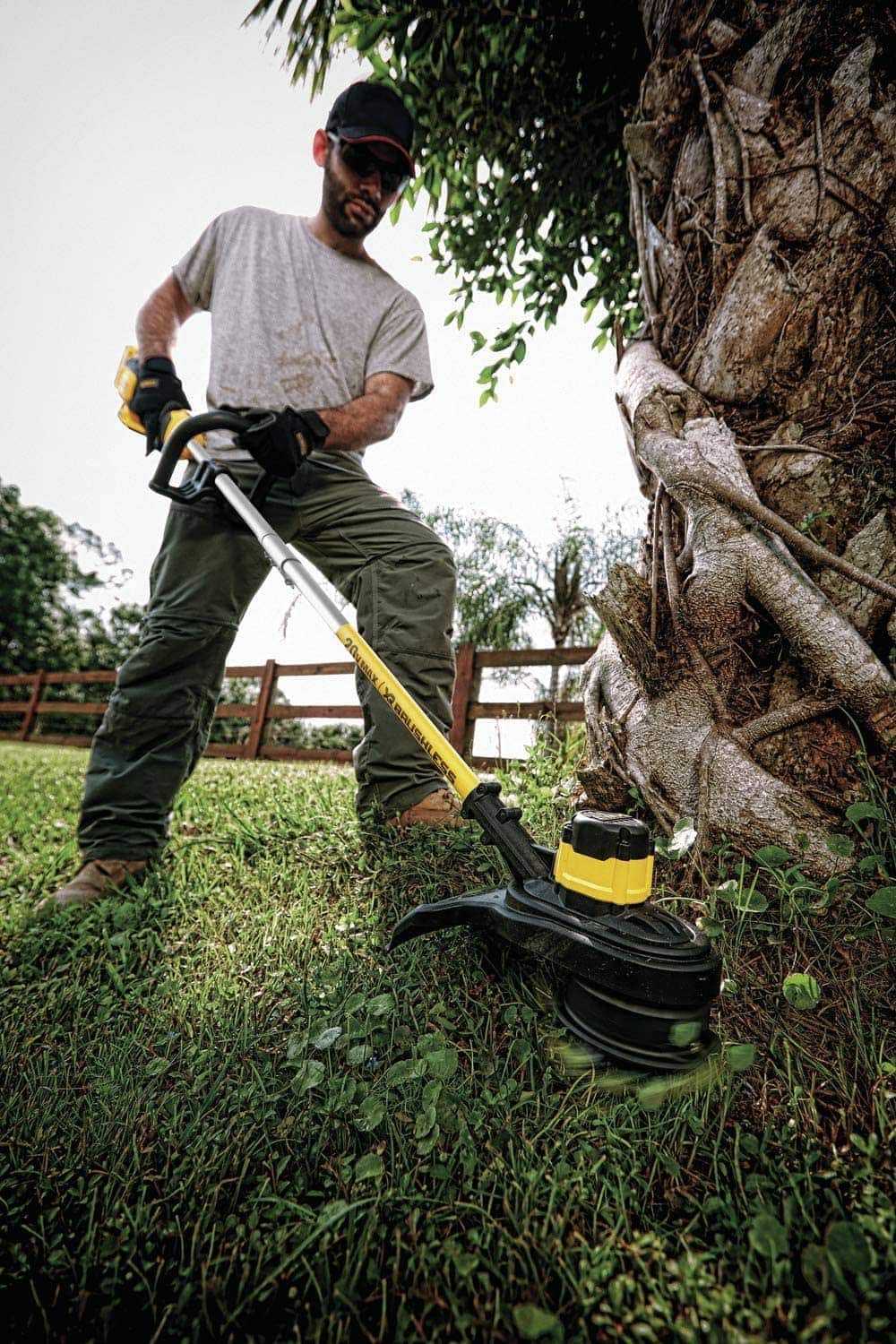 Variable Speed Triggers
The variable speed trigger allows this unit to tackle tougher weeds while also saving battery life when dealing with the easy stuff. The variable speed trigger allows you to control the speed and power this unit uses. It provides far more control than other options on the market.
If you need to use a lot of power to break through some tough weeds, you can. Otherwise, you can slow things down to save your battery life.
Overall, this feature allows you to achieve better results and ultimately control the trimmer while you're using it.
…But it is Very Expensive
The major downside of this tool is its price. It is not the most expensive option out there, but it is not the cheapest. You will pay a pretty penny for it, and it is likely out of most homeowner's budgets.
Of course, much of the cost comes with the brand name. DeWalt tools are quite expensive in general, so the fact that this trimmer is expensive isn't much of a surprise.
However, if you have the money, this is one of the better trimmers on the market, especially if you need something that can handle tougher weeds. You get your money's worth.

FAQ
Is this string trimmer suitable for shorter people?
If you are only around 5 feet tall, this string trimmer is not for you. It is designed for men, who are usually much taller. If you happen to be shorter than the average man, you may have difficulty with the length. There is no option to adjust it to fit shorter heights, so you'll likely struggle.
For this reason, we cannot recommend this string trimmer to those who are quite a bit shorter than the average male.
Does this trimmer work with other DeWalt batteries?
Yes, you can easily use many other DeWalt batteries with this trimmer. If you have stronger DeWalt batteries lying around, you can use them in this trimmer as well. This can quickly elongate the battery life since you'll have access to different batteries.
Is this trimmer suitable for edging?
Yes, this trimmer can edge driveways and sidewalks very quickly. You can adjust the unit to edge with ease, and the battery keeps up quite well with this routine. Unlike other options, the battery does not wear down when the machine is used as an edger. It can last upwards of 45 minutes when edging, which should allow you to take care of even a moderately sized yard on one charge.
If you have more batteries lying around, you may even be able to do a more massive yard. Because of the power of the motor, it can handle tougher grass types as well.
What the Users Say
Most users praised this tool's power and battery life. They said it was comparable to gas trimmers, and the battery lasted way longer than they initially thought it would. It can handle moderately-sized weeds and grass with ease. The battery is perfectly designed for the trimmer. It is powerful enough to take care of most weeds and seems to last about an hour on average.
There were a few complaints. You will need a face shield because of the narrow guard. The trimmer will send stuff up into your face, so you must protect yourself. Some people also didn't like the trimmer head and stated that it got clogged often. It appears that DeWalt recently changed the head, as past reviews don't discuss this problem.

Conclusion
This is a DeWalt tool, through and through. It has a long battery life and a powerful engine. It can cut through tough grass and weeds without any issue. The battery seems to last about an hour with average use.
The main problem with this tool is that it is expensive. You're paying partially for the brand name. However, this is a reliable trimmer that is very much worth the price.
Related Reads: