Lowe's vs. Home Depot: Price, Stock, and Service Comparison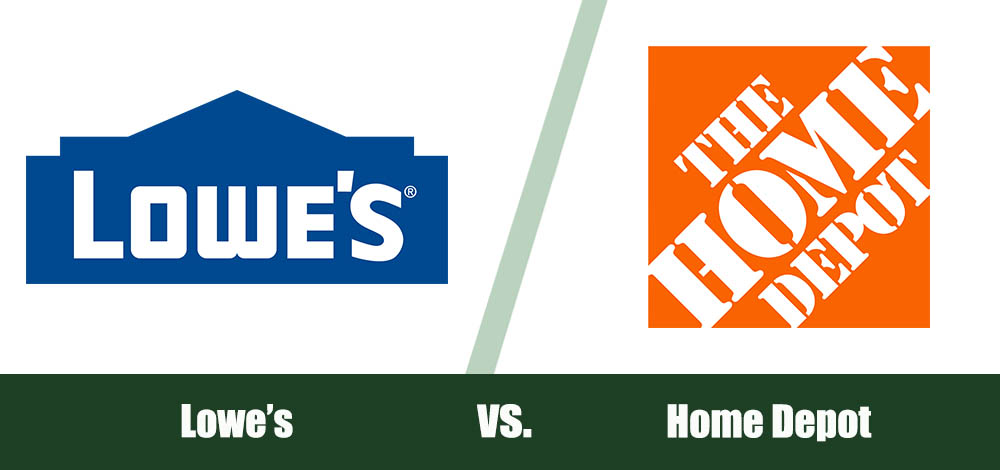 When you need the best selection and price for all things home improvement, there are only two destinations worth the trip—Lowe's and Home Depot.
The nationwide home and garden competitors carry comprehensive arrangements of tools, building supplies, appliances, decor, and more. It's a similar experience once you start perusing the aisles, but subtle distinctions could make one more beneficial than the other, depending on your needs and values. While they're not too consequential if you're buying a hammer or hardware pack, those differences could be crucial when you need to schedule an expensive appliance installation or sign up for a loyalty program.
To help you make the best choice for your next home improvement shopping excursion, we'll break down the essential benefits of these big-box behemoths.

A Quick Comparison
| | | |
| --- | --- | --- |
| Brand name | Lowe's | Home Depot |
| Established | 1921 | 1978 |
| Headquarters | Mooresville, NC | Atlanta, GA |
| Product lines | Home and Garden, Tools and Hardware, Construction Materials and Supplies | Home and Garden, Tools and Hardware, Construction Materials and Supplies |
| Exclusive brands | Valspar, Stainmaster, Kobalt, Craftsman, Hitachi, Project Source, allen + roth | Behr, ChemDry, Ryobi, Milwaukee, Makita, Hampton Bay |
---
Brief History of Lowe's
The first Lowe's store opened in 1921 as a humble general store in North Carolina. After WWII, the business narrowed its attention to home improvement, beginning as a DIY one-stop-shop before turning its focus toward professionals in 1958, an essential aspect of the modern Lowe's brand image.
Lowe's enjoyed steady growth in subsequent decades, reaching a billion dollars in annual sales in 1982, one year after the company went public. Expansion through the 1990s found Lowe's developing an online presence with lowes.com in 1995 and an international foothold when it crossed the border into Canada in 2007. Just over 100 years after its doors first opened, Lowe's has nearly 2,000 stores between the U.S. and Canada, doing over $96 billion in annual business.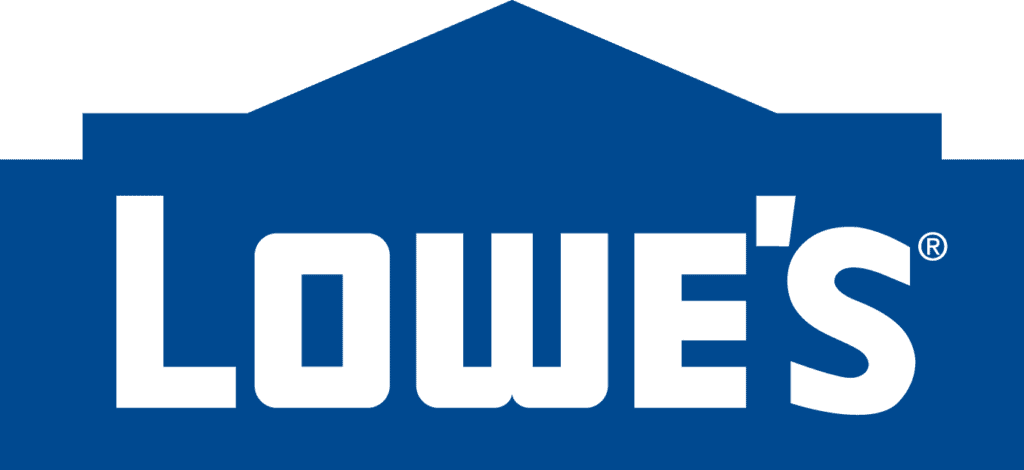 Brief History of Home Depot
You could say that, compared to Lowe's, Home Depot has done more with less since it opened the first two Atlanta, GA stores in 1979. The massive warehouses immediately pushed the brand in the right direction, deftly dispatching the local competition thanks to sheer size and scope.
Today, Home Depot is the home improvement leader with half a million associates spread across 2,300 stores and counting in Mexico, Canada, and the U.S. Unlike Lowe's, which has reduced its number of locations since 2016, Home Depot expands each year. In 2020, the company posted annual sales of over $130 billion.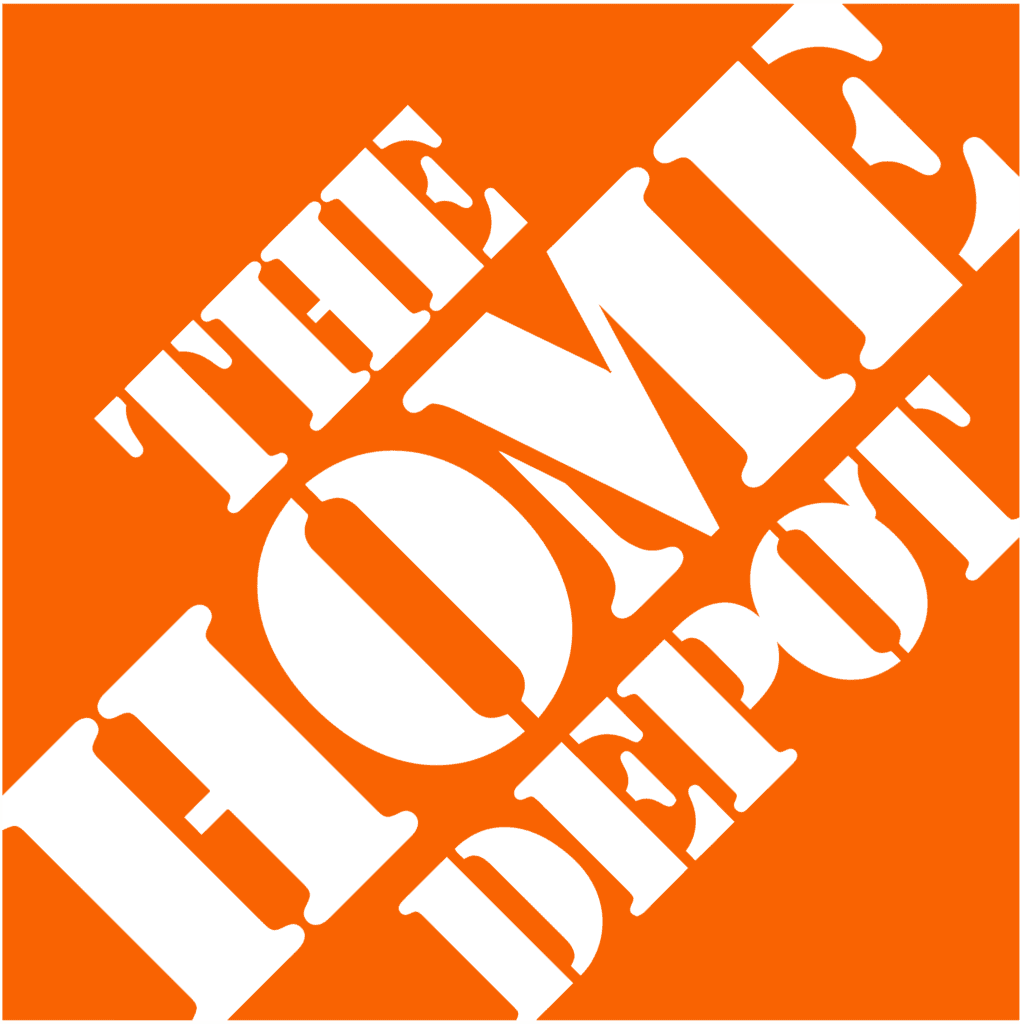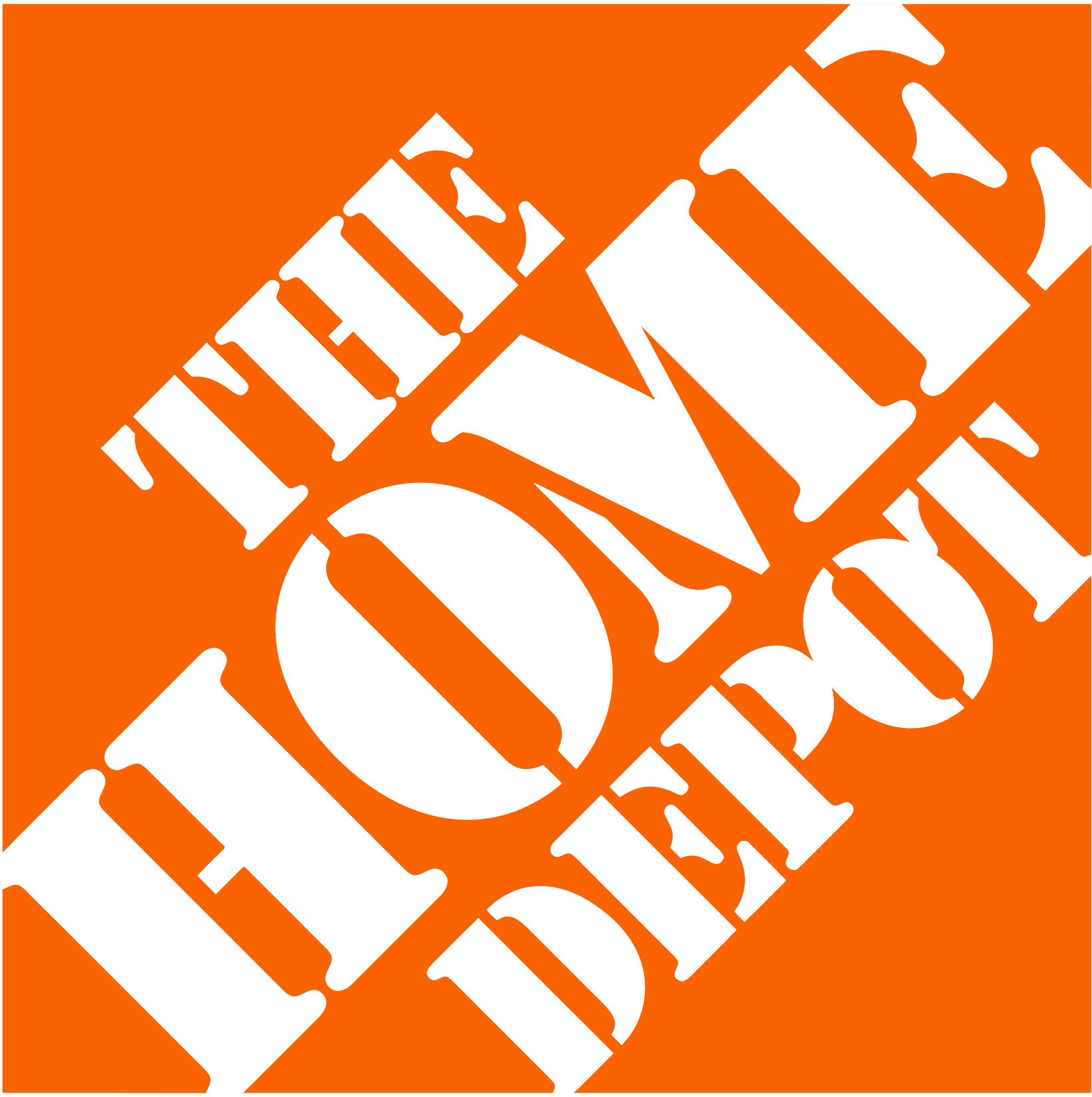 Lowe's vs. Home Depot Retail Experience
Lowe's and Home Depot are warehouse-style stores with sections including lumber, flooring, appliances, garden, hardware, paint, and power tools. Outdoor garden areas offer an entire building's worth of greenery and planting supplies, and indoor model kitchens and lighting displays allow customers to envision products in their homes. Lowe's wins in the space category, with 112,000 feet of enclosed area (versus Home Depot's 105,000 square feet) and a more sizeable garden center.
Trained and knowledgeable associates are available to assist. You can find them at various stations or meandering through the many aisles. Lowe's arranges DIY-friendly displays to help amateurs and homeowners find the right tools. Home Depot's layout appears to be more expert-oriented, and its sales indicate a focus on professionals. While 20–25% of sales at Lowe's are professional contracts, Home Depot's contracts make up 45% of its sales.
---
Lowe's vs. Home Depot Product Lines
Lowe's and Home Depot broadly carry the same product categories to cover nearly any indoor or outdoor project. In terms of product lines, there's a lot of crossovers, but there are also some notable differences that could be meaningful for brand-loyal shoppers.
Both companies have their particular brands and business partnerships with major manufacturers, contributing to a shifting landscape of exclusive offerings. Lowe's continues to introduce in-store labels, such as the new Origin 21 line for style-obsessed millennials. Meanwhile, top consumer brands may change their licensing, as was the case when Milwaukee stopped selling its products through Lowe's in 2008 and signed on with Home Depot.
The following are some of the well-known brands only carried by either Lowe's or Home Depot:
| | | |
| --- | --- | --- |
|   | Lowe's | Home Depot |
| Paint | Valspar, some Sherwin-Williams | Behr, Glidden |
| Tools and Supplies | Kobalt, Craftsman, Hitachi, Task Force, Reliabilt, Blue Hawk | Husky, Ryobi, Milwaukee, Makita, Ridgid, Vigoro, Everbilt |
| Decor, Furniture, and Fixtures | allen + roth, Origin 21, Project Source, Harbor Breeze | Hampton Bay, Glacier Bay, HDC, HDX, LifeProof |
| Carpet and Flooring | Stainmaster | ChemDry, Lifeproof |
| Windows | Pella | Andersen |
---
Lowe's vs. Home Depot: Price and Price Matching
Lowe's and Home Depot offer competitive pricing through similar EDLP schemes. They both price match, so they stay even in most regards. Although it isn't necessarily due to higher prices, Lowe's customers tend to spend more, averaging roughly $85 per visit versus the $74 that Home Depot customers pay per visit.
Lowe's
Lowe's offers everyday low prices on its 35,000 in-store items and immense online selection. They will price match competitors (non-third party) locally and online, so it doesn't matter if you find a product cheaper at Home Depot.
Home Depot
While individual items are level between Home Depot and Lowe's, many feel Home Depot offers better bulk pricing, which may partially explain why they have a higher rate of professional contracts. They also offer a price match policy similar to Lowe's, so neither store has a significant advantage for typical purchases.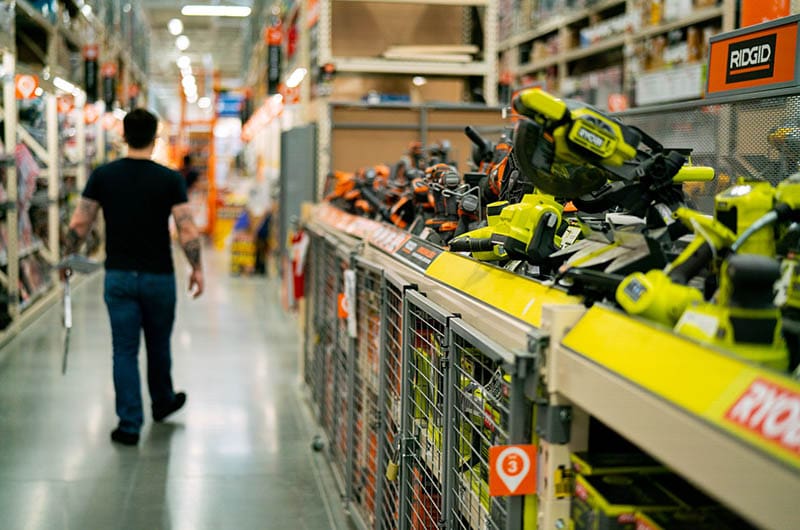 ---
Lowe's vs. Home Depot: Satisfaction Guarantee
Lowe's and Home Depot offer general returns for unused items within 90 days of the purchase date. At both locations, you can receive a full refund on unopened merchandise within 365 days of purchase if you used a store credit card or commercial account. Refunds go back onto original payment forms or become store credit.
Some more expensive items, such as electronics, outdoor equipment, and air conditioners, have a 30-day return policy. Appliances must have a return set up within 48 hours of receiving the item. Nearly every detail is identical in the return policies, with one critical exception — you can return appliances that are either new and unopened or purchased on a store credit line within 30 days at Lowe's.
---
Lowe's vs. Home Depot: Customer Service
In-store assistance is an essential feature of big-box home improvement stores. Shoppers rely on available associates to not only direct them to products but also to offer helpful tips and purchase advice to ensure their project is a success.
Lowe's
Lowe's shows a slight edge in customer service ratings on online review platforms. Trustpilot gives them 1.5 out of 5 stars, which, though not good, still beats Home Depot's 1.4-star rating. Lowe's has a 3.8/5 rating on Consumer Affairs while Home Depot has a 3.6/5 rating, and their BBB rating of 1.13/5 also edges Home Depot, which holds a 1.11/5 rating.
Home Depot
Lowe's beats Home Depot on many review sites, but for the most part, they're neck-and-neck in how customers perceive them. Home Depot is also a more pro-oriented atmosphere, and different customer interactions may explain the ratings. Between the two companies, Home Depot associates express more satisfaction with their jobs and long-term aspirations for their careers with the company.

Head-to-Head: Lowe's vs. Home Depot Protection Plans
Lowe's and Home Depot offer protection plans on powered equipment, electronics, and appliances to cover against breakdowns. Unlike warranties, these plans cover mechanical or electrical failures not caused by accidents or abuse for several years. They often provide more features than the manufacturer's single-year warranty, including food spoilage reimbursement, power surge coverage, and 24/7 support.
Both stores provide numerous perks with their protection plans, including:
50% back on standard maintenance and cosmetic parts ($100 maximum per 12 months at Lowe's, $500 maximum per plan at Home Depot)
$300 for food loss from a faulty refrigerator
30% reimbursement on plan price if unused during the term
Despite the general similarities, there are some crucial differences between Lowe's and Home Depot protection plans. For example, Lowe's covers accidental damage on power tools while Home Depot does not. On the other hand, Home Depot guarantees service on appliances in 2–3 days, while Lowe's stretches it to 7 days, a critical consideration when you consider the possibility of a broken-down refrigerator. Home Depot also provides 3-year and 5-year plans (Lowe's only offers 3-year) and ongoing tech support for smart appliances versus 30 days from Lowe's.
The Winner: Home Depot
Head-to-Head: Lowe's vs. Home Depot Credit Card
Lowe's and Home Depot offer financing to consumers and professionals. Within these programs, Lowe's is unique in presenting a lease-to-own option so they can approve more people. Meanwhile, Home Depot has a project loan program that offers up to $55,000 and an 84-month payoff period when you want to do a massive home renovation.
Consumers get 6-month deferred-interest financing through both retailers, but Lowe's leans into additional discounts while Home Depot offers better limited-time offers, such as 24-month no-interest periods and 5% statement credits. With the Lowe's card, you can opt for a 5% discount instead of the 6-month payoff period, and until January 31, 2023, they're offering a 20% discount on the first purchase.
Overall, the Lowe's card has a better range of standard perks, but Home Depot adds tons of discounts and financing extras with their sales promos. The Home Depot card is ideal for professionals, and consumers get the best benefits on expensive purchases. The Lowe's card is more beneficial for smaller, everyday purchases, but the 84-month payoff presents an exceptional option for more large-scale projects at the same time. With the lease-to-own financing route, approval odds are also likely higher at Lowe's.
The Winner: Lowe's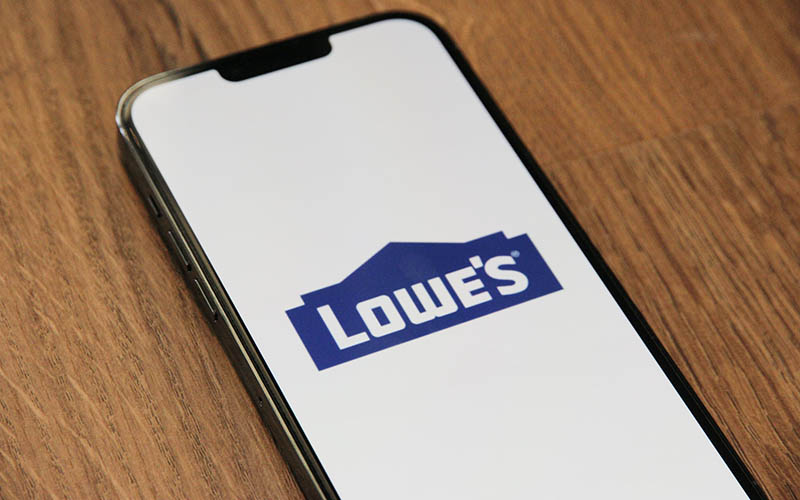 Overall Brand Reputation
Product Selection
Edge: Home Depot
Lowe's and Home Depot have a fair mix of proprietary lines and corporate team-ups that help them build their catalogs of 35,000+ in-store items. But with top-rated brands like Milwaukee, Makita, and Andersen, Home Depot is where you go for the highest-quality goods.
Discounts
Edge: Lowe's
The price is relatively similar between Lowe's and Home Depot, and they both offer robust online rebate centers to maximize deals. Lowe's has better discounts for military members. Both stores offer a 10% discount for veterans, but Home Depot only applies it to up to $400 in purchases each year, while Lowe's has no limit.
Services
Edge: Split
Lowe's and Home Depot don't simply supply the tools you need to complete a project. In both stores, associates can teach you how to use those tools or even wield them for you. Take advantage of educational workshops, design assistance, lumber cutting, paint matching, and an ongoing list of helpful services.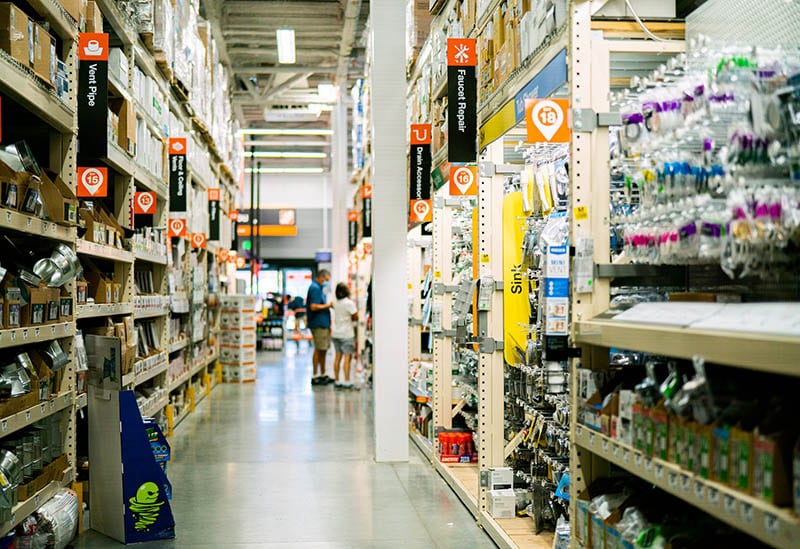 Delivery and Installation
Edge: Home Depot
Fulfillment options at Lowe's and Home Depot are about the same. They both have free curbside and in-store pickup, free shipping on online orders over $45, and free delivery and installation on many plug-in kitchen appliances. Why does Home Depot take the edge? They have a slightly cheaper haul away. Among the many considerations, the installation cost likely won't be crucial when choosing where to shop.

Conclusion
When you need a great price, sound advice, and a vast selection of products for every room of the house and beyond, you can't miss when you choose Lowe's or Home Depot. But that isn't to say they don't have their nuances and advantages. Lowe's is the go-to store for the average DIYer, with everyday discounts and knowledgeable sales staff providing excellent value. Meanwhile, Home Depot shines when you have an extensive project to tackle, supplying top-tier product selections, deals, and experiences for professionals and consumers alike.
---
Featured Image Credit: Left: lowes.com, Right: homedepot.com