Makita 36V Chainsaw Review 2023 – Pros, Cons, FAQ, & Verdict
Our Final Verdict
We give Makita 36V Chainsaw a rating of 4.7 out of 5 stars.
Build Quality: 4.7/5
Power: 4.7/5
Features: 4.8/5
Price 4.5/5
Homeowners needing to update their chainsaws for cutting firewood and managing their landscaping may find the perfect combination of performance and features in the Makita XCU04 electric chainsaw. Running on two LXT 18V batteries, it's the obvious choice for consumers already on the Makita platform. And for new DIYers without an electric tool collection, it should be among your top options due to Makita's expanding lineup of LXT-compatible machines and its impressive build standards.
At its price point, the XCU04 is pricier than many competing models but notably less expensive than comparable Milwaukee products. Makita's quality keeps up with the premium pace, though, and it's fair to say that this chainsaw is one of the best values you can find. Let's dive into more detail to see if the XCU04 is the right match for you!
Makita 36V Chainsaw – A Quick Look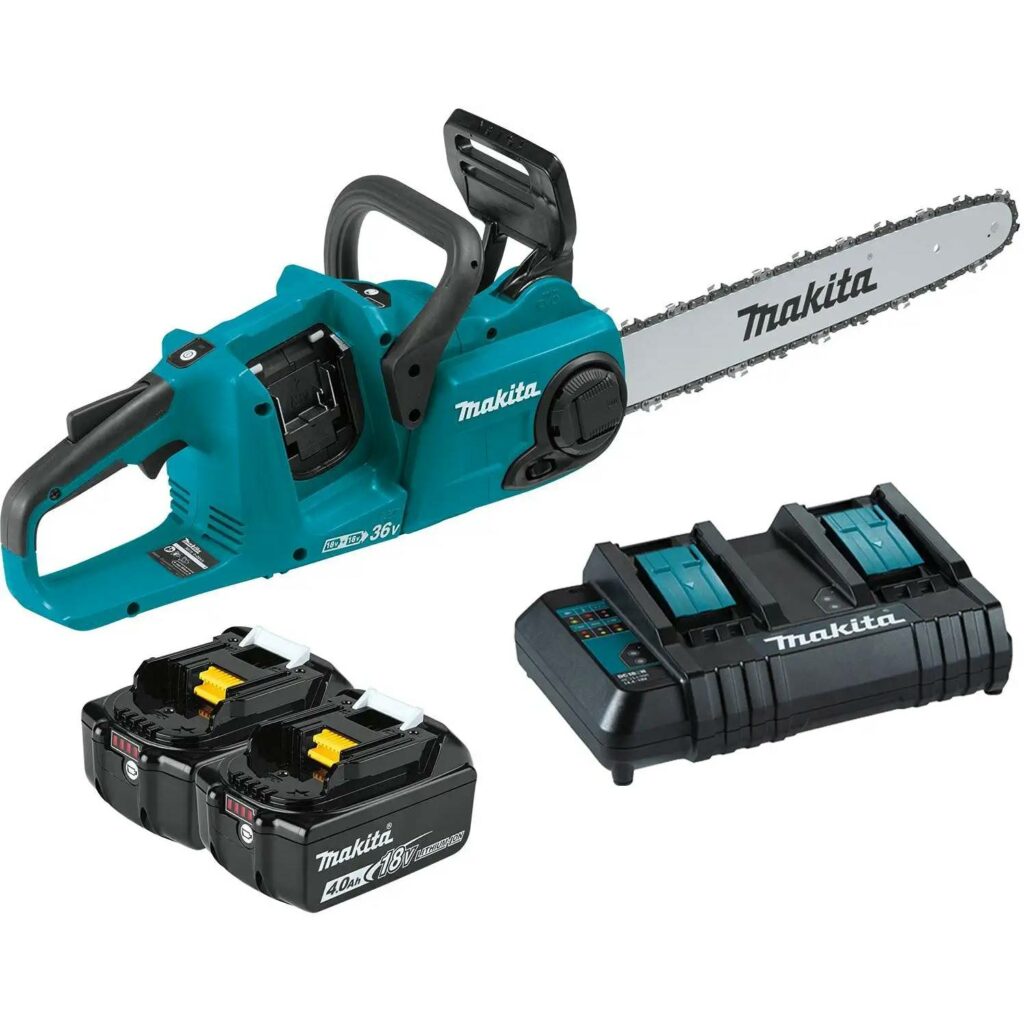 Specifications
Model: Makita XCU04
Weight:1 lbs.
Bar Length: 16 inches
Max Chain Speed: 3,940 FPM
Horsepower: 32 hp
Battery: 18V LXT lithium-ion (2X)
Pros
Brushless direct drive motor delivers high-efficiency performance
Built-in tool-less chain adjustment adds convenience
Responsive variable speed trigger controls cutting rates of 0–3,940 FPM
XPT design improves water, dust, and general weather resistance
Delayed shutoff prevents energy loss during idling
Ergonomic grip enhances comfort for extended cutting projects
Automatic oiler maintains lubrication
Cons
Relatively expensive
Not ideal for heavy-duty cutting projects
Auto shutoff

Makita 36V Chainsaw Details
Durability and Safety
You can feel the quality of Makita tools as soon as you unbox them. In the XCU04 chainsaw, you'll notice the sturdiness in the frame, Oregon chain, and stainless-steel bar. The Makita-built direct-drive brushless motor shines in efficiency and longevity, delivering power comparable to a 32 cc gas chainsaw but with a rapid response and quieter performance.
Like most Makita tools, proprietary safety features are essential selling points. The brand's Extreme Protection Technology (XPT) offers enhanced protection for the inner components from water and dust. That dependability is crucial when you're facing rainy weather and flying wood debris as you cut.
The batteries have further built-in protection technology. Makita's Star Protection allows the battery to monitor and communicate with the tool during use. The battery protects itself from overheating, over-discharge, and premature wear with automatic shutoff features, ensuring you get the best performance possible.
Power Controls
Makita didn't use a trigger switch with the XCU04, instead opting for a separate power button, which some may see as a minor inconvenience. It gives you 60 seconds before powering off, which is a decent amount of time between cuts. Plus, it has a power indicator, a nice feature missing from competing models. It displays when the batteries are running hot or low on power, so you're not left wondering why your saw isn't operating.
After hitting the chain brake, power button, and trigger release, you can operate the saw. The variable speed trigger is sturdy and responsive, giving you complete control over the 0–3,940 FPM range. The high blade speed, which is faster than a comparable Milwaukee M18 model, pulls the saw through the wood without demanding much manual exertion.
Convenience
The comfort and ergonomics of the XCU04 are on point. The rubber grip is easy to hold and absorbs vibration, and the brake is convenient to activate from a hand on the handle with a simple wrist roll. And while the power button may be an inconvenient added step, you can press it with your thumb from a saw-ready grip on the handle.
The trigger safety is one of the two unique features that make the XCU04 more convenient than other models. Rather than feature a button, the handle has a lever, releasing the trigger when pressed. When you use your chainsaw, your natural grip causes your palm to compress the release, making it almost an unconscious effort to activate the saw. Once you power the XCU04 on, you can use it, set it down, pick it up 30 seconds later, and get back to cutting faster than any other chainsaw.
The second distinct difference between the XCU04 and other electric chainsaws is the chain tensioner. There's no separate tool you have to use to adjust the blade. A built-in flip-out tool allows you to extend or contract the bar for optimal tension. Many other brands advertise their tool's wrench storage as a convenient feature, but it doesn't get any simpler than the Makita when adjusting your chain.
FAQ
What is the warranty that comes with this model?
Makita offers a 3-year limited warranty on the XCU04. The company will repair it free of charge when you bring it undamaged to an authorized service center if a defect causes the chainsaw to fail. The coverage is similar to most of the brand's other products.
How many cuts can you make on a single charge?
Makita advertises its dual 4.0Ah batteries as capable of powering up to 150 cuts in 4"x4" cedar. Although that pales in comparison to Milwaukee's advertised 150 cuts in 6"x6" cedar, it's crucial to note that the XCU04PT1 comes with four 5.0Ah batteries, which should, in theory, give you more cuts.
Is this model good for beginners also?
The safety features, ergonomics, and easy chain adjustment make the XCU04 as beginner-friendly as possible for a chainsaw. While it is not a heavy-duty machine for professional use, average consumers should find it's all the power and performance you could reasonably need.
If you're brand new to tools, the battery package alone is worth the investment and an excellent starting point for the rest of your tool collection. With four 5.0Ah batteries and a rapid charger included with the XCU04PT1 kit, you can save tons of money on subsequent tool-only purchases.
What the Users Say
The XCU04 gets rave reviews from consumers. Users frequently mention the exceptional cutting power, long run time, and relatively low weight. Many people note that they can get 30–45 minutes of solid cutting time from it without getting tired. They're quick to acknowledge that it isn't as powerful as some gas saws, nor is it built for professional use. But the combination of instant speed, ergonomics, and quiet operation appears to be a fair tradeoff and welcome benefit for most consumers.
Negative reviews discuss the thin kerf, chain breaks, and overheating frequency. Many have issues with the machine dying or automatically shutting off in stressful cutting situations. Older complaints also mention a short cut-off time, with the chainsaw turning off only a few seconds after disengaging the trigger. Makita fixed the issue on newer versions, and the XCU04 now stays active for 60 seconds.
Conclusion
The LXT platform is one of the best you can find in the electric tool market. Makita offers some of the highest-quality consumer products in any category, and the interchangeable battery design is, in many ways, superior to nearly any competitor. Beginner DIYers may be put off by the XCU04's relatively high price. However, as you build your collection of Makita brand tools based on their versatile power system, you'll be glad, and perhaps surprised, to find that you made the cost-effective choice.