Milwaukee M12 Soldering Iron Review 2023 – Pros, Cons & Final Verdict
Review Summary
Our Final Verdict
We give Milwaukee M12 Soldering Iron a rating of 4.7 out of 5 stars.
Build Quality: 4.8/5
Power: 4.8/5
Features: 4.6/5
Price: 4.6/5

Milwaukee M12 Soldering Iron – A Quick Look
Specifications
Manufacturer: Milwaukee
Model: M12 soldering iron
Heat output: 90 watts
Heat time: 18 seconds
LED light: yes
Max temperature: 750°
Battery run time: 45 minutes
Length: 11.6"
Height: 1.385"
Weight: 0.9lbs
Warranty: 5 years
Milwaukee is a well-known power tool and general tool brand and the M12 soldering iron is one of the M12 range of power tools, all of which run using the same battery so if you already have one, it means that you don't need to buy this component. Not only does that make it cheaper but it means that you won't have an expanding collection of power tool batteries in your workspace.
The iron itself is highly portable, although slightly chunkier than a standard soldering iron, and the ability to swivel and tilt the head, as well as the inclusion of an LED work light, means that this is ideal for those that need to solder in awkward positions. Mechanics that solder electrical components, or engineers that work on machinery wiring would find it beneficial. Even those that do use a workbench can enjoy the cord-free soldering experience. It is reasonably priced and can come with a case, although it does lack a manual temperature control.
Pros
Cordless soldering iron is portable and convenient
Reaches temperature in less than 20 seconds
Sensors prevent overheating
Stable when stood up
Cons
No dedicated stand
Would benefit from a manual temperature control

Milwaukee M12 Soldering Iron Details
A Portable Soldering Iron
Unless you solder portable and small items, having a bench iron is not the most practical solution. A portable iron can be moved from one workpiece to the next and has the added convenience that there's no wire to get wrapped around your wrist while you're working. However, portable models aren't without their own challenges. Because they have to carry their own battery, they tend to be bulkier and heavier, and unless they include a stand or a built-in stand, it means dropping them on the floor or workbench once you've finished the solder.
The Milwaukee M12 soldering iron is portable. A full battery charge will last 45 minutes and there is no wire. However, it's also lacking a kick stand or separate stand unit. Fortunately, the M12 doesn't need a stand. It is weighted and can be swivelled in such a way that it stands upright on a flat surface and it is steady enough to be safe, while doing so.
The portability of the device does mean that it is thicker and heavier than you might be used to if you've only worked with bench soldering irons before, but that is the trade off for the convenience of a mobile unit.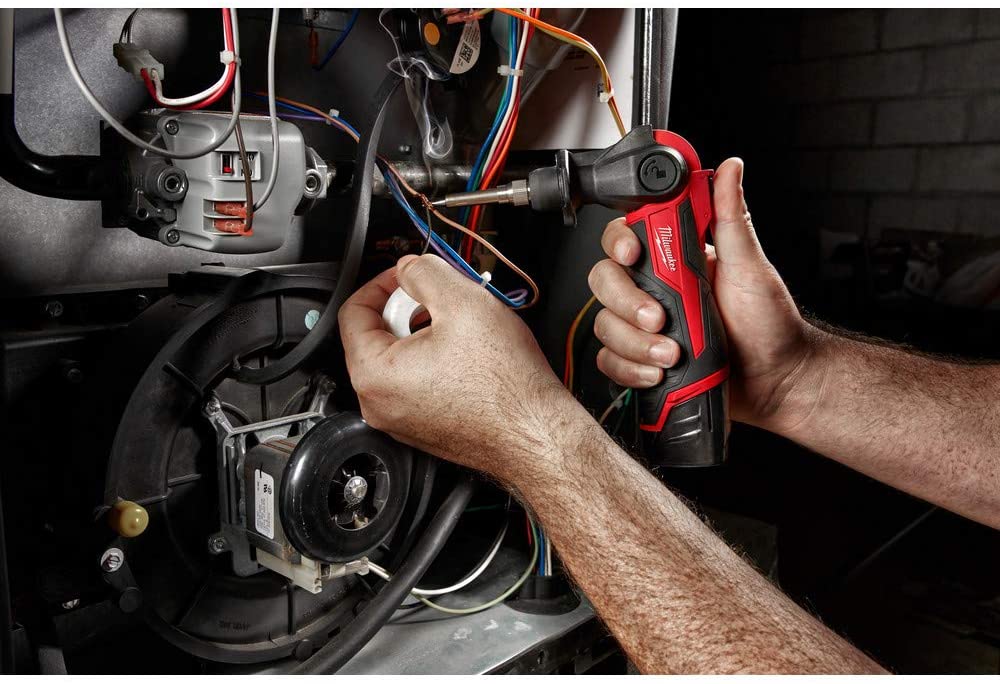 Pivoting Head
The Milwaukee has clearly been designed for portability and with mobile users in mind. As well as being cord-free, it also has a pivoting head. This can be rotated, twisted, and bent, without affecting the performance of the head, allowing you to get into even the most awkward of wiring looms. This pivot also makes it suitable for use by left- and right-handers.
LEDs
Generally, portable tools benefit from having as few additional features to drain from the battery as possible. The Milwaukee does have an LED worklight, which is very useful when you're getting in and around the back of obstructions. It also has an LED warning light. This lets you know when the tip has reached temperature and is ready to use, and it warns you if the tip is getting too hot. The lights are functional and useful, and they don't seem to drain the battery life.
What's Included
As well as the portable Milwaukee M12 soldering iron, when you buy this product, you also get a 1.5ah battery, which gives 45 minutes of use with a full charge. The M12 charger enables you to keep the battery charged, and you get a pointed tip and chisel tip for any soldering jobs. All of this comes in a convenient storage case.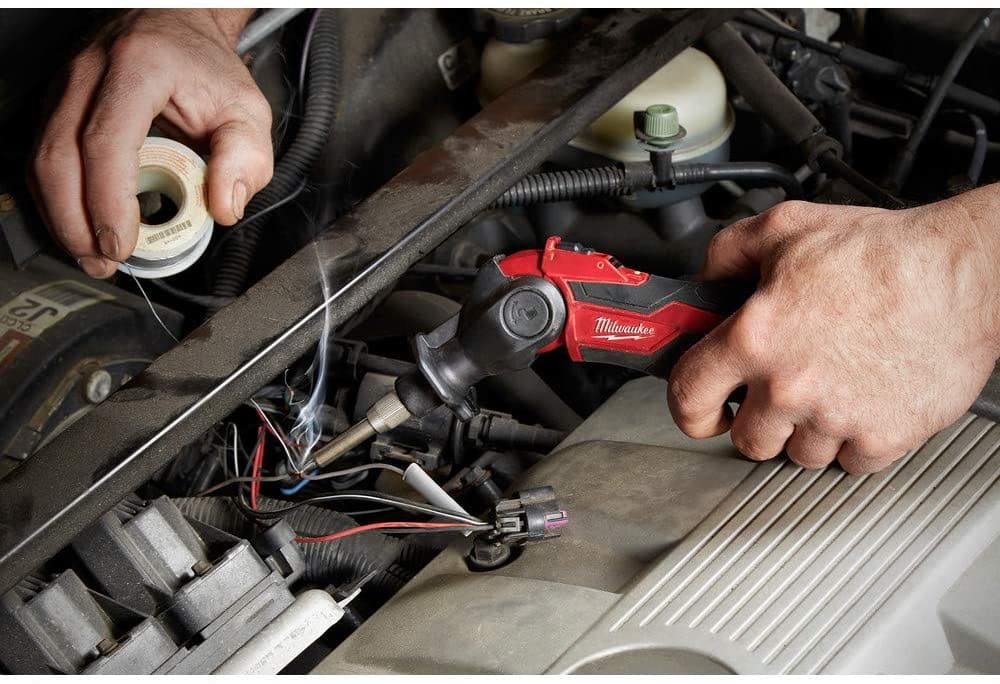 No Temperature Control
Although very well featured and designed for a mobile and relatively well priced soldering iron, the lack of a manual temperature control is a potential oversight. The tip reaches a temperature of 750° but a lot of people prefer to solder at temperatures of 700° or even as low as 640° when using lead-based solder. While this might not be a deal breaker for everybody, it is worth bearing in mind. You will be soldering at a high temperature and there will be nothing you can do about it.

FAQ
How hot does the Milwaukee soldering iron get?
The Milwaukee M12 soldering iron does not have manual temperature control which means you will only be able to solder at the maximum temperature of 750°.
How many watts is the Milwaukee M12 soldering iron?
The Milwaukee M12 soldering iron is rated at 90 watts.
Can you get a stand for the M12?
The M12 does not include a stand and Milwaukee does not make or sell one. The soldering iron is weighted and shaped in such a way that it will stand upright on its base, so it shouldn't need a stand.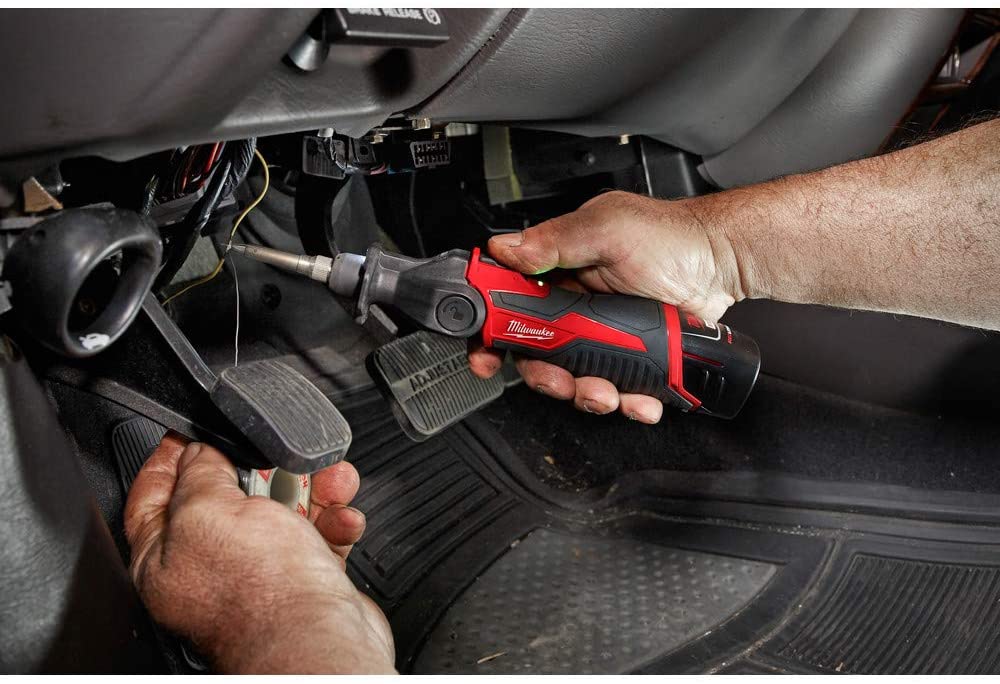 What the Users Say
Having checked on forums and other websites, most buyers are happy with their purchase of the Milwaukee M12 soldering iron. They are especially impressed with the fast heat-up time and the fact that it is mobile with no cord or wire. However, they do believe that the unit would benefit from a manual temperature control because this would allow users to solder at their desired temperature and may even prolong the battery life.

Conclusion
The Milwaukee M12 soldering iron is a portable iron that frees users from the constraints of a wire while its design and load distribution negate the need to have a physical stand or base for the device. It does lack manual temperature control and is thicker and heavier than a lot of alternative irons, but it makes up for this with its portability and quick heating time.