Milwaukee M12 Heated Jacket Review 2023 – Pros, Cons & Final Verdict
Review Summary
Our Final Verdict
We give Milwaukee M12 Heated Jacket a rating of 4.5 out of 5 stars.
Quality: 4.5/5
Features: 4.5/5
Price: 4.5/5
Milwaukee is a reputable American company that makes power tools and working gear for consumers. This review will talk about one of the company's best-selling products—the Milwaukee M12 Heated Jacket. The Milwaukee M12 Heated Jacket is a jacket designed to keep you warm while looking good during cold months.
It's ideal for workers who have to spend the day outside in cold or snow—Milwaukee has made a jacked with carbon fiber heating elements, made to distribute heat throughout the jacket. The jacket has a new quick-heat function that previous Milwaukee jackets didn't have, which is said to heat the jacket up to three times faster. Milwaukee designers have also carefully chosen the material to make sure the jackets are lightweight, comfortable, and provide protection from cold weather.

Milwaukee M12 Heated Jacket – A Quick Look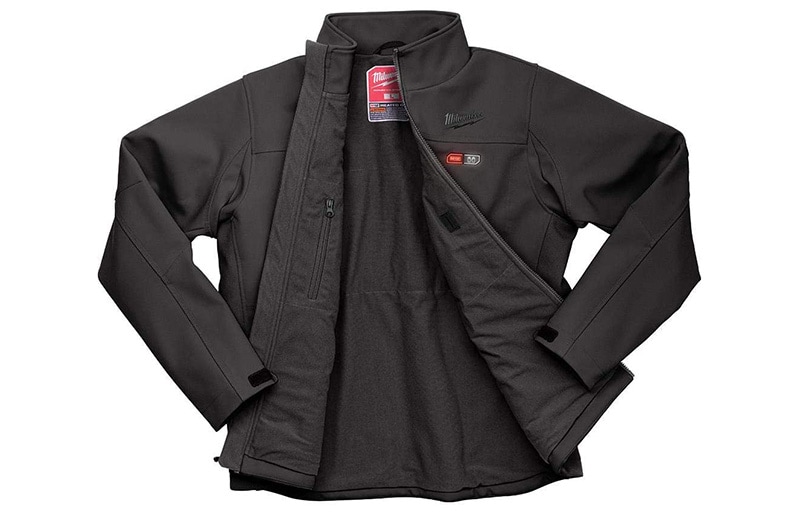 Pros
One-touch LED controller with three heat settings
Lightweight and comfortable
Over six hours of run time on one battery
Large pockets
Wind and water-resistant
Cons
Sizes run fairly small
There have been reports of the jacket not providing enough heat
The battery can get in your way while sitting down
Specifications
Brand: Milwaukee
Model: M12
Material: Polyester
Battery: Red lithium battery
Sizes: S-3XL

Milwaukee M12 Heated Jacket Details
Smart Design
The first appealing thing about the Milwaukee M12 Heated Jacket is its innovative design. It's clear that the manufacturers thought everything through and wanted to achieve a modern, functional design. The jacket is made of tough polyester with 80% more stretch than previous models and is water and wind-resistant. The heating efficiently functions by pressing a one-touch LED button.
The jacket also has carefully designed pockets to fit your tools during work hours, and is lightweight and comfortable enough to be warm and still allow you to perform your job. It operates on Redlithium batteries, giving you over six hours of heating.
---
Multi-purpose
Although this jacket was primarily created for construction workers and other people who work a lot outside, this jacket also appeals to consumers outside of these industries. Due to the Milwaukee M12 Heated Jacket features, many people who ride bikes, spend a lot of time outdoors, or just don't like to be cold use the jacket too. Instead of the jacket just being used as protective working apparel, everyday people who just need more warmth on cold winter days can make use of it as well.
---
Heating
Heating is the main draw of the Milwaukee M12 Heated Jacket. It has three heat settings, and the heat is distributed to the chest, back, and shoulders. While some users praise the jacket for its excellent heating that allows them to work in cold weather, others have reported that the jacket didn't heat them as much as they hoped. So with the next model, Milwaukee might need to literally turn up the heat in the jackets, especially for areas with really harsh winters.
Price
Milwaukee M12 Heated Jacket is not overly expensive, but it's more expensive than some of its competitors. Still, it's well worth the price. When you consider the design and features, Milwaukee has combined all the outstanding elements a heated jacket should have. And while it's not cheap, it's certainly worth the extra cost.
---
Maintenance
The maintenance of this jacket is pretty straightforward. All you need to do is change the batteries once they run out. They should last about six to eight hours and are rechargeable, so you can always charge one set while using another. It's also machine washable and a breeze to clean.

FAQ
How good is the warranty that comes with this jacket?
When it comes to warranty, Milwaukee has an excellent company policy. The warranty lasts for 12 months after the purchase, so you have a whole year of protection in case something happens. The support team is pretty good and responds fast, so if you need to return or replace your jacket, you shouldn't have any issues.
How durable is the Milwaukee M12 Heated Jacket?
The Milwaukee M12 Heated Jacket is very durable, especially compared to competitors like Bosch or Makita. It's resistant to water and wind, and if you replace the batteries whenever needed, you're looking at a jacket that can last you for a decade.
Who should wear this jacket?
Milwaukee created the M12 Heated Jacket for people in construction and other outside jobs that need warmth during cold months. Still, due to its fantastic heating feature, anyone who spends a lot of time outside and needs to feel warmer can use this jacket.

What the Users Say
We have done our research based on many customer reviews all over the internet. Below, you can see the good and the bad sides of the Milwaukee M12 Heated Jacket.
The Good
Affordable
The Milwaukee M12 Heated Jacket is affordable. There are cheaper and more expensive options on the market, but the Milwaukee price feels just right for this design and quality. There's a good warranty policy, so if you make the purchase and feel the jacket is not what you expected, you can always return it.
Quick Heating
The jacket has a quick heating system, so you should feel the warmth in only a couple of moments after turning on the heat. Since the heat is situated in the chest, back, and shoulders, it should make you feel comfortable in low temperatures.
Mobility and Comfort
Another thing users love about the Milwaukee M12 Heated Jacket's mobility and comfort. It's designed to be lightweight and not impede you while doing your job.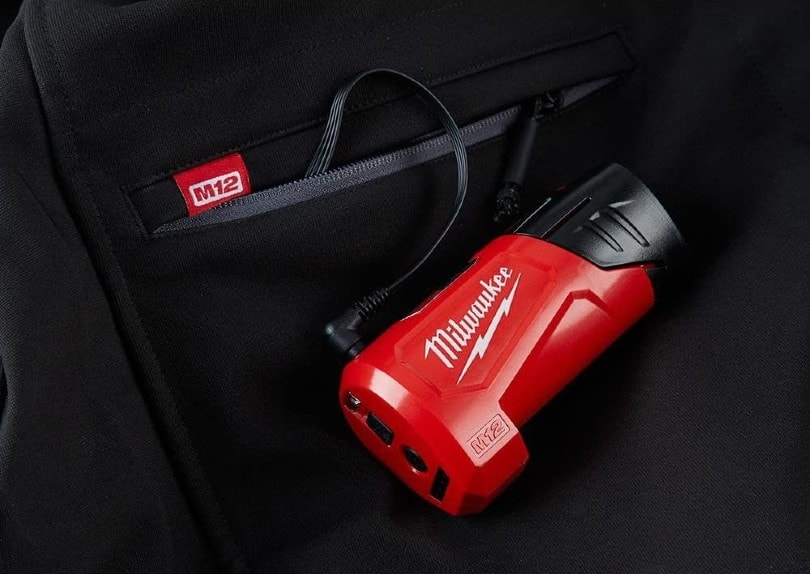 The Not So Good
Inaccurate sizes
We have seen complaints about the jacket sizes running a bit small. It's available in sizes from S to 3XL, but users have reported that it is smaller than expected. If you're looking to buy a Milwaukee M12 Heated Jacket, consider going a size up to feel more comfortable while wearing it.
Not Enough Heating
There have been reports of the jacket not providing enough heating. Of course, others praise the jacket for this very feature, so the opinions are divided. Some people feel that Milwaukee should improve the heating system in the jacket, while others find it perfect.
Battery Placement
Another thing that caught our eye is that there have been issues with the battery placement. Since it's placed inside the pockets, some customers had problems with the battery falling out if the pockets were unzipped.

Conclusion
After looking at the Milwaukee M12 Heated Jacket, we can firmly say that the pros override the cons. For a reasonable price, you can get a heated jacket that will keep you warm, comfortable, and will last you for ages. Carefully choose your size, as they run a bit small, and remember that the battery lasts for around six hours.
We think that you'll be more than happy with the way this jacket functions, and that you'll be able to enjoy working during colder months.