Ridgid vs. Milwaukee: Which Power Tool Brand Is Better in 2023?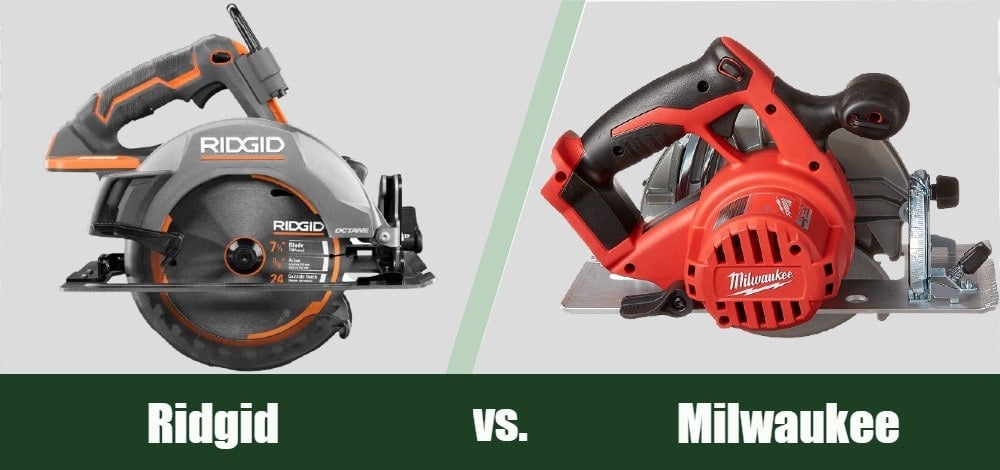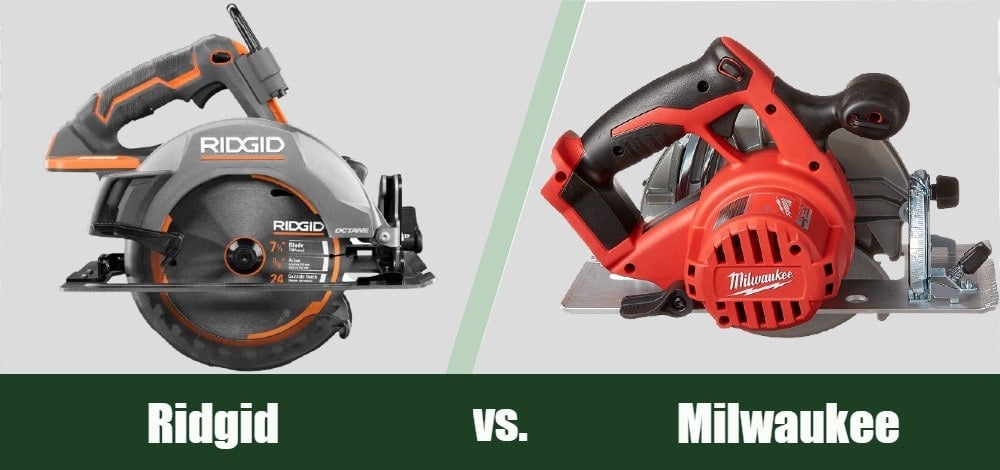 Ridgid Tool Company and Milwaukee Electric Tool Company are USA-based manufacturers of high-quality tools aimed at both the serious DIY and professional. Each one started early in the 20th century. Both businesses manufacture similar product lines with similar market segments. They are also subsidiaries.
Techtronic Industries Company Limited (TTI Group) owns Milwaukee. The company has the second largest market share in the industry, second only to Stanley Black & Decker Inc. TTI licenses the Ridgid name to Emerson Electric for cordless power tools. That manufacturer produces the iconic red tools, whereas TTI makes orange ones.
We'll discuss the product lines that each manufacturer makes, along with a detailed comparison of their performance and reputation. We'll include side-by-side reviews of representative tools to provide a better insight into each company.
A Quick Comparison
| | | |
| --- | --- | --- |
| Brand name | Ridgid | Milwaukee |
| Established | 1923 | 1924 |
| Headquarters | Elyria, Ohio | Brookfield, Wisconsin |
| Product lines | Plumbing, HVAC, Construction | Hand tools, Power tools, Instruments |
| Parent company/ major Subsidiaries | Subsidiary of Emerson Electric | Subsidiary of Techtronic Industries Company Limited (TTI Group) |
Brief History of Ridgid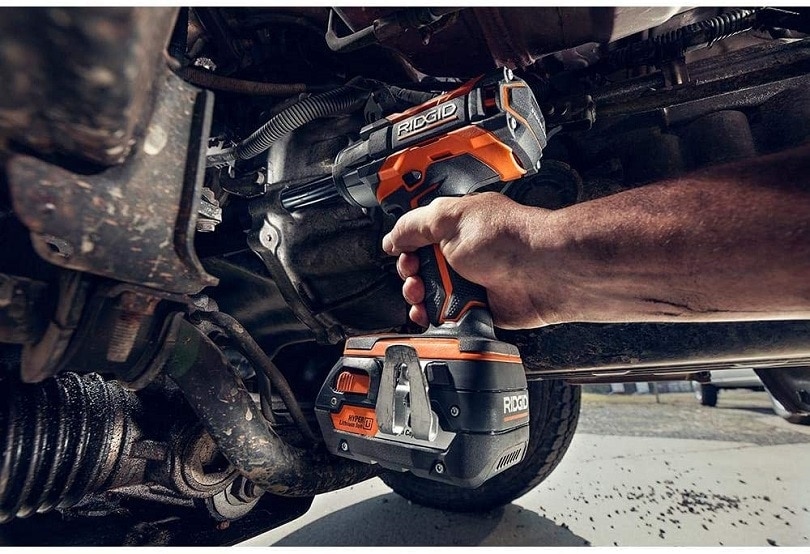 Ridgid began as a manufacturer of pipe wrenches in North Ridgeville, Ohio, in 1923. The business moved to Elyria, Ohio, its present headquarters, in 1943. In 1966, Emerson Electric bought the business to expand its portfolio. Ridgid is one of six that the organization owns.  The parent company is public and has an annual revenue of $16.8 billion.
Ridgid is now an international manufacturer. They produce 300 kinds of tools with 4,000 models. The company has eight plants in the United States and four overseas. Their products are available in 140 countries worldwide, and Ridgid has also entered the technology realm with its RidgidConnect program that helps contractors collaborate with their clients.
The manufacturer has recently introduced several new products, including its RIDGID SeeSnake for worksite inspections. They have also released a line of organization products and mobile apps.
---
Brief History of Milwaukee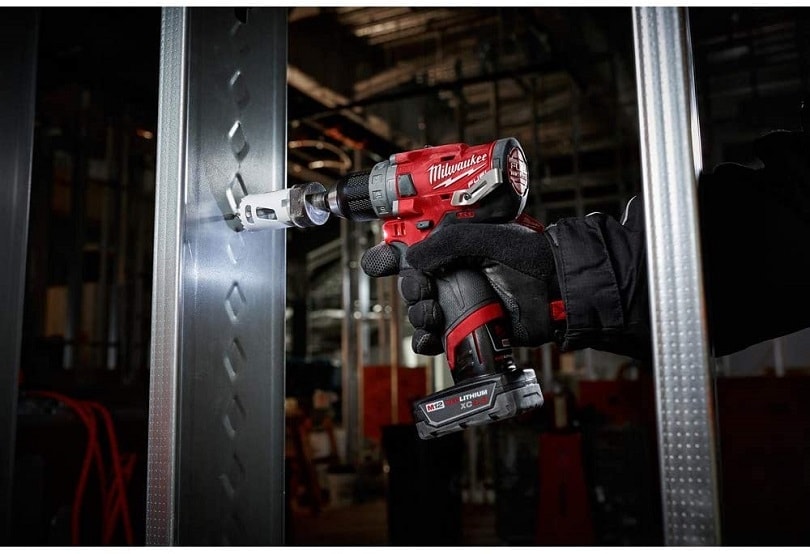 Milwaukee began life in 1923 as the A.H. Petersen Tool Company, named after one of its founding partners. The other partner, Albert F. Siebert, took over the business after a fire, renaming it to its present-day moniker. The manufacturer became integral to the war effort by supplying the US Navy with tools. Milwaukee established itself early on as an innovator with the Sawzall, introduced in 1951.
Milwaukee underwent several ownership changes before the China-based TTI purchased the business in 2005. It is a private organization with an estimated annual revenue of $729.89 million. Its parent company is public, with annual sales totaling $7.7 billion. The manufacturer stands out as a producer of trade-specific tools and devices.
The company is known for its cutting-edge technology. Its latest offering is its M12 FUEL High Speed Ratchets, released in January 2021. Milwaukee considers itself a problem-solver for creating solutions for professionals.

Ridgid vs. Milwaukee: Manufacturing
Ridgid
Emerson Electric is based in St. Louis, Missouri. There is also another corporate site in New Zealand. Ridgid employs 1,500 workers at all its sites. It has eight plants located worldwide, including its 17-acre headquarters. It has stayed true to its origins, producing all pipe wrenches at the Elyria, Ohio, facility. The site is also home to the manufacturer's Schoolhouse Global Training Center.
The company has embraced robotic technology to meet the growing demands of its 4,000 distribution partners. Its focus has broadened to include software solutions developed at its Elyria, Ohio, location.
Milwaukee
The headquarters for Milwaukee is located in Brookfield, Wisconsin. It has three other facilities in the state, along with satellites in Indiana, Mississippi, and Coahuila, Mexico. The company also has plants in Europe and China. While it manufactures many products overseas, the business has a strong presence in Wisconsin. It has recently expanded its facilities there and in Mississippi in 2017.
TTI is a relatively new company that started production in 1985 in Hong Kong. In January, the organization broke ground on a new West Bend, Wisconsin, plant. It is expected to bring 100 jobs to the area, with a projected opening in 2025. Milwaukee currently employs over 2,000 workers at all its sites.
---
Ridgid vs. Milwaukee: Product Line
Ridgid
Plumbing Tools
Ridgid's roots are firmly entrenched in the plumbing industry, where it got its start. After all, pipe wrenches were its first tool. Milwaukee has its successes but doesn't have the same quintessential status as the red pipe wrench. The company produces a full line of other tools to support these projects and jobs. It also produces wet-dry vacs.
Hand Tools
The company's lineup of hand tools covers the basics in a high-quality way. The manufacturer designs the products well and actively refines them with specs and features that make them easier and more comfortable to use. We think it's refreshing that they give these product lines the same attention as more lucrative items in their portfolio.
Power Tools
Ridgid's lineup of power tools concentrates on the basics, such as batteries, nailers, drills, and sanders. Many will appeal to contractors and DIYers. The products are top-notch and affordable priced, especially given the quality of the products. Also, the lifetime service agreement makes them even more of a value—as long as you play by the company's rules.
---
Milwaukee
Power Tools
Power tools are where Milwaukee shines. It has a diverse range of products for many industries and uses, including metalworking, woodworking, and construction. It's worth noting that they sell combo packs so that contractors can outfit their teams with quality devices. Its product line for drill drivers alone has 38 choices. All devices are high-quality, with many offering state-of-the-art sensor technology.
Milwaukee stands out as a company that finds solutions, which has endeared it to professionals.
Hand Tools
The wide range of available products is evident in this line, too, with 467 types and models. It certainly helps that the company backs up its hand tools, which they could easily write off as not as essential as its top-of-the-line items. The lineup includes a full range of vital tools for many industries and DIYers.
Instruments
The manufacturer also has a strong presence with specialty items like multimeters, lighting testers, and thermal imaging. This direction has helped propel the company as a one-stop shop for all your tools. It's a smart strategy for Milwaukee since it helps them build brand loyalty across the board. The compelling thing about it is that they succeed even with such specialization.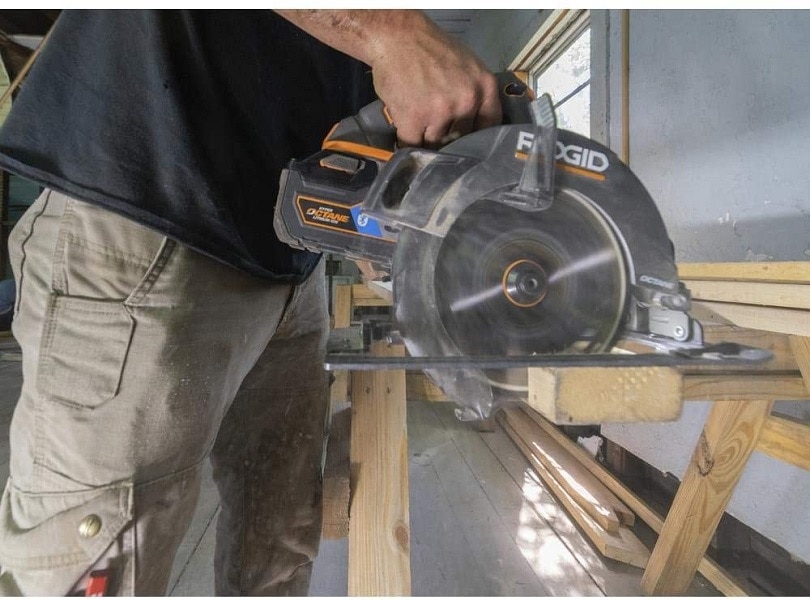 Ridgid vs. Milwaukee: Price
It's essential to balance price with quality. The two companies have similar price points on some items, especially ones with similar designs.
Ridgid
Ridgid offers excellent value, and you can feel confident you're getting your money's worth. The more specialized the product, the more you will pay. However, the investment is worthwhile, especially for the DIYer. The company leans toward the advanced user with its premium products.
Milwaukee
Even basic tools will cost you if you go with the Milwaukee brand. However, the quality is top-notch, even with the so-called budget items. It's imperative to read the product descriptions carefully and ensure that must-haves are included with your purchases, such as chargers or holsters. That's where you might pay more for Milwaukee products, especially at the premium end of the spectrum.
---
Ridgid vs. Milwaukee: Warranty
Both manufacturers take pride in their products and stand behind them with guarantees and warranties. The terms and conditions are clearly displayed on the company websites.
Ridgid
Ridgid offers several types of warranties, ranging from 3-year to full lifetime coverage. They vary with the kind of product that you purchase. The company offers a free Lifetime Service Agreement on some items with registration and proof of purchase.
Milwaukee
One unique offering with Milwaukee products is that you needn't register them to get warranty coverage. They also vary by product type. Repairs and replacements are free, and they cover defects in workmanship or design.
Ridgid vs. Milwaukee: Customer Service
Customer service matters most when something stops working or breaks. Both companies have excellent customer service, whether through warranties or the availability of service centers.
Ridgid
There is one thing that you must know upfront. You must get your products from Home Depot to be eligible for a lifetime service agreement. Otherwise, you can't sign up to get it. It's not a ding against customer service, but they will field the calls about your concerns. Otherwise, it is top-notch, thanks to a president with a can-do attitude.
Milwaukee
Customer service is excellent for this company. It probably helps that the products are so well-made that you may have little need to contact them in the first place. Overall, the company works hard to improve the buyer's experience with things like automatic warranties on purchases. If you run into a problem, many service centers are located around the country to help.

Head-to-Head:
Ridgid vs. Milwaukee Corded Drills
We looked at a ⅜-inch corded drill from both manufacturers. Two things stand out for us. The Milwaukee product is heavier and has a more solid feel to it. Our first impression was that it was the higher quality of the two. However, the Ridgid had a belt clip and a lifetime service agreement. The warranty lasts 3 years compared to Milwaukee's 5 years. It was also twice the price.
Our Verdict:
Ridgid wins this round. The specs were comparable, but the kicker was the service agreement that makes it a smart investment.

Head-to-Head:
Ridgid vs. Milwaukee Hack Saws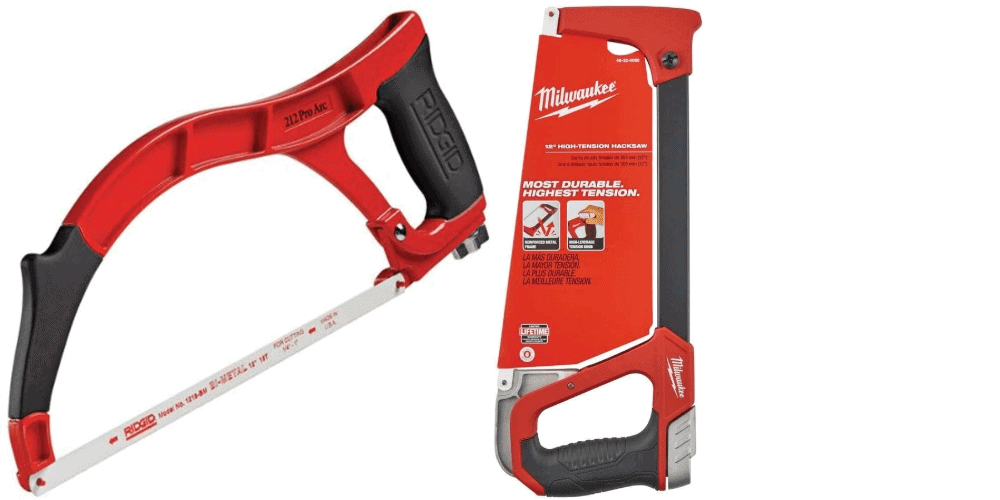 We compared how well each company produced basic tools like the hack saw. Both manufacturers made the product comfortable to use with an ergonomic handle. Both succeed on this score. Ridgid got high marks for a better design with a comfortable grip. Both products are affordably priced and performed equally, as well. We would be happy to add either one to our toolbox.
Our Verdict:
Ridgid scores another hit with this one because of the lifetime warranty on the tool.

Head-to-Head:
Ridgid vs. Milwaukee Thermal Imagers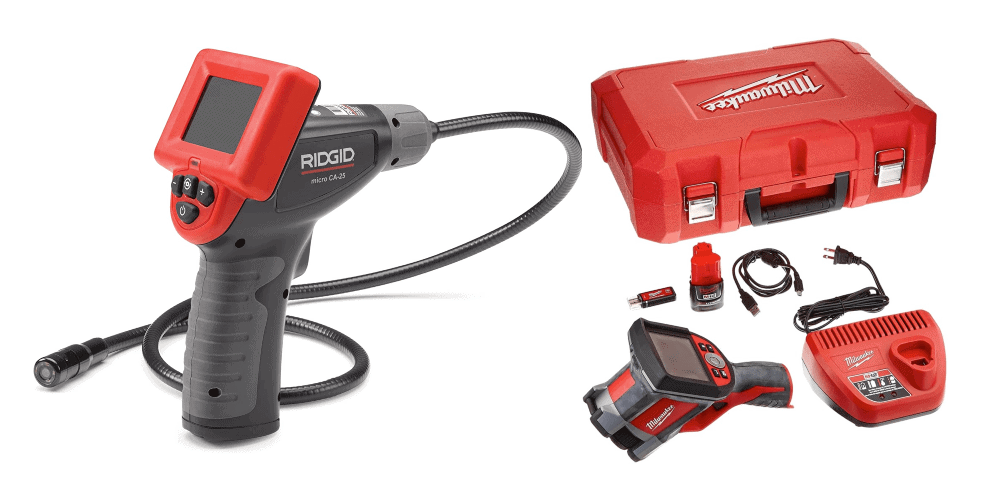 Delving into the specialty realm, we can see how each company has responded to the move toward digital and smart devices, with accompanying apps and software to make using them easier and more efficient. Both products work as described. Ridgid is the more user-friendly of the two. However, Milwaukee scores high marks on usability.
Our Verdict:
Draw. It depends on what you need from this product. Granted, it is a more specialized device. Milwaukee offers more information for the professional, but Ridgid makes it user-friendly with mobile apps and an intuitive design. However, Milwaukee ticks off more boxes for info that the pro needs on the job.

Overall Brand Reputation
Each brand stands out on several scores. The work ethic of both of them is stellar. However, if we have to choose between the two, we must consider some factors that separate the two manufacturers.
Performance
Edge: Milwaukee
Both companies make quality a priority. However, Milwaukee takes the prize for products that you can consider investments. They are well-made and last several years. Many have extra features that show attention to detail that professionals will appreciate.
---
Price
Edge: Ridgid
Both brands offer quality products for the price. Ridgid is your best bet for more affordable tools if the cost is a concern. Milwaukee items are more expensive. However, they are an investment for individuals or pros who will use them often. Suffice it to say that each one appeals to a different market segment.
---
Durability
Edge: Draw
Both Ridgid and Milwaukee produce top-of-the-line products. Ridgid gets the edge for the service agreements. Milwaukee scores points with the excellent builds and quality materials they use. Each one backs up its items with explicit guarantees and warranties.
---
Design
Edge: Milwaukee
Milwaukee gets the edge because of the specialization evident in its various product lines. Yes, you can get a basic drill, but you can also get a specialty product suitable for a particular industry. The features show that the company understands what it's like on the frontline when using its tools.

Conclusion
The essential takeaway is that both companies put quality first. They offer decent guarantees and warranties to justify their upfront cost. Ridgid gets the edge for DIYers who want durable products at affordable prices. You can't go wrong with buying any of their items. Milwaukee has the expert user in its sights. Their mission is to create solutions for professionals. They may cost more, but they are worth it.