9 Best Cordless Hedge Trimmers of 2023 – Reviews & Top Picks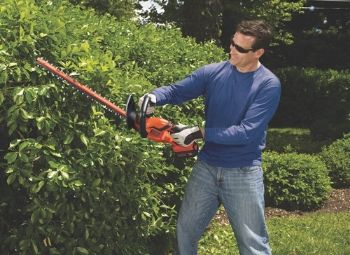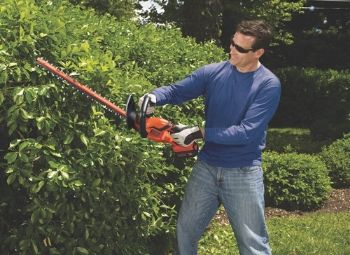 You can always tell when hedge trimming season has started. You can hear shouts from the neighbors as their electric trimmer cuts through yet another power cord.
If you are not ready to join the ranks of physichally exhausted, extension cord bereft homeowners, you have come to the right place. Cordless hedge trimmers have gained a lot of popularity in recent years, and for good reason. However, choosing the right one for you can be easier said than done.
With you and your neighbors in mind, we have produced a list of the 9 best cordless hedge trimmers available. Our reviews will give you all the details you need—plus a buyer's guide—to have you trimming your hedges with ease in no time. We've compared these units for cutting power, battery life, weight, noise, durability and vibration—saving you the effort. Read on for in-depth cordless hedge trimmer reviews so you can make the best choice.
---
A Quick Comparison Of Our Favorites in 2023
Rating
Image
Product
Details

Best Overall

BLACK+DECKER LHT2436

Good battery life during use
Quiet with less vibration
Steel
rust resistent
dual action blade
CHECK PRICE

Best Value

Earthwise LHT12021

20-inch steel dual-action blade
Cuts through ⅝ of an inch thickness
Good maneuverability and control
CHECK PRICE

Best Pole Trimmer

Earthwise LPHT12022

Can be used as a handheld trimmer
20-inch steel dual action blade
Safety trigger and molded handle
CHECK PRICE

Premium Choice

Dewalt DCHT820P1

Long battery life
Dual-action 22-inch blade
Clean cuts with one pass
CHECK PRICE

CRAFTSMAN CMCHTS820D1

Cuts through ¾ of an inch
Quick battery charge
Good weight and balance
CHECK PRICE
The 9 Best Cordless Hedge Trimmers
1.

Black + Decker 40V Cordless Hedge Trimmer – Best Overall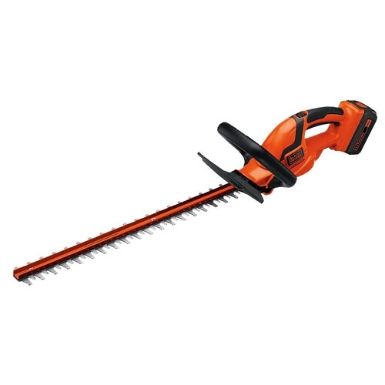 The Black + Decker 40V MAX is by far the best cordless hedge trimmer available. It has a 40-volt lithium-ion battery that fully charges in about an hour, and runs continuously for up to an hour and 20 minutes—which is equivalent to 6,000 square feet. of trimming per charge.
This steel bladed trimmer will surprise you with what it can handle. You will easily be able to cut through ¾-inch thick branches with its dual-action 24-inch blade. At 2400 SPM, it can cut through bamboo. The double-sided blades are also rust-resistant for less maintenance.
Even though the trimmer is working hard, you'll be spared the bulk of the labor. It is lightwieght, easy to maneuver, and has a soft and comfortable grip. It will allow you to cut cleanly through most branches with only one pass. It's also quieter and has less vibration. Whether you are trimming the shrubs around your home, or working at a large estate, the Black + Decker 40V Cordless Trimmer will be perfect for you as we think it is the best cordless hedge trimmer on the market today.
Pros
Good battery life during use
Steel, rust resistent, dual action blade
Steel, rust resistent, dual action blade
Lightweight and easy to manuever
Quiet with less vibration
---
2.

Earthwise LHT12022 Cordless Hedge Trimmer – Best Value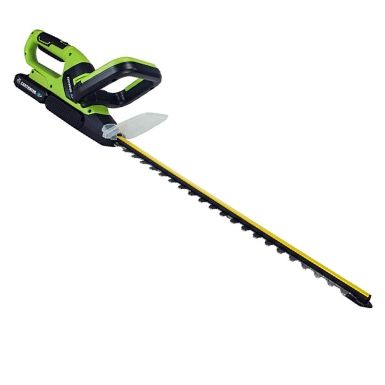 Our next pick is the best cordless hedge trimmer for the money. The Earthwise 20-inch has a 2.0An Lithium-ion battery that charges in about 45 to 60 minutes but only gives you 30 to 45 minutes of continuous use. This little gem, however, does sport a dual-action steel blade that will help you cut through ⅝ of an inch. At 2,600 SPM, you will be able to cut cleanly through shrubs and bushes with one pass, and it is also good for edging.
The Earthwise 20-Inch is a little heavier than our top choice but still allows for medium to light work. It comes with a safety sleeve for the blade, and a safety switch to prevent finger injuries. The trigger itself can be a little hard to keep pressed down though, and this cordless trimmer doesn't work well in damp weather.
It will allow you to be precise with the 20-inch blade, and the soft loop handles make it easy to maneuver and control. Overall, this cordless trimmer is the best for the money.
Pros
20-inch steel dual-action blade
Cuts through ⅝ of an inch thickness
Safety sleeve
Good maneuverability and control
Cons
Heavy
Trigger is hard to keep pressed down
Poor performance in wet weather
---
3.

Earthwise LPHT12022 Cordless Hedge Trimmer – Best Pole Trimmer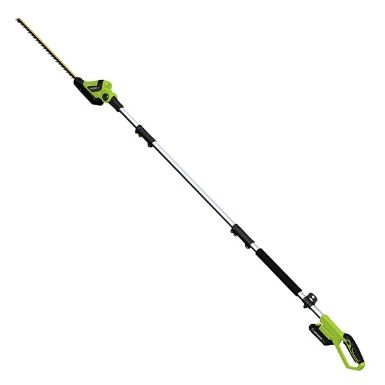 Our third choice is dedicated to a hedge trimmer that can reach high and difficult places. The Earthwise 20-inch Pole Hedge Trimmer comes equipped with a telescoping pole that extends up to 9.5 feet, and has five adjustable positions that rotate about 180 degrees. This will help you trim anything out of reach without the use of a ladder.
This trimmer has a 20-inch steel dual action blade, and a 2.0 An lithium-ion battery. The battery can be charged in about an hour, but only has about a 20 to 30 minute run time. The extension pole can be easily removed which will allow you to use it as a handheld trimmer. It will cut through up to ⅝ of an inch as well with clean precise cuts.
Unfortunately, the Earthwise Pole Trimmer does have the motor in the front which makes it heavy when fully extended. With 2,600 SPM, a molded handle, and a full grip trigger and safety switch, the handheld position will allow you to fly through light to medium work. The fully extended mode, can be harder on your body, but will still help you reach those high places.
Pros
Five adjustable trimmer-head positions
Can be used as a handheld trimmer
20-inch steel dual action blade
2600 SPM for clean cuts up to ⅝ of an inch
Safety trigger and molded handle
Cons
Top-heavy when extended
Sloppy cuts when extended
Short battery life
---
4.

Dewalt DCHT820P1 Hedge Trimmer – Premium Choice
The Dewalt Hedge Trimmer is our high-end pick for the year. It uses a 20-volt 5An lithium-ion battery and can last for about 3 to 4 hours of off and on work. This long-lasting powerhouse will easily let you cut through ¾ of an inch, and has 22-inch blade that allows you to reach further. The blade is dual-action steel and makes a nice precise cut with a single pass.
The DewalttTrimmer is heavy, however, and a lot more taxing to use. It is also louder, and the smaller trigger can be harder to hold down. On the other hand, you will fly through any work with the sharp blades. You will be able to handle 2,000 square feet in one charge, and it can be used for anything from home trimming to light commercial work.
That being said, if you are not familiar with hedge trimmers, this heavier, and super sharp option may not be right for you. Also, replacement batteries for this model are expensive and tend to wear out long before the motor will.
Pros
Long battery life
Cutting capacity of ¾ of an inch
Dual-action 22-inch blade
Clean cuts with one pass
Cons
Heavy
Trigger is small and hard to hold down
Loud
Replacement batteries are expensive
---
5.

CRAFTSMAN V20 Cordless Hedge Trimmer
Next up is the middle of the road option; the CRAFTSMAN V20. This 22-inch dual-action steel bladed trimmer has a cut capacity of ¾ of an inch. This particular model also has a power saw feature that has a cut capacity of 1 ½ inches.  It also has a 2.0 An lithium-ion battery that charges in 40 minutes, but the running time is only about 20 to 25 minutes of use; which can make your project a lot longer to complete.
The CRAFTSMAN is a good weight and is well balanced so you can handle it easily. While this helps the stress on the body, you will probably spend more time on the chore as this model is not as powerful as those above. It general takes two passes to get off what you need, and it's better with fresh growth. Also, the saw feature tends to get jammed easily, and really isn't worth using.
All and all, this is not a bad option for small, light jobs. You would probably be better off having an extra battery if you are doing more than bushes or shrubs.
Pros
22-inch steel dual action blade
Cuts through ¾ of an inch
Quick battery charge
Good weight and balance
Good for small home jobs
Cons
Battery charge only lasts for 20 to 25 minutes
Saw option is not worth using
Takes multiple passes for a clean cut
Only good for small jobs with newer growth and smaller cuts
Also check out our tips for sharpening your hedge trimmers – Click here!
---
6.

EGO Power HT2400 Cordless Hedge Trimmer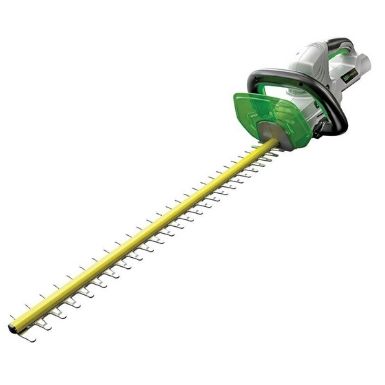 Here's the EGO power which sports a 24-inch dual action steel blade and an electric brake feature for safety. The longer blade helps you clear father reaching branches. This particular hedge trimmer comes with two different batteries options: a 2.0An or a 2.5An. Both batteries take about three hours to charge but last about an hour. On the other hand, if the batteries are left on the charger once they are full, they will actually lose power.
The EGO Power has 3,000 SPM and can cut through ¾ of an inch—although that may be pushing it. Anything ½-inch or smaller is well within your reach, and it is helped along with soft grip handles and low noise. Unfortunately, both batteries are rather heavy, so it will require more muscle power. The trimmer is also not well balanced and is harder to maneuver in tight spaces.
Another drawback is that in order to start this trimmer, you have to have both hands on the machine. This can make it harder to use the trimmer at different angles. If you want something that can handle medium work, with a longer reach, this may be for you, though.
Pros
Good reach from 24-inch blade
Electronic brake for safety
Two different battery options
Soft Grips and low noise levels
Good for small projects
Cons
Long battery charge time
Battery can die if left on the charger
Can only cut through ½ not ¾ of an inch
Heavy and awkward to handle
Difficult to start due to a two-hand start
See the best: Corded electric hedge trimmers!
---
7.

WORX WG255.1 Cordless Electric Hedge Trimmer
The WORX PowerShare 20" hedge trimmer is number 7 on our list. This 20-inch dual-action steel blade is very lightweight and compact. It is perfect for the novice hedge trimmer. The 20-volt battery lasts for only about 30 minutes of stop and go use. It also sports a D-shaped handle that makes it easier to work at different angles.
This model will be great if you have smaller, lighter projects. The cutting capacity is ranked at 9/18 of an inch, but it will need to be new growth and most material will require multiple passes. The blade tends to become jammed if you try to force it. While the unit is quite easy to use, it does have a two-hand trigger which can be frustrating. The control handle needs to be pulled back for the trimmer to work, but it often pops out cutting off the power.
If you are looking for something very lightweight that can handle garden size work, this could be the trimmer for you.
Pros
Steel 20-inch dual action blade
Very light to use
Good for beginners
Good for light projects
Cons
Short battery life
Difficult two-hand trigger
Not good for large bushes or shrubs
---
8.

Makita XHU02Z Cordless Hedge Trimmer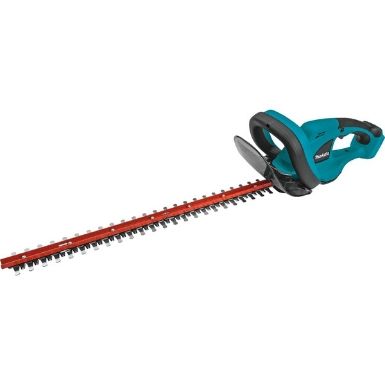 The Makita hedge trimmer has some good safety features. Its computer controls tell you when the trimmer is over-loading, overcharging, and overheating. The 22-inch steel dual action shear blade pumps out 2700 SPM. This option is also a light-duty winner, as it is good for shaping small plants.
The 18-volt battery takes a couple of hours to charge, and only lasts 20 to 30 minutes. While it doesn't cause much stress on the body from the weight, it does require several passes to get a clean cut. It also tends to jam easily on anything the size of a pencil or bigger. The blades on this model move slower, as well. This causes the first couple of problems, but it can also be the reason for ragged cuts.
The 22-inch blade makes it harder to work within tight spaces, plus the complicated trigger and safety catch makes it almost impossible to work with at an angle. Unless you are looking for additional warning systems in your trimmer, you may be better off with one of the options above.
Pros
Electronic safety features and warnings
22-inch steel dual-action blade
Lightweight body
Cons
Short battery life
Jams easily
Complicated trigger and safety catch
Makes ragged cuts
---
9.

Ryobi P2603 Cordless Hedge Trimmer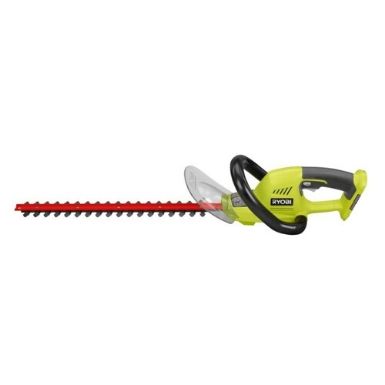 This 18-inch dual-action steel blade trimmer is the last on our list. The 18-volt battery, which is typically not included, charges pretty quickly, but only lasts for 20 minutes of use. The cut capacity is ⅜ of an inch, but it really doesn't come anywhere to close to that.
While you will have the comfort of a loop handle, there is little power in this trimmer, and the blades are not shaped. It has a difficult time cutting through anything stronger than tall grass and usually shreds instead of trims. Beyond that, it tends to get jammed often, and debris gets caught in between the blades making it difficult to get out.
You will also have a difficult time with the weight of the trimmer, though it is quieter than most. In this case, though, the lack of noise indicates a lack of power. Unfortunately, this is not the best option for a hedge trimmer. You would probably be better off with a traditional hand-powered trimmer than spending money on this model.
Pros
Battery charges quickly
Comfortable loop handle
Cons
Blade is not sharp
Short battery life
Lack of power
Power Rake vs. Dethatcher: What's the Difference?
---
Buyers Guide – Choosing the Best Cordless Hedge Trimmer
Important Things To Consider To Find The Right Cordless Hedge Trimmer
There are a few things you want to consider when purchasing a cordless hedge trimmer. The first is battery power. Lithium-ion batteries are the most powerful and long-lasting option. The higher the voltage a battery has the longer it will last while you are working. Also, the higher the battery power, the more strength your hedge trimmer is going to have. It will allow to cut through more dense material and make cleaner cuts.
Cleaner cuts are important for the health of your plants. Jagged cuts can affect how a plant grows. This is why blade options are also important. Dual-action steel blades are going to be sharper and easier to work with, and they require fewer passes.
You will also want to consider the length of the blade. The longer the length, the more surface area you can cut. If you have smaller plants or tight spaces to trim, you will want to go with a shorter trimmer blade; 18- to 20-inch.  On the other hand, large surfaces are easier to trim with longer blades; 22-inch and up.
Another factor to consider is handleability. Choosing a model that is too heavy or is not well balanced will make the trimmer very difficult to use. You also want to look into the handle and the type of trigger.  For example, safety triggers are good, but can be tricky to use while maneuvering the trimmer. If you are not able to use the hedge trimmer correctly, it will affect more than just your strength, but the performance of the trimmer as well.
That being said, performance is the next consideration. You want to ask yourself—what kind of power does the trimmer have? Does it make smooth cuts, or does it jam? Take a look at the SPM. Spins per minute will indicate how fast the saw blades move. The faster they move, the better they will cut. Also, the cut capacity. How big are the branches you need to trim?
Finally, consider any extra features you might be looking for. Do you want a quieter low vibration trimmer? Safety guards, blade covers, and how the trimmer performs in different climates/weather conditions are important too.
Tips When Buying
After looking at the factors above, you probably have an idea of what you need in a hedge trimmer. If you are still on the fence, consider the task at hand. What kind of weight can you handle? Is this for light work twice a year, or medium work once a month?
Also, ask your self how long you want your trimmer to last. Would you be upset if it lasted only two years? Factors such as warranties can make a big difference, along with replacement parts and maintenance.
Typically, cordless hedge trimmers will require blade lubrication at some point, and possibly sharpening. They could also need a replacement part, or have a wire come loose. The most common issue though is the lifespan of a battery. Looking into the cost of a replacement battery—if you can get one—is important. On that same thought, can you run other tools from that battery? A lot of companies, such as Black + Decker, allow you to interchange your batteries with other Black + Decker tools.
Regardless, doing some research and paying attention to the reviews above, can make a big difference in whether you are happy and satisfied with your cordless hedge trimmer.
Want to look after your garden properly? You may want to read:
Conclusion
There is no doubt that the Black + Decker 40V MAX Cordless Hedge Trimmer, 24-Inch is the best cordless hedge trimmer this year. Not only is it powerful enough to tackle most jobs, but it has a great battery operating time, makes clean one-pass cuts, and is easy to handle. There is not too much else you could want in a hedge trimmer.
Our best for the money choice is the Earthwise LHT12021 Volt 20-Inch Cordless Hedge Trimmer. With its 20-inch dual-action blade, decent weight, and good cutting strength, we believe that this option will give you the most bang for your buck.
Whether or not our two top picks are right for you, we hope our cordless hedge trimmer reviews have helped you choose the best option for yourself and your home.