Milwaukee vs Makita: Which Brand is Better in 2023?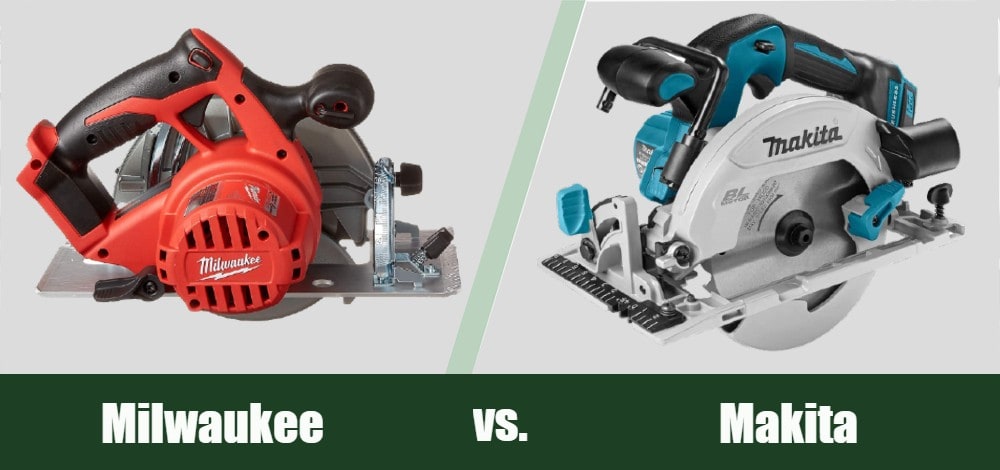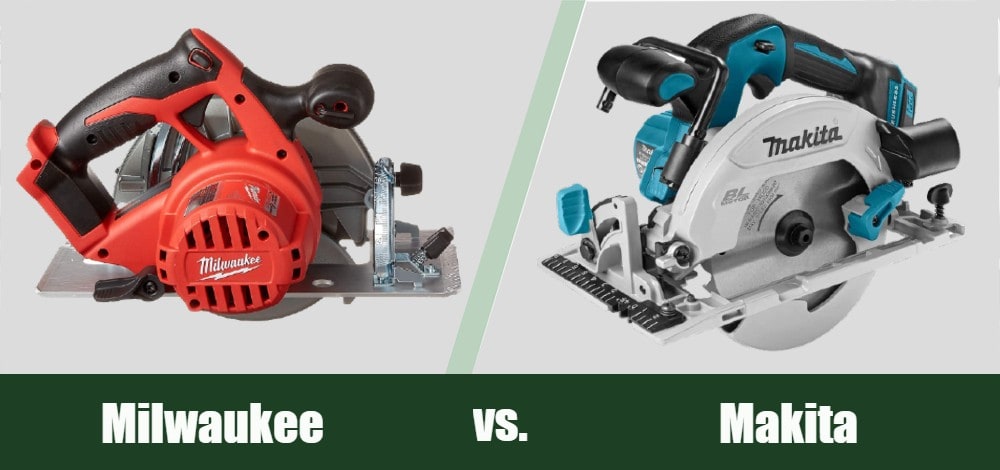 When it comes to power tools, there are a few "big names" that you can usually trust. And two of the biggest names are Milwaukee and Makita. And handymen everywhere can't help but ask the natural question: which brand is better?
It's actually a tough question to answer because the brands and their tools have changed so much over the years. But which is the better brand?
To answer these questions, we compared the two brands in true "head-to-head" fashion. Which one came out on top? Keep reading to discover our complete guide to Milwaukee vs Makita!

A Quick Comparison
Image
Product
Details

Milwaukee

Established: 1924
Headquarters: Brookfield
Wisconsin
Product lines: Power tools
Major Subsidiaries: Techtronic Industries
CHECK PRICE

Makita

Established: 1915
Headquarters: Japan
Product Lines: Power tools
Major Subsidiaries: Makita Corporation
CHECK PRICE
Brief History of Milwaukee
Milwaukee is a major name among power tools manufacturers. And this American company has been innovating power tools since it was founded back in 1924.
And as a company, they really hit the ground running. In the 1930s, the federal government gave the company their equipment specification rating. Milwaukee had a tall task: they would now be manufacturing tools to the highest standards of the United States Navy. And when the United States entered World War II, Milwaukee became a major supplier for the Navy and played a major part in the war effort.
Along the way, Milwaukee began innovating their own products. They helped to revolutionize things like sanders and electric hammers, and the manufacturing boom during the war helped make them a major player on the national stage.
Over the years, different parent companies have owned Milwaukee. But their commitment to excellence and innovation remains unchanged nearly a century after the company first began.
---
Brief History of Makita
As a company, Makita is a bit older than Milwaukee. Whereas Milwaukee was founded in 1924, Makita was founded in 1915 in Japan. Like many companies, they started out by focusing on a handful of high-quality products and slowly expanded their operations.
Back in 1915, Makita's main priority was repairing and selling things like motors, lighting equipment, and transformers. While they were successful, Makita would not become the company you know until 1958.
In 1958, Makita began marketing a portable electric planer. Following this success, they began focusing on power tools in 1959. And while they have had many innovations over the years, what really put Makita on the map was the 6500D battery-powered drill introduced in 1969.
This was the world's first rechargeable power tool. And the company has spent the decades since then perfecting their different rechargeable tools. To this day, they remain one of the biggest names in rechargeable tool technology.

Milwaukee vs Makita: Manufacturing
Milwaukee
Despite being a subsidiary of a Chinese company, Milwaukee is located in America. Their headquarters are in Brookfield, Wisconsin, though their tools are manufactured all over the world.
According to Milwaukee's own website, the company has manufacturing facilities throughout America as well as in China and Europe. This makes sense for an increasingly global economy, but it does mean that only some of Milwaukee's tools are actually "made in America."
Milwaukee tools manufactured overseas still maintain the high quality the brand has been known for all these years. But if your priority is buying tools that are only made in America, you may need to find another company.
Makita
Makita is very much a Japanese company. But does this mean all of their tools are manufactured in Japan?
Not at all! In fact, the company founded the Makita Corporation of America back in 1985. They are located in Buford, GA and handle most of the tools that handymen in America will buy from them.
However, the company is not limited to American manufacturing. The primary corporate headquarters is located in Anjō, Japan, and they also manufacture tools in many other countries all around the world. This includes facilities in Brazil, China, Mexico, Germany, Dubai, Thailand, and the United Kingdom.
---
Milwaukee vs Makita: Product Line
Milwaukee
Milwaukee makes a major range of power tools. However, they are most known for certain types of tools. And if you are buying one of these types of tools, you can rest assured it will be a quality product.
Impact Wrenches
The company makes a range of solid impact wrenches. This includes their famous M18 Fuel line of wrenches.
High-speed Ratchets
Milwaukee specializes in high-speed ratchets. And they have ratchets available in a variety of different sizes.
Nailers
Milwaukee makes many different nailers, including framing nailers and finish nailers.
Circular Saws
Milwaukee offers very reliable circular saws. These are available in both the M12 and M18 lines.
---
Makita
Makita is generally known for its high-quality power tools. And as major innovators in Lithium-Ion batteries, they have helped to revolutionize cordless technology.
Batteries
Makita made waves when they introduced the first rechargeable power tool. They have since become a major authority on Lithium-Ion batteries and introduced the first 18-volt Lithium-Ion battery.
Cordless Tools
Because of their focus on rechargeable batteries, Makita has also become one of the leading makers of cordless tools. If you need a tool that is lightweight and portable, Makita is a good bet.
Hammers
Makita makes great specialty hammers as part of their power tools. This includes reliable drilling and stemming hammers.
Gardening Equipment
You may not know that Makita creates high-quality gardening equipment. This includes eco-friendly options such as electric lawnmowers.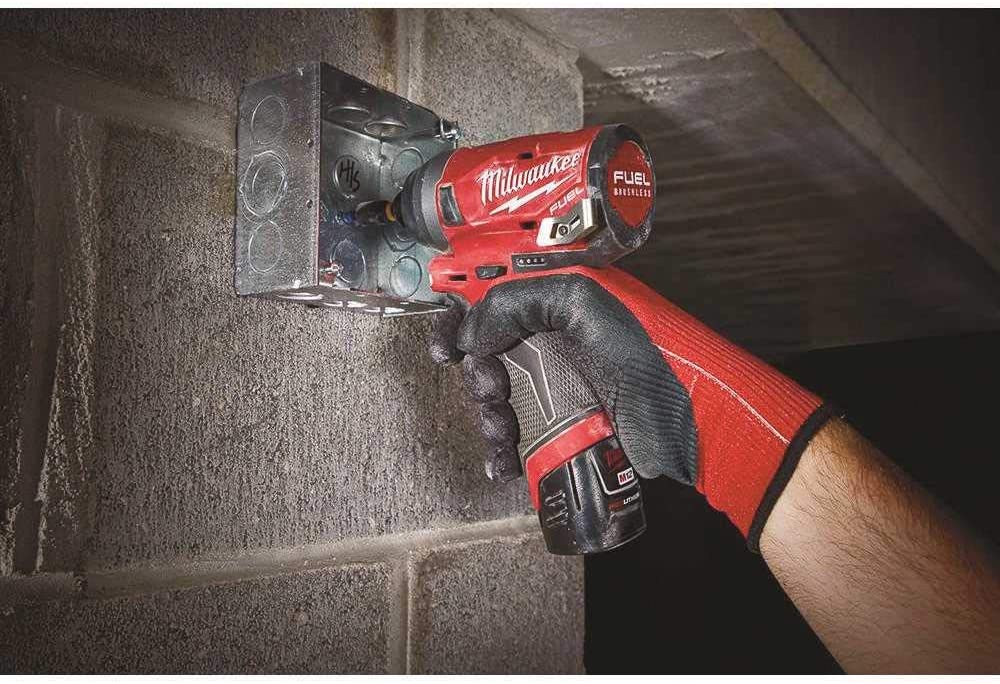 Milwaukee vs Makita: Price
For better or for worse, price is always an important consideration when it comes to power tools. So when comparing Milwaukee vs Makita, we must answer the question: which brand offers the best price?
Honestly, there is not a large difference between their prices. Generally speaking, Milwaukee tools are a bit more expensive than Makita. But neither company makes very many cheap products. Rather, the old rule holds true: you get what you pay for, and it's important to set aside a budget and buy some high-quality tools.
If you're looking to save a bit of money, both Milwaukee and Makita offer solid bundles that combine tools, batteries, and accessories. But once you own compatible Lithium-Ion batteries, you may be able to save more money by buying just the tool instead of the bundle.
Milwaukee
If you're looking for a good Milwaukee "budget buy," we recommend the Milwaukee M12 Drill Driver. But if you are looking for a solid premium tool, the Milwaukee M18 FUEL HOLE Right Angle Drill is a good choice.
Makita
For Makita, one of the best budget buys is the Makita 18V Impact Driver XDT13Z. But if you have the budget for a premium tool, we recommend the Makita Impact Driver Kit XDT111.
---
Milwaukee vs Makita: Warranty
With any power tool, it's important to get a good warranty. Fortunately, both Milwaukee and Makita offer solid warranty programs.
Milwaukee
All of Milwaukee's tools automatically come with a warranty: no registration is required. They offer free repairs and replacements and covers defects in product materials and workmanship.
Makita
With Makita products, you can get a refund or a replacement up to 30 days after purchase. Additionally, Makita products come with a one-year limited warranty that covers any defects in product materials and workmanship. Additionally, certain Makita tools may offer longer warranties.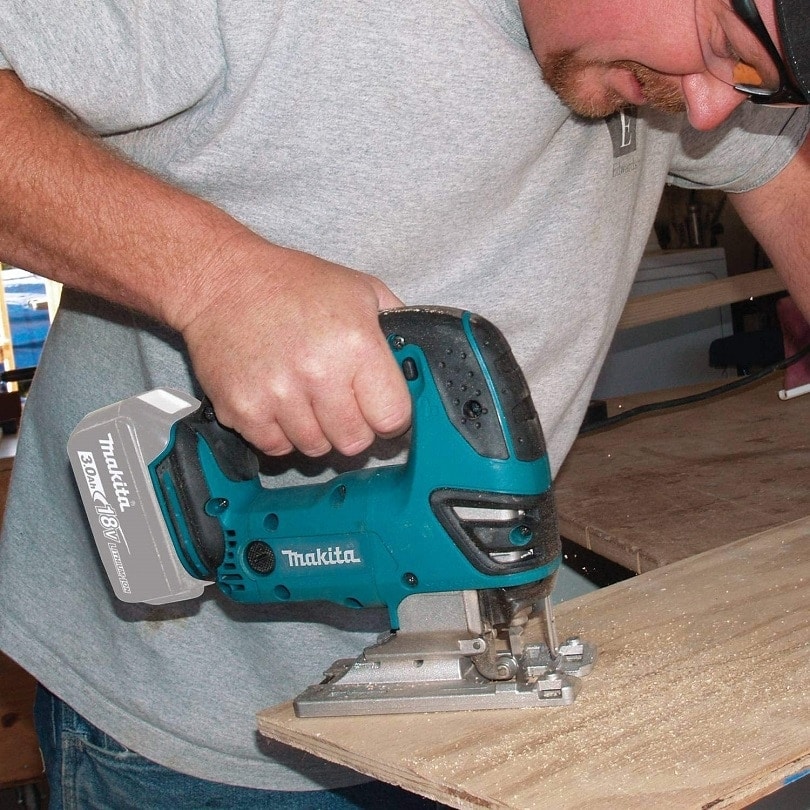 Milwaukee vs Makita: Customer Service
Customer service is the cornerstone of any successful company. And while both companies make similar tools, there is actually a big difference in the quality of their customer service.
Makita
Makita generally offers solid customer service. Users mostly praised their responsiveness and attentiveness to customer needs. On top of this, most users praised their products for their very user-friendly design.
Milwaukee
Many users have reported issues with Milwaukee's customer service. Users report difficulty reaching Milwaukee and slow (or no) responses to any messages. Other users have reported issues with taking advantage of their product warranties.

Head-to-Head:  Cordless Combo Kit
Milwaukee 2896-26 18V M18 Fuel  vs Makita XT610 18V LXT Li-Ion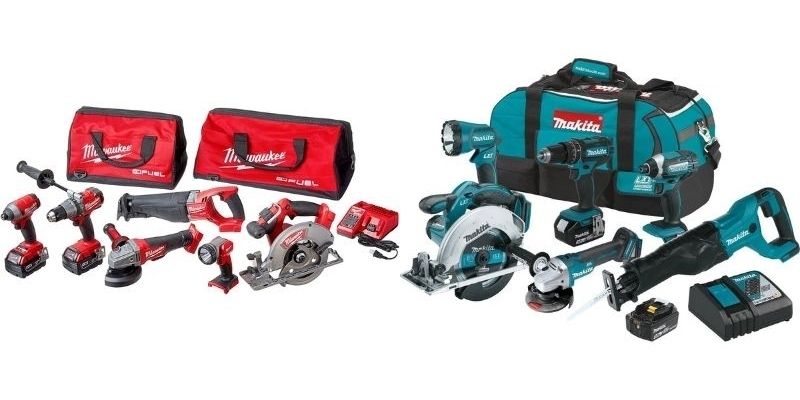 These are good products to compare because you get the same thing with each kit. But which kit is better for buyers?
The first thing you will notice is that the Milwaukee kit costs significantly more than the Makita product. So, does the performance of these tools justify the increase in price? That's a matter of perspective. The Milwaukee kit definitely performs better than the Makita kit, but your mileage may vary whether this higher price tag is really worth it.
Surprisingly, the Makita battery life was worse than the Milwaukee battery life. So, if working for longer periods of time is a high priority for you, the Milwaukee kit may be worth it.
Our Verdict:
If you've got the cash to spare, we recommend going with the Milwaukee kit over the Makita kit. It offers better performance and better battery life, and that is the mark of a reliable cordless tool.

Head-to-Head: Drill Driver
Milwaukee M18 Compact vs. Makita 18-Volt LXT Lithium-Ion 1/2″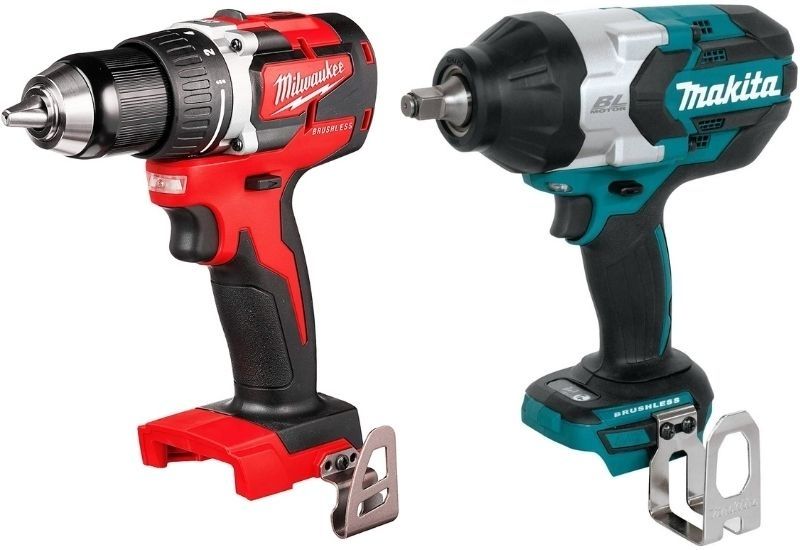 Milwaukee and Makita both make solid drill drivers. But which driver is the best for the needs of the average handyman?
On paper, the Makita driver may look like the better choice. After all, its technical specs are superior (if only by a hair). But in practice, we found the performances to be very similar. Where Milwaukee shines, though, is in sheer durability: between the two tools, we can guarantee that the Milwaukee tool is going to last longer and can survive more wear and tear.
Our Verdict:
Once again, we have to give the nod to Milwaukee. It's not that the Makita tool is bad–it will definitely serve most of your needs, and it is definitely better than the average driver. But the Milwaukee tool offers a similar performance while giving you a more durable product. At the end of the day, we'll always go with the tool that gives us additional years of value.

Head-to-Head: Jigsaw
Milwaukee M18 FUEL 18-Volt vs. Makita 18V LXT Cordless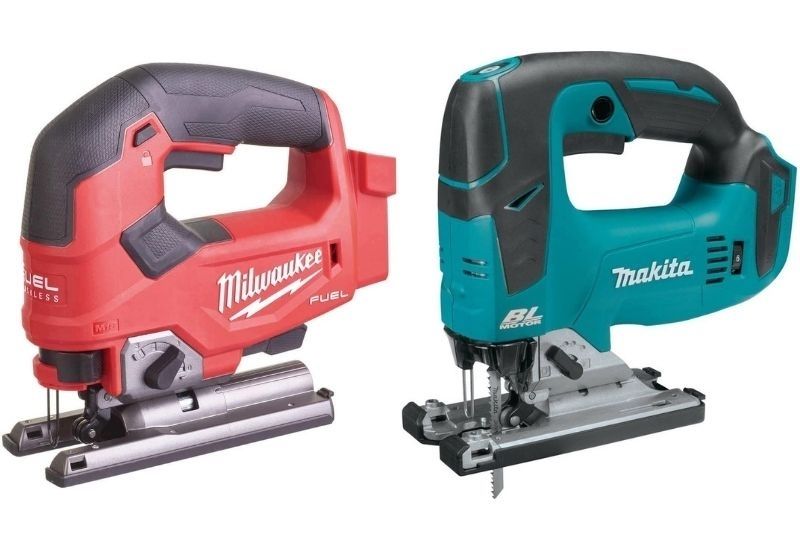 A jigsaw is a very specialized tool, and it takes a lot of work for a manufacturer to get things "just right." Fortunately, both Milwaukee and Makita have created solid jigsaws. But which one is the better choice?
In a continuation of the theme, the Milwaukee tool is the better choice.  While each jigsaw comes with a convenient LED light, the Milwaukee tool comes with an on/off blower where the Makita does not. And the Milwaukee tool comes with a 5-year warranty while the Makita only offers a 3-year warranty.
On top of that, the Milwaukee jigsaw has a 3,500 SPM and 4 positions while the Makita offers only 2,600 SPM and only 3 positions.
Our Verdict
It feels a bit repetitive for us to keep giving the nod to Milwaukee. But once again, they came out ahead when we started comparing their specific tools to what Makita has to offer.

Overall Brand Reputation
There are many different factors that give these brands their reputation. Here, we'll take a closer look at these factors to decide which one comes out on top.
Performance
Edge: Milwaukee
Again, there is nothing "wrong" with the performance of Makita's tools. But each time we compared a Makita tool and a Milwaukee tool, the Milwaukee tool offered superior performance. If having the best performance from your tools is a major priority, we recommend that you stick with Milwaukee brand power tools.
---
Price
Edge: Makita
Another thing that we quickly discovered was that Makita products typically had a better price. SImply put, if you are shopping on a budget, Makita is a great choice.
But keep in mind what we said before: you always get what you pay for. While Makita almost always has the better price, Milwaukee almost always has the better performance.
---
Durability
Edge: Milwaukee
For the most part, we found that Milwaukee products were more durable than Makita products. This is largely a matter of the design and materials used for Milwaukee's tools. Additionally, Milwaukee tools often offered a better warranty on certain tools than Makita, and this offers great peace of mind when buying their products.
---
Design
Edge: Tie
Earlier, we noted how the Milwaukee brand typically has more durable products. But when it comes to the actual design of these products, we found it to be a tie between the two brands. Most of the tools for each brand are aesthetically-pleasing and ergonomic, and you'll be proud to show off what you bought to other handymen.

Conclusion
By now, the answer is clear: Milwaukee is the better choice. Both companies make solid power tools, but Milwaukee gives better performance, better warranties, and more durable products.
The Makita brand is definitely more affordable, and you'll get plenty of great use out of their products. But if you have a bit of extra cash, we think you'll find Milwaukee's tools to be the better choice each and every time.