9 Modern Farmhouse Interior Design Ideas (with Pictures)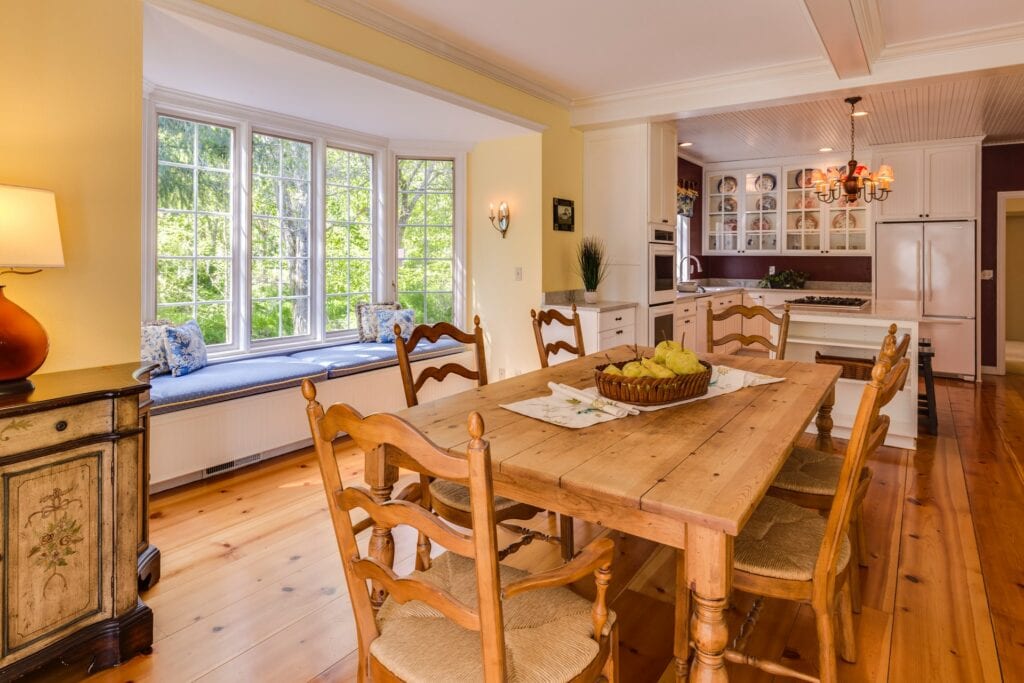 Compared to other design styles, the modern farmhouse style is quite new. It utilizes a blend of rustic and sleek elements that really does aim to make the old farmhouse style new again. However, despite its short history, this design style is becoming more and more popular. It is a fun way to keep the sleek, modern look while also giving your home some character.
Plus, it doesn't take much to make this style come to life in your home.
Here are some of our favorite elements of this style that you can weave into your home today.

The 9 Modern Farmhouse Interior Design Ideas
1.

Add Antiques
An easy way to bring some farmhouse into your modern style is to use antiques. If you have any old pieces of furniture or custom pieces made from real wood, we recommend working them into your home. Stopping by a thrift store or two also works in this case, though pieces you already own may be more personal.
You see, one of the keys to this style is mixing in the old with the new. Therefore, you can take a sleek, modern design and sprinkle in some older pieces. Preferably, these pieces should go with the rest of your home but be noticeably older.
---
2.

Neutral Colors
Neutral colors are a big part of the modern farmhouse look as well. We highly recommend sticking with whites, grays, and wood as much as possible. When in doubt, use wood as an accent color and surround it with whites. Blues also work well in this color palate.
Of course, you can shift this color palate to meet your needs. Perhaps you have some really old pieces that you'd like to use, but they do not fit this palate. Feel free to change it to make these pieces make more sense. Don't make neutral colors king, but do consider leaning more in that direction.
---
3.

Contrasting Elements
While much of the farmhouse style relies on neutral, wood grains, you can utilize contrasting colors as well. For instance, many modern farmhouse rooms will have a pop of color somewhere. Darker greys and blacks are common but greens and blues also show up occasionally.
You don't want these colors to feel overwhelming. Remember, this style is still modern, and much of the modern style is neutral colors. However, adding some pops here and there can provide more interest, especially if you don't have unique antiques or large structural elements.
---
4.

Mix Up Textures
Modern farmhouse utilizes textures to add interest where colors do not. This style is not known for having huge swaths of bright colors or other exotic design features. Therefore, textures are used to add some subtle interest and make the room feel homier. Consider taking a note from the Scandinavian handbook and adding some hygge elements as well, such as soft fuzzy blankets.
In the end, this style is about creating a comfortable home that also looks modern. Textures can help you do that, especially if you use them to tone down the more severe modern elements.
---
5.

Natural Finishings
Natural finishings are a great option for farmhouse style, as the subtle colors work well with this subtle style. Of course, you likely aren't going to be stopping the show with many natural finishes, but exploring the natural beauty of wood or metal can make for a cozy living area.
For instance, many farmhouse kitchens utilize natural wood on the dining room table. Textures and gentle décor can be added to round out the perfect kitchen for this style.
---
6.

Consider Adding Industrial Elements
Industrial is a new, modern style. Therefore, it isn't odd to find several industrial elements inside a modern farmhouse room. For instance, metal finishings are pretty common, especially when paired with natural wood. You'll also find industrial kitchens, which can include metal pot racks and concrete countertops.
Unfinished brick walls can also provide interest in a modern farmhouse room, though this element technically comes from industrial design.
---
7.

Be Minimalistic
You'll often find very few décor items and bright colors in modern farmhouse design. Instead, this style uses minimalism—to an extent. Minimalism is often considered a style in itself. Usually, this style hardly includes any design elements. There are often only a few in a room, which straight, practical furniture throughout.
The modern farmhouse style isn't that minimalistic. However, it has far fewer design elements than industrial or bohemian. Therefore, choose what décor pieces you want to add very carefully.
---
8.

Choose Imperfect Pieces
So much design is based on perfect. You want the perfect furniture for the perfect room to fit the perfect style. However, when it comes to the modern farmhouse style, this can be troublesome. Often, choosing only perfect pieces will leave a room either incredibly boring or incredibly modern. Much of the farmhouse design in this style comes from imperfect pieces and comfortable décor.
Therefore, if you find an older antique that doesn't fit exactly and even has a few blemishes, consider working it into your design. The modern farmhouse design is about creating a home that is sleek but lived-in. Therefore, choose some imperfect pieces to go along with your perfect ones.
---
9.

Choose Unique Fixtures
Because this style uses a lot of minimalist elements, we recommend using unique fixtures to bring life to a room. You can't clutter up your space with décor items like in other styles, so you have to make your must-haves bring all the style. Luckily, there are a lot of modern, unique light fixtures that work for this style. For instance, an antique light can add some serious flair to a room, while you can focus on more modern elements throughout the rest of the space.
On top of antique lights, you can also use industrial lighting, as it often goes well with the modern farmhouse style. Of course, don't pack your home full of unique light fixtures, or you'll soon find that they aren't terribly unique anymore.

Conclusion
Modern farmhouse is a new, unique style that has won a lot of followers over the last few years. This style seeks to combine the new with the old, which leads to many unique rooms. You'll find a lot of different styles nestled inside this one—and not just the modern and farmhouse style, either. Industrial and boho elements are not unheard of. Plus, this style also draws a lot from minimalism.
Therefore, their rooms tend to remain uncluttered and free from heavy décor elements. Coloring choices are often neutral and unimposing. Natural woods and metals are often used, which is partially where industrial style comes in at. However, this style also utilizes many antique pieces, including unique fixtures.
Because this style is so popular, it is pretty easy to find elements at local stores. Plus, shopping at thrift stores is another great way to come across unique pieces.
---
Featured Image Credit: francesca-tosolini, Unsplash