8 Moped Accident Statistics in the UK: Updated in 2023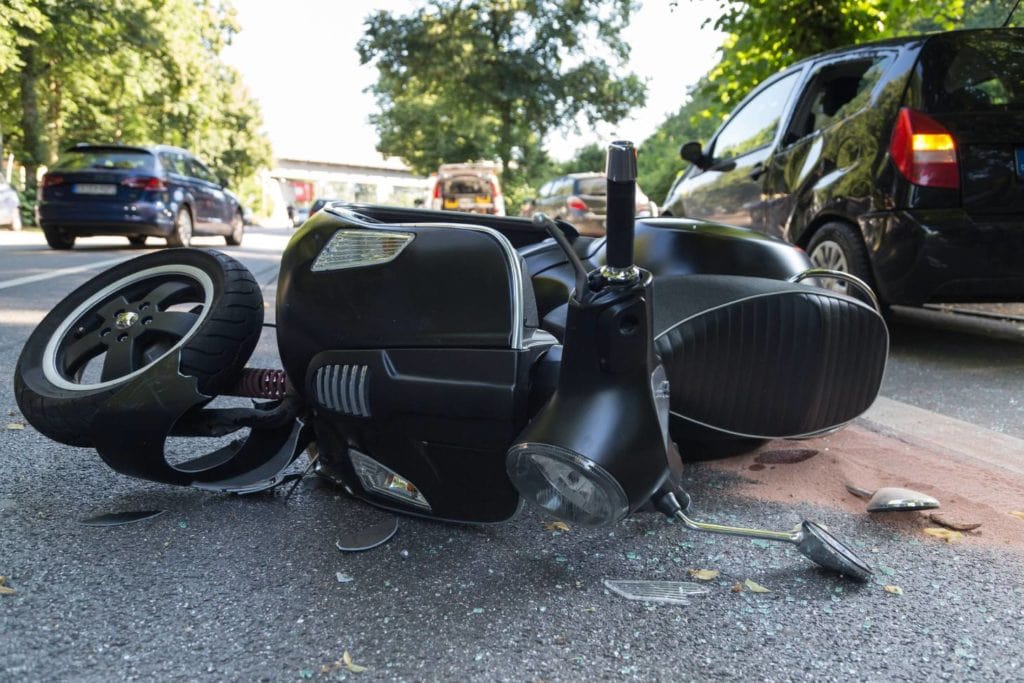 Note: This article's statistics come from third-party sources and do not represent the opinions of this website.
A moped is a motorcycle with an engine no bigger than 50 cubic centimetres (cc), and its top speed should not be above 28 miles per hour (mph). Because of the smaller size of the engine, compared to other types of motorcycles, mopeds can be ridden by 16-year-olds, although only after successfully completing a Compulsory Basic Training (CBT) test and only for two years on an L plate. Riders must complete another CBT or get a full licence to continue riding after this time.
As well as offering freedom and mobility, a moped is lightweight, relatively inexpensive, and cheap to run. However, it carries some of the same inherent risks as riding any motorcycle, with riders more likely to be involved in road accidents than car drivers or even cyclists.
Below, we have included eight moped accident statistics for UK roads.
Click below to jump ahead:

The 8 Moped Accident Statistics in the UK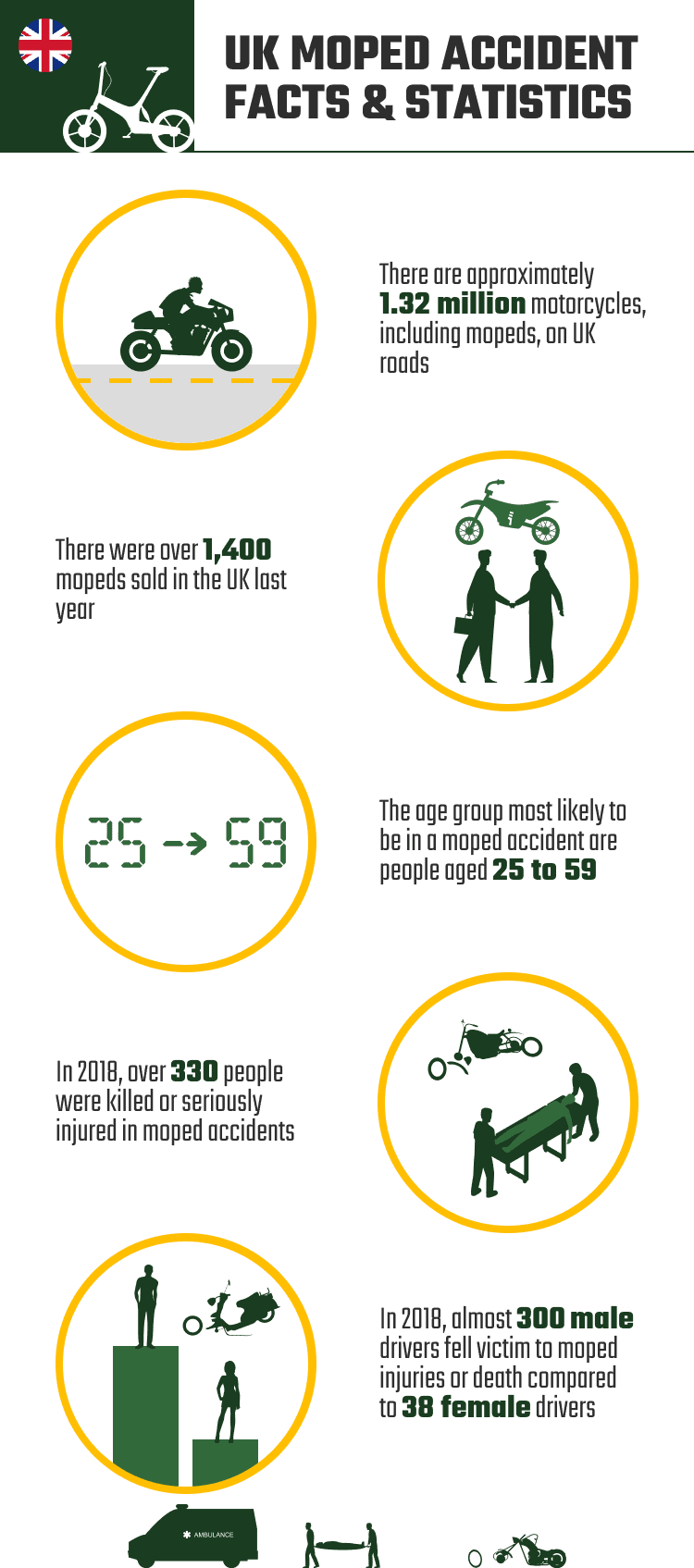 General Moped Sales Statistics
1.

There are approximately 1.32 million motorcycles, including mopeds, on UK roads.
(Statista 1)
The number of vehicles on UK roads had been steadily increasing before the pandemic. In 2000, there were just 24 million registered cars and less than a million registered motorcycles on the road. By 2019, there were 31.9 million cars and 1.25 million motorcycles.
While the number of cars on the road dropped in 2020 because of COVID, the number of motorcycles continued to increase to 1.27 million.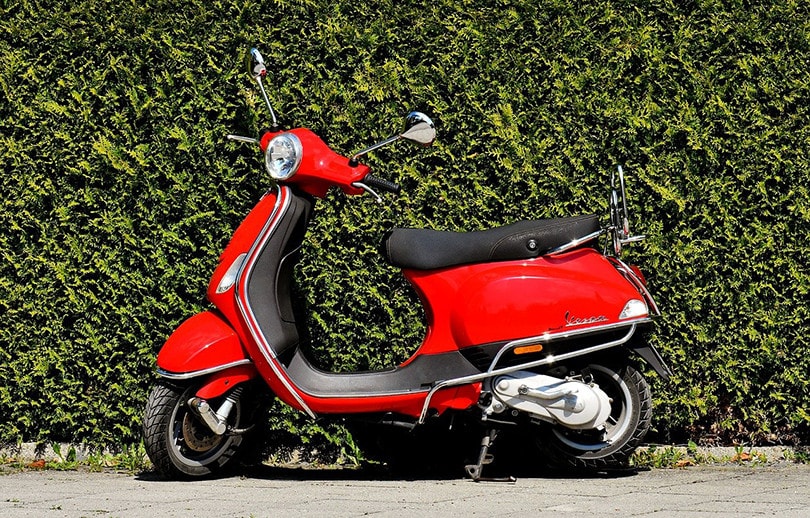 ---
2.

There were over 1,400 mopeds sold in the UK in 2022.
(Statista 2)
While mopeds are not as popular as motorcycles, 1,467 mopeds were sold in the United Kingdom in 2022. The moped industry sees fluctuations in terms of sales, with more sales occurring when a moped comes out with a new model.
---
3.

The start of the COVID-19 pandemic saw the lowest sales of mopeds over a two-year span, with 50 sold.
(Statista 2)
The COVID-19 pandemic caused many economic issues, including the model industry. At the start of the pandemic in April 2020, there were only 50 mopeds sold in the UK. However, those numbers increased the following April, with 104 sold. In April 2022, 136 mopeds were sold.
Moped Accident Statistics in the UK
4.

In 2018, over 330 people were killed or seriously injured in moped accidents.
(Statista 3)
The most recent study about moped death and injury was from 2018. This study showed that 331 moped drivers were either killed or seriously injured. However, the study does not specify exactly how many drivers were killed and how many were injured.
---
5.

The age group most likely to be in a moped accident are people aged 25 to 59.
(Statista 3)
In that study from 2018, the age group 25 to 59 had the greatest number of deaths/injuries, totalling 121. The age group with the next highest number of victims is drivers aged 20 to 24. Unfortunately, there were five victims under the age of 16, who were most likely driving without a license as the minimum age to obtain a moped driver's permit is 16 years old.
---
6.

Almost 300 male drivers fell victim to moped injuries or death compared to 38 female drivers.
(Statista 3)
Out of the 331 victims who were killed or seriously injured in a moped accident in 2018, 293 of those were male. Why is this? More moped users might be male, thus making them at higher risk for accidents. Statistics have also shown that males tend to be slightly more reckless when driving.
---
7.

In Hampshire County, 124 people were killed or badly injured while riding a moped or motorcycle in 2020.
(Hampshire County Council)
Hampshire County in the United Kingdom saw a total of 124 people being killed or badly injured in moped or motorcycle accidents. Unfortunately, this study put that number of victims in one category instead of dividing up moped riders and motorcycle riders.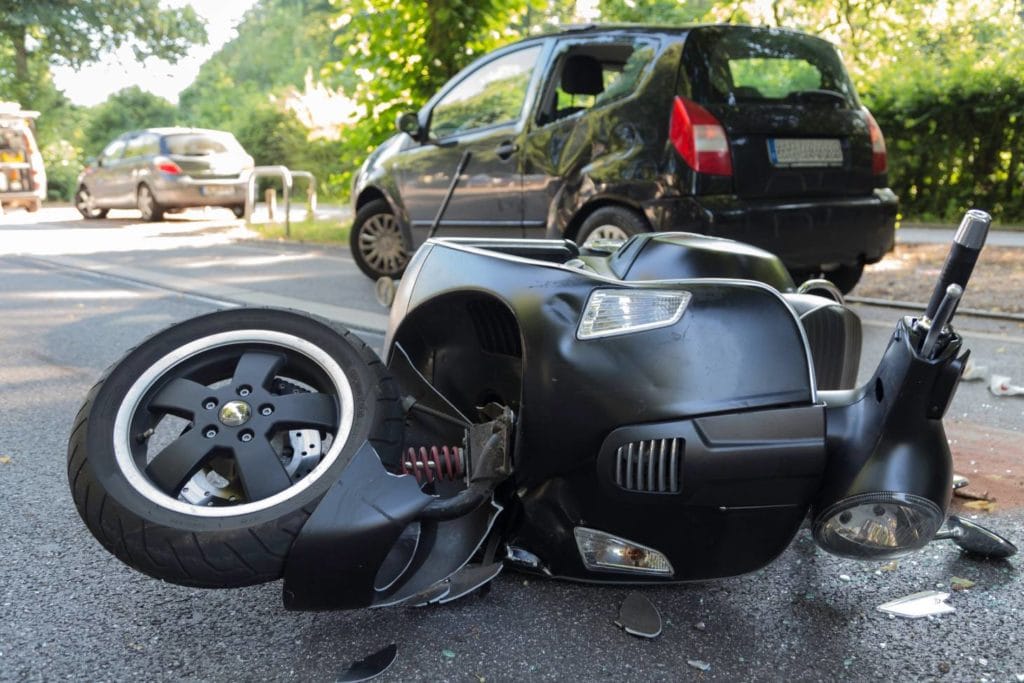 ---
8.

The injury severity between mopeds and motorcycles is almost equal.
(Scandinavian Journal of Surgery)
While this is an older study, it highlights that the severity of injuries between moped riders and motorcycle riders is almost equal. This study looked at injuries sustained from riding either a moped or a motorcycle from June 2004 to May 2006. A total of 49 motorcyclists sustained 94 injuries from crashes, while 61 moped riders sustained 109 injuries. While mopeds cannot go as fast as motorcycles, moped riders might take fewer safety precautions when on the road, thus resulting in an almost equal number of injuries.

Frequently Asked Questions About Moped Accidents
Is a moped or car safer?
Generally speaking, cars are much safer than mopeds and other types of motorcycles. They offer more protection, especially for the head and brain. Motorcycle riders are, according to statistics, 45 to 50 times more likely to die than car drivers.
Is it a legal requirement to wear a helmet?
It has been a legal requirement for all motorcycle riders and passengers to wear approved crash helmets since 1973. Helmets protect the head and the brain from some injuries. Other than this, there are no other requirements for safety gear or safety clothing while riding a moped.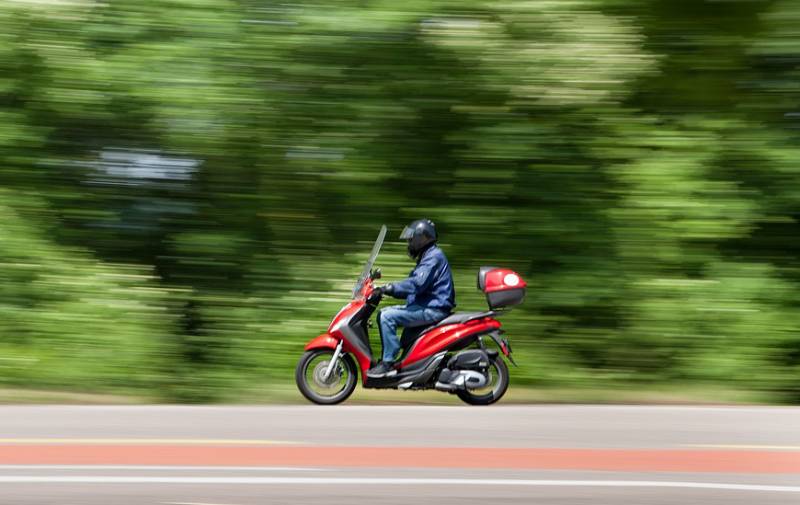 Is a moped as fast as a car?
For a motorcycle to be classified as a moped, it must have an engine that is smaller than 50cc and it must have a top speed no higher than 28 mph, with most mopeds having limiters to prevent higher top speeds. As such, mopeds are not as fast as cars, although this may depend on the make and model of the moped and car.
How can I reduce the risk of being in a moped accident?
Many moped accidents occur as the result of the negligence of other people, which means that one of the key ways to prevent being involved in an accident is to be visible. Use lights when required, wear reflective clothing, and pay particular attention when approaching junctions. Always wear a crash helmet and, while not a legal requirement, ensure that the rest of your clothing is safe and offers some form of protection.

Conclusion
Mopeds are low-powered motorcycles and riders are prone to the same types of accidents and similar injuries to all motorcycle riders. Common injuries include road rash, and the most common cause of death is head injury. Accidents can happen anywhere, and while the negligence of others is the most common cause of accidents, riders should also look out for potholes and poor road surfaces while riding safely.
Related Reads:
---
Featured Image Credit: Canetti, Shutterstock