6 Types of Motorcycle Helmets (with Pictures)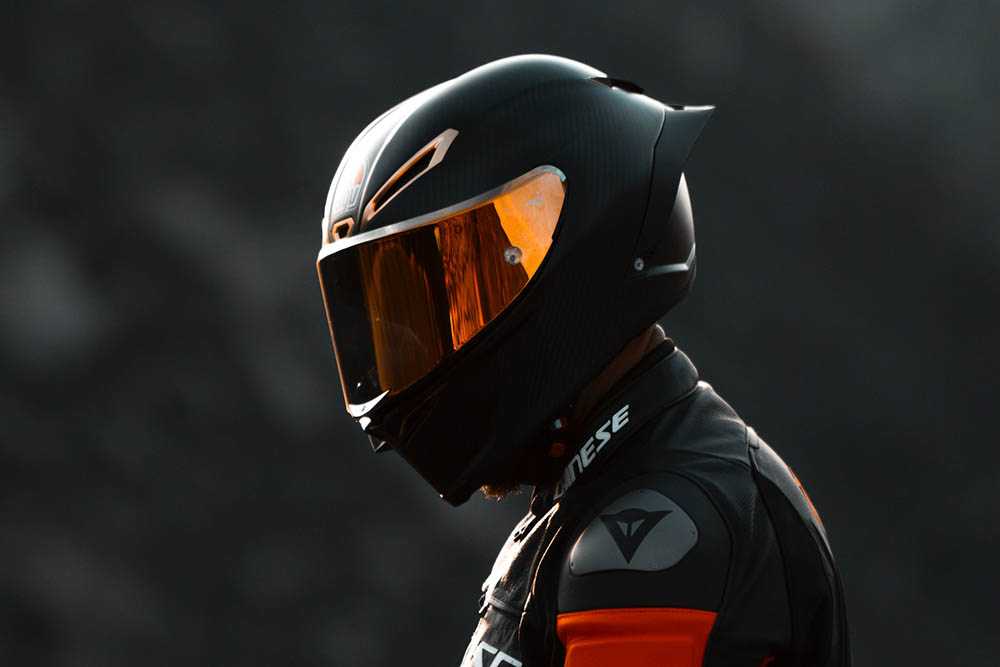 Driving a motorcycle is a fun and fulfilling experience but can certainly be dangerous. A good helmet is an essential part of a motorcyclist's protective equipment. Of course, other pieces of equipment such as a proper jacket, pants, gloves, and shoes are also important, but above all, wearing a helmet is a must due to the high risk of riding a motorcycle.
Helmet function and types are something that every motorcyclist should be aware of as it can reduce the risk of head injuries by up to 70%.
The large selection of helmet options can be overwhelming and choosing the right one to fit you and your needs may be tricky. Read on below to find out more.

The 6 Types of Motorcycle Helmets (with Pictures)
1.

Full-face helmet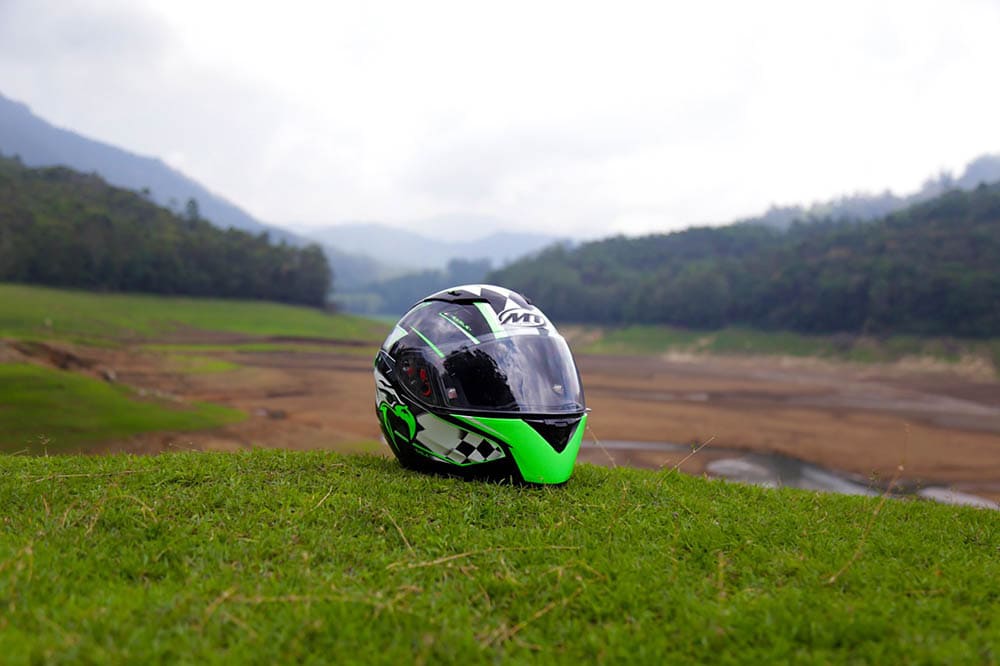 A full-face helmet protects the entire head, so this type of helmet is the safest. They are suitable for all types of two-wheeled vehicles. When it comes to a full-face helmet, two types are common; a sports helmet and a tourist helmet. The most important feature that makes these helmets different is the shape—sports helmets are designed for bent body position, while tourist helmets are designed for upright body position. They are not always pleasant due to the complete insulation, heat accumulation, sweat, sound insulation, and lack of oxygen.
Most full-face helmets have good airflow through the helmet to reduce fogging of the visor and to keep cool while riding. In colder temperatures, you can shut off the ventilation to reduce airflow. A recognizable feature of the full-face helmet is the chin bar, which is crucial for safety and is missing in many other helmet types.
Pros
Considered to be the safest option
Comes with a chin protection
Protects the entire head
Cons
Not much airflow
Can get hot at times
---
2.

Off-road Helmet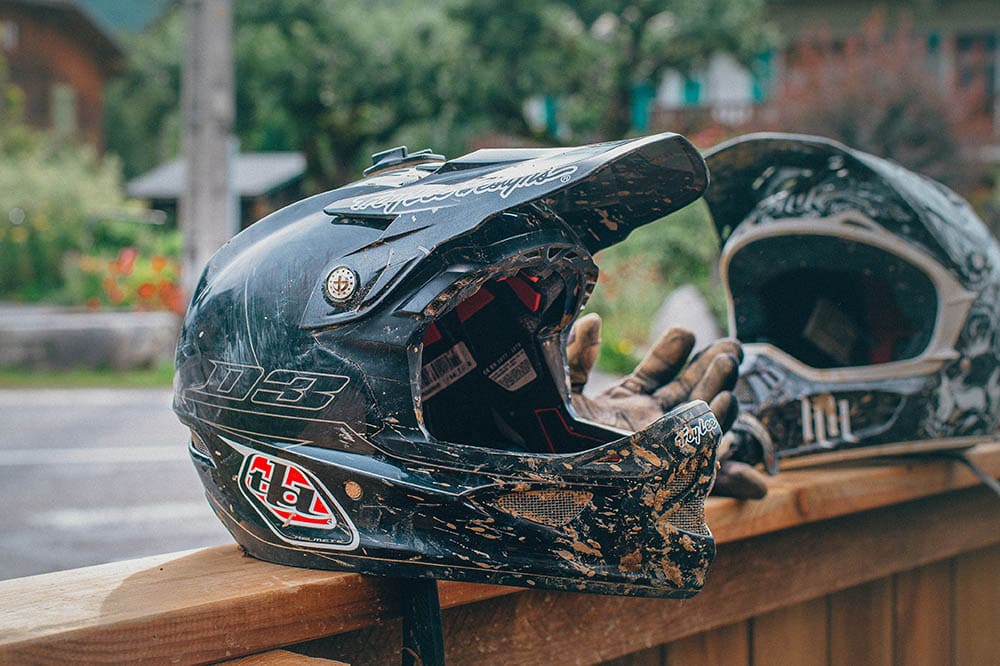 These helmets are pretty similar to full-face helmets. The difference is in the extended protection for the jaw for better protection and better airflow. Field or off-road helmets are designed slightly differently from full-face helmets and have a larger visor. They usually do not have eye protection, so riders will typically need goggles. The primary purpose of goggles is to prevent dirt and dust from ending up in your eyes. They are usually designed for maximum protection, minimum weight, and ventilation for warmer months.
These helmets usually also have a cap that protects against mud, branches, and sunlight. They are designed for off-road terrain only and are unsuitable for use in the city and on the highway.
Pros
Larger visor
Good jaw protection
Plenty of airflow
Cons
Not suitable for highways and city roads
Some models don't offer eye protection
You may need goggles
---
3.

Modular or Flip-up Helmet
Modular or folding helmets are the newest class of helmets and are a mixture between an open-face helmet and a full-face helmet. There is an eye protection visor built-in, and there may be an additional visor for eye protection from sunlight. A built-in mechanism can easily open the front of the helmet without taking it off.
The disadvantage of these helmets is the weight because they are a little heavier than full-face helmets. The mechanism for lifting the visor is subject to failures and is slightly weaker in the case of a direct hit compared to a full-face helmet. These helmets feature a dual visor system and anti-fog coating on the primary visor, and some models even come with a built-in Bluetooth speaker!
Pros
Some models come with a secondary visor
Convenient flip-up mechanism
Anti-fog coating
Cons
Heavy and bulky
The flip-up mechanism tends to fail eventually
---
4.

Open-face Helmet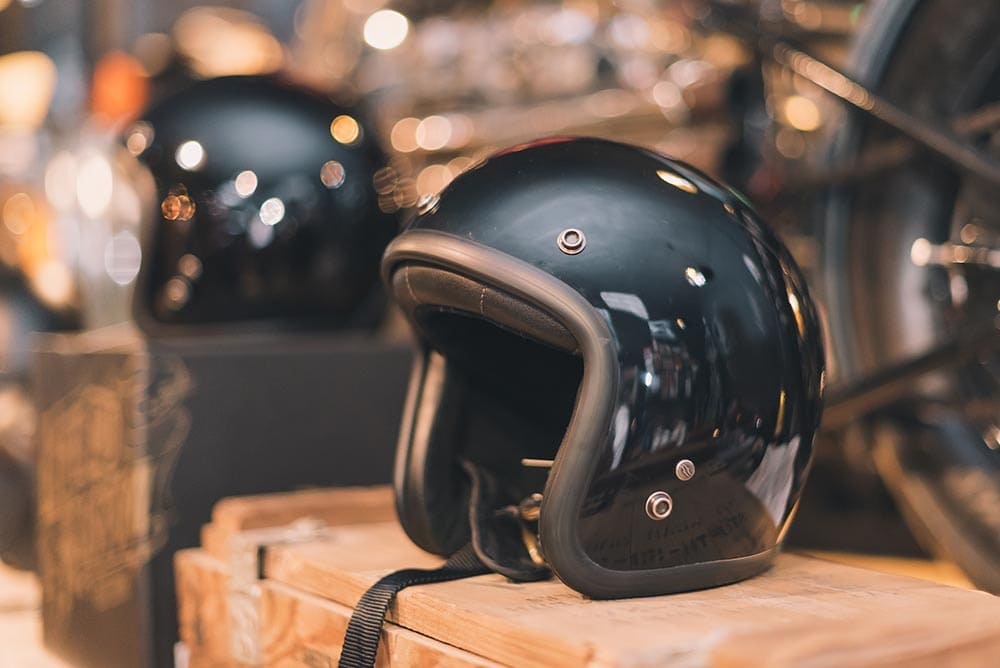 These helmets are often used by drivers of smaller scooters, cruisers, and coffee racers in urban areas. This helmet covers the head as much as a standard full-face helmet except for the face and chin. Without chin protection, the helmet's safety is reduced a lot, so the face is unprotected from the weather, accidents, insects, or debris on the road.
An open-face helmet is slightly lighter than a full-face helmet due to the absence of a chin bar. You may need to purchase a separate visor to protect your eyes from sunlight.
Pros
Convenient for shorter commutes
Lightweight
Comfortable
Cons
Doesn't offer eye and chin protection
---
5.

Half Helmet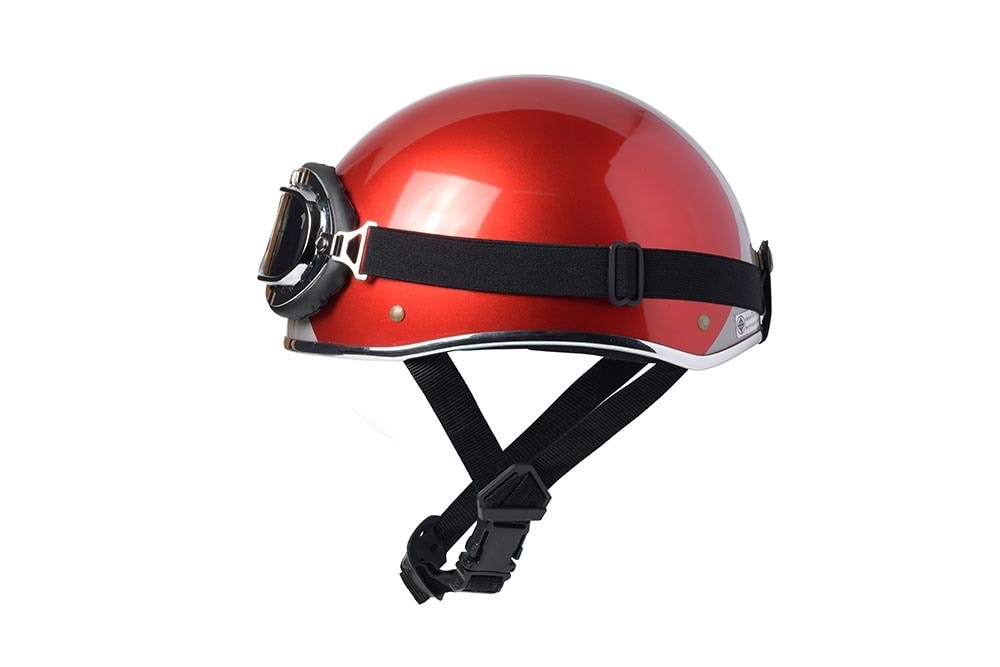 Half-helmets are not safe according to the law, nor do they have the function of protection against accidents. Half-helmets cover only the top of the head and the area from the forehead to the eyebrows, providing minimal protection. Some may offer a little more coverage on the back of your neck and ears but leave the rest of your face exposed.
Although these helmets provide excellent airflow, they offer significantly less protection than a full-face helmet or open-face helmet. Most semi-helmets don't come with a visor or face shield, so you'll need goggles.
Pros
Provides excellent airflow
Convenient for short rides
Cons
Only covers the top of the head
Not as safe as regular helmets
---
6.

Dual-sport Helmet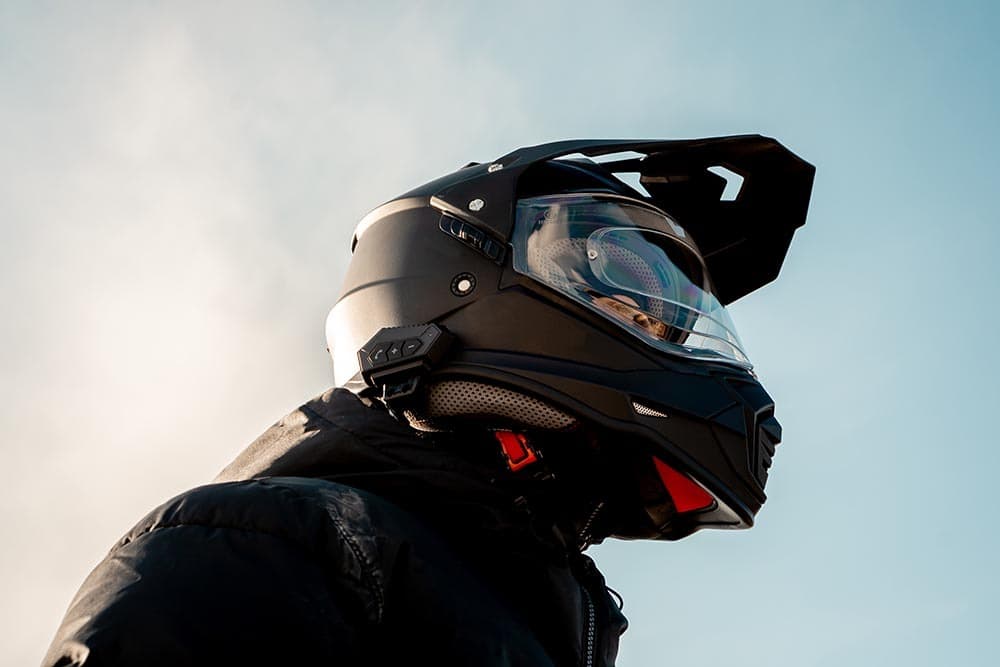 Dual-sport helmets are a combination of an off-road helmet and a full-face helmet. These helmets have a larger visor for eye protection, but you can also raise the visor to use goggles. They have an exterior style similar to off-road helmets with a large visor and a lower chin.
They have a little bit of each type because they are used both on and off-road.
Pros
Bigger visor
Can be used both off-road and on-road
Visor-lifting mechanism
Suitable for goggles
Comfortable
Helmet construction
What makes helmets safe and efficient is the construction of the helmet itself. It consists of several parts with an outer shell made of plastic, although the cover is made of fiberglass and carbon fiber on modern helmets. The most important part of the helmet is the polystyrene under the shell, which absorbs the energy of the blow, that is, to slow down impact and protect the skull and the brain.
The ventilation system, visor mechanism, additional sun visor, and sound system add extra comfort to the helmet's design. Equally important is the helmet fastening mechanism. The fastening mechanism ensures that the helmet will remain on the head during an accident.
Helmet function
The helmet's shell has the function of protection against the penetration of foreign objects into the skull. EPS foam located under the shell protects the head and keeps it as still as possible during impact. In a motorcycle accident, the most common head injury is an internal injury without visible open wounds. This kind of brain injury occurs due to a sudden significant acceleration of the head and then a sudden stop.
Is it better to buy a more expensive helmet?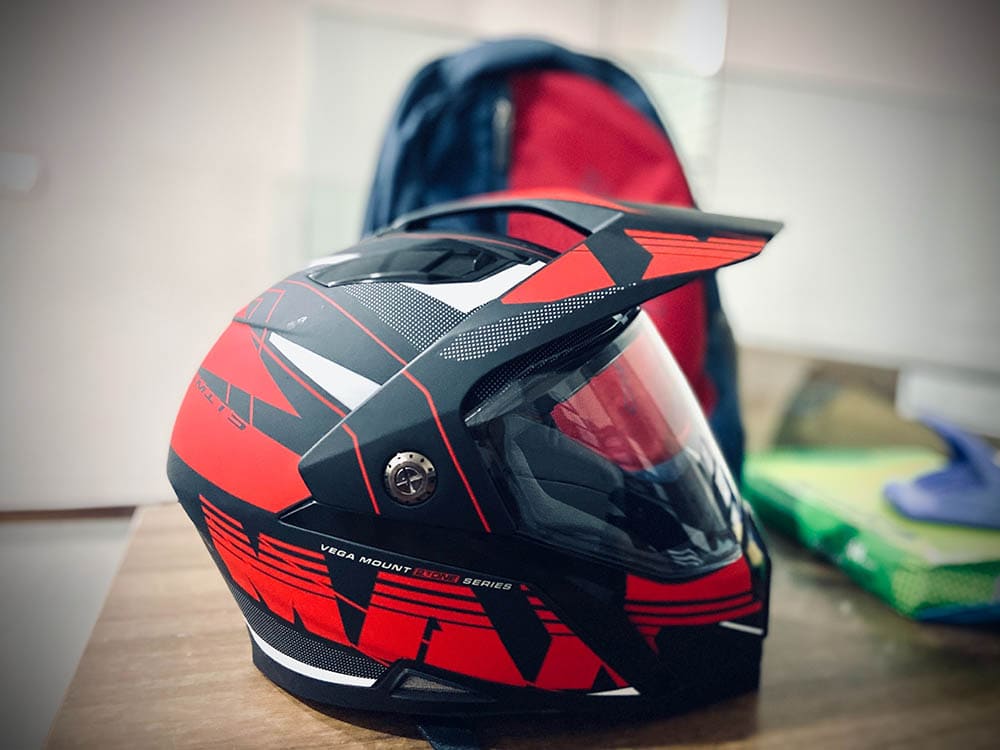 Every helmet must meet the minimum standards of protection and safety and it is not uncommon for cheaper helmets to have better grades than more expensive options. How expensive a helmet is depends on the materials used, and its overall comfort—how snug the lining is, the quality of the ventilation, whether it has an internal sun visor, and other features. It is perfectly fine to use even the cheapest helmet, as long as it is approved as safe.
Which helmet is the right one for me?
Helmets are also sold according to standard sizes. The size of the helmet is dictated by the head circumference measured with a tailor's measuring tape. However, this is not the only parameter. Manufacturers cater to different head shapes that can be elongated oval, medium oval, and round oval. It is best to try out many different types, shapes, and sizes before finding your match.

Final Thoughts
A helmet is an essential part of protective equipment, but the first step to protecting yourself and others is your awareness, motorcycle driving skills, and proper education. There are many types to choose from, so make sure you research carefully to determine which helmet is best for you.
---
Featured Image Credit: Vander Films, Unsplash