9 Most Expensive Homes in Michigan (With Pictures)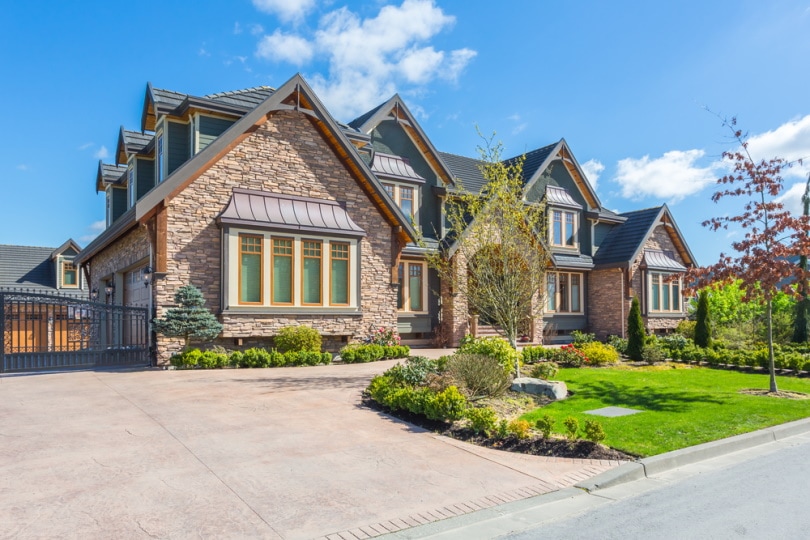 If you've been to Michigan, you know that there is no shortage of beautiful towns filled with luxury homes. Whether you're living in a beach town on the shores of Lake Michigan or enjoying city life in Ann Arbor, you might be curious just how much some of the most beautiful homes cost in this beautiful state. Keep reading to find out just how much money some of these houses sold for in the past year.

The 9 Most Expensive Homes in Michigan
1.

08425 Raspberry Lane, Charlevoix, Michigan
Located on the northwestern shores of Michigan's Lower Peninsula, this mansion sold for a whopping $9,845,000 in June of 2022. Featuring seven bedrooms, nine bathrooms, and 16,000 square feet, it's no wonder this home racked up the hefty price point. This home has timeless architecture, eight fireplaces, a four-and-a-half car garage, and a lookout over a sandy beach. Better yet, there is a theater room, wine cellar, and 195 feet of waterfront property. It is truly stunning and one of the most expensive homes ever sold in the state.
---
2.

6332 Lower Shore Drive, Harbor Springs, Michigan
Another beautiful home recently sold in Michigan is this luxury home in Harbor Springs. This is another house with timeless architecture and elegant touches. It features six bedrooms and eight bathrooms. There is even an elevator inside. There is a wine bar for entertaining, and all bedrooms have en-suites to make every guest feel like they have their own private oasis. It is located on the northern side of Little Traverse Bay, so, of course, you can walk right out to the beach.
---
3.

651 NW Torch Lake Drive, Kewadin, Michigan
Another home with a high price point is this home located on Torch Lake. With six bedrooms, seven and a half bathrooms, and a country-rustic feel, this home is sure to be the envy of everyone in Michigan. It sits on 5 acres and has a gently sloping lawn down to the shoreline. It also comes with its own garden and a 40' x 30' pole barn. Between the white oak wood floors and birchwood touches, it's no wonder this home sold in November of 2021.
---
4.

3574 Saugatuck Beach Rd, Saugatuck, Michigan
If you're into the beachy look, this home is a dream come true. Sold for over $6 million in November of 2021, this house is located in Michigan's beautiful town of Saugatuck. It features over 8,300 square feet and overlooks the beautiful waters of Michigan's Great Lakes. It was originally designed to resemble a boat by Chicago architect John Tilton. It has five bedrooms and seven bathrooms with lots of windows and vaulted ceilings. If you wanted to find a home with a view, this would be the one for you. Too bad somebody else owns it. Otherwise, we might have to start saving every penny we find.
---
5.

4110 Peninsula Drive, Bay Harbor, Michigan
While this home is large with 10,020 square feet, it still has the charm of a small cottage. With seven bedrooms and eight bathrooms, this is the perfect summer getaway. There is waterfront property on two sides of the house with a custom kitchen and a floor-to-ceiling two-way stone wood-burning fireplace. It sold in October of 2020, and now we can't help but envy the owners who live there.
---
6.

1867 Long Pointe Drive, Bloomfield Hills, Michigan
Located in one of the wealthiest neighborhoods in the state, this modern home is located on Upper Long Lake and has five bedrooms, seven bathrooms, and 7,720 square feet of space. It was designed by Lou Desrosiers and has a second-floor addition and renovation. There is a private gated entry, granite front porch, and a limestone exterior. With walls of windows, we're sure the owners are waking up to one heck of a view every morning.
---
7.

4890 Birchway Drive, Orchard Lake, Michigan
This private lakefront home is one to remember. This is a sophisticated area with tree-lined roads. It is on 1.5 acres and has five bedrooms, eight bathrooms, and 8,266 square feet. There is a dock and sitting area to sit out and enjoy the lakefront view. Plus, it has tons of natural light and makes you feel like you're surrounded by the best that nature has to offer.
---
8.

273 Euclid Ave, Birmingham, Michigan
Another luxurious area of Michigan, this home in Birmingham has five bedrooms, seven baths, and 6,454 square feet. It has floor-to-ceiling glass views, a spa and pool area, and details such as exotic marbles and hand-cut tiles. It was sold in March of 2021 and is one of the most beautiful homes in the area.
---
9.

16470 Timber Lane, New Buffalo, Michigan
Sold in August of 2022, this house is a sight to behold. While it only has three bedrooms and four bathrooms, it features over 4,000 square feet of space. It is designed for gathering and entertaining and sits on the shores of Lake Michigan. It boasts a grand stone fireplace, glass walls, and its own garden.

Conclusion
While we likely all dream of living in one of these homes and can't afford them, it is still fun to look at them and admire the work put into their designs. You've likely noticed that all of these homes have waterfront property. Since Michigan is surrounded by the Great Lakes, it makes sense that one would want to wake up to the gorgeous views the state has to offer. Each of these homes has sold recently, although we are curious to see what new properties sell in the coming years.
See also: 10 Most Expensive Homes in Connecticut (With Pictures)
---
Featured Image Credit: rawmn, Shutterstock