Top 9 Most Popular Cars in Japan in 2023 (With Pictures)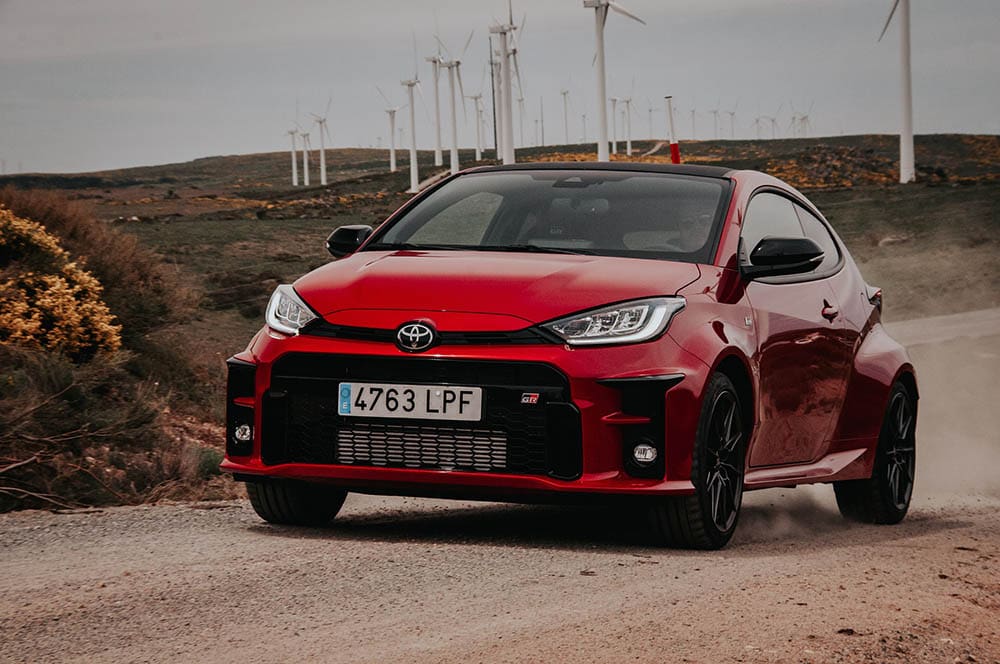 Depending on where you live and your taste in automobiles, there's a good chance you own or have owned a car designed in Japan. There's no denying that Japan is a world leader in car design and manufacturing. Indeed, some of the most popular cars ever created came from Japan, including the Honda Accord, Toyota Corolla, Subaru Legacy, and Mazda RX-7.
One question many car enthusiasts have is which cars are popular in Japan. What do Japanese residents drive to work, school, and on weekend excursions into the countryside? What are the best-selling cars in Japan? We'll answer these intriguing questions below with our list of Japan's nine most popular vehicles.

The 9 Best-Selling Cars in Japan
1.

Honda N-Box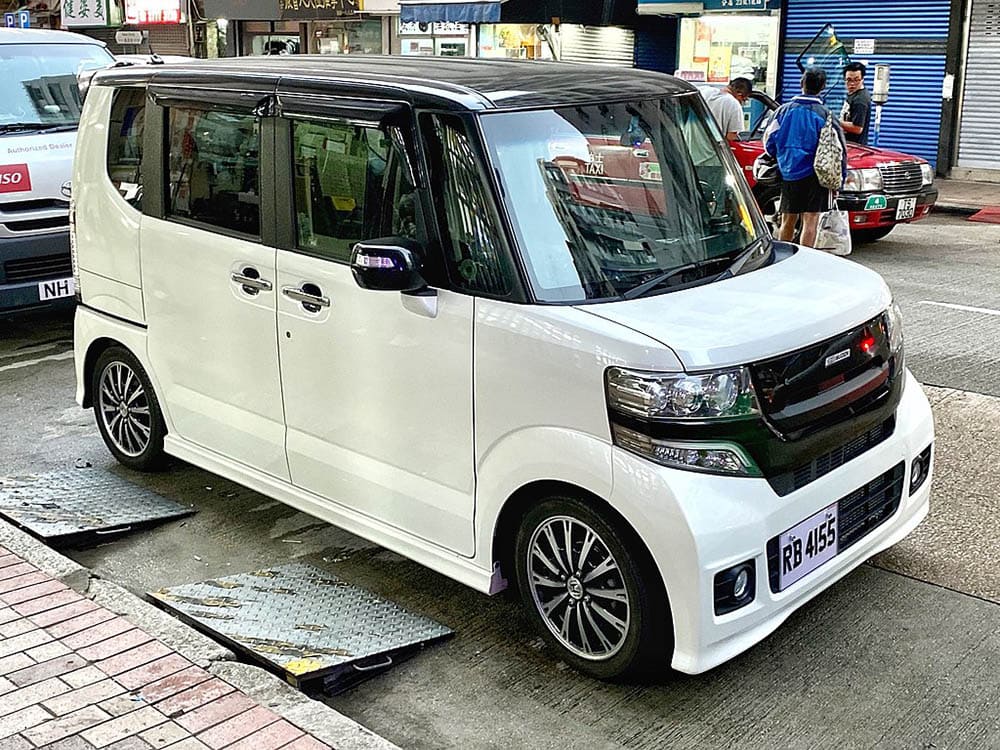 | | |
| --- | --- |
| Manufacturer: | Honda |
| Car Type: | Kei |
| Hybrid Available?: | No |
| First Year of Production: | 2011 |
With over 60,000 sold in Japan in 2021, the Honda N-Box is one of Japan's most popular cars and has been for several years. The N-box is part of the uber-popular Kei car segment, which makes up about 30% of their market. Kei cars are the smallest vehicles legally allowed on the highway in Japan.
These boxy cars get excellent gas mileage, which is vital for most Japanese drivers. Also, everything about the vehicle is related to function rather than form. For such a small car, the N-Box is surprisingly roomy inside, has ample headroom and leg room, and has more storage space than in cars twice its size. These factors, plus the fact that the N-Box handles incredibly well and is fun to drive, have enamored it in the Japanese market.
Pros
Delightful to drive
Ample head and leg room
Superb fuel economy
Well-designed with plenty of storage space
Cons
Slow acceleration on hills
Wind buffeting concerns at highway speeds
Cargo volume low with rear seats up
---
2.

Toyota Yaris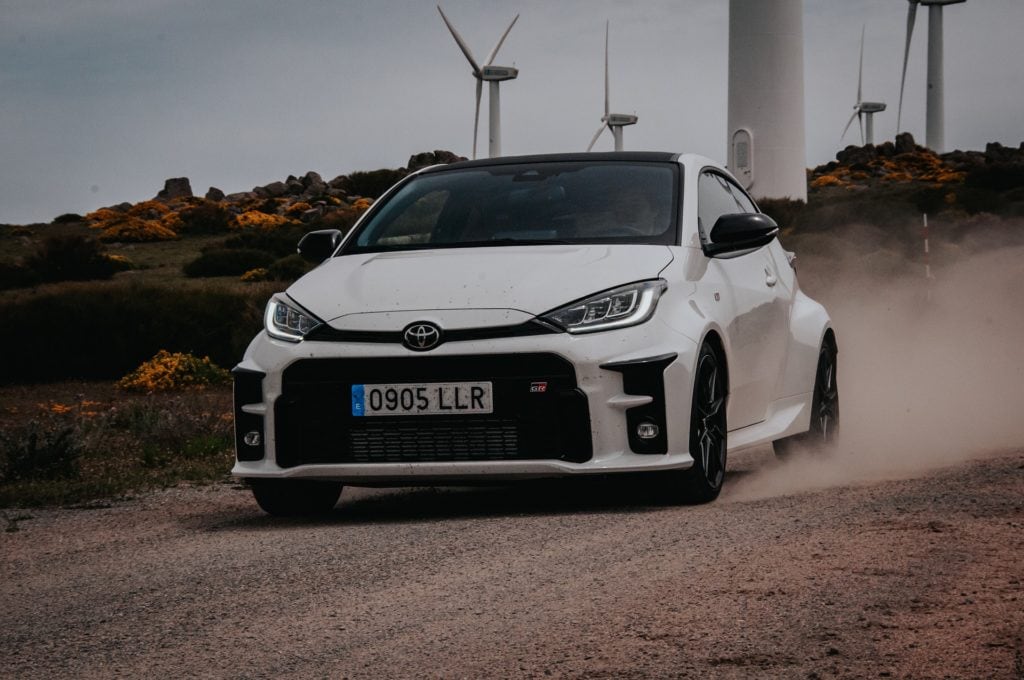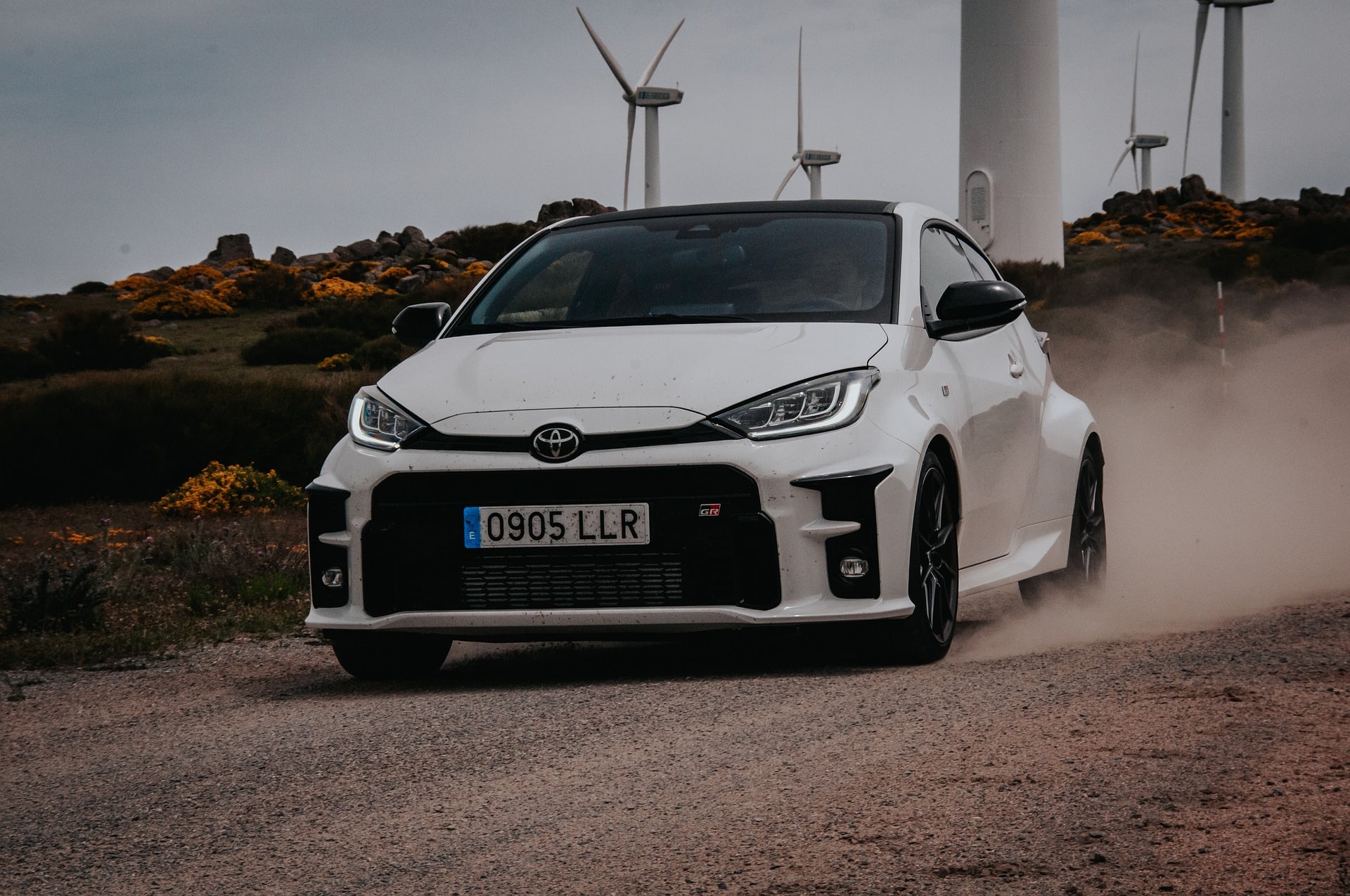 | | |
| --- | --- |
| Manufacturer: | Toyota |
| Car Type: | Subcompact |
| Hybrid Available?: | Yes |
| First Year of Production: | 1999 |
With four entries on today's list, you can be sure that Toyota is the undisputed champion of popular car brands in Japan. However, one of the biggest reasons the Yaris is so popular is that it's the cheapest car Toyota makes.
From our research, the Yaris has excellent fuel economy but lacks in other areas where subcompacts excel. Handling is rather numb, for example, and there's a lot of road noise when driving at high speeds. Acceleration is sluggish even on flat surfaces, and the front seats are uncomfortable. Still, it's a Toyota and thus highly reliable. That fact, coupled with its low price, has made the Toyota Yaris one of Japan's most popular cars.
Pros
Lowest-priced Toyota model
Low operating costs
Excellent fuel economy
Cons
Sluggish acceleration
Uncomfortable front seats
Stiff handling
---
3.

Daihatsu Tanto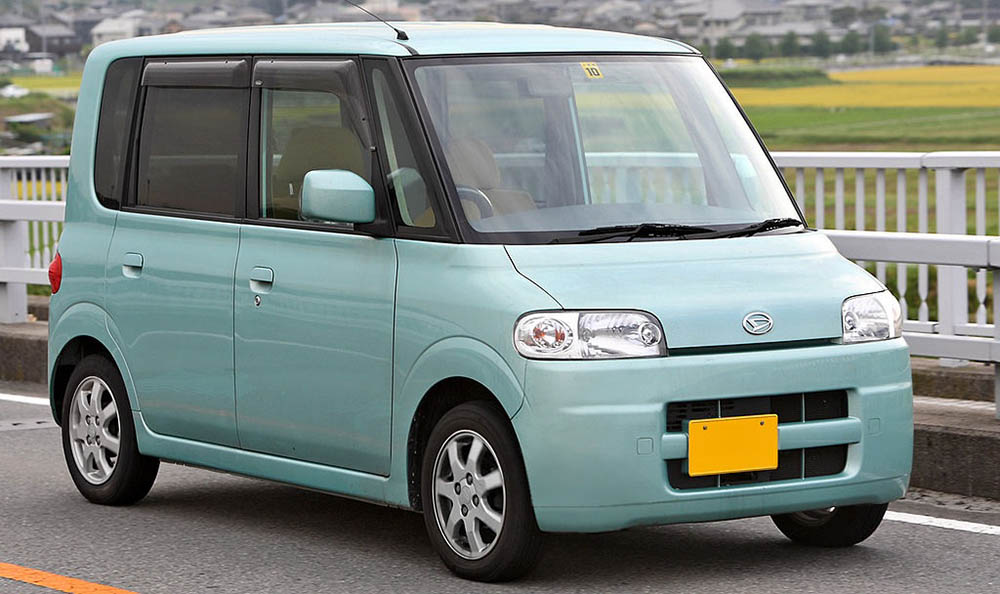 | | |
| --- | --- |
| Manufacturer: | Daihatsu |
| Car Type: | Kei |
| Hybrid Available?: | Yes |
| First Year of Production: | 2003 |
One look at the online reviews for the Daihatsu Tanto, and you'll see why it's such a popular car in Japan. Like the Honda N-Box, the Tanto is about as boxy a car as you'll find on the road. The Tanto is a dream to enter and exit, as unusual as it might be. That's because, on the passenger side, there's no pillar!
You can open both the front and rear doors to create a huge entrance (the rear door opens to the rear). The Tanto also has a unique upgrade, its Welcome Turn Seat, which allows the seat to turn outwards. This distinctive seat makes getting in and out much easier for seniors and those with disabilities. When you consider it handles well, has excellent fuel economy, and is surprisingly roomy, it's no wonder Japanese drivers love the Daihatsu Tanto.
Pros
Excellent fuel economy.
Very easy ingress and egress
Spacious cabin
Plenty of storage
Easy to park
Cons
Noisy at highway speeds
Wind buffeting problems at highway speeds
---
4.

Honda StepWgn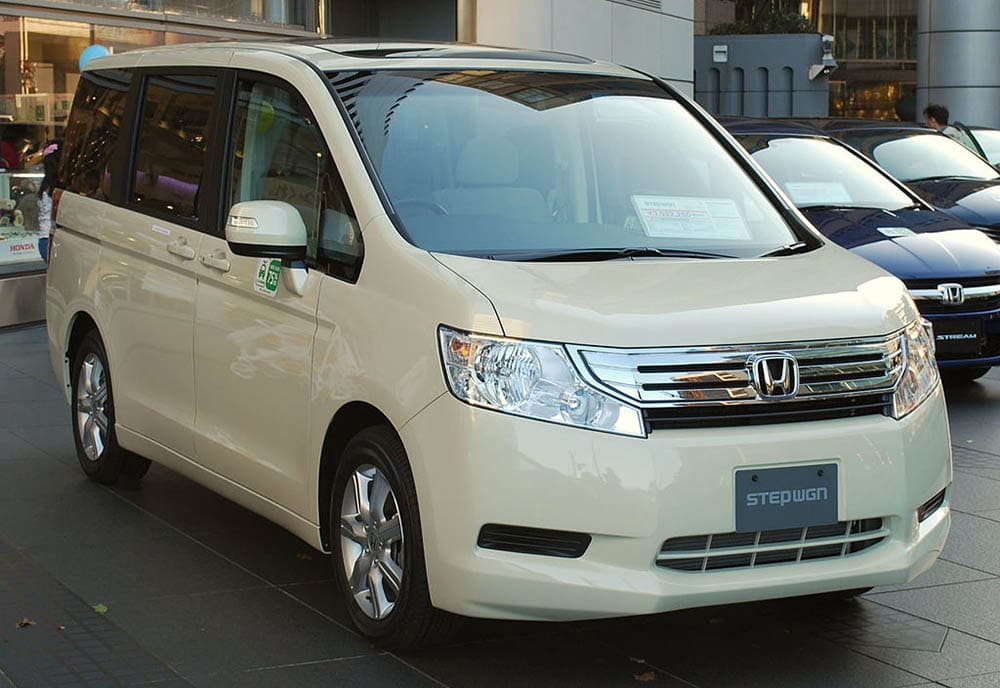 | | |
| --- | --- |
| Manufacturer: | Honda |
| Car Type: | Minivan |
| Hybrid Available?: | Yes |
| First Year of Production: | 1996 |
Although the Japanese aren't known for having large families (2.7 persons per household), they genuinely love the Honda StepWgn. It's made to seat eight, but the last two seats are rather uncomfortable. Still, that leaves six seats, which is plenty of room for the typical family and their supplies. One of the best features of the StepWgn is Honda's ECON button, which automatically turns the engine off when stopped.
Also, the last row of seats folds down completely flat for extra space for luggage on long trips. Many reviews also cited the well-designed dashboard as a big plus, with all vital buttons within easy reach.
Pros
The CVT gearbox makes gear changes super smooth
Honda's impressive I-VTEC engine
Ample room and storage space
3rd row of seats folds flat for more storage space
Cons
High cost to maintain the engine
Back seats are uncomfortable
---
5.

Toyota Prius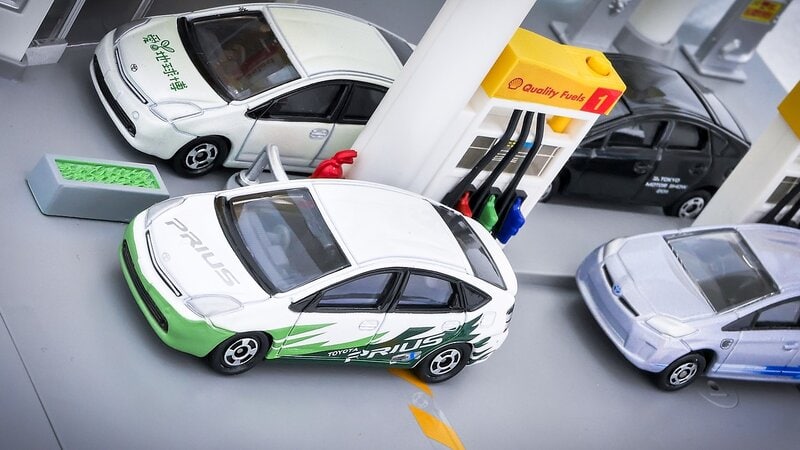 | | |
| --- | --- |
| Manufacturer: | Toyota |
| Car Type: | Hatchback |
| Hybrid Available?: | Yes |
| First Year of Production: | 1997 |
Although very popular in Japan, the Toyota Prius has been losing ground to several other cars in its class. It doesn't handle as well, and acceleration is lazy due to its low 121 horsepower. However, some good news is that the Prius is the only compact hybrid that offers all-wheel drive, which is a big plus for many Japanese drivers.
The Prius has sufficient cargo space due to its hatchback, and the shifter mounted on the dash frees up storage space . The Prius is also surprisingly roomy for its size, even in the back seats. One significant benefit is that the Prius has an excellent safety rating and comes standard with driver-assistance tech.
Pros
Excellent fuel economy
Many popular features come standard
Only compact hybrid that offers all-wheel drive
Cons
Lazy acceleration
Not the most aesthetically pleasing
More expensive than its main competitors
---
6.

Suzuki Spacia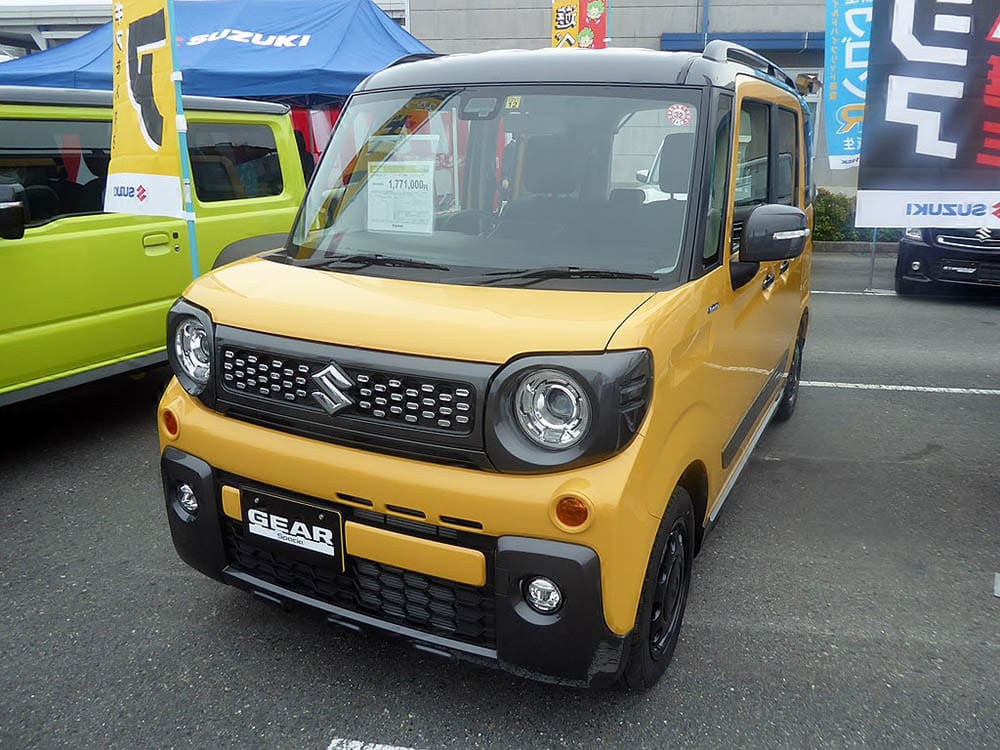 | | |
| --- | --- |
| Manufacturer: | Suzuki |
| Car Type: | Kei |
| Hybrid Available?: | Yes |
| First Year of Production: | 2013 |
Although you won't find Suzuki cars in North America any longer, they are still popular in Japan. That includes the Suzuki Spacia, which is another of Japan's popular Kei cars that's a boxy-looking delight. The Spacia might look small (and funny) outside, but inside, there's more room than you might imagine.
The Spacia comes in a vast palette of colors, gets fantastic city and highway mileage, and has many places to store items like cups, wallets, etc. It's incredibly roomy up front and in the back and simple to park, as expected for a box on wheels. North America's loss is Japan's gain, and it's no wonder the Suzuki Spacia is so popular.
Pros
Very roomy for a Kei car
Excellent gas mileage
East ingress and egress
Handles well
Plenty of leg and headroom
Cons
Very similar to other models
Handles poorly at highway speeds
---
7.

Nissan Note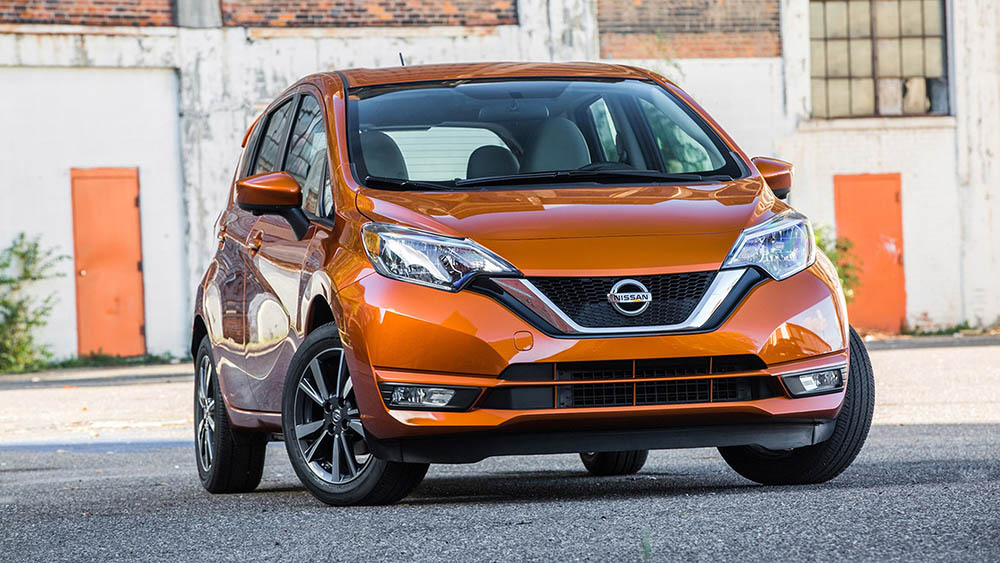 | | |
| --- | --- |
| Manufacturer: | Nissan |
| Car Type: | Subcompact |
| Hybrid Available?: | Yes |
| First Year of Production: | 2004 |
The Nissan Note is similar to other models on our list but without the boxy look. It's small but has similar styling to a sedan, although the interior is still surprisingly roomy. The Note's high roofline gives you more headroom than you can imagine for such a small vehicle. One drawback, however, is that the Note's interior is rather dull, even if it is comfortable. All dashboard buttons and dials are placed in easy-to-reach positions, but it lacks any real pizzazz.
The Note is well-liked in Japan because it's very practical. It's easy to park, sips gas, handles well, and even the back seats have plenty of legroom. There are numerous cubby holes to put your stuff, and the standard model comes nicely equipped with popular features.
Pros
Very spacious interior
Excellent value for the money
Standard model is well-equipped
High safety rating
Cons
Jerky ride on the highway
Dull interior
---
8.

Toyota Roomy
| | |
| --- | --- |
| Manufacturer: | Toyota |
| Car Type: | Mini MPV |
| Hybrid Available?: | Yes |
| First Year of Production: | 2003 |
One thing you might have noticed about the most popular cars in Japan is that many of them look surprisingly similar. They are boxy and short, with a short wheelbase and tiny tires. The Toyota Roomy continues the trend with a square body, high roofline, and large doors that make entering and exiting the car a pleasure.
The fact that it's nearly identical to several of the cars we've looked at today tells us why it's so popular, as the Kei cars seem to have the features everyone in Japan is looking for. Those features include roominess, high fuel economy, decent handling, a short wheelbase, and plenty of headroom and legroom. Does it look like a box on wheels? It sure does, but that hasn't stopped the Toyota Roomy from becoming one of Japan's best-selling cars.
Pros
Excellent fuel economy
Plenty of interior room and storage space
Easy to park
Handles well at city speeds
Standard model comes with excellent features
Cons
Looks like many cars on the road in Japan
Handling suffers at highway speeds
---
9.

Toyota Corolla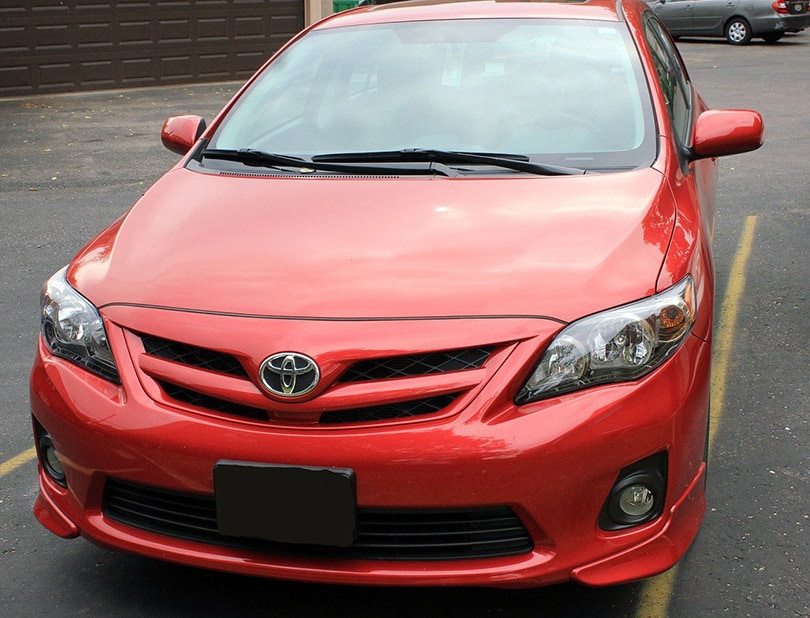 | | |
| --- | --- |
| Manufacturer: | Toyota |
| Car Type: | Compact |
| Hybrid Available?: | Yes |
| First Year of Production: | 1966 |
If there's one car that can be labeled a Japanese Icon, the Corolla fits the bill perfectly. From great fuel economy to a well-designed interior, superior handling, an excellent safety rating, and a comfortable ride, the Corolla has it all.
There are very few positive accolades regarding the Corolla that haven't been voiced numerous times before. That's likely why, although very different from the other cars on our list, the Toyota Corolla is still one of the most popular cars in Japan. It's a well-rounded automobile with impressive features and an affordable price, and it's designed and built by the world's leading car manufacturers. What more could you ask for?
Pros
Very comfortable ride
Impressive safety standards and tech
Upscale interior
Intuitive technology throughout
5-star safety rating
Cons
Standard engine is slow and sluggish
Lacking back seat space
Relatively noisy at highways speeds
Trunk space is limited

Final Thoughts
Do you agree with the choices that the fine people of Japan are making with their cars? Whether you do or not, we hope you enjoyed today's look at the vehicles they like the most. From what we've seen today, small, economical, and roomy cars that sip gas are what many families in the Land of the Rising Sun prefer. They certainly like boxy cars in Japan; we think you'll agree. Several vehicles we've examined today look eerily similar, with tiny wheels, a snub nose, and high headlines.
---
Featured Image Credit: ajgpforografia, Pixabay