10 Most Populated Cities in India (with Pictures)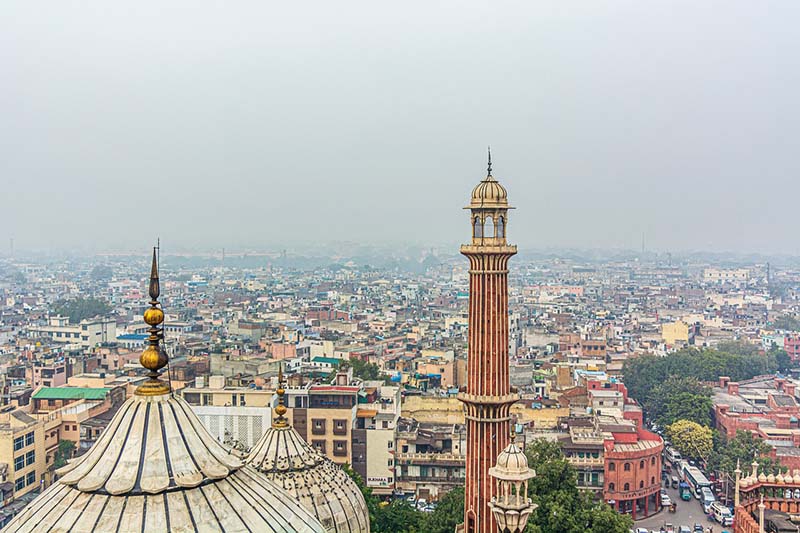 India is famous for its diversity of cultures, bustling streets, and awe-inspiring architecture. It's where yogis go to deepen their practice, and shoppers go to find bargains. It's a bucket list destination for travelers. Whether you are planning to holiday, study, or even move to India, it's no secret that there is no shortage of people. In fact, India's population is coming close to China's, almost earning the title of the world's most populated nation.
The last census conducted in India was in February 2011, and the next one was scheduled for 2021, which was postponed due to the pandemic. Nonetheless, these are still the most populated cities in India.

The 10 Most Populated Cities in India
1.

Mumbai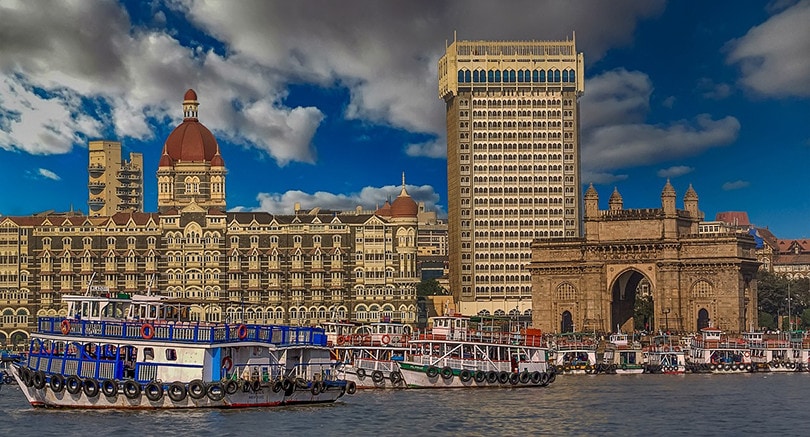 | | |
| --- | --- |
| Population: | 12,691,836 |
| Area: | 603.4 sq.km |
| Density: | 21,000 sq.km |
Mumbai is known as "the city that never sleeps." It is the financial capital of India and the capital of Maharastra. It is the most populated city in India, with a population of over 12 million people.
Mumbai is home to India's top financial, entertainment, and economic industries. It is also India's fashion capital and the core of Bollywood. Mumbai is a fascinating blend of bustling streets, exclusive stores, popular restaurants, and shanty towns, encapsulating India's diversity into one city.
One of the major causes of population growth in Mumbai is natural increase, where the birth rate is higher than the death rate. With a fertility rate of about two children per woman, the population growth rate is approximately 5% per year, equating to an average of 1 million extra people born yearly.
---
2.

Delhi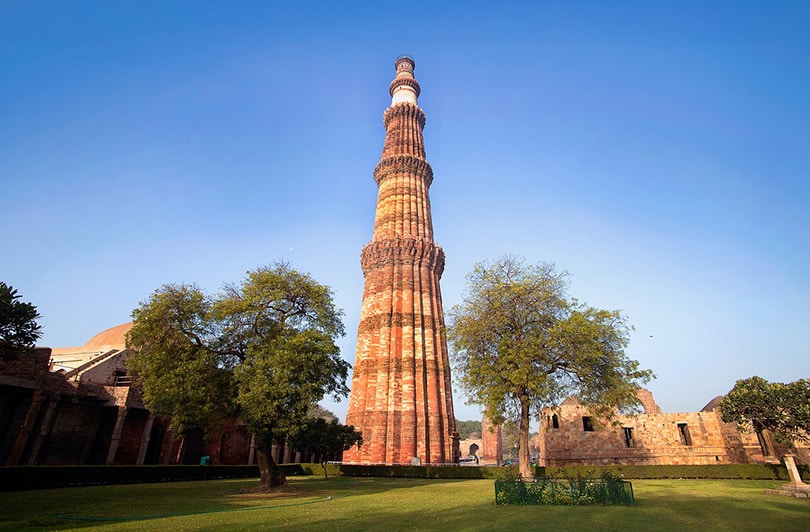 | | |
| --- | --- |
| Population: | 10,927,986 |
| Area: | 1,484 sq.km |
| Density: | 29,259.12 sq.km |
Delhi has a long history and is the world's largest metropolitan area. With a population of nearly 11 million, India's capital is a close second to Mumbai. Delhi is the world's fifth most populous city and India's largest city in terms of area. After Mumbai, Delhi is regarded as the wealthiest city.
Delhi has one of the world's fastest urban expansion rates. Large rural areas are being urbanized, welcoming an influx of new residents. With a thriving service economy, Delhi attracts migrants because it has one of the highest incomes in India. Delhi is expected to overtake Tokyo as the world's most populous city by 2028.
---
3.

Bangalore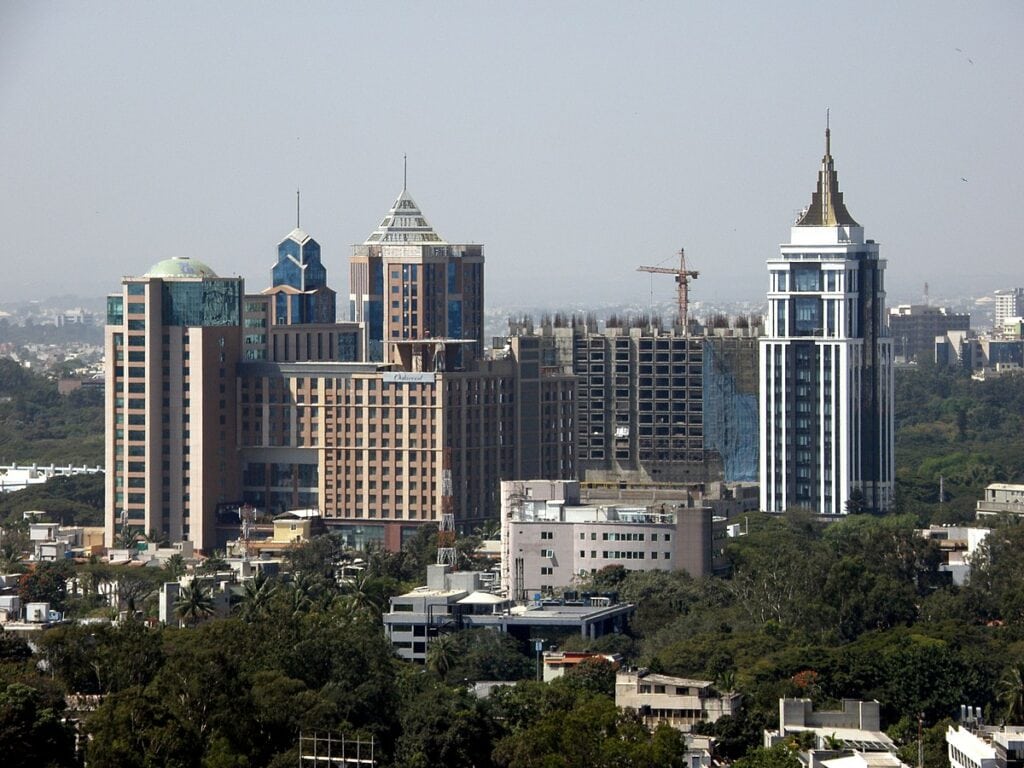 | | |
| --- | --- |
| Population: | 5,104,047 |
| Area: | 709.sq.km |
| Density: | 12,000 sq.km |
Bangalore, dubbed "India's Silicon Valley," has emerged as a technology hub for the country, with major IT firms establishing themselves. Bangalore is the capital of Karnataka and is well-known for its various parks, warm weather, and spectacular nightlife.
Many people relocate to Bangalore for work from all over the country, and the city's infrastructure battles to keep up with this growth rate. Overpopulation has resulted in 4% annual population growth.
It is the world's most congested city, accounting for 16.7% of all traffic accidents in India.
---
4.

Kolkata
| | |
| --- | --- |
| Population: | 4,63,392 |
| Area: | 205 sq.km |
| Density: | 22,000 sq.km |
Kolkata is the capital of West Bengal and India's most culturally diverse city. The city is known for its bustling streets and is hailed as the land of intellectuals. Kolkata is East India's commercial and educational center and one of the country's oldest operating ports.
Kolkata has a lower gender ratio than the rest of India, with 899 females for every 1,000 males. This is partly because many men leave their families to the surrounding rural areas for work. As the neighboring areas continue to grow, Kolkata's population is decreasing.
The Kolkata urban area is expected to have a population of 20.1 million by 2025.
---
5.

Chennai

| | |
| --- | --- |
| Population: | 4,328,063 |
| Area: | 426 sq.km |
| Density: | 17,000 sq.km |
Chennai, the capital city of Tamil Nadu, is a popular tourist destination and is also known by its old name, Madras. It owns one-third of India's automobile industry, dubbing it "the Detroit of India." Chennai serves as the guardian of South Indian art, culture, and traditions. The city is also an excellent starting point for excursions to other parts of Tamil Nadu.
Chennai has the country's third largest expatriate population, estimated at nearly 90,000. When compared to other metropolis cities, living expenses are significantly lower. It stands out for its low living costs and higher rates of housing, startups, and safety.
Chennai has a consistent pattern of steady growth, but the density of this populous city continues to grow year after year, albeit at a much slower rate than other major cities.
---
6.

Ahmedabad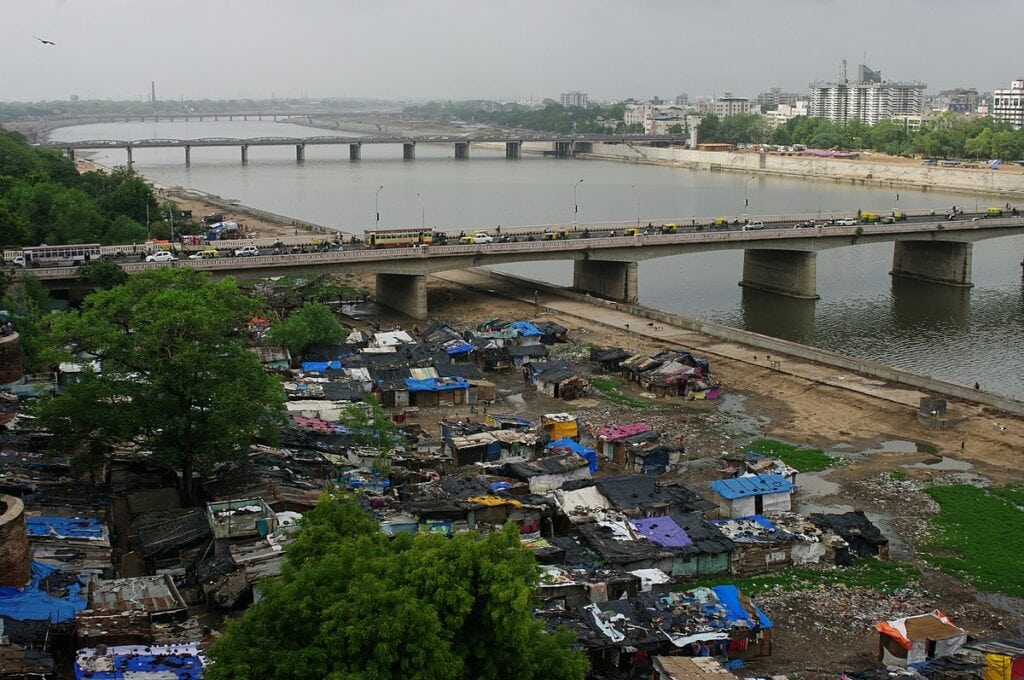 | | |
| --- | --- |
| Population: | 3,719,710 |
| Area: | 464 sq.km |
| Density: | 12,000 sq.km |
Ahmedabad was the capital of Gujarat until it was surpassed by its twin city Gandhinagar. It is one of India's fastest-growing cities. It is rapidly expanding as an economic hub and rising center of scientific industries. Ahmedabad is a large industrial city long known for its textile industry but now more so for its chemical, petroleum, and international trade.
The cost of living in Ahmedabad is lower than in other cities and is one of the safest, least expensive, and most developed cities in India. Ahmedabad National Airport connects to most major cities in Europe and the Middle East, and people stay here to study history and architecture at one of the top state universities in Gujarat.
---
7.

Hyderabad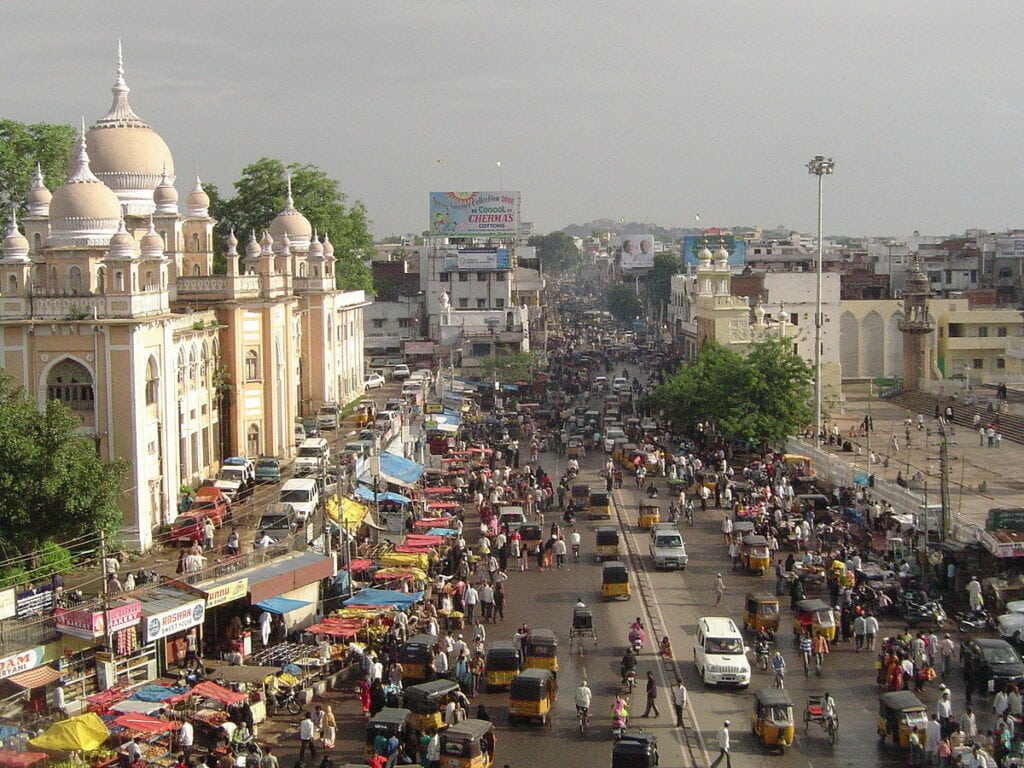 | | |
| --- | --- |
| Population: | 3,597,816 |
| Area: | 65 sq.km |
| Density: | 10,477 sq.km |
Hyderabad is the capital of the southern state of Telangana. It is known as the "City of Pearls" because it was once the only global trading center for large diamonds, emeralds, and natural pearls. The city is known for its culinary delights and rich heritage and is also a major hub of the country's technology industry.
Compared to other Indian cities, Hyderabad is said to have a very high standard of living. The city has topped many lists for its low crime rate, good schools and curriculums, low pollution, and high employment rates attracting new residents.
---
8.

Pune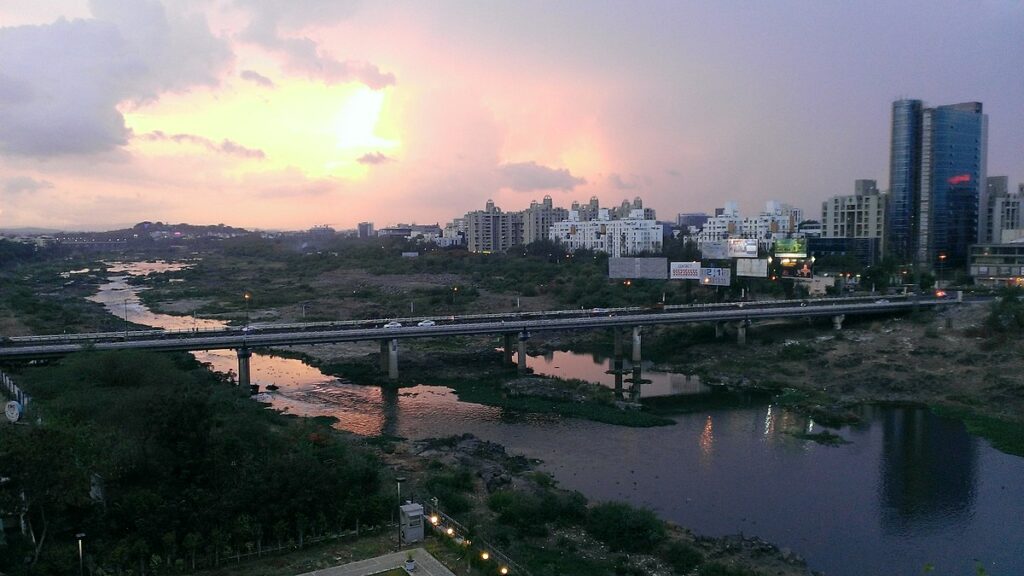 | | |
| --- | --- |
| Population: | 2,935,744 |
| Area: | 331.3 sq.km |
| Density: | 9,400 sq.km |
Pune, in the state of Maharashtra, is a significant city in terms of economic and industrial development. Pune has also established itself as an educational hotspot, earning the reputation of "Oxford of the East." It also has a thriving automotive industry and is home to the Automotive Research Association of India.
Pune is one of India's most rapidly growing and livable cities. Over the last decade, it has emerged as India's smartest city with its emerging IT sectors. Pune is known for its lovely weather, and despite being only a few hours from Mumbai, the cost of living is lower.
Pune's decadal growth rate has been at least 40% over the last 40 years, and if this trend continues, the city's population will reach 5.6 million by 2031.
---
9.

Surat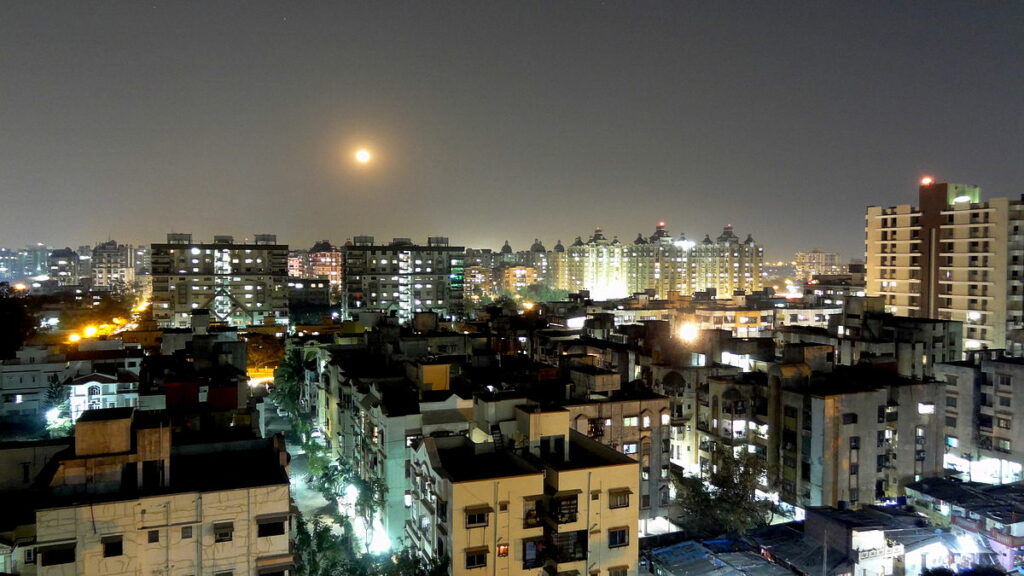 | | |
| --- | --- |
| Population: | 2,894,504 |
| Area: | 326.5 sq.km |
| Density: | 14,000 sq.km |
Surat is a city in the Indian state of Gujarat and is one of India's most dynamic cities. Surat is one of India's cleanest cities and has a low unemployment rate due to its fast industry development. It's no wonder Surat has one of the fastest growth rates.
It was named the first smart IT city and was recently awarded the IBM Smarter Cities Challenge Grant. The city is expected to reach its next major population milestone shortly; it owes its population growth to becoming more innovative.
---
10.

Kanpur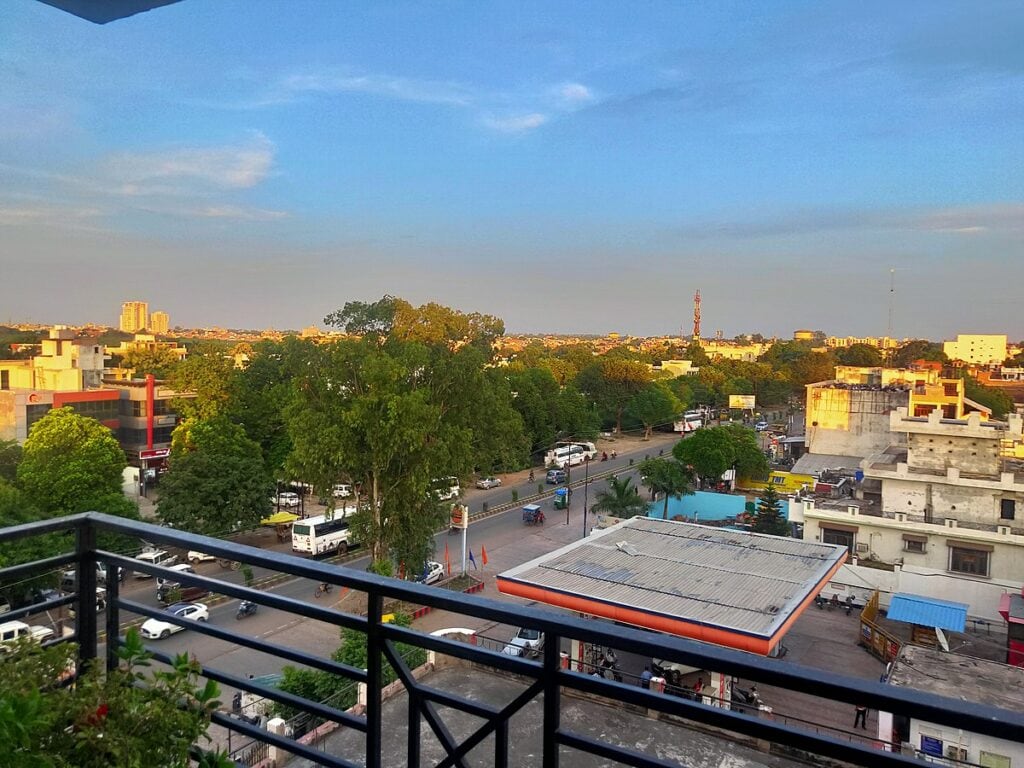 | | |
| --- | --- |
| Population: | 2,823,249 |
| Area: | 403.7 sq.km |
| Density: | 4,900 sq.km |
Kanpur is a city in the Indian state of Uttar Pradesh and is the state's most populous city. It is well-known for its textile and leather industries and is also known as "The World's Leather City" and "Manchester of India." The city is a major commercial and industrial center, and it is particularly well-known for its leather industry, which includes some of the world's largest tanneries.
Based on past growth rates, Kanpur's population will continue to grow well into the future.

Conclusion
While India has much to see and experience, and tourists still flock to this diverse and fascinating country, it's no secret that it is overpopulated. The current population of 1.32 billion in India is expected to grow to 1.8 billion by 2050. India is on track to overtake China as the world's most populous country as early as 2024.
Mumbai holds the title of the most populated city in India, which may explain why it is dubbed "the city that never sleeps." Coming in at a close second is Delhi, and in third place is the technology hub of Bangalore.
---
Featured Image Credit: Confused_me, Pixabay