17 Most Expensive Homes in Tennessee (with Pictures)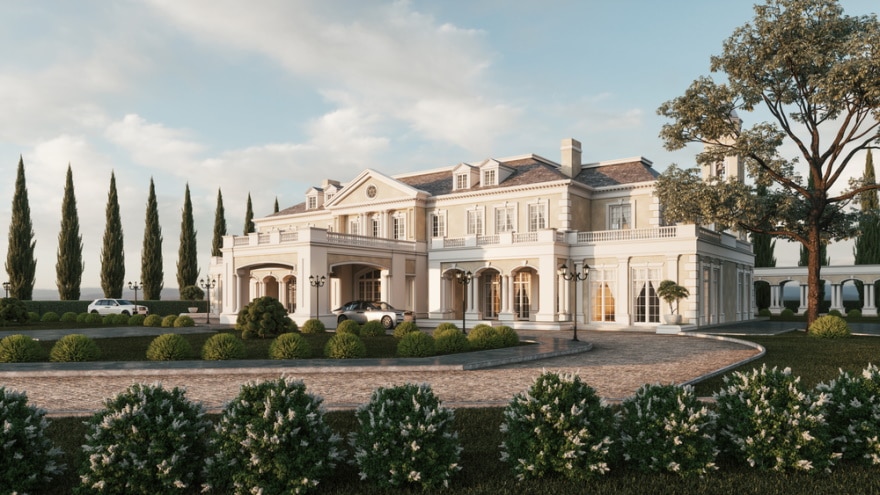 Tennessee is known for its cheaper land prices and inexpensive living cost. However, they still have quite a few expensive homes. While their houses usually cost much less than homes do in states like California, Tennessee is home to a few different mansions—all of which cost millions of dollars.
Below, we'll take a look at the most expensive homes in Tennessee based on their estimated sale price. None of these homes are actually up for sale. However, even if they were, most of us wouldn't ever consider purchasing them.

The 17 Most Expensive Homes in Tennessee
1.

Kelly Clarkson's Home
Kelly Clarkson is a well-known country singer. While she currently lives in LA, Kelly Clarkson continues to own a house in the Nashville area, which was listed for nearly $7 million a year or so ago. As you'd guess, this home is basically a mansion.
It sits on the waterfront near Old Hickory Lake on four acres. The whole property is gated. It comes with 7 bedrooms and 9.5 baths. Plus, it features huge windows for taking in the view.
---
2.

4914 Lealand Ln, Nashville
This very expensive home isn't owned by anyone famous. In fact, not much is actually known about it besides its listing price when it was up for sale some years ago. It is simply described as a "custom" home. (Though custom for whom is unknown.)
It does have a saltwater pool and a 5-car garage, which is plenty big. Plus, it features a two-story library and an outdoor spa.
---
3.

0 Old Smyrna Rd, Brentwood
This house is a bit different from others on this list because it hasn't been built yet. However, it is currently under construction and being sold for 7 million dollars, making it one of the more expensive homes in TN.
Of course, much of its price is likely because of the location.
We don't know much about this home, yet, as it is still being built. The potential buyer could probably make a lot of customizations to the house while it is still under construction.
---
4.

Nashville Penthouse
Closer to the downtown area, you'll find this expensive penthouse. As you'd imagine, this penthouse features a range of modern conveniences on top of being downtown. As far as we can tell, the house hasn't actually been sold, yet.
However, it has come off the market a few times, so it does look like it may be used as a rental space occasionally.
---
5.

Belle Meade Historical Home
Compared to other homes, this one is a bit unique. It is a historical home—not a new construction. However, it is quite large and sits on a bit of land, which is why it is so expensive. It absolutely has a different feel than most homes on this list.
The home was renovated in 2003 to include an elevator and stained glass.
---
6.

0 Sharpsville Rd, Murfreesboro
This home was built in a western style. It is extremely large at 14,000 square feet and comes with 90 acres. This huge amount of land so close to Nashville is largely why this home costs so much. It even comes with a horse barn and plenty of fenced-in areas for the horses to run around in.
The inside is packed with entertaining spaces, including a cinema room and a dance bar.
---
7.

8131 Mountaintop Dr, College Grove
While College Grove isn't usually full of expensive houses, this home is the exception to that rule. This home is right next to a lake and a golf course. The location likely adds a lot to the price. Plus, it includes a hot tub and lots of entertaining spaces.
---
8.

Wildlife Wonderland in Franklin
Technically, this isn't a house at all. However, it was one of the most expensive listings over the last few years, so we decided to include it on this list. This wildlife preserve contains 330 acres of untouched land.
While the owners could build a house on it, it may also work well for a hunting location or simple hiking trail. With so much land, there is a lot you could do with it.
---
9.

515 Church Street, Nashville
This penthouse features two stores with wall-to-ceiling windows. As you'd expect, a lot of the draw of this penthouse is the location. You're located in the middle of downtown, allowing you to enjoy Nashville to its fullest.
---
10.

8134 Mountaintop Dr, College Grove
Again, we have another million-dollar house in College Grove. This house features great views of the lake and a little bit of land, which is likely why it is so expensive. It overlooks golf courses, as well, so your view is protected from encroachment by other homes. It has 5 bedrooms, which is a bit small for a home in this price range.
However, it does include an elevator!
---
11.

4511 Peytonsville Rd., Franklin
With this home, the owners get both stunning landscapes and shopping opportunities. It is located only minutes away from Franklin and the interstate. With huge windows, natural light is available throughout the home.
---
12.

1500 Moran Rd., Franklin
This property backs up to the Harpeth River and contains 92 acres. For these reasons, the location drives the price way up. You aren't so much paying for the home as you are the property.
Of course, the home is pretty nice, as well. The property is also fenced-in and built for horses.
---
13.

1050 Pine Creek Falls Rd., Smithville
Land prices in Smithville are rather low. However, this home features over 200 acres of land, which does add up. It features tons of outdoor entertainment space, as well as two waterfalls. Plus, it is also equipped with "off the grid" technology, so you can enjoy your home even when the power goes out.
---
14.

530 Jackson Blvd, Nashville
This large home sits in the heart of Belle Meade on five acres. It contains 22,000 square feet. Honestly, based on the location, acreage, and home size, we aren't surprised at all by the price. The home even comes complete with a wine cellar, swimming pool, and tennis court.
---
15.

2211 Lewisburg Pike, Franklin
Many of the homes on this list are located in Franklin, including this one. It features a farmhouse design style and is on a sloping hillside, which makes it look very magnificent. The style is a bit different from the other houses on this list.
---
16.

Dave Ramsey's Home
Dave Ramsey is known as a personal finance expert. Therefore, it only makes sense that he would own a huge house. This property sits on 14.38 acres and hosts six bedrooms. The home was built in 2009, but it does look like Ramsey will sell soon.
The secluded home is perched on top of a hill and features amazing sunsets.
---
17.

1711 Old Hillsboro Rd., Franklin
At almost 16 million dollars, this is the most expensive home that has sold in the last few years in Tennessee. It is an older home that has been restored many times, as it was built in 1858. It currently sits on 66.1 acres.
As you'd imagine, this home features many of the amenities you'd find at that time, including a guest house, two barns, and a carriage house.

Conclusion
Tennessee may not have the most expensive homes, but there are many homes out there that are extremely expensive. Some of these homes are historic, while others are modern. Many were built in the last few years by celebrities, only to be sold a few years later.
Because Tennessee is home to lots of views and lakes, many of these homes are waterfront and have floor-to-ceiling windows.
Of course, largely due to the construction price, these homes are all quite unique.
---
Featured Image Credit: Alexander Steamaze, Shutterstock