10 Surprising Power Tool Injury Statistics in the UK (Updated in 2023)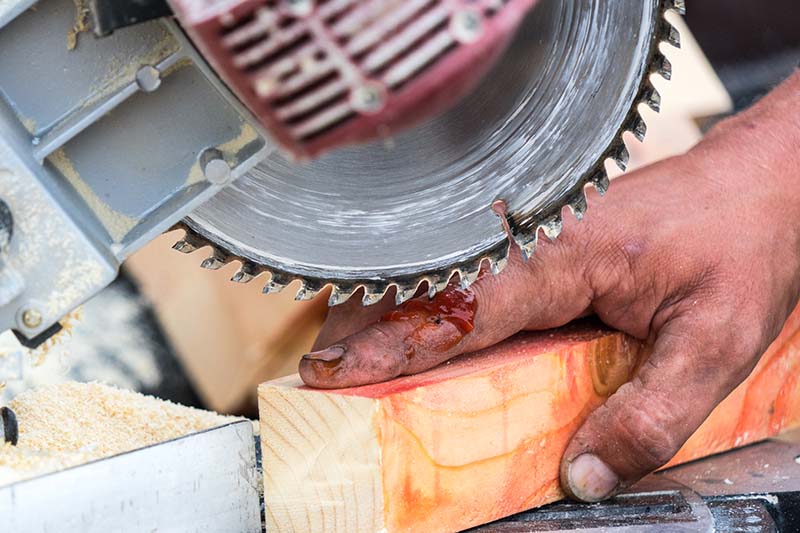 Note: This article's statistics come from third-party sources and do not represent the opinions of this website.
Undertaking DIY projects at home is an effective way of making quick fixes and improvements to the home, and it can also save money rather than having somebody come in and do the work. Many people also find DIY projects enjoyable and a welcome distraction. However, there are inherent risks associated with such tasks.
Slips, trips, and falls, especially from ladders or other platforms, present a serious risk and are among the most common types of DIY injury, but power tools and hand tools are powerful and have the potential to do serious damage. Thousands of people present to UK hospitals every year with power tool-related injuries and the number was inflated during Covid lockdowns, with many taking the time at home as an opportunity to get jobs done around the house.
Below are 10 power tool injury statistics, including information on common injury types and the main culprits. Statistics on power tool injuries are not recorded separately by the NHS or hospitals, but we have used the most recent available data to provide relevant figures.
We've organized these statistics into the following categories:

The 10 Power Tool Injury Statistics in the UK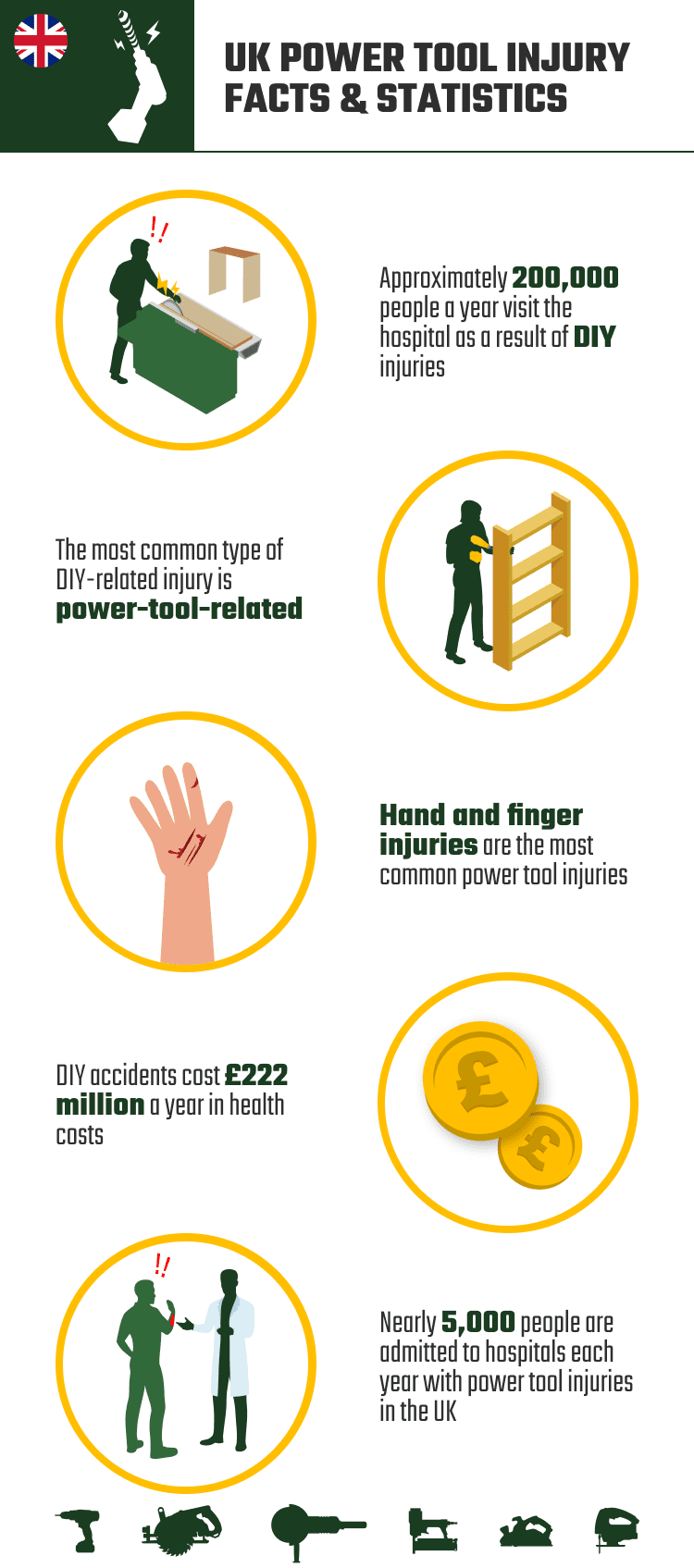 General DIY Accidents
1.

17% of DIYers injure themselves
(PHPI Online)
Roughly one in six people that do DIY at home injure themselves in some way according to one survey. Approximately a quarter of those that did suffer an injury had to visit the hospital for some form of treatment. DIY injury figures do include power tool accidents but the figures also include falls from ladders, electrocutions, and other types of accidents and injuries.
---
(Saxton Blades)
While most people have hit themselves with a hammer or tripped while carrying materials, not all DIY accidents are innocuous. Approximately 70 people a year die as a result of DIY accidents in the home. This doesn't come close to the number of people that die in car accidents (2000 people a year) or the number of pedestrians killed in road accidents (361), but there is still a risk whenever you pick up a power tool.
---
3.

Approximately 200,000 people visit the hospital as a result of DIY injuries
(Saxton Blades)
Not only is there an outside chance of a DIY accident proving fatal, but there is a chance of injury. Roughly 200,000 people visit UK hospitals as a result of injuries sustained during DIY activities. This not only includes people that are taken to Accident & Emergency but those that require admission to hospital and treatment. However, it doesn't include people that seek other medical help or that do not require medical attention. About 10,000 people a year have to visit the chiropractor as a result of their injuries.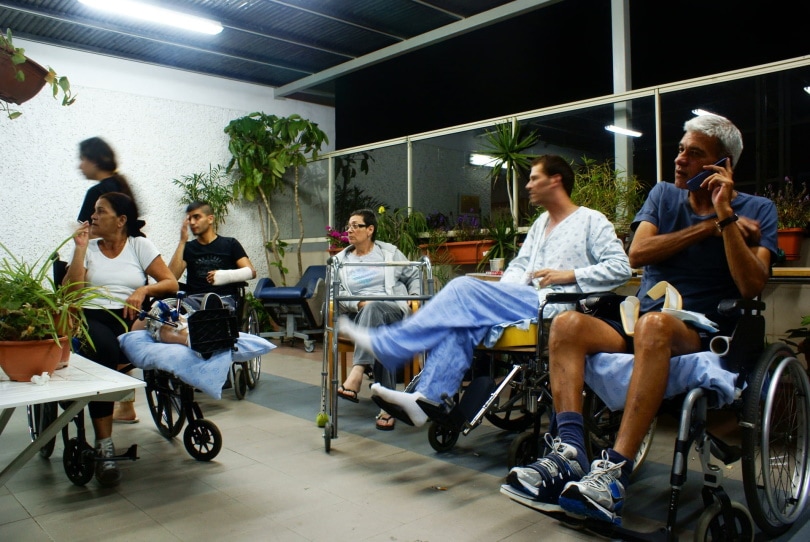 Power Tool Injuries
(PHPI Online)
When it comes to the type of accidents that make up DIY accidents, the most common accident type involved contact with a power tool. About 23% of injuries were caused this way. The next most common type of accident was falling from a ladder accounting for 22% of accidents. Other common accidents were caused by non-power tools (17%), electrocution (10%), and lawnmower incidents (6%).
---
5.

Men are six times more likely to be injured than women
(NHS)
Men are far more likely to suffer an injury and require hospital treatment as a result of DIY activity. The NHS reports that, in one year, 7,400 men had to receive treatment for injuries caused by power tools and lawnmowers compared to 1,200 women in the same period. The figures are similar for people falling from ladders: 5,000 men had to receive treatment compared to 1,260 women.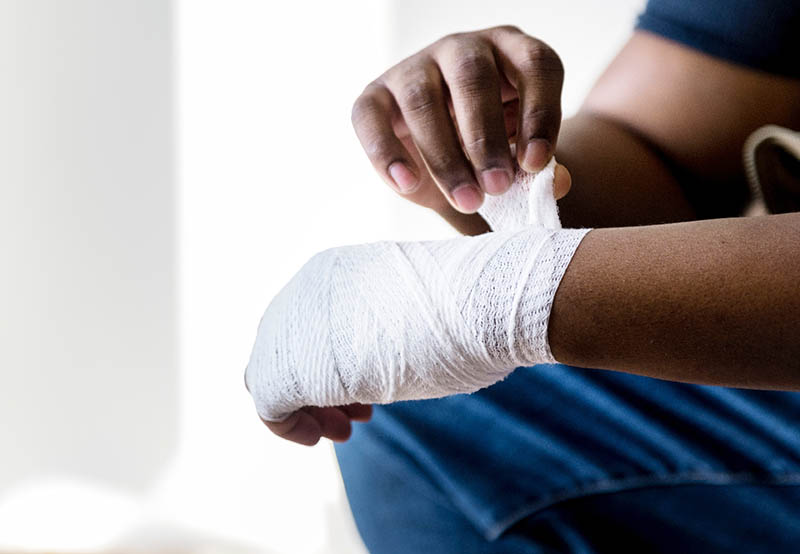 ---
6.

Hand and finger injuries are the most common power tool injuries
(Tylers Solicitors)
The most common type of injury sustained in a power-tool accident is an injury to the hands and fingers. This can include lacerations, abrasions, and even fractures, typically depending on the type of tool used. However, injuries can also occur to other parts of the body such as feet and legs.
The proper handling and careful use of power tools can help reduce the risk of injury, and so too can wearing appropriate safety equipment and clothing.
---
7.

Easter Bank Holiday Monday is the most likely time to suffer a power tool injury
(Saxton Blades)
Weekends and bank holidays are the time that most people tackle DIY jobs that need doing, so it is hardly surprising that these are the times when DIY injuries are most likely. In fact, the day of the year when you are most likely to suffer a power tool accident is East Bank Holiday Monday.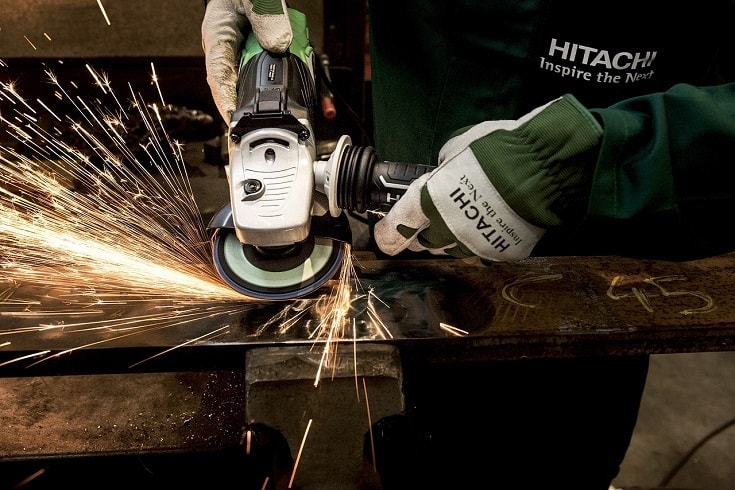 Hospital Requirements
8.

DIY accidents cost £222m a year in health costs
(PHPI Online)
Although the NHS doesn't release the cost of DIY or power-tool-related injuries, the amount can be estimated using survey results and general NHS costs. About 2.8% of adults aged between 18 and 65 are estimated to have injured themselves and required hospital treatment, with less than 1% requiring an ambulance. With an A&E visit costing £143 and an ambulance costing £259, the total cost of DIY accidents to the NHS would be just over £222 million in one year.
---
9.

Nearly 5,000 people are admitted to hospitals each year with power tool injuries
(NHS)
Power tools include drills, saws, sanders, and electric planers, and all of these tools can injure. Approximately 5,000 people have to be admitted to hospitals after such injuries. Hospital admissions do not include A&E (accident and emergency room) visits and are incidents that require a patient to be given a bed or provided treatment away from the room.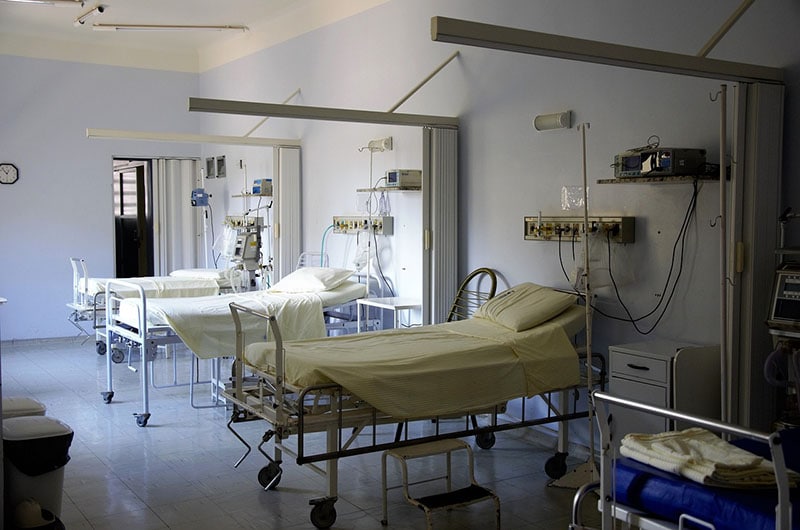 ---
10.

A further 500 hospital admissions arise as a result of accidents with lawnmowers
(NHS)
Although not strictly considered power tools, lawnmowers are similar in a lot of respects. They are powered and they use mechanical operation to make a particular task easy. They also have very sharp blades that spin quickly and can cause serious injury. About 500 people are admitted to hospitals every year from accidents with these machines.

Frequently Asked Questions About Power Tool Injuries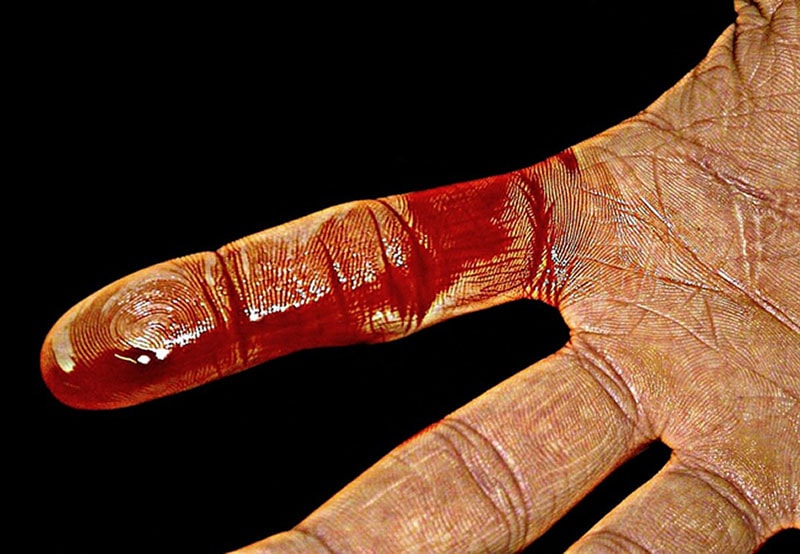 What Is the Most Common Power Tool Injury?
The most common power tool injury is to the hand or fingers and can include lacerations or abrasions. This is because power tools are held in the hand, which means these areas of the body are closest to the tool themselves. Other types of injury can include electrocution while misfiring a nail gun is another possibility.
What Power Tool Causes the Most Injuries?
Power saws are generally considered the most dangerous power tool. This includes table saws, circular saws, and even chainsaws. The blades spin fast enough that they can cause deep lacerations and could potentially even remove a finger or other body part.
What Is the Most Common Power Tool?
The drill is the most common power tool. Most homes, even those belonging to people that rarely do DIY, have at least one drill, and many homes have multiple drills to deal with specific jobs and tasks. Drills can spin at speeds of up to 3,000 revolutions per minute and are designed to bore holes in wood, metal, and other solid materials, so they are capable of doing considerable damage to people.
How Can Injuries Be Prevented?
There are various ways to try and prevent injuries from power tools. Always carry the tool properly and do not carry it by the cord or blade. Ensure you wear protective equipment including goggles and safety gloves. Use any tool guards or other safety features that are included with the power tool and keep fingers and other body parts away from the tool. If in any doubt, have a professional do the work for you or show you how to use the tool before you start work.

Conclusion
DIY is an inexpensive way to get jobs done around the house. It is also considered a good hobby and a means of passing the time. But, whenever using power tools, which can cause serious injury, you should take care to avoid accidents and keep yourself and those around you away from harm.
Roughly 5,000 people a year are admitted to hospitals with injuries caused by power tools and lawnmowers, out of approximately 200,000 that visit a hospital for some DIY-related injury. So, always use caution when DIYing!
See also: 13 Construction Injury Statistics in the UK
Related Read:
---
Featured Image Credit: CSMaster, Shutterstock