8 Reliable Alternatives to Sandbags for Flooding (With Pictures)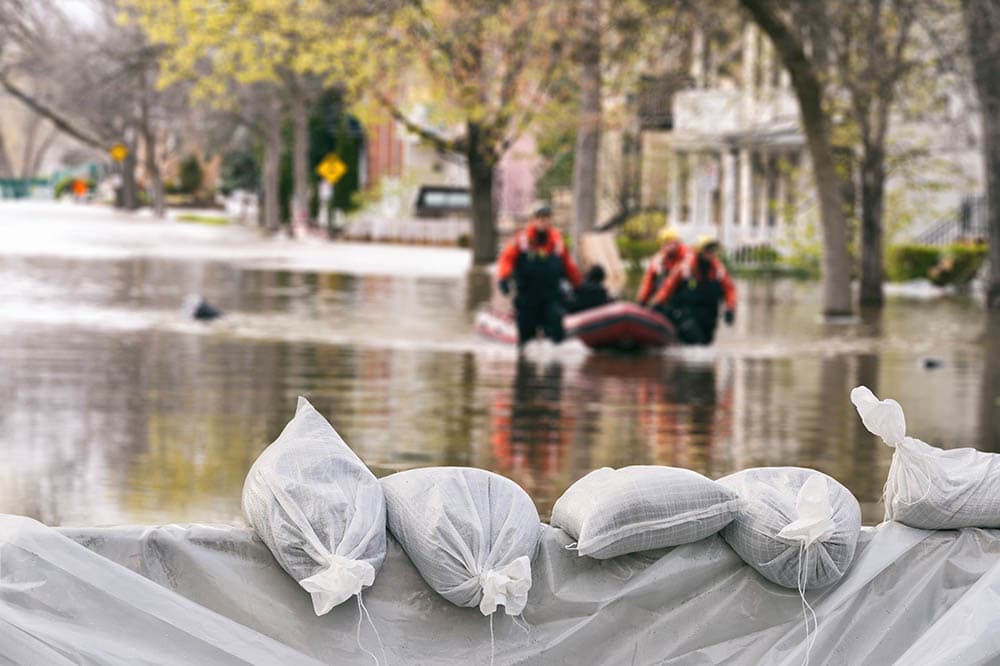 Sandbags are a tried-and-true method of flood control. Despite their effectiveness, sandbags can be hard to find, slow to fill, and difficult to move into position during a flood. If you hate dealing with sandbags or do not have a place to easily fill your sandbags, you might want to look into sandbag alternatives.
Here are eight reliable alternatives to traditional sandbags to use during
situations. This list provides a large variety of different options capable of being deployed to help prevent water damage from flooding. The list also provides suggestions on when and how to use each alternative.

The 8 Reliable Alternatives to Sandbags for Flooding
1.

Hydrabarrier
One of the best alternatives to fillable sandbags is a reusable Hydrabarrier. This product is effective, reusable, and easy to store. When it comes to an advanced sandbag replacement Hydrabarrier is one of the best available.
When To Use
Choose Hydrabarrier when you want to upgrade your home's flood protection. Sandbags are effective, but they do not keep well. Sandbags require a burdensome refilling process, and they are extremely heavy when they are full. Hydrabarrier is lighter, easier to fill, reusable, and will remain a permanent upgrade to your home's flood protection system.
The problem is that Hydrabarrier can be expensive, especially compared to sandbags which can usually be obtained for free. They come in a variety of sizes, with the largest being 24 feet long. To fully protect your home, you will likely need to buy multiple.
Pros
Reusable
Easy to fill
Permanent upgrade
---
2.

Water Inflated Dams
Cofferdams have been used to block off water from inundated areas for years. One of the best sandbag alternatives is water inflated dams. These large products are rolled out and get filled with water to protect large areas around a home or property.
When To Use
Water filled dams are a good alternative to sandbags when you need to protect a large area. Sandbags are good for blocking front doors, driveways, and garage doors, but they cannot protect an entire property. Water filled dams can be extremely large and block off entire yards, and have been used to surround and protect entire homes.
Water-filled dams can give homeowners enhanced peace of mind, but they are extremely large, take forever to fill up, and require advanced notice of potential flooding to be most effective. Choose water inflated dams when you need to protect a very large area from flooding rather than just a doorway.
Pros
Can protect a large area
Extremely effective
Cons
Large and cumbersome
Takes a long time to fill and deploy
---
3.

Snake Sandbags
Snake sandbags are a modified version of a traditional sandbag. Instead of having lumpy sacks, snake sandbags are long thin bags designed to block long gaps. These special sandbags can be bought prefilled with sand or in a solid configuration.
When To Use
Snake sandbags are perfect for people who have large openings in their homes that can be successfully blocked by a long continuous barrier. Snake sandbags work well on garage doors, sliding glass doors, double doors, and basement windows. Instead of stacking heavy sandbags, you can simply roll out a length of snake sandbags to protect the gaps under your doors and windows from letting water in.
The problem with snake sandbags is that they cannot stop a large amount of flooding. This type of sandbag will work for a few inches of water, but anything more robust is going to overrun the narrow snake sandbag.
Pros
Great for long openings that require a lot of regular sandbags
Easy to use
Affordable
Cons
Hard to fill with sand (optional)
Won't stop a large flood
---
4.

Stormbags / Quick Sandbags
Stormbags are an ingenious sandbag alternative. These bags lay flat before they are activated, making them easy to transport and store. When the bags get wet, they begin to activate and expand. Once wet, the bags blow up and form a watertight barrier.
When To Use
Stormbags are a great alternative for people who do not want to store a large number of traditional sandbags. There are some people who need to use sandbags on a regular basis, and stormbags are perfect for those people. These bags are much easier to store and deploy than traditional sandbags. Stormbags are easy to lay out in the event of an emergency, making them ideal for people who need to respond to flooding at a moment's notice.
Traditional sandbags are heavy and hard to move into place, especially under pressure. Stormbags weigh about a pound each and swell to 33lbs when activated. You can buy storm bags in packs of 50, which can be used to quickly protect a home from rising water. The only downside is stormbags are more expensive than traditional sandbags. But they are perfect for situations that require a fast response.
Pros
Lightweight
Easy to deploy
Easily stored
Cons
More expensive than traditional sandbags
---
5.

Quick Dam Sandless Sandbags
Quick Dam sandless sandbags are a name brand alternative to sandbags. These bags activate when wet and can be purchased in a large number of different shapes and sizes for personalized protection. Sandbags are all the same size and shape, but Quick Dam's bags can be tailored toward different properties and homes.
When To Use
Quick Dam sandless sandbags are perfect for people looking to upgrade and customize their home's flood protection. You can buy sandless sandbags in traditional sizes, long bags, medium-sized bags, and large packs. You can buy packs that contain as many as 120 bags which can be easily stored in your garage or shed until disaster strikes.
Being able to sit on dozens of ready-to-deploy sandbags can be invaluable for areas that are prone to flooding. The versatility and storage options that Quick Dam offers are far superior to traditional sandbags. You just have to be willing to pay for them.
Pros
Versatile and customizable
Easy to store large numbers of sandbags at one time
Do not need to be filled to use
Cons
Expensive to buy in large quantities
---
6.

DIY Garbage Bags
In a pinch, you can create your own sandbags at home by using garbage bags. You can fill up trash bags at home with local sand or dirt to create a quick sandbag in an emergency. DIY garbage sandbags are a quick alternative to a sandbag that functions similarly but are not quite as good as traditional sandbags.
When To Use
You should use garbage bags filled with dirt when you are in a pinch. If you see the water start rising and you are at home without any sandbags, you can grab some trash bags and try and fill them to block the water. Filling trash bags with dirt can give you a quick sandbag alternative to use by your doors in the case of an emergency or a surprise flood.
The problem is trash bags tend to rip when they get too heavy and trying to fill the trash bags at home on your property can be a hassle. The benefits are that most people have empty trash bags on hand, and when you see water coming toward your home, something is better than nothing.
Pros
Easy to grab in a pinch
Free and on hand materials
Can help in an emergency
Cons
Bags tend to rip
Hard to fill on the fly
Not as effective as a sandbag
---
7.

Bags of Concrete or Mortar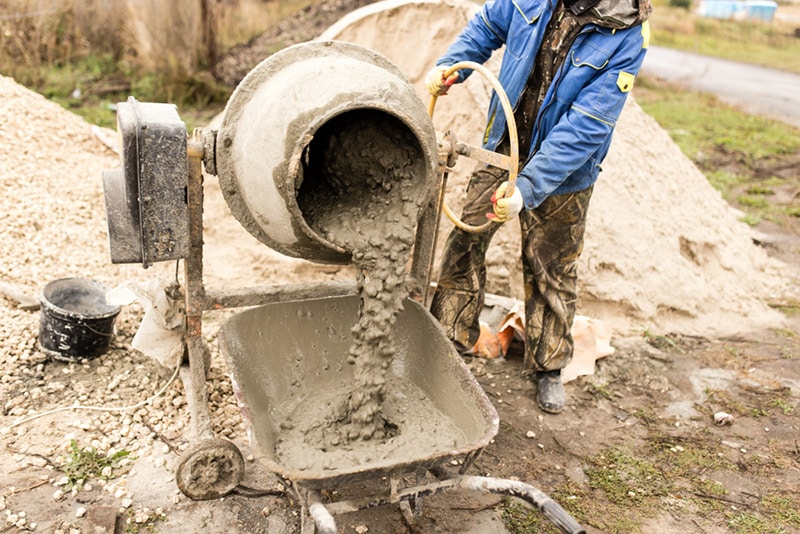 Another simple sandbag alternative is to use bags of concrete or mortar. Concrete bags work in the same way as sandbags by providing a solid barrier that blocks water from getting into your house. Some people like the strength and durability of concrete over sand.
When To Use
Sometimes people do not have time to get sandbags filled. Sandbag filling stations can become hectic ahead of bad storms or flooding. Some people have bags of concrete or mortar laying around. Other times it is easy to run to the store and grab concrete rather than sandbags. Deploying concrete bags works in the same way as sandbags. Lay them end to end, and when the water hits the bags, it will cause the concrete to harden into a formidable barrier.
It is also easier to build taller walls with concrete bags than it is to stack sandbags. If you need a taller flood barrier, then a sandbag can typically create taller barriers with concrete bags. Use concrete bags if you need a more robust flood wall, if you are having trouble accessing sandbags or if you have concrete bags in your garage and the water is rising.
Pros
Easy to obtain
A stronger wall
Can be built taller than sandbags
Cons
Hard to deconstruct
More expensive than sandbags
---
8.

Metal Flood Barriers
Metal flood barriers are a permanent alternative to sandbags that are good for areas prone to frequent flooding. Metal barriers are effective, extremely tall, and can be constructed and deconstructed with relative ease.
When To Use
Metal flood barriers should be considered in areas prone to frequent or extreme flooding. If you have a home, business, or property that has flooded more than once a year, you might want to consider investing in metal barriers. These are great for areas near the ocean where flooding is more common or for properties in a flood plain.
Metal barriers can be built much taller than sandbags, with heights capable of being six to ten feet tall or more. This makes metal barriers great for areas that have experienced extreme flooding, like hurricane-prone areas. The downside is they can be expensive to buy up front, and they require a lot of space to store when you do not need them.
Pros
Extremely tall
Very effective
Permanent upgrade
Great for flood prone areas
Cons
Expensive upfront costs
Cumbersome to deploy
Takes up a lot of space in storage

Conclusion
Sandbags are popular because many counties provide them for free, and they are a proven way of protecting yourself from flooding. However, there are many alternatives suited for different situations and different people. There are numerous options, from sturdy metal barriers perfect for seaside homes to quick fixes you can try and dig out of your garage when you are facing a rapid emergency. Do not let yourself be flooded, arm yourself with the knowledge you need to better protect your home from rising waters.
---
Featured Image Credit: Marc Bruxelle, Shutterstock