Ring Floodlight vs. Spotlight: Which Should You Choose?
It's a genius move to buy a security camera with a built-in light that allows it to see even in the darkest environments. When talking about home security, Ring Inc. tops the list every time. The company manufactures high-quality home security products that are easy to use and install simultaneously.
The Ring Floodlight and Spotlight are security cameras that also serve as lighting fixtures for your home. Both devices work amazingly to protect your home from intruders and keep it brightened all the time. But which one should you choose for your smart home? Of course, you can't buy both if you're on a tight budget.
The article will give you a detailed comparison between the Ring Floodlight versus the Spotlight to help you make the right choice. Let's dive into it!

At A Glance
| | |
| --- | --- |
| Ring Floodlight | Ring Spotlight |
| Illumination in a large area | Illumination in a limited area |
| Not energy efficient | Consumes less power |
| Designed especially for outdoor use, limited indoor applications | Multiple indoor and outdoor applications |
| Ideal for backyards, driveways, and parking lots | Ideal for concerts, home parties, and landscapes |

Overview of Ring Floodlight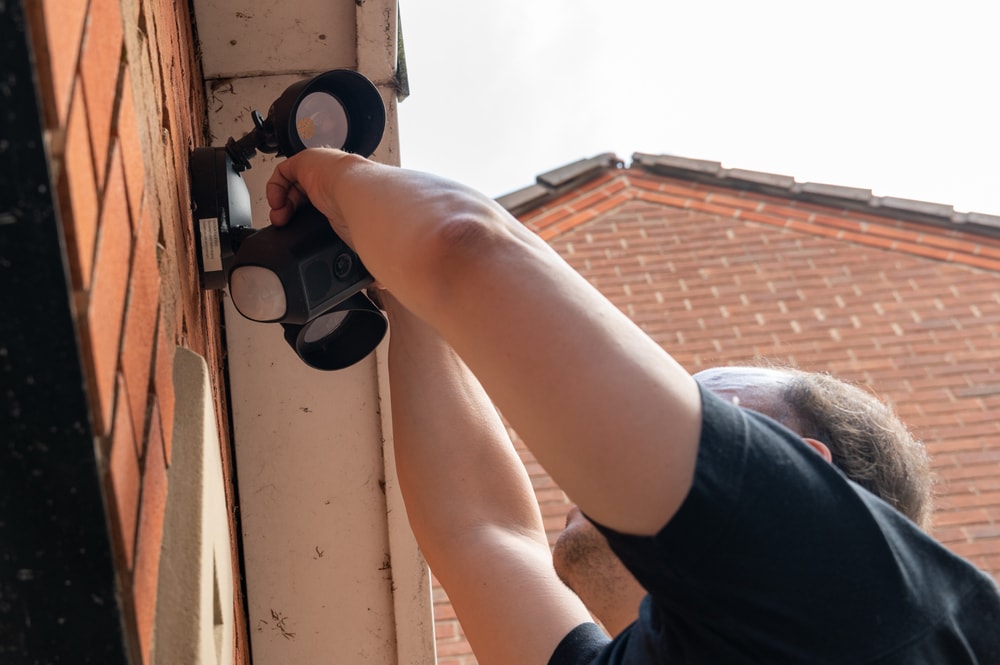 Ring Floodlight is just like a normal floodlight but with a built-in camera. The camera gives full HD 1080p resolution of everything happening outside your home. It also records high-quality videos, regardless of the light conditions.
The Ring Floodlight has a wire installation, but you can also buy battery-powered models. The Ring Floodlight stands out because of its wide and intense illumination. It features 1,800 lumens, which is enough to cover a large area. The extra bright light also helps the Floodlight capture clear and crisp pictures.
The Floodlight's camera can cover a 140° horizontal and 78° vertical field of view. This makes the Ring Floodlight the best option for your home's outdoor security. Also, you can control the Floodlight from the Ring app installed on your smartphone. This means you will still be in control of the Floodlight even when not at home.
Pros
Sharp HDR video
Dual-band Wi-Fi
3D motion detection and subject-tracking features
Intelligent alerts
Color night vision
Works with Alexa voice commands and IFTTT
Cons
Expensive
Requires subscription to see video recordings
Lacks Google Assistant support

Overview of Ring Spotlight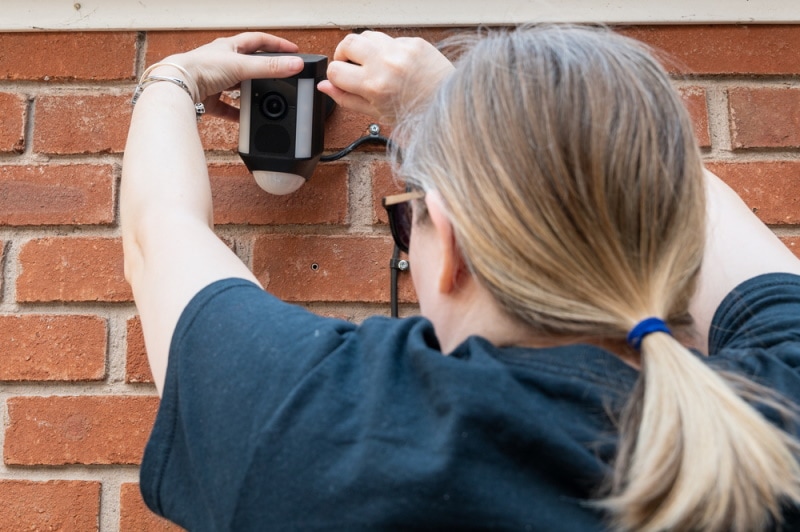 Ring Spotlight is a spotlight that comes with a built-in camera. The camera offers full HD 1,080p resolution that captures the clearest picture and video recordings. The best part about getting a Ring Spotlight is that you can not only use it outdoors but indoors as well.
The Spotlight comes as wired only or with a rechargeable battery. Unfortunately, the Ring Spotlight does not give insanely bright light like the Floodlight. However, it still gives enough brightness with its 300 to 375 lumens.
Like the Ring Floodlight, the Spotlight has a 140° horizontal and 78° vertical field of view. Additionally, each side of the wide-angle lens comes with LED light strips, which activate whenever the Floodlight detects motion.
The Ring Spotlight is easy to install and offers exceptional performance. You can also control Floodlight through the user-friendly app that gives you total authority on your smartphone. By all means, the Ring Spotlight is one of the best light and camera hybrids out there.
Pros
Two bright LED spotlights
Video quality
Easy integration with Ring products
3D-based motion detection
Cons
No Google Assistant integration
Expensive
No local storage

Ring Floodlight Vs Spotlight: What Are the Differences?
The differences between the Ring Floodlight and Spotlight are more than just the beam of light. While both are effective lights with security cameras, they differ in many areas. Here is a comprehensive Ring Floodlight vs Spotlight one-on-one to help you make the right choice:
Light Output
Let's start with the most obvious difference. The light in the Ring Floodlight is 1,800 lumens, while the Floodlight has a 300 to 375 lumens light. This makes the Floodlight camera about five times brighter than the Spotlight.
While the Floodlight's illumination capacity is impressive, the Spotlight performs its job quite well. The 300 to 375 lumens light is bright enough for indoor use, but it may look dim in the backyard or garage.
Nevertheless, the Floodlight works best as a lighting fixture near your front porch. But if you want to cover a large area, you should go for the Ring Floodlight. It is ideal for illuminating backyards, driveways, and parking lots.
Image Quality
A bright picture is always clear until there is no glare. Since the Ring Floodlight camera offers intense brightness, it captures high-quality images. It also ensures that the picture includes all the details, so you can easily identify what is happening outside your home.
However, the Spotlight also captures clear pictures with its 1,080p camera resolution. While both devices have the same camera resolution, the Floodlight has an edge due to its better light output.
Video Quality
You can also assess the camera quality of Ring Floodlight vs Spotlight by the videos both devices capture at night and in the morning. However, when it comes to day videos, the Ring Floodlight and Spotlight perform similarly since there is no light involvement. Thus, the 1,080p HD quality camera works the same in both devices.
Battery Longevity
Surprisingly, the Ring Spotlight leaves the Floodlight behind in terms of battery longevity for Visible reasons. The bright light of the Floodlight Camera consumes a lot of battery compared to the Spotlight Camera. So, while the small size of the Spotlight might be a turn-off, know that it consumes way less energy compared to the Floodlight Camera.
Not only battery-wise but opting for the Floodlight Camera will also put a huge amount on your electricity bills. But if you don't have any problem with that, Ring Floodlight is still the best choice.
Two-Way Audio
The Ring's iconic two-way audio feature is in both Floodlight and Spotlight. It changes your light fixture camera in a two-way communication intercom that comes in handy for multiple purposes.
The best part is that the light fixture's illumination intensity doesn't interfere with the audio quality. This applies to both that day videos and night-time videos. In addition, the Ring app lets you easily talk to the people at your door.

Ring Floodlight vs. Spotlight: Which Is Right for You?
The Ring Floodlight Camera seems a clear winner due to its intense illumination and better night-time video quality. However, these are not the only features you should look for. While both Floodlight and Spotlight are the best outdoor security cameras, you should also consider the size of the area you want to secure.
Suppose you want to keep an eye on your home's front door. In that case, the Ring Spotlight will be the best choice. It features a 1,080p HD camera resolution that captures clear photos and records high-quality videos. It also offers two-way intercom communication, so you can easily talk to the guests.
Now, imagine a different situation. You move into a new home that has a big backyard. To keep an eye on the entire backyard, you need the Ring Floodlight that covers it from different angles.
Besides great coverage, the Ring Floodlight has improved motion detection and night vision features. As a result, it works impressively throughout the day, no matter how dark it is outside. Additionally, the Floodlight also captures better videos than the Spotlight.
Regardless, both devices are the best intercom-mixed light fixture with security cameras. However, both serve different purposes, so you should know the right placement of each device to make the most out of your purchase.

Conclusion
Hopefully, this Ring Floodlight vs Spotlight one-on-one helped you decide what your home needs the most. Choosing between both of these devices is pretty easy. All you have to do is evaluate the size of the area you want to cover and the illumination intensity you need.
You need a light fixture with high brightness to cover a large area. In such a case, the Ring Floodlight would be your best choice. Likewise, if you want to cover a small area, you will need a light fixture with medium intensity. In this situation, investing in the Ring Spotlight would be ideal.
See also: How to Install Ring Floodlight Cam — 6 Simple Steps