Rockwell F50 vs F80 Sonicrafter Oscillating Tool: Which One's Best?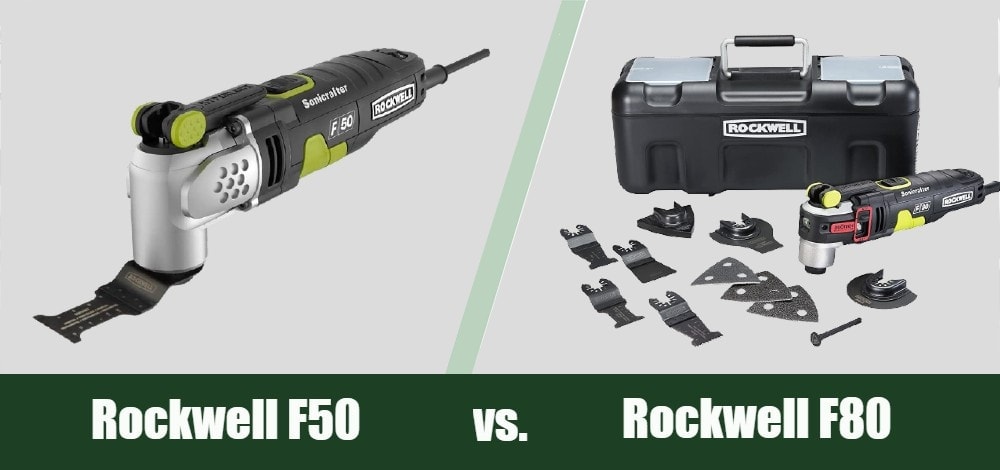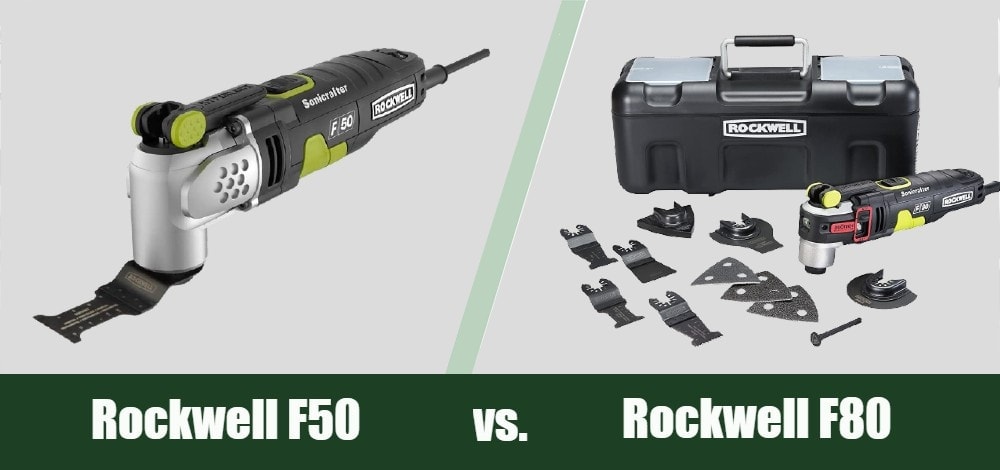 Rating
Image
Product
Details

The Winner

Rockwell RK5151K 4.2 Amp

Dual oscillation width option
Hard case to protect tool and accessories
CHECK PRICE

The Runner-up

Rockwell RK5142K 4.0 Amp

Higher OPM range
Great accessory package
Great contractor bag for easy storage
CHECK PRICE
In this we review, we compare two models in Rockwell's corded, oscillating multi-tool lineup, the middle of the pack F50 and the top of the line F80. There are a lot of similarities between the two as you expect but, there are also some important differences that will appeal to users with differing levels of experience and project types.
Both models reflect the Rockwell commitment to quality. Each is well-made and rugged. Each is well-balanced and easy to control, even using one hand. Power is not an issue for either even though the F80 boasts a slightly more powerful motor. We think when all is said and done, that users with less demanding projects, who will use the tool-less often will be well pleased with the F50. Experienced users with a lot of projects in their queue are going to find the F80 more to their liking.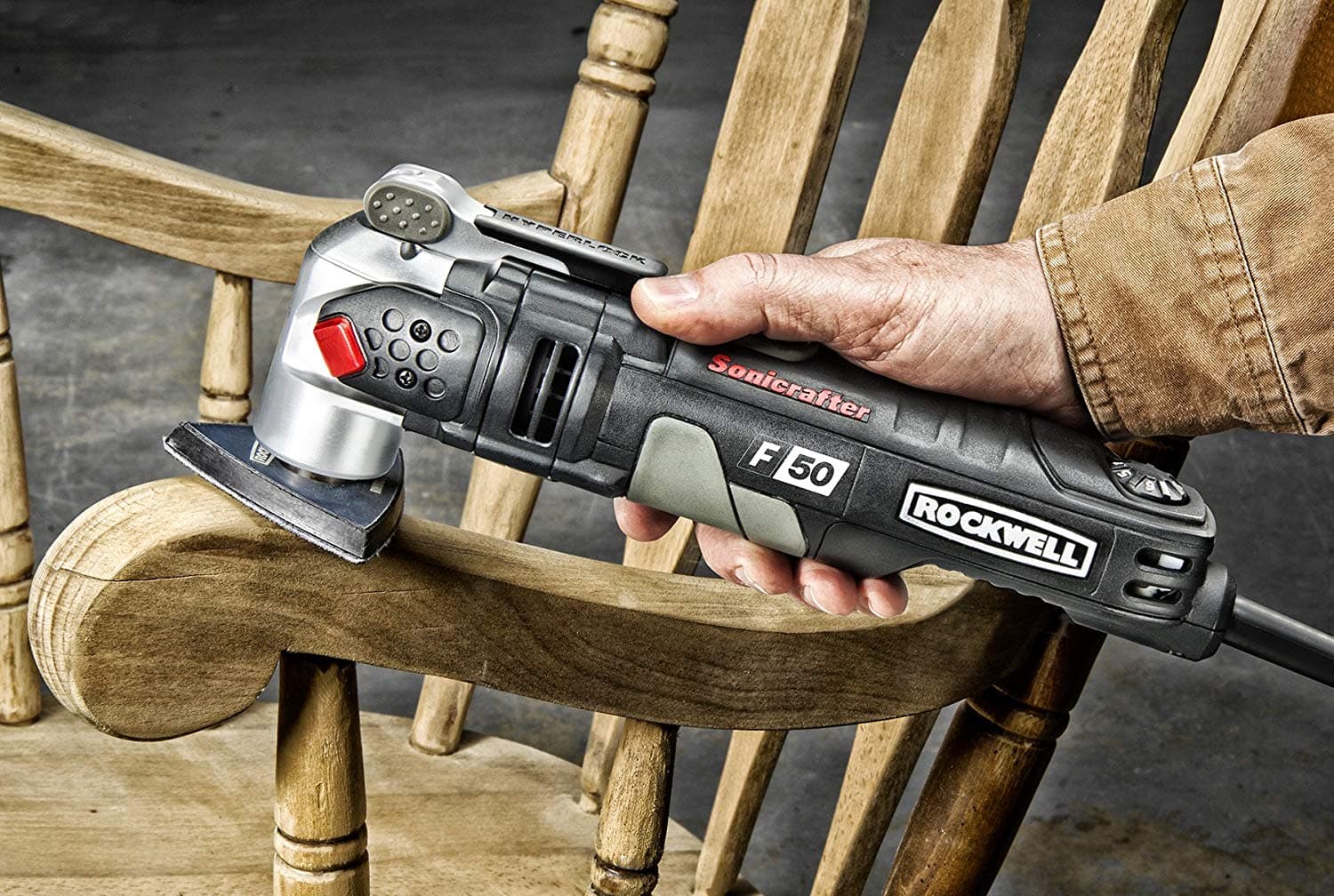 What's the difference between them?
Let's get the show on the road with some friendly point competition on important features.
Precision and control – Point to the F80
The F80 comes out ahead when a user requires maximum precision and control. The F80 offers two different oscillation widths and operates within a slightly lower oscillation per minute (OPM) range. The combination of width and speed control with the Rockwell continuous speed control technology gives experienced users all the precision they need for the most demanding tasks.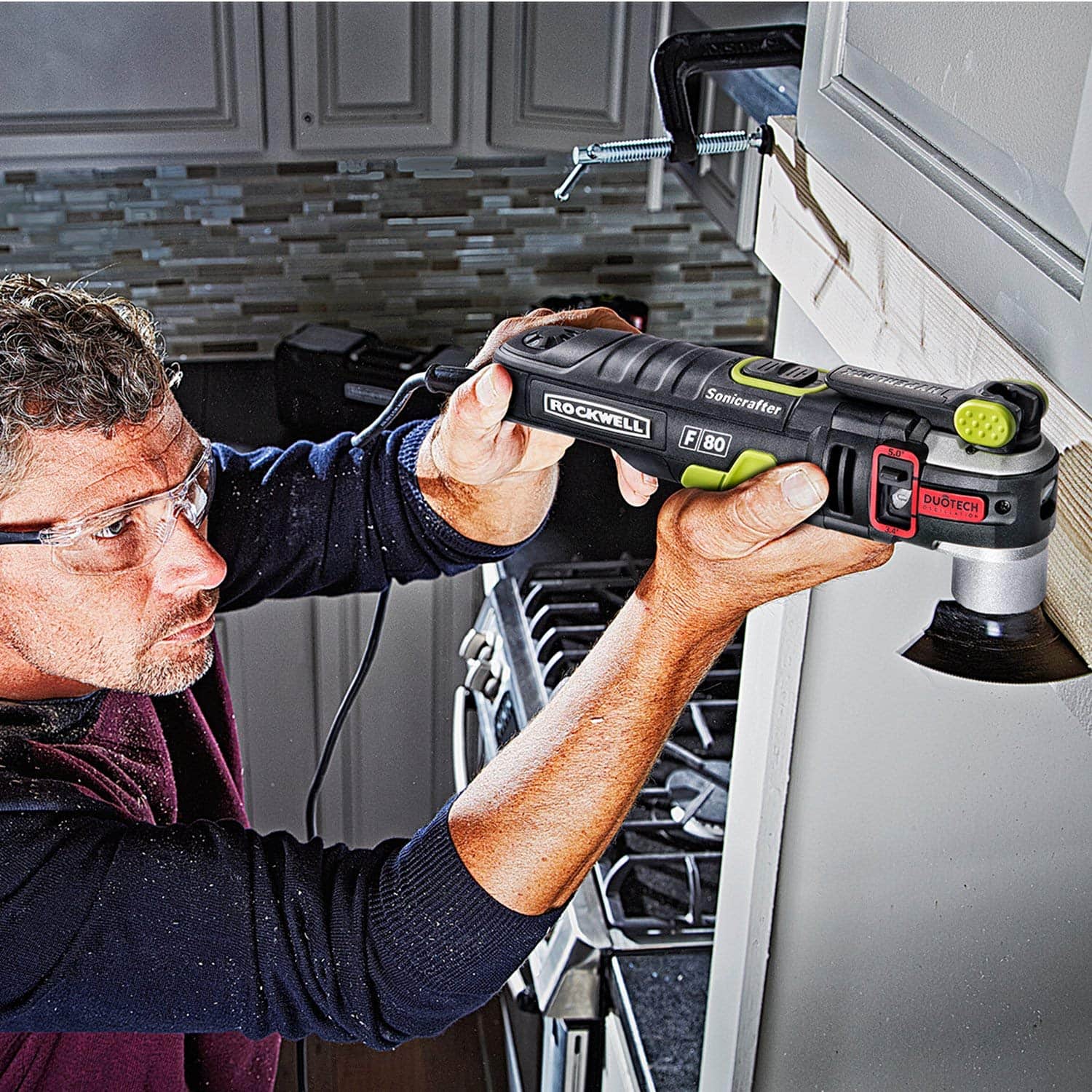 Comes with everything you need – Point to the F50
The F50 arrives on your workbench with an accessory pack containing 33 items. Various grits of sandpaper and a selection of blades for a large number of materials means users don't need to buy anything before getting to work.
Price – Point to the F50
Neither tool is overly expensive when compared to other brands offering comparable quality and capabilities. However, we know many homeowners, DIYers, and professionals have tool budgets because we've been there too. The F50 is less expensive, and for that reason, along with its more complete accessories kit, it takes the point.
Easy to use – Tie
Both the F50 and F80 are well balanced, light, and ergonomically designed to allow for ease of use over extended periods. Its all tied up in this category.
Quick Rundown of F50
The tools are members of the same line-up from Rockwell, and each brings something different to the oscillating tool game. Let's take a quick look at both.
Pros
Great accessory package and contractor bag for easy storage
Higher OPM range
Cons
Horrible instructions – YouTube viewing may be necessary
Single oscillation width
Quick Rundown of F80
Rockwell RK5151K 4.2 Amp Sonicrafter F80 Oscillating Multi-Tool with Duotech Oscillation Angle...
[POWER & PRECISION] Up to 19,000 oscillations per minute with 2 angles of attack: 5° for more power, 3.4° for more control on detail...
[1 TON OF CLAMPING FORCE] The tool-free Hyperlock blade change system prevents slippage while operating, no matter the angle, no matter...
[UNIVERSAL FIT] Accepts all major brand's blades, sanders, and accessories for your convenience—but this kit comes with 10 blades,...
And, what about the F80?
Pros
Dual oscillation width option
Hard case to protect tool and accessories
Cons
While we don't like repeating either pros or cons, the instructions are an exception. They are abysmal, even for experienced tool users
Hard case lid is not hinged
What Users Say
Both these tools from Rockwell receive excellent comments from their respective users. And the comments and impressions fall into similar categories for each. Let's take a look at the good and bad experiences for the F50 and F80.
A good place to start is with users' satisfaction over the versatility of their multi-tool. When paired with the right blade for the job, users report being able to cut everything they need to cut. In many cases, they can leave larger tools on the shelf, knocking out the task faster with their F50 or F80.
Able to tackle difficult jobs in a single bound. Yes, an awkward homage to Superman but apt in this case. Some jobs are a misery with any tool other than an oscillating cutter. Removing grout, undercutting trim to install new flooring, and cutting out sections of damaged material without harm to adjacent surfaces are prime examples where the F50 and F80 make life easier.
Lastly, users report satisfaction the quality and value for the money spent.
Areas earning bad marks involve issues with motor failure, either after a short period or after occasional use. True, they crop up as a common user issue. But, as a tiny percentage of all user reactions, it suggests a manufacturing issue tailor-made for warranty resolution.
The instructions come up almost as often as motor issues when users complain. The lack of useful instructions is an irritant and potentially dangerous, especially when it comes to the Rockwell approach to mounting and changing blades and other accessories. The Rockwell universal fit system is a great idea and, works easily once you know how to use it. However, it has some quirks even experienced users find challenging. As a result, blades can be installed with insufficient pressure. Inadequate clamping force can result in the blade falling off (best case) or flying off (worst case), a serious situation indeed.
Conclusion
A somewhat famous response to making a decision you would rather avoid is to say, "I feel strongly both ways." When comparing the F50 to the F80, it is tempting to offer that as the conclusion but, we would not be providing you with much value. So, here goes, each tool is best suited to a specific type of user, based on the user's experience and project requirements.
The F50 is an excellent choice for people just getting into the oscillating tool market, facing limited tool budgets, or expecting to handle less complex and demanding projects. Coming with a comprehensive set of accessories eliminates the need to spend more for accessories and provides plenty of options for "learning the ropes" of using your new F50 oscillating tool.
For users with more project experience and who routinely need a tool that provides the maximum level of precision and control, the F80 is the right choice. Being able to choose an oscillating width and match it with the desired OPM is invaluable for precision work. And, as a bonus, purchasers of the F80 are much less likely to "outgrow" their tool.