10 Best Portable Air Compressors of 2023 – Top Picks & Reviews
It's perhaps stating the obvious to say that the job of an air compressor is to compress air!
They come in all sorts of styles and sizes but this comprehensive guide will focus on helping you find the right portable air compressor for your needs.
If you're unsure as to which model can help you get the job done, worry not. We've created a handy list of reviews to help you narrow down the options. Make sure you read beyond our detailed reviews for various tips and hints to help guide you to your final decision.
Without any further ado, let's get started!
---
A Comparison of our Favorite Picks in 2023
Rating
Image
Product
Details

Best Overall

Bostitch BTFP02012

Oil-free tool
Runs very quietly
Doesn't produce emissions
CHECK PRICE

Best Budget Buy

Viair 00088

Affordable
Perfect for most tools
Lightweight
CHECK PRICE

Makita 2.5 MAC2400

Very durable
Quiet
Powerful
CHECK PRICE

PORTER-CABLE C2002

Affordable
Easy to transport
Oil-free motor
CHECK PRICE

California Air Tools 8010

Fills up rapidly
Powerful
Large tank
CHECK PRICE
The 10 Best Portable Air Compressors
1.

Bostitch BTFP02012 Air Compressor – Best Overall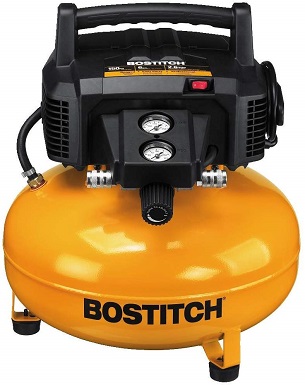 The Bostitch earns the distinction of being one of the best oil-free air compressors on the market. Its 6-gallon tank puts out a maximum 150 PSI with a high-flow regulator for top performance of 2.6 cubic feet per minute (CFM) at 90 PSI. The corded-electric motor runs quietly at 78.5 dB and features an efficient start-up system in hot or cold weather. With zero emissions, this compressor is ideal for indoor work environments.
We liked this compressor's quick recovery time after being tested. At only 29 pounds, it is relatively lightweight, so you shouldn't have any trouble getting it from your car to the job site. The 15-foot extension cord gives you plenty of flexibility. This is one of the pricier options on our list, which could be a problem for budget buyers. Otherwise, the unit doesn't ship with a hose or gun kit, which will add to the expense of a purchase. Despite this, we have rated this the best portable air compressor on the market this year.
Pros
Portable
Oil-free tool
Runs very quietly
Doesn't produce emissions
Can run in any weather condition
Cons
Doesn't include hose or gun
---
2.

Viair 00088 Portable Air Compressor – Best Budget Buy
The Viair 00088 Portable Air Compressor is a great option for buyers on a budget and one of the best small air compressors for jobs around the house or on the road. Drawing 12V at 20 amps and delivering 120 PSI, its 1.47-CFM rating isn't the most powerful compressor, but the modest dimensions and lightweight build make it perfect for smaller tasks—for example, tires up to 33 inches.
The unit can be powered by alligator clamps that hook up to a car battery or via 10-foot power cable. It includes a LED power indicator, 16-foot air hose, and a three-piece inflation tip accessory kit. Granted, the power does have its limitations. If you are at a job site for which continuation operation of multiple tools is required, you'll want an upgrade. Otherwise, it's the perfect choice for buyers on a budget and the best portable air compressor for the money.
Pros
Affordable
Very portable
Perfect for most tools
Cons
Can't be used with bigger projects
---
3.

Makita 2.5 MAC2400 Portable Air Compressor
Equipped with the Big Bore engineered pump cylinder and piston, the Makita MAC2400 offers industrial power and overall excellent performance. The powerful 2.5-HP motor provides excellent productivity and noise is reduced thanks to the oil-lubricated pump which runs at just 1,730 RPM. This also increases the pump's overall durability. Noise is further reduced by the rubber feet which help absorb vibrations.
The MAC2400 is made of cast iron, which means it's durable enough to withstand its fair share of bumps and scrapes on the busiest of construction sites. The roll-cage shape of this air compressor makes it particularly portable. A handle on the top of the compressor makes it much easier to pick up and move around when needed.
However, it is on the heavier side at 77 pounds. This means that there is a slight compromise in portability due to its weight, but a handle and rubber feet are welcome additions.
Cons
Not as portable as other compressors
---
4.

PORTER-CABLE C2002 Pancake Compressor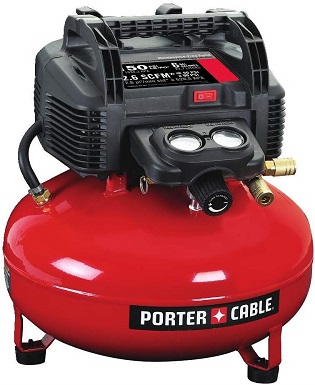 One of the first things you'll notice about the Porter-Cable C2002 is its unique pancake-style tank, which offers optimal stability. The 120V induction motor provides improved performance at 150 PSI max tank pressure. This compressor is ideal for filling tires and firing a nailer. It has a steel construction as well as a shroud and console cover, providing vital protection to its components.
The well-built unit has a handle on the top, making it much easier to move around. In fact, the weight of the C2002 is just 30 pounds. One of the best things about this air compressor is the 13-piece accessory kit, which includes a nylon hose, blow gun, tire gauge and much more.
Easy setup, compact size, and light weight make the C2002 particularly portable. However, it's one of the louder compressors on the market, and has a problem with vibration. Overall, it's not a bad compressor at the price point.
Pros
Affordable
Easy to transport
Oil-free motor
Cons
Vibrates excessively
Very noisy
---
5.

California Air Tools 8010 Air Compressor
This 8-gallon compressor puts out 2.2 CFM at 90 PSI, which is perfect for people with bigger projects. The one-horsepower motor is powerful enough for most job sites and has been specifically engineered to run as quietly as possible at 60 dB. It also fills up rapidly. When the massive, rust-free tank finally does drain, you will be able to refill it completely in a matter of three minutes or less.
It does not, however, succeed on all fronts. For one thing, it is very expensive. The stand is also not as durable as we'd care for, which may lead to complications on the job site. It's still a great tool, but these factors do count against its value.
Pros
Fills up rapidly
Large tank
Powerful
Cons
Pricey
The stand is not very durable
---
6.

Senco PC1010 Portable Air-Compressor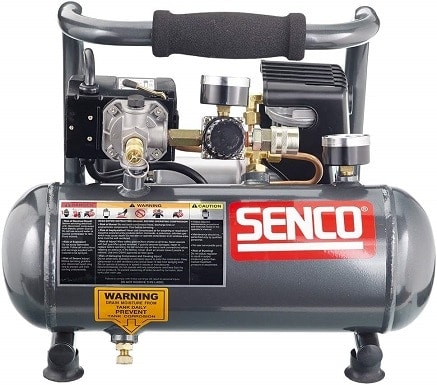 The affordable Senco is lightweight and features an ergonomic grip that makes it easy to carry around. At peak performance, it can provide one horsepower to your tool but tends to hover more in the ½-HP range. It's also backed by a one-year warranty.
Although somewhat limited, the power factor is still able to deliver 22-44 drives per minute. The company advertises it as a tool to aid in crafts, which seems like an apt description. However, it should also be up to the task of light do-it-yourself work as well.
Pros
Affordable
Lightweight
Ergonomic
Cons
Power is somewhat limited
---
7.

DEWALT Pancake Air Compressor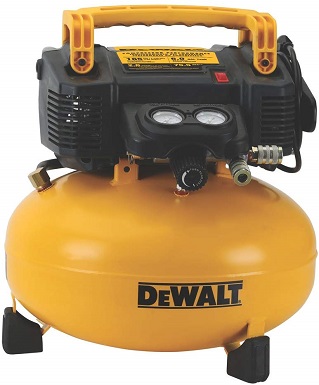 The DeWalt DWFP55126 features a high-efficiency motor allowing it to start up easily in cold weather. Long tool time and quick recovery are some of the obvious benefits of this product, thanks to the 165 max PSI 6.0-gallon tank. As such, it is limited to smaller tools. At just 75.5 decibels, it's certainly on the quieter side and can be used in indoor settings, unlike some other models.
The controls of this unit are protected by a console cover. Two universal couplers mean that the DWFP55126 can support two users at a time. The unit itself is fairly compact and at just 30 pounds, it's relatively easy to move around. This is a well-built product with well-made components and it has a convenient cord wrap which allows easy storage. Protective rubber leg covers prevent damage.
It's particularly good for small, everyday jobs such as inflating tires. It's generally an easy air compressor to use and it's great that it's not too heavy or too noisy. All in all, it's a good all-rounder and certainly worthy of mention. Perhaps the main limitation is the 6-gallon tank which might not drive certain tools as effectively.
Pros
Portable
Can support two users simultaneously
Lightweight
Cons
Not for larger projects
Fairly expensive
---
8.

DEWALT DWFP55130 Air Compressor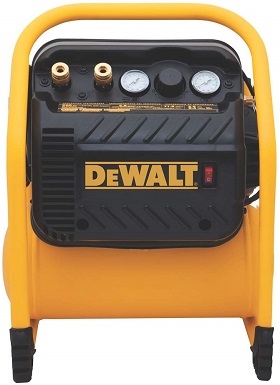 Also from DeWalt is a larger, more heavy-duty product. The DQFP55130 is powerful, generating 200 PSI. With this level of power, it will be able to easily work with any tool.
It's also durable, an optimal feature for the rugged conditions that often arise on the job site. Despite its power, the DQFP55130 manages to be quite compact and easy to work with. Weighing in at just 36 pounds, it is one of the smallest options on our list. It is also very quiet, which will be much appreciated during long hours on the job.
Bear in mind that like any other DeWalt product, it is on the expensive side. Some users also report that the pressure valves break from time to time, which may necessitate occasional repairs.
Pros
Portable
Powerful
Very quiet
Cons
Pricey
Some report that the pressure valves break
---
9.

CRAFTSMAN CMEC6150K Air Compressors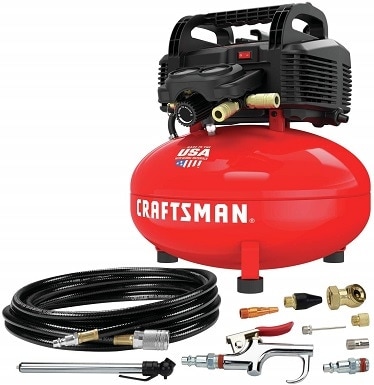 The biggest selling points of the Craftsman are the accessories. It comes with all the valves, tubes, and cleaning apparatuses necessary to make full use of the product. It even has an air gun, so you can perform certain projects immediately after your purchase.
However, there are problems that count against the value somewhat. For one thing, it is extremely noisy. It also tends to vibrate quite a bit, and the power factor simply isn't as impressive as most of the other options on our list.
Cons
Very noisy
Tends to vibrate a lot
Not as powerful as many of the other options on our list
---
10.

Campbell Hausfeld FP209499AV Compressor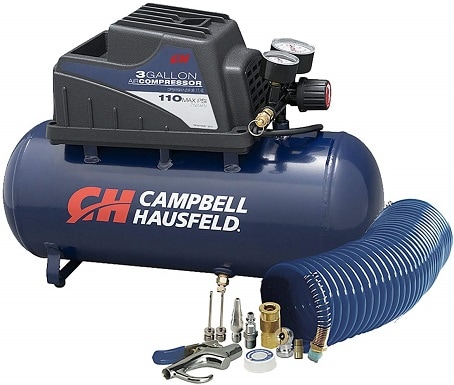 We end the list with the Campbell, a basic but affordable tool that budget buyers will appreciate. Unfortunately, though, all its other features are fairly lacking.
The three-gallon tank has a limited capacity that will only be good for small jobs. Despite the Campbell's petite size, it still manages to produce lots of noise and vibration.
It's also not powerful enough to work with most tools. You'll have a better time using this unit for inflation rather than do-it-yourself projects.
Cons
Not very versatile
Noisy
Produces lots of vibration
---
Buyer's Guide: How to Select the Best Portable Air Compressor
The 10 products featured on our list today are all great, so you may have a hard time choosing between them. The considerations featured below are designed to make your decision easier. Read on!
The Difference Between an Inflator and an Air Compressor
Inflators actually are air compressors, which tends to be a point of confusion for many buyers. The only difference is that air compressors used for inflating do not usually feature a tank. They are small enough to feature only a motor or a pump.
The air compressors we are highlighting today are made for bigger tools, like nail guns and paint sprayers.
What Makes It Portable
Portability is a bit of a loose term. Some units feature handles, while others operate on a handy dolly system. It's a good idea to find out how you would be moving an air compressor around before you make your purchase.
A wheel-and-pulley system is typically the most effective way to transport air compressors, especially when they're larger. However, the best means of transportation may depend on your unique situation, so shop around a little bit.
There are a variety of different styles that you are likely to encounter. Here are the main design types:
Pancake: Pancake compressors are flat and round. They are prized mostly for their compact, easy-to-transport dimensions.
Hot Dog Compressors: The hot dog compressor is what you are likely to see most often as you hunt for a compressor. These are cylindric, relatively compact, and fairly easy to transport.
Twin Compressors: The dual tank unit takes after the hot dog compressor. The only real difference is that you get two tanks instead of one. Naturally, these are better suited for larger jobs.
Wheelbarrow: The wheelbarrow compressor typically features two cylindric tanks fixated to a dolly-type "wheelbarrow," These are very portable, making them popular with contractors.
Power Source
Most modern air compressors are electric. This is a fairly handy power source, as it creates no emissions and runs silently. You are subject to the mercy of power outlets, but at most job sites, this isn't usually a problem.
There are also gas-powered air compressors. These units may have a little bit more power, but they have drawbacks as well. Gas units are noisy and let out harmful emissions. In some states (such as California), they are not even legally permissible, so pay close attention to the power source before making your purchase.
Horsepower or PSI?
It can be a little hard to figure out how powerful an air compressor is. This is largely because brands list specs for both horsepower and PSI. Which is more important?
Horsepower is the most important aspect of determining how much pressure is outputted by an air compressor. The more horsepower you get, the more PSI a tool will be able to generate. The more PSI your tool generates, the better your nail gun, paint sprayer, etc. will perform.
But What About Cubic Feet per Minute?
Cubic feet per minute (CFM) refers to the amount of air that the tool can output. It correlates directly with the PSI rating, so you don't necessarily need to focus on all three factors (including horsepower) to make an informed decision.
A tool with a rating of 90 PSI should be able to operate most tools. Anything beyond that point will enhance your ability to work with multiple tools or heavier duty jobs.
Special Features
Simple though the air compressor may seem, it can come with valuable extra features that improve its performance.
For example, some tanks will feature multiple connection points that allow you to use several different nail guns or impact wrenches at once. This will be an especially useful feature for contractors, but it is usually only effective in very powerful compressors.
There are also self-oiling units, weatherproof gear that can stand up to extreme temperatures, and tools that feature a wide variety of adjustability options.
You may or may not need these features, but they can shape the course of your results, so shop wisely.
Single vs. Two-Stage
The difference between single and two-stage motors is one of power. The single-stage motor delivers roughly 150 PSI of power, while the two-stage motor can double that.
Needless to say, bigger jobs favor bigger motors.
Pricing
The types of air compressors that we've seen here today tend to be on the pricier side. This doesn't mean that you can't get a good deal, but in many situations, the air compressor is the beating heart of your entire project. It may be worth allocating a little bit of extra money to the purchase to ensure that you have a reliable product.
Does Name Brand Matter?
Even though we highlighted many options from big brand manufacturers, you don't necessarily need to exclude off-brand companies from your consideration.
However, there are a few things that buying for name gets you. First and foremost is the warranty. Big brands can usually outfit their products with handy guarantees that ensure free repairs in the event of an unforeseen circumstance. Smaller brands could potentially do the same, but it's not seen as much.
Big brands also tend to provide a moderate but discernible hike in quality. These companies are typically able to allocate more money to the production of their wares, which shows in the components.
However, these are just rules of thumb and not recommendations you need to follow to the letter. If you do decide to save money on an off-brand tool, just make sure that the company is reputable. Handy reviews like the ones featured here are a great way to assess the reputation of a company.
Short of that, it can also be handy to speak with people who have used the product. If they are happy with the tool, chances are that it works well.
Conclusion
If our list of portable air compressor reviews proves anything, it is this: Deciding is not easy. If you are having a hard time narrowing down our list, it may help to bear in mind a couple of recommendations. Our top choice, the Bostitch BTFP02012 6 Gallon 150 PSI Oil-Free Compressor, will be great for people who want the best tool they can acquire. Our best-for-the-money pick, the Viair 00088 88P Small Portable Air Compressor, on the other hand, will be a great alternative for budget buyers.
Related buying guides: