11 Surprising Small Business Insurance Statistics (2023 Update)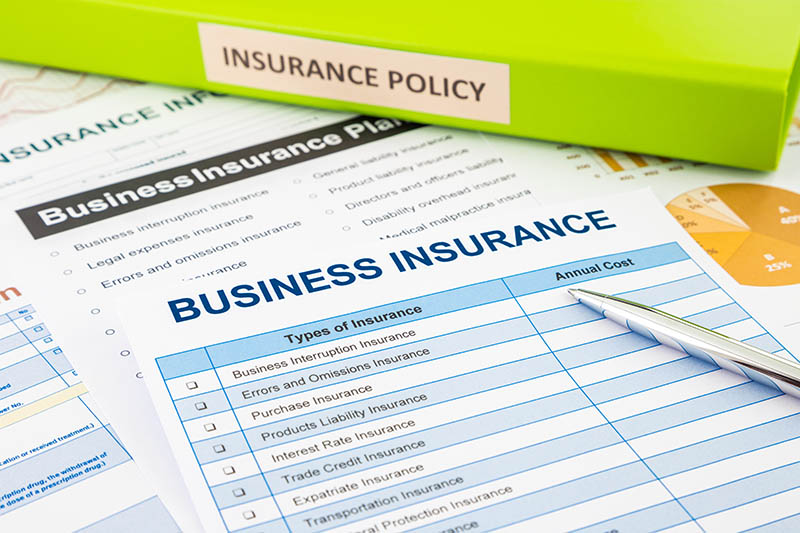 Note: This article's statistics come from third-party sources and do not represent the opinions of this website.
Small businesses are the lifeblood of the US and insurance is their backbone. Business insurance keeps businesses afloat when they have unexpected problems like theft, fires, vandalism, and more.
It's safe to say that most people probably don't think about small businesses and insurance very often, but the topic is fascinating. So, let's check out some of the most surprising stats and facts about small business insurance below, including:

11 Small Business Insurance Statistics and Facts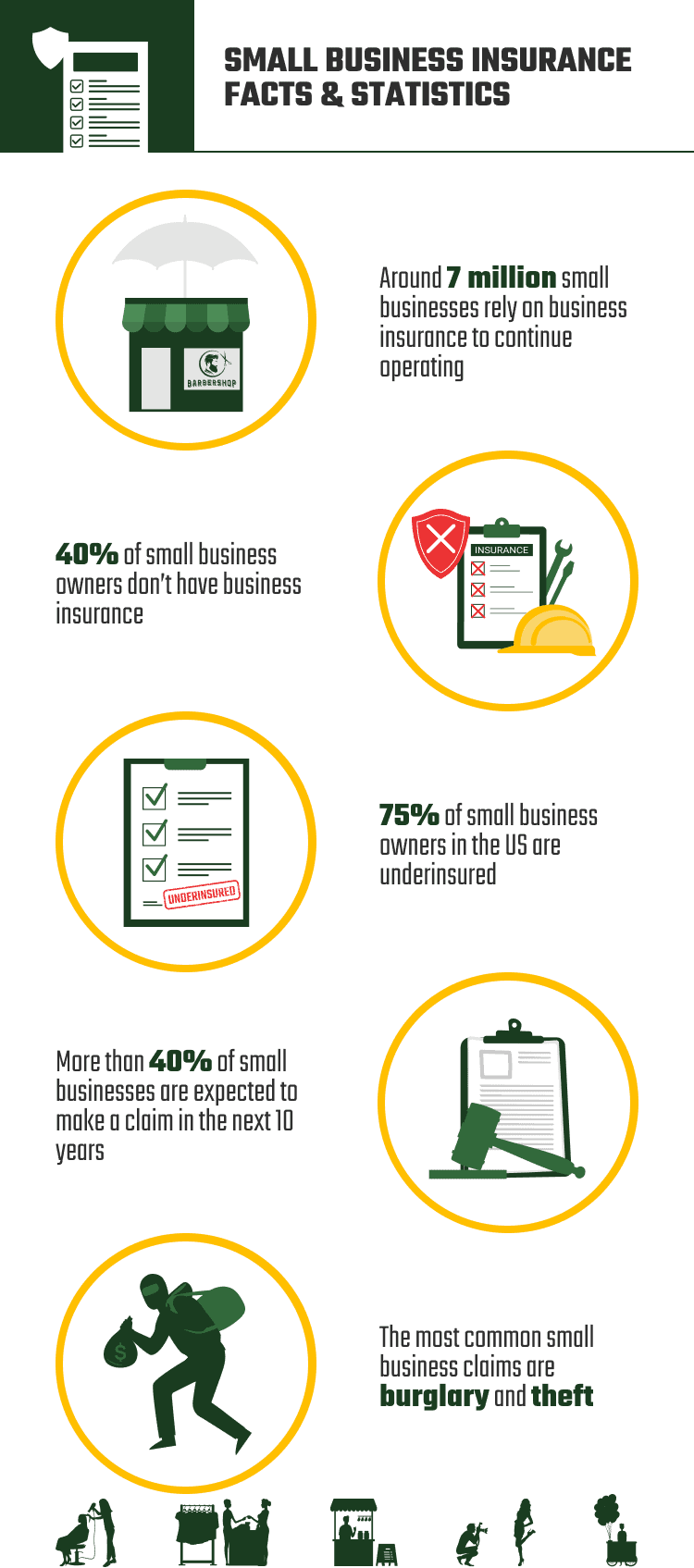 Small Business Insurance Demographics
1.

7 million small businesses rely on business insurance to continue operating.
(Chamber of Commerce)
Things go wrong in business, and it doesn't help that most small businesses will collapse within 5 years. This also implies that nearly a third of small business owners don't have adequate cash reserves to keep operating in the red, instead relying on business insurance to fill the gaps. However, this statistic could also be reflecting new business owners required to purchase business insurance by their lender agreement.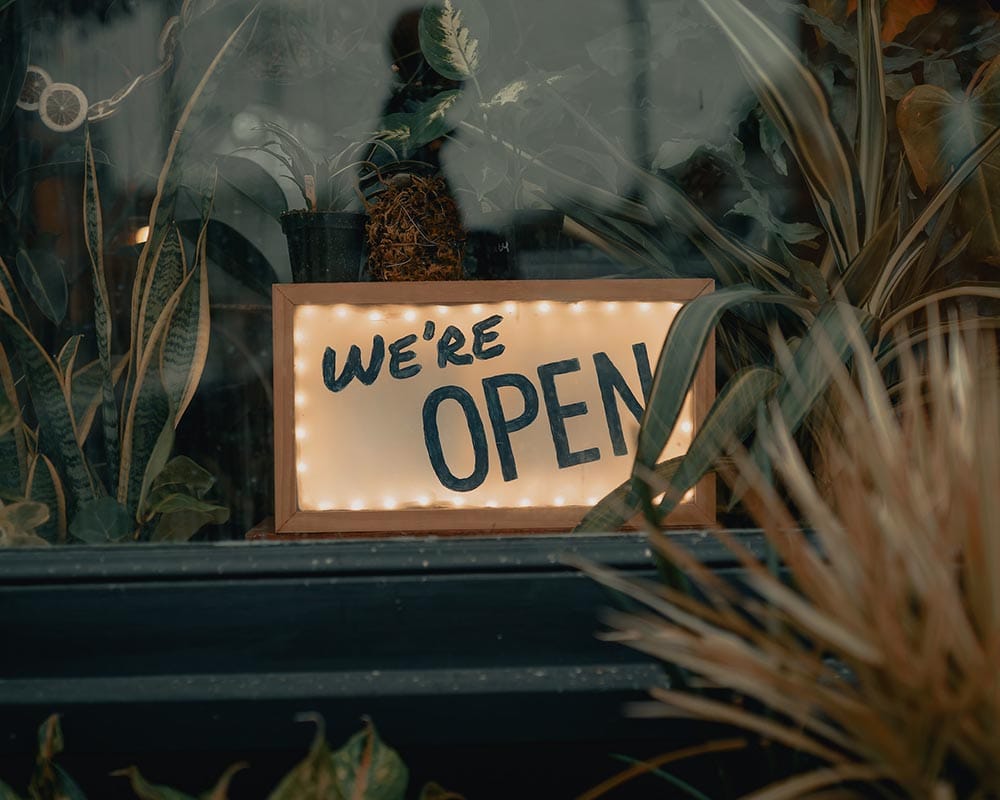 ---
2.

40% of small business owners don't have business insurance.
(New York Times)
It makes sense that older small business owners wouldn't have insurance after they've had time to build up cash stores, pay off loans, and decide to pocket the premium instead. Going without any coverage at all is asking for a disaster to come and wipe out your savings, though. It's always worth buying business insurance as a small business owner.
---
3.

76% of small businesses buy business insurance in person rather than online.
(PWC)
Every year, surveys indicate that small business insurance will boom online, but it never happens. As it turns out, owners prefer to buy insurance in person for multiple reasons: it takes up too much time, they aren't familiar with adequate coverage levels, and online insurance applications can't work with you to find the best deals and coverage.
Simply put, buying online isn't as personalized as buying in person.
---
4.

Younger small business owners are more likely to carry business insurance than older business owners.
(AdvisorSmith)
This one is easy to explain. Younger small business owners are more likely to have business loans, and lenders generally require you carry business insurance for the duration of the loan. Businesses in their infancy are unlikely to have paid off their loans, so they're probably still required to have insurance.
As awareness about business insurance grows and more young people start businesses, it's likely we'll see them keeping the insurance longer than previous generations.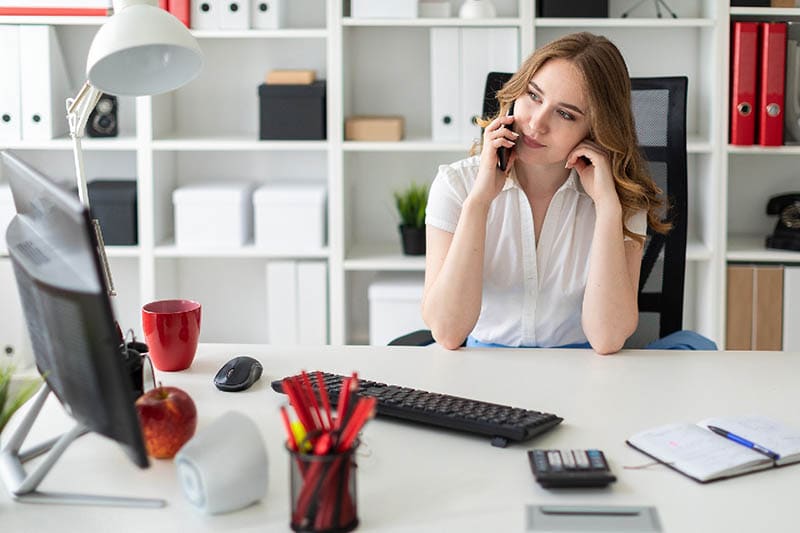 Small Business Insurance Event Stats
5.

75% of small business owners in the US are underinsured.
(The Hartford)
We chalk this one up to business owners not having enough time to research how much coverage they really need. It's easy to underestimate how much property damage and liability coverage a business needs, especially when you're starting out. Couple this with the fact that it's easier than ever to purchase insurance online, and it's no wonder small business owners are underinsured. It's always worth revisiting your business insurance policy every few years to see if you're adequately protected.
---
6.

Only 31% of small businesses buy cyber insurance.
(AdvisorSmith)
Cyber attacks are an increasing cause for alarm as we continue to wade into the digital era, and most small business owners aren't prepared for them. With just under a third of owners carrying cyber insurance, common tactics like ransomware and DDOS attacks are even more deadly for businesses.
Sadly, there isn't enough awareness among businesses about the risks of cyber attacks and how catastrophic they can be. While they don't cause physical damage, cyber attacks are insidious and very good at targeting a business's cash reserves.
---
7.

More than 40% of small businesses are expected to make a claim in the next 10 years.
(Frankenmuth Insurance)
Some businesses are at little risk of causing property or medical damages, like coffee shops. Roofing and commercial driving businesses are another story. With more types of businesses alive today than ever, it makes sense that claims will be high in the next decade. Couple this with a higher risk of cyber attacks as computers become more vital, and it makes even more sense.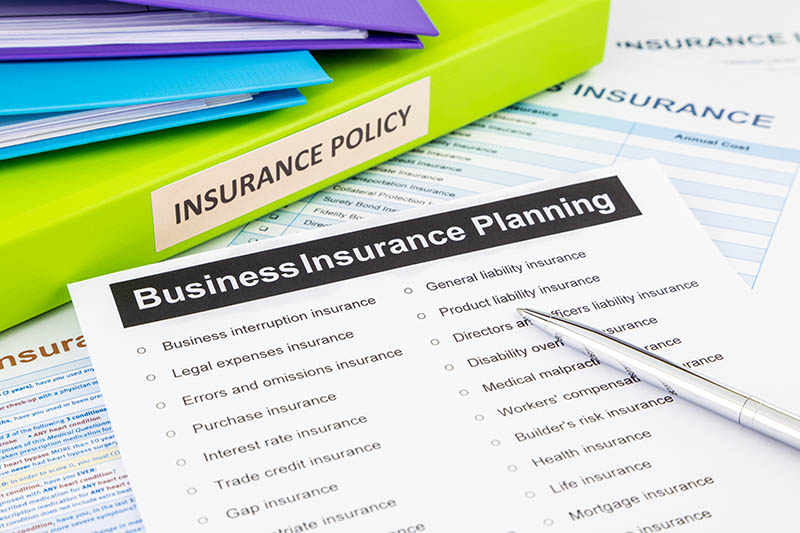 ---
8.

One-third of small businesses faced an insurable event in 2020.
(New York Times)
Insurable events have a pretty broad definition. It can be theft, property damage, medical liability, damage from employee errors, or cyber attacks. If this stat is true, running a small business has a high risk level for owners. Regardless of the nature of the insurable event, they're all detrimental to the business in some way.

Small Business Claim Statistics
9.

The most common business claims are burglary and theft.
(Frankenmuth Insurance)
You may have heard that most shrink in stores is caused by employee theft, and it's true. Employees are more likely to have access to the business after hours and know sensitive business information or trade secrets.
Sometimes they can sell the information to others, so they're not implicated in the crime. By installing security cameras, owners can tighten up on internal shrink and reduce insurance claims.
---
10.

Only 6.6% of business insurance claims are for property damage caused by storms, fires, or burst pipes.
(Chamber of Commerce)
This figure will vary based on the state. For instance, almost half of business insurance claims in New York are property damage related.
On the flip side, we doubt businesses in Florida file many claims for burst frozen pipes. They probably file a lot of hurricane damage claims, though! It's crucial for small business owners to identify the most likely sources of property damage, like storms, fire, or ice.
---
11.

Only 36% of small businesses use online insurance claims.
(PWC)
Claims can be almost as complex as insurance applications, so it stands to reason business owners won't like them. They want to deal with someone who knows the ins and outs of insurance claims, and that means in-person insurance claims. Online claims lack a personal touch, similar to the applications discussed above.

Frequently Asked Questions About Small Business Insurance
What are the types of small business insurance?
Business insurance typically falls into two categories: property damage and liability. Property damage is for when your business gets damaged in some way, whether from vandals, arson, or storms.
Liability insurance is for when someone else claims your business is liable for property or medical damage. Depending on the type of business, different levels of each would be appropriate. Food service companies will probably have less coverage than companies that deal with industrial or construction equipment, for example.
When is a small business required to buy worker's compensation insurance?
A business, small or not, must purchase worker's compensation insurance after they hire their first employee. Most states have steep fines for businesses that go without worker's comp insurance, and some will even send you to prison!
A few states have worker's compensation state funds, and businesses in those states are required to purchase worker's comp coverage from that fund.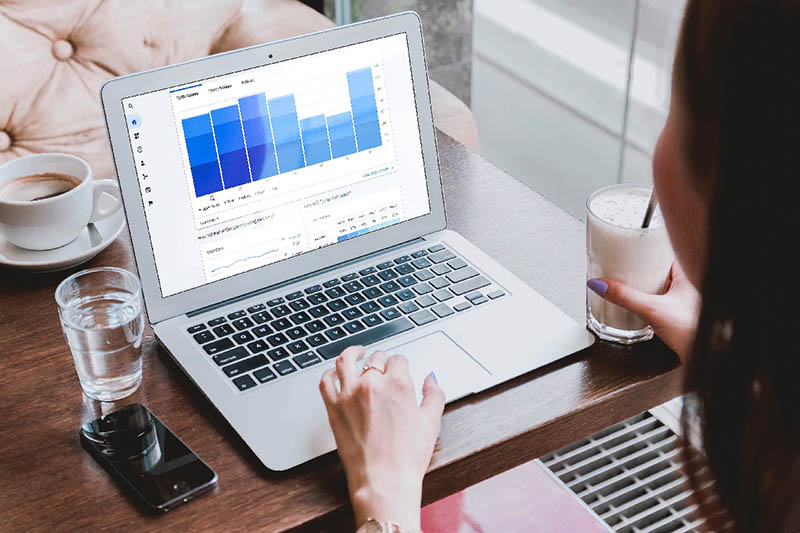 Is business insurance required by law?
Many states do require business insurance, but a lot don't. The most common requirement is commercial auto insurance for vehicles used in the course of business, but other insurance may be required depending on the type of business. Pizza shops need a lot of commercial auto insurance, for instance, while trucking companies have hefty policies all around.
A niche type of insurance is liquor liability insurance, which may be required if your business sells alcohol. This would primarily apply to bars and some restaurants.
This is a great question because there are several ways you can lower your business insurance premiums. Some are easier than others, but they're all great ways to make your business more stable. Let's check them out below.
How to Lower Business Insurance Premiums
Raise your deductible. Just make sure you can afford the deductible in the event that you need to make a claim!
Create a safety plan. Having comprehensive safety plans distributed to employees will create a safer work environment, which lowers worker's comp and other claims. Over time, your premiums will drop.
Compare rates annually. Some larger businesses employ insurance brokers to do this for them, but you can just compare quotes yourself every year. Companies are getting more competitive every year, so it's always worth checking.
Reduce theft. Because theft is the biggest cause of claims, adding loss prevention measures like cameras and security tags in retail can reduce theft claims, shrink, and lower premiums over time.
Related Read: What Is An Insurance Guarantor?

Conclusion
Small businesses are a lot riskier to run than people would think! The economic future is uncertain, and businesses can always benefit from buying business insurance. It protects you from unexpected property, medical, and worker's comp expenses, plus offers peace of mind.
See also: How Many Small Businesses Fail? Is There a Common Reason?
---
Featured Image Credit: vinnstock, Shutterstock