8 Smart Uses for Watermelon Rinds: Creative Ideas for Reuse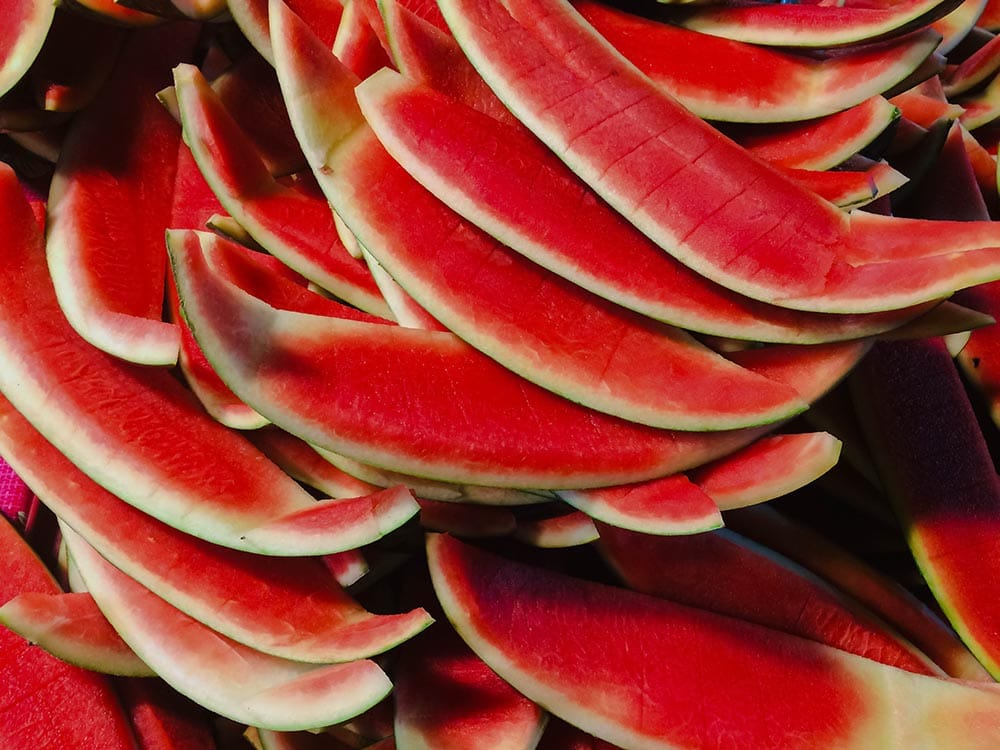 In the height of the summer, your family may go through a lot of watermelon and waste a lot of watermelon rinds in the process. Instead of tossing those watermelon rinds, reuse them by making unique recipes or crafts for around the home.
With these 8 smart uses of watermelon rinds, you will be able to put the entire fruit to use and stretch every penny you spent on the fruit. Check out these ways to use watermelon rinds after chowing down on the delicious watermelon fruit.


The 8 Smart Uses for Watermelon Rinds:
1.

Pickled Watermelon Rinds
You can pickle just about everything, including watermelon rinds. Pickled watermelon rinds are delicious and only take about 25 minutes out of your day to make. By following this Alton Brown recipe, you can make delicious, pickled watermelon rinds that pair beautifully with a hot summer day.
---
2.

Watermelon Rind Chutney
If you love chutney, you need to make this watermelon rind chutney. It is tangy and spicy, making it a delicious take on the classic pickled watermelon rind. It takes about 45 active minutes to take, though it takes about 25 hours in total in order to pull out the full flavor.
---
3.

Watermelon Rind Curry
A popular dish in India is watermelon rind curry. It is specifically from the state of Rajasthan. Best of all, it doesn't take that much effort to cook, and it is easy enough for even beginner chefs to master.
---
4.

Watermelon Gazpacho
Classic gazpacho is made from tomato and other spices, but you can make a watermelon gazpacho for a sweet and savory alternative. This soup is chilled, making it a great option for a hot summer lunch.
---
5.

Candied Watermelon Rind
If you have kids around the home, make candied watermelon rinds. This candy is a great way to make the most of your food scraps, and it keeps your children happy. The candying process takes several days to finish, but you don't have to put in a lot of effort to do so.
---
6.

Fruity Salsa
You can turn practically everything into salsa, including watermelon rinds. With watermelon rinds, onion, ginger, and a few other ingredients, you can make a delicious fruity salsa that is a crowd pleaser.
---
7.

Watermelon Rind Smoothie
Make a super healthy smoothie by incorporating watermelon rinds into your strawberry smoothie. This smoothie will have a unique flavor, and it is delicious and packed full of nutrients.
---
8.

Watermelon Rind Bowl
If you have guests coming over, don't just throw out your watermelon rind. Instead, transform it into the serving bowl for your fruit salad. Be careful when you are slicing up the watermelon so that you do not cut yourself by accident.
Related Read: How & When to Plant Watermelon? What You Need To Know!


Benefits of Watermelon Rinds
Watermelon is a delicious snack that is packed full of vitamins and fiber, all while being as sweet as candy. What many people do not realize is that the watermelon rinds are also healthy. They may not be as tasty as the fruit itself, but it's a great idea to incorporate watermelon rinds into your diet.
Watermelon rinds are a great source of fiber. It is shown to aid in digestion, enhance your gut health, and manage cholesterol, as well as blood sugar levels. Rinds also contain beneficial amino acids, such as L-citrulline and L-arginine. These amino acids can help regulate your blood pressure, boost athletic performance, and improve your kidneys.
Because of the benefits associated with watermelon rinds, don't just toss the rinds once you're finished eating the fruit. Use the recipes above to incorporate the rinds into your daily diet.


Conclusion
Now that you know 8 smart uses for watermelon rinds, you have no excuse for throwing these healthy and delicious rinds out in the garbage. Instead, use the rinds to enhance your diet or to make a cute serving bowl.
---
Featured Image Credit: Girlgirl, Shutterstock