10 Best Toto Washlet Bidet Toilet Seats in 2023 – Reviews & Top Picks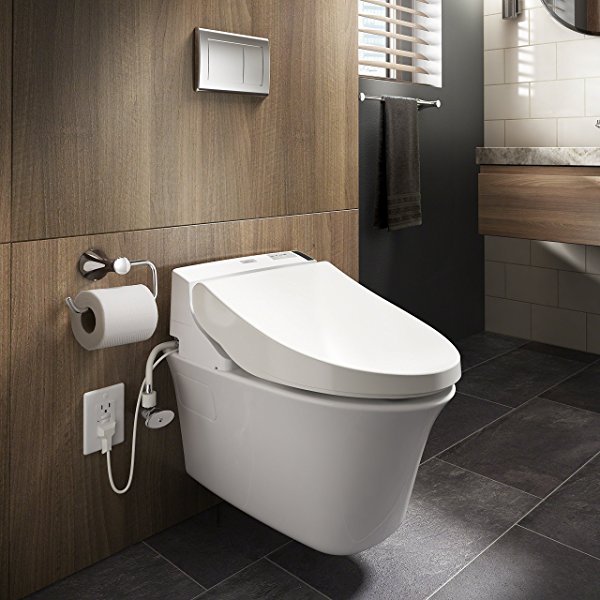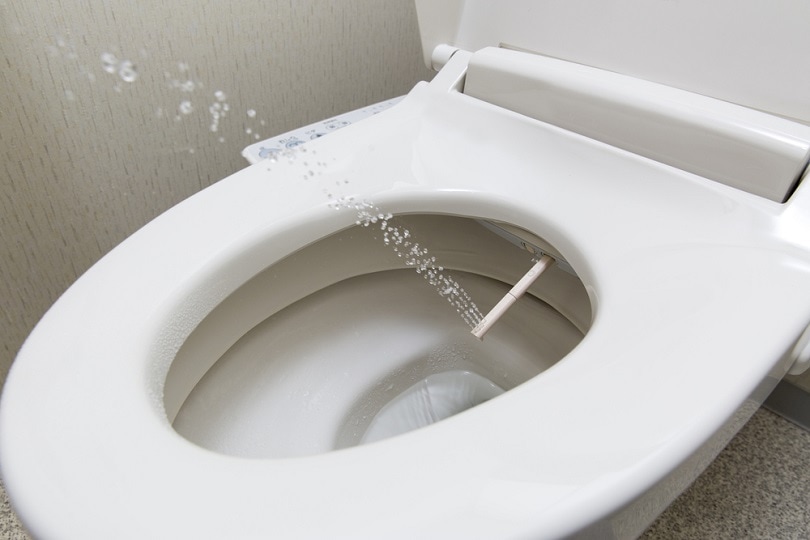 Toilet paper may have once been an essential commodity, but today, thanks to our modern technology, it's no longer necessary. Especially after the recent health crisis that spread across the globe, causing people to completely empty all the stores of toilet paper, many people are looking for a way to no longer be chained to this paper product. The solution is a washlet bidet.
Bidets are hygienic, eco-friendly, and most of your guests will probably get a kick out of it! You can place a bidet right on top of your existing toilet, replacing the seat. Toto, one of the most renowned makers of toilets, is a natural choice for bidets with their many years of experience creating top-quality plumbing fixtures.
But TOTO offers a lot of bidets, so, how do you choose? Well, we've already done the hard work of testing them and writing reviews so you can see how they compare. Let's take a closer look.
---
A Quick Comparison of Our Favorites in 2023
Rating
Image
Product
Details

Best Overall

TOTO C100 Bidet Toilet Seat

Oscillating option
Pressure is adjustable
Soft closing warming seat
CHECK PRICE

Best Value

TOTO A100 Bidet Toilet Seat

Self-cleaning wand
Soft closing lid won't slam
More affordable
CHECK PRICE

Premium Choice

TOTO S550E Electronic Bidet Toilet Seat

Built-in night light
Convenient wireless remote
Can store memory for two users
CHECK PRICE

TOTO S300e WASHLET Bidet Toilet Seat

Tons of adjustability
Adjustable heated seat
Dries your backside with warm air
CHECK PRICE

TOTO K300 Electronic Bidet Toilet Seat

Instant water heating
Deodorizes the surrounding air
Front and rear washing with five spray settings
CHECK PRICE
The 10 Best Toto Washlet Bidet Toilet Seats
1.

TOTO C100 Bidet Toilet Seat– Best Overall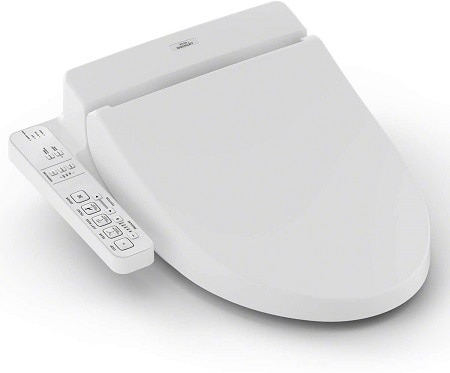 It can be difficult to pick a winner with so many great options available, but the TOTO SW2034#01 seems to offer the best combination of price and performance in our opinion. It's reasonably priced, but still packs in all the important features that you need from a bidet.
For instance, you get adjustable temperature settings, allowing you to dial in the right amount of heat for your cleansing stream. The pressure is likewise adjustable, so you can get the most balance between comfort and clean. You even get an oscillating spray option. However, you have to adjust the wand each time you use it to get it in the right place as there are no memory settings.
With this bidet, there are no more slammed toilet seats, thanks to the soft-close seat. It's even heated to keep you warm during cold mornings. And once you're all clean, there's even a built-in air dryer to make sure you're not dripping when you stand up.
Pros
Adjustable temperature settings
Pressure is adjustable
Oscillating option
Soft closing warming seat
Built-in warm air dryer
Cons
Must adjust the wand with each use
---
2.

TOTO A100 Bidet Toilet Seat– Best Value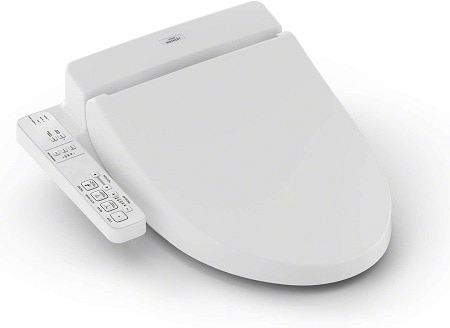 If you're looking for a quality bidet experience without an exorbitant price tag, then you might check out theTOTO SW2014#01. It's one of the cheapest-priced bidets in TOTO's lineup, but that doesn't mean it's lacking the features you're looking for.
This bidet features adjustable water settings with the option of an oscillating cleanse. It offers warm water for cleaning, though you only get a few seconds of warm water before it runs out. The wand is self-cleaning, that way you don't have to worry about constantly getting your hands dirty trying to keep your bidet clean.
Like most of the bidets on this list, this one features a soft closing lid that won't slam, waking up your family in the middle of the night or pinching someone's fingers. With all these great features at such an affordable price, it's easy to see why we think this is the best TOTO washlet bidet toilet seat for the money.
Pros
The soft closing lid won't slam
Self-cleaning wand
More affordable than most models
Adjustable water settings with oscillating cleanse
Cons
Holds a limited amount of warm water
---
3.

TOTO S550E Electronic Bidet Toilet Seat – Premium Choice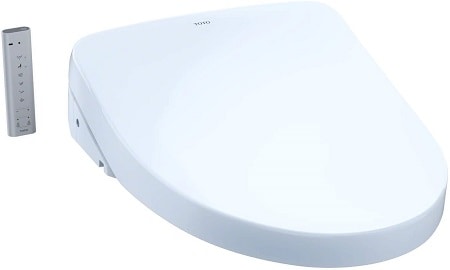 When we first saw the incredibly high price of the TOTO SW3056#01, it was hard not to gasp. It's extremely expensive to the point where you could purchase several of our best value pick bidets for about the same price as just one of these premium bidet seats. Once you hear some of its standout features though, you might become a believer.
The first thing you'll notice about this bidet once it's installed is the way it opens. Walk up to it and sensors will automatically detect you, opening the lid without the need for you to touch it. When you're finished, the lid will close automatically as well.
For the middle of the night, there's a built-in night light so you can see without turning on the bright overhead lights. The seat is heated so you can be comfortable on cold mornings and the warm water is instant and continuous. Two users can store their settings in the onboard memory.
Helping to keep your toilet clean are PREMIST and EWATER+. PREMIST pre-coats the bowl with water to prevent waste from sticking. EWATER+ is a special cleaning solution that washes the entire bowl and wand after every use.
Pros
Built-in night light
Warm water is instant and continuous
Hands-free lid opens automatically
PREMIST and EWATER+ for an always clean bowl
Convenient wireless remote
Can store memory for two users
---
4.

TOTO S300e WASHLET Bidet Toilet Seat
The TOTO SW574#01 bidet is another outrageously expensive product, but it's got some functionality issues that make it a bit less desirable than our premium choice bidet. Still, it's packed with performance features like a warm air dryer for your backside and a tankless water heater.
What's great about this bidet is all the adjustability you get. You get lots of control over the cleaning, such as pressure and temperature controls with different spray settings. It also uses EWATER+ to clean the bowl and wand after each use so you won't have to be constantly cleaning it yourself.
However, we did discover a problem with the cleaning wand. It worked great for several months, but then began to function erratically, which we found out was a somewhat common issue. As far as we know, TOTO has addressed this problem, but on the one that we tested, it was still an issue.
Pros
EWATER+ cleans the bowl and wand after each use
Adjustable heated seat
Tankless water heating built-in
Tons of adjustability
Dries your backside with warm air
Cons
It's outrageously expensive
The cleaning wand began to perform erratically
---
5.

TOTO K300 Electronic Bidet Toilet Seat
If you're looking for a middle of the pack option as far as price and performance are concerned, then you might consider the TOTO SW3036#01. It's not as expensive as some of the premium options, but considerably pricier than the more affordable choices. Likewise, it's lacking features found on the best bidets, though it's still equipped with all the most important functionality.
This bidet features instant water heating that provides continuous warm water for as long as you need. It's also got some great cleanliness features like PREMIST that helps prevent waste from sticking to the bowl. There's even a built-in air deodorizer to keep your bathroom smelling fresh.
We like the wand on this bidet. It offers front and rear washing with five spray settings to choose from. What didn't impress us were the garbage manuals included with the bidet. The user manual and installation manual are both practically worthless, in our experience.
Pros
PREMIST cleansing prevents waste from sticking to the bowl
Instant water heating
Deodorizes the surrounding air
Front and rear washing with five spray settings
Cons
More expensive than many models
The manuals aren't any help
---
6.

TOTO  S500E Electronic Bidet Toilet Seat
This bidet is getting up there in price, which would be fine if it weren't for the installation issues we had. But despite that, it's still a great bidet with lots of functionality. For example, you get oscillating and pulsating wash functions. The water is also warm instantly and continuously, so you never have an uncomfortable cleaning. And of course, it's equipped with a soft closing lid as well.
Our installation problems had to do with the plastic T-junction that mates to a metal fitting. You simply can't tighten them enough to get a good seal, even with Teflon tape. This caused the fitting to leak, which meant a trip to the hardware store to replace it and additional cost. TOTO offers a part to fix this, but it's prohibitively expensive. Plus, on such an expensive product, we feel those things should have already been addressed.
Pros
Oscillating and pulsating wash functions
Warm water is instant and continuous
Soft closing seat
Cons
It's one of the more expensive options
Plastic T-junction leaked
---
7.

TOTO C200 Electronic Bidet Toilet Seat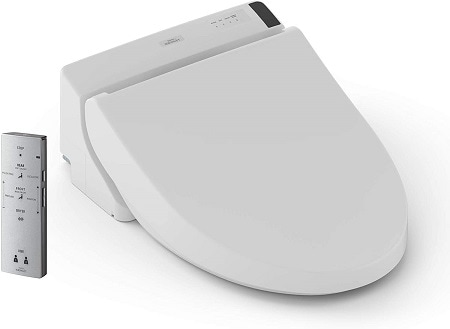 There was a lot to like about the TOTO SW2044#01, but there were also quite a few flaws holding this bidet back. Let's start with the positive qualities.
First, this bidet has a built-in air deodorizer to help prevent unpleasant smells in the bathroom. It's also got a dual-action spray with an option for oscillation. The seat is heated, making cold mornings far more comfortable, along with the warm air dryer keeping you dry. For convenience, two users can store their settings for quick access.
Now, onto the bad. Like some of the other TOTO bidets, this one uses plastic to metal connections that just aren't strong enough to prevent leaking. It's also more space-restrictive than other models because of the placement of the wand, especially for men. We also don't like that you only have a small supply of warm water before it starts to freeze your backside!
Pros
Air deodorizer built-in
Stores two user settings for quick access
Dual-action spray with oscillation action
Heated seat and warm air dryer
Cons
Plastic to metal connections creates installation headaches
Space-restrictive for some men
Insufficient warm water
---
8.

TOTO S350E Electronic Bidet Toilet Seat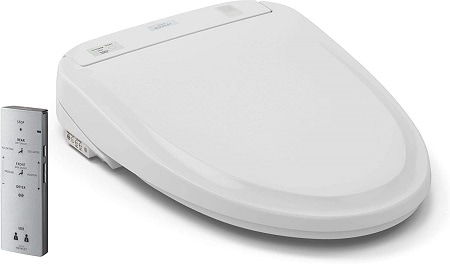 We love fancy features, and the TOTO SW583#01 has plenty of them. But we don't like malfunctions and high prices. Unfortunately, this bidet also has them.
With this bidet, you get an automatic lid. It opens when you approach and closes when you finish for a hands-free experience. It's got onboard memory to store settings for two users so you don't have to readjust the wand and spray every time you need to clean off. We also like the instant, non-stop warm water.
We already mentioned that this is an expensive bidet, and it's right near the top of the TOTO bidet price peak. At this price, we'd like to see an impressive warranty, but you only get one year. That wouldn't be such a big deal if it weren't for the malfunctions we experienced. The best feature on this bidet is the auto-opening lid, and that's the part that stopped working, making this feel like a very expensive version of a much cheaper bidet since we lost the auto-opening functionality.
Pros
The lid opens and closes automatically
Non-stop, instant warm water
Stores settings for two users
Cons
It's very pricey
The auto-opening feature began to malfunction
The one-year warranty is lackluster at this price
---
9.

TOTO A200 WASHLET Bidet Tolet Seat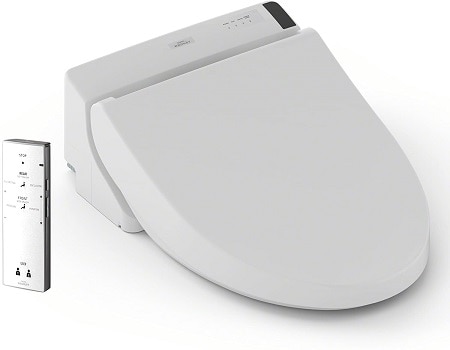 The TOTO SW2024#01 bidet is far from our favorite. It's still got some nice features, but there's just too much missing for us. On the bright side, you do get a heated, soft-closing seat, which is convenient and offers supreme comfort on cold mornings. The wand is self-cleaning, so you won't have to constantly disinfect it.
When you're done washing, enjoy your mud-butt because there's no air dryer here. You get to walk around with wet pants instead. Hooray! Much worse is the weak spray that doesn't even offer effective cleaning. Yuck.
While the seat may be comfortably warm, the water certainly is not. You only get a few seconds worth of warm water with this bidet seat, so it turns into an unpleasantly frigid experience pretty quickly. Overall, we'd skip this bidet in favor of one that offers the features we think should be standard on all bidets.
Pros
Heated, soft-close seat
Self-cleaning wand
Cons
Runs out of warm water quickly
The weak spray doesn't clean effectively
No air dryer
---
10.

TOTO B100 Washlet Bidet Toilet Seat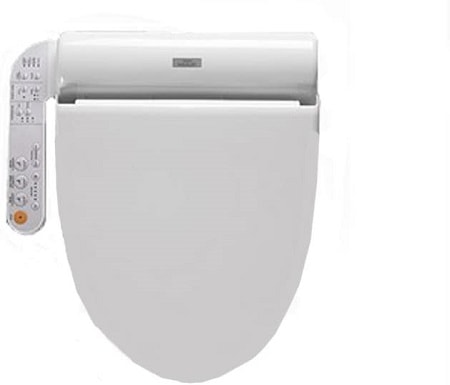 We tested a lot of TOTO bidets for this list. For the most part, they were all decent products. However, the SW502#01 really rubbed us the wrong way. And by rub, we mean the controls. They're mounted too high, so your leg can easily bump then while you're sitting, creating all sorts of annoying, albeit funny incidents.
Of course, that's far from the only flaw here. There's no air dryer, so once you're clean, you get to walk around with a wet booty, and who doesn't love that? Since there's no air deodorizer, your bathroom might not be the freshest area. Despite these missing features, this bidet is more expensive than other TOTO bidets that we think offer more.
Still, it's not all bad. The seat is heated and there's even a temperature control to dial in how warm you want your butt to be. You also get dual-action spray with a self-cleaning wand that reduces your maintenance time. But that's not going to be enough to redeem the mistakes that made us averse to this bidet.
Pros
The seat is heated with temperature control
Self-cleaning with dual action spray
Cons
Controls are mounted too high
No air dryer
No deodorizer
More expensive than other options
---
Buyer's Guide – Picking the Best Toto Washlet Bidet Toilet Seat
Bidets are great at washing your butt. But that's not all they do. Today, these electronic bidets are loaded with cutting-edge features. Some even feel like they're straight out of a science-fiction movie! But they're not. These are real features that you can have in your home today.
With so many great choices, it can be difficult to narrow them all down to the one that you'll use every day for years to come. How can you make such a decision?
Well, you can start by reading this buyer's guide, where we're going to help simplify the decision-making process.
Best Bidet Features to Look for
Since bidets are packed with features today, comparing these features can make it much easier to make a decision. Let's take a closer look at the features that we think are most important after testing so many bidets.
Cleanliness
We're talking about something that mounts to your toilet. Cleanliness is going to be a major factor here. Luckily, a lot of these bidets are equipped with excellent features to help keep them clean.
PREMIST
This is a special TOTO feature that will mist the bowl of the toilet with water every time you're about to use the toilet. This prevents waste from sticking to the bowl that you'd have to later scrub off. We think it's an excellent feature that saves a lot of time.
EWATER+
EWATER+ is basically the opposite of PREMIST. Instead of pre-coating the bowl with water, EWATER+ cleans the entire bowl and wand every time you finish using the toilet. It's got a special but completely safe cleaning solution that disinfects everything, keeping your toilet clean and saving you plenty of time. Between EWATER+ and PREMIST, you'll rarely have to clean your toilet at all!
Self-Cleaning Wand
Some of the TOTO toilets don't have PREMIST or EWATER+, but they still might have self-cleaning wands. These wands clean themselves off after each use so that you don't have to worry about nasty messes building up.
Air Deodorizer
Many of these TOTO bidets feature built-in air deodorizers. These filter and refresh the air in your bathroom, keeping everything fresh and smelling clean.
Convenience
Bidets are loaded with far more than just self-cleaning features. Many of the features included are purely for convenience and comfort.
Hands-Free Lid
We think that this is one of the coolest TOTO features. The hands-free lids feature a sensor that detects you as you approach, opening the lid automatically. When you finish your business, the sensor will detect that you've left and automatically close the lid as well. This provides you with a completely hands-free experience, especially since you no longer have to wipe! You should probably still wash your hands though. It's just good practice.
User Memory Settings
To get a proper cleaning with a bidet wand, you need it to be positioned exactly right. Trying to dial in your perfect fit each time can be frustrating and time-consuming. On some bidets, that's your fate. On others, you can actually store user settings in the on-board memory. This allows you to recall your perfect settings with the push of a button, returning to the exact same place every time.
Adjustability
Everyone has their preferences, which is why adjustability is such an important feature. If a bidet only offered one temperature and one pressure setting, then not everyone would find it comfortable. Luckily, most of these bidets allow you to adjust the water pressure, temperature, and even the way it sprays. Some even offer pulsating and oscillating functions. Luckily, all of these preferences will be recalled with your user memory settings.
Heated Seat
Heated seats are a luxury that you won't want to go without once you've experienced them. Cold mornings don't seem like such a big deal anymore when the toilet seat is nice and warm!
---
Conclusion
Many people feel that bidets are the wave of the future, eliminating the need for toilet paper and helping us to stay hygienic. With all of our modern technology, these bathroom fixtures have come a long way, with brands like TOTO leading the pack. You've read about our favorites in our reviews, but we want to make sure they're fresh in your mind.
Our top choice is the TOTO SW2034#01. It offers great performance at a reasonable price with great features like adjustable temperature and pressure settings, a soft-close heated seat, and a built-in warm air dryer.
For the best value, we recommend the TOTO SW2014#01. It's one of the most affordable bidets in the TOTO lineup but is still loaded with great functionality like a self-cleaning wand, soft-closing lid, and adjustable water settings.
When you want a premium bidet and don't care what it costs, you'll want to check out the TOTO SW3056#01. It's got every premium feature imaginable like a hands-free automatic opening and closing lid, instant and continuous warm water, memory for two user settings, PREMIST and EWATER+ for a clean toilet, and even a built-in night light.
---
Featured Image Credit: kazoka, Shutterstock