Toyota Sequoia vs. Land Cruiser: Which One's Best For Me?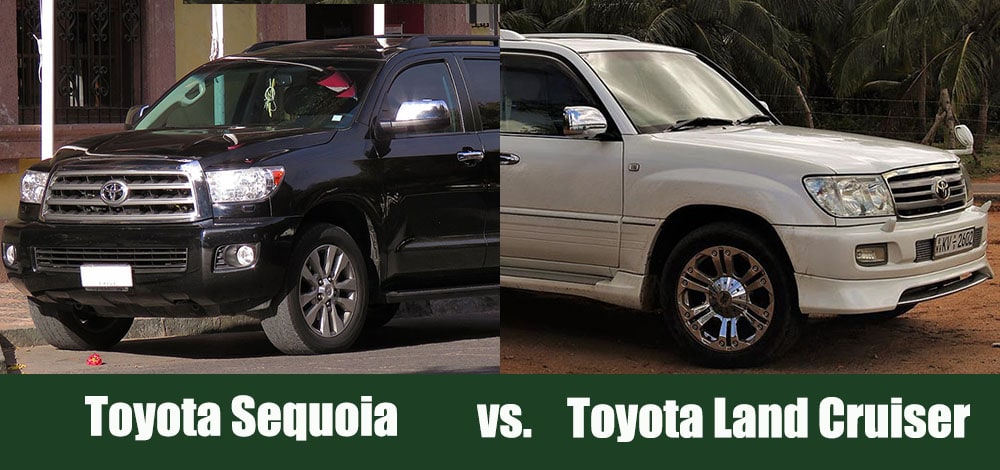 If you are trying to decide which vehicle to purchase and have narrowed your choices down to Toyota Sequoia and Land Cruiser, we can help you pick the car that suits your needs best. While both of these vehicles are sophisticated and powerful, some small differences can influence your decision.
Since both of these models have their advantages and disadvantages, in this article, we will dig a little deeper and weigh all those characteristics up to decide which model is the right one for you.

Toyota Sequoia vs. Land Cruiser: At a Glance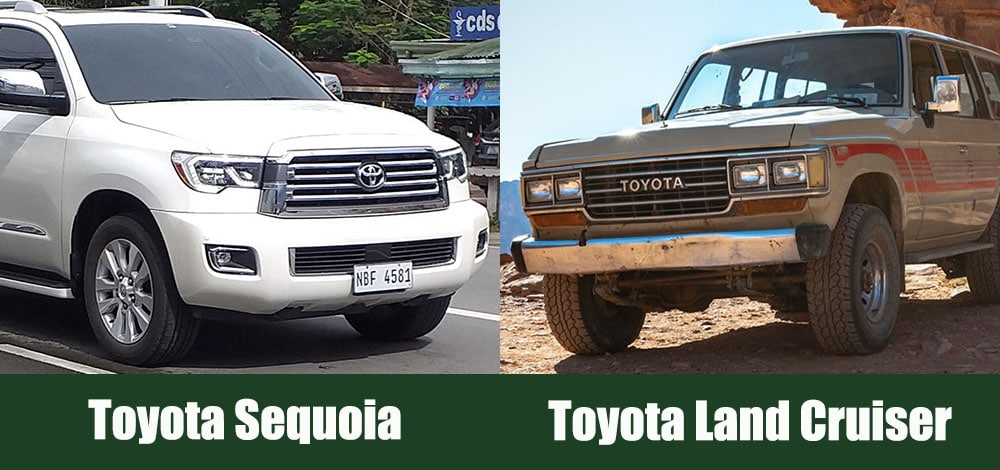 Toyota Sequoia
Family-friendly
Comes with more modern features and tech
A contemporary yet practical vehicle
Can seat up to eight passengers
Smooth and comfortable interior
Land Cruiser
A dominant off-road car
It can handle challenging terrain
Leather seats
Modern tech, including a bird's-eye-view camera
Can seat up to eight passengers
---
Overview of the Toyota Sequoia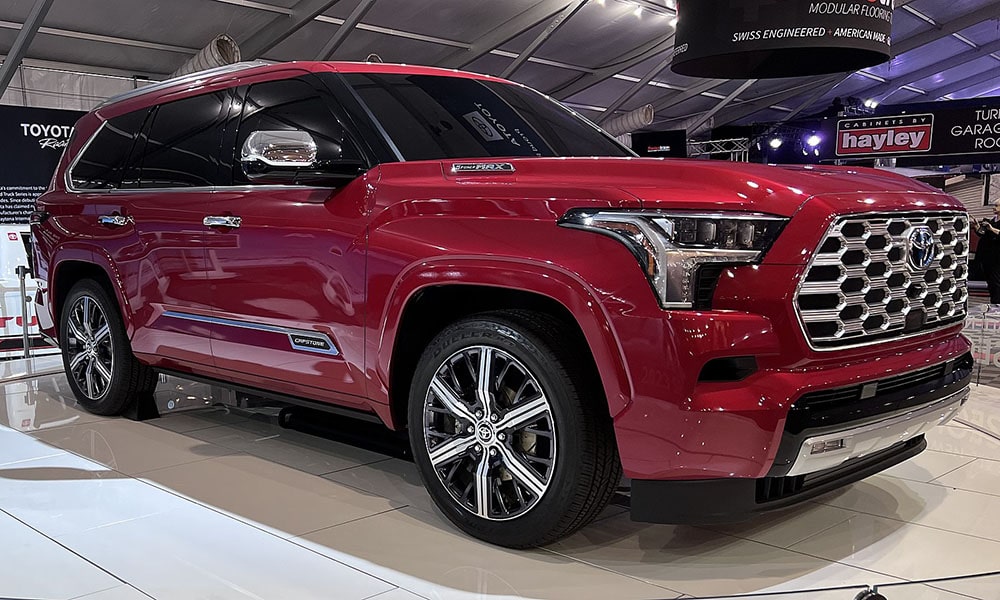 Toyota Sequoia is a modern, three-row vehicle and the company's largest SUV model. It is excellent for traveling because passengers can travel with maximum comfort and plenty of legroom in all three rows. The Sequoia is built with a truck-derived structure, therefore, it has decent towing capability. It has a massive cargo capacity as it can carry up to 120.1 cubic feet of cargo. Since it has a 26.4-gallon fuel tank, it can cover approximately 448.8 miles of driving before needing refueling.
Pros
Large cargo area
Comfortable and practical
Has room for eight people
Second-row seats can tilt and slide
Great infotainment system
Cons
Poor fuel economy
Lacks "road feel"
Cheap-looking interior design

Overview of Land Cruiser
Although the Toyota Land Cruiser has a famous reputation for off-roading, the newer models are built to be more luxurious and elegant than bold and adventurous. The interior is lined with luxury leather seating, which gives the vehicle a great appearance and makes any long-ranged travel incredibly comfortable. Even though the Toyota Land Cruiser is a bit more expensive, it is a one-of-a-kind combination of exceptional quality and dependability. According to most reviews, it has no rivals for off-road experience and performance.
Pros
Exceptional power and durability
Superb towing capacity (up to 8,100 pounds)
Three-row seats, with a total capacity of eight passengers
Extensive safety package
Back-row entertainment system
Cons
Quite expensive
Poor fuel economy
Small fuel tank

Comparing them side by side
Price
Edge: Sequoia
Both of these two powerful SUVs are pretty expensive. When comparing their prices side by side, the Toyota Land Cruiser starts at a higher price, while the Toyota Sequoia is more affordable.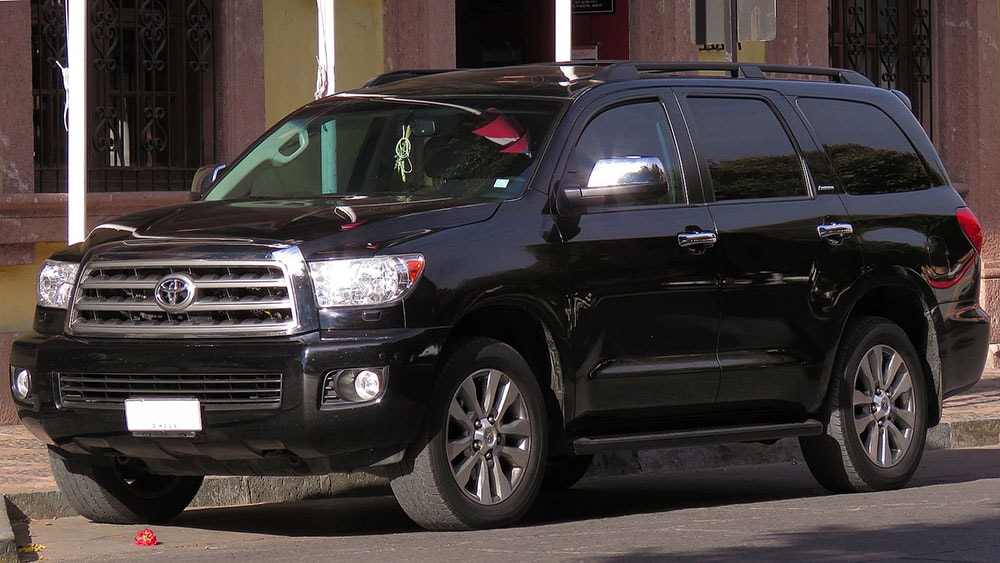 Warranty
Edge: Tie
When it comes to the warranty of these two vehicles, it's difficult to compare since every Toyota vehicle comes with a 12-month/12,000-mile limited warranty. Both of these vehicles will also receive a 7-year/100,000 limited powertrain warranty. When it comes to a basic warranty, it will cover all components and maintenance items for 36 months/36,000 miles.
Performance
Edge: Sequoia
Comparing Toyota Sequoia and Toyota Land Cruiser, their performances are difficult to compare since both vehicles have strong engines, although the Sequoia has a slight edge. Toyota Sequoia has a strong engine that provides smooth acceleration. Critics highly praise the improved automatic transmission. With a smooth-shifting transmission and a sensitive gas pedal, the Sequoia is rather speedy for drives around town.
The Land Cruiser is equipped with a powerful engine and an automatic transmission with eight speeds. It provides comfortable driving dynamics in a smooth and well-planted ride.
Exterior and Interior Design
Edge: Land Cruiser
When we look at the design of these two vehicles, an essential difference is that the Sequoia is a much bigger SUV than the Land Cruiser. Although the Sequoia is a larger vehicle, its interior design is a bit less attractive. The Land Cruiser comes with leather seating that gives the car superior comfort and an elegant look, while the Sequoia's interior looks a bit plastic and cheap.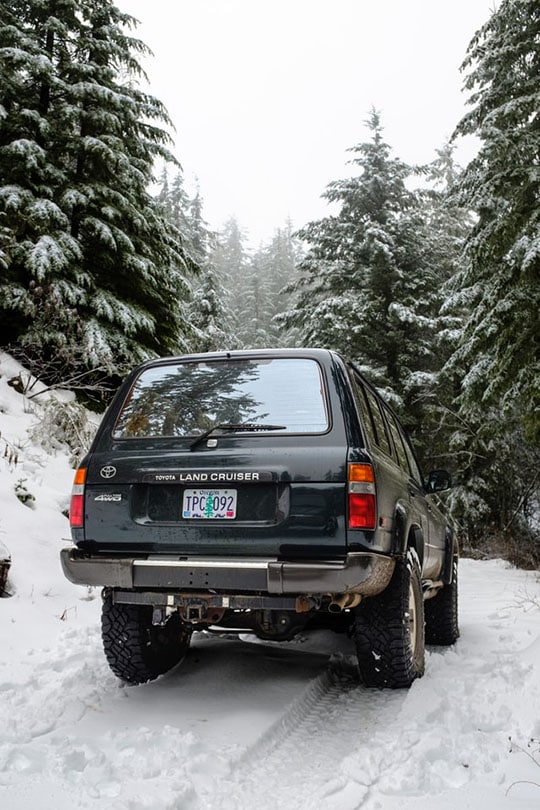 Which one is better for me?
The Sequoia has an impeccable reputation for being a family-friendly SUV. The Land Cruiser is for those searching for a bold and adventurous vehicle, safe for more extended travels. In order to choose between these two vehicles, you need to think about which factors are most important to you. If you are looking for a sleek and luxurious design with high-quality leather seating, then the Land Cruiser is the car for you. On the other hand, if you are looking to save some money, and have the largest SUV model, then the Sequoia is the right choice.

Final Thoughts
This article went over the most important differences between these two incredible cars. While both SUVs' are extremely powerful, there are significant differences when it comes to their appearance. You will have to decide between these two cars while considering which factors are important to you—a family car that can provide a comfortable ride equipped with many modern features, or an adventurous vehicle that will provide you with a great off-road experience.
---
Featured Image Credit: (Left) Toyota Sequoia Limited 2016 | Image Credit: RL GNZLZ from Chile, Wikimedia Commons CC SA 2.0; Image Credit: pasja1000, Pixabay