5 Convenient DIY Attic Lift Pulley System Plans (With Pictures)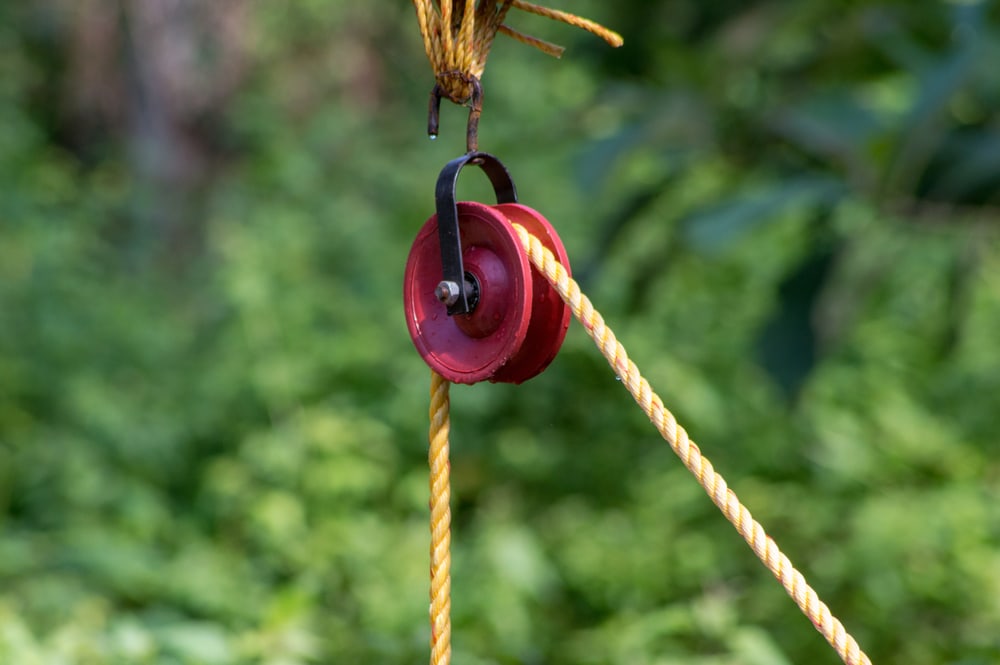 Hauling items up into an attic can be difficult at the best of times, and dangerous at the worst of times. Carrying weight up rickety ladder rungs or shoving them through a small opening is something most homeowners dread. One of the best solutions to this ongoing problem for homeowners is to install an attic pulley system in your home. A pulley can quickly and easily lift your things into the attic without putting you in danger.
If attic pulley systems sound expensive or intimidating, they shouldn't. There are multiple attic pulley systems that you can install yourself. From large, powered lift systems that can lift hundreds of pounds to simple hoists that use an existing attic opening, there are numerous ways to simplify your life and make your attic more usable.
Here are five convenient DIY attic lift pulley systems you can install yourself.

The 5 DIY Attic Lift Pulley System Plans
1.

Powerful DIY Electric Attic Lift by Family Handyman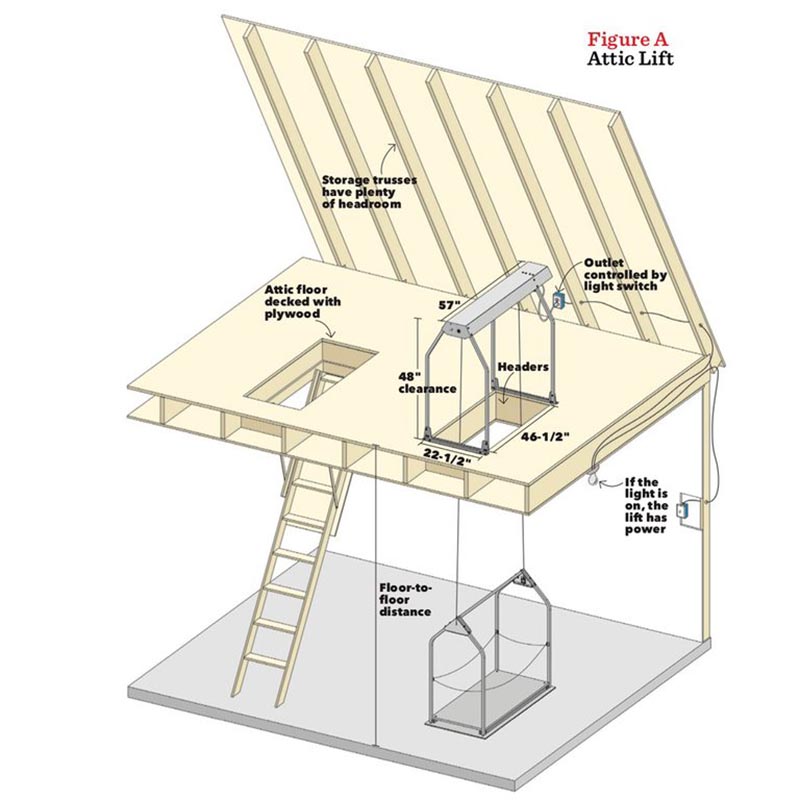 | | |
| --- | --- |
| Materials: | Attic lift kit, 2×8 pine (as needed) |
| Tools: | Circular saw, reciprocal saw, drill, wrench |
| Complexity: | Intermediate |
Did you know that you can install a powerful powered attic lift system yourself? Well, you can. Powered attic lifts take all of the work out of getting things into your attic storage space. Instead of lugging heavy boxes up a treacherous ladder, you simply put your boxes on a platform and flip a switch. These plans guide you through the process of installing your very own attic lift system. It is easier than people think. With a little bit of knowledge, some precision measuring, and the ability to carefully read and follow instructions, you can install a powered attic lift in your home. All it takes is a day, a toolbox, and some concentrated effort.
While the installation process is doable on your own, you do need to purchase an attic lift online. Attic lifts range in price from $1,000 to $3,000 and represent a serious investment into your home's infrastructure. But when it comes time to haul Christmas decorations down from the attic, you will be happy you did the work.
---
2.

Clever DIY Attic Ladder Pulley by Instructables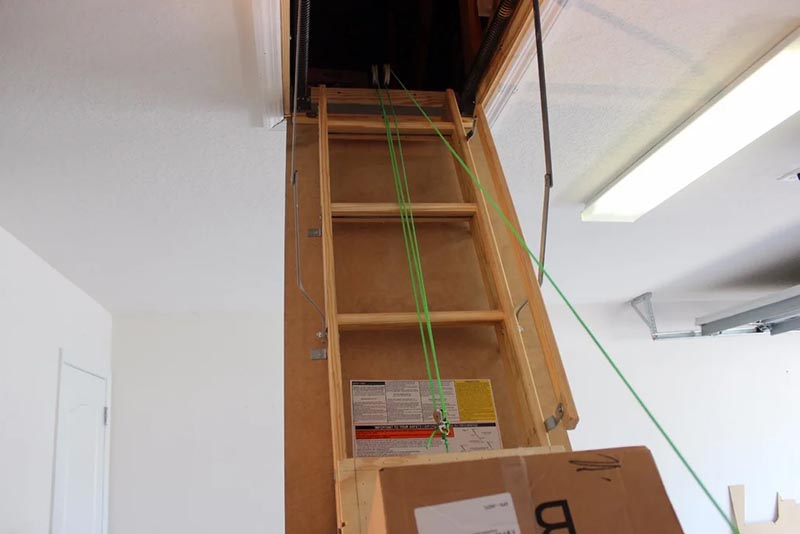 | | |
| --- | --- |
| Materials: | Pulley, bearings, wheels, 5/16 nuts, washers, and bolts |
| Tools: | Jigsaw, nail gun, wrench set, drill, clamps |
| Complexity: | Basic |
Not everyone is confident in their ability to install a professional lift system in their home. For those people who want some help moving boxes upwards without embarking on a massive construction project, there is a clever attic ladder pulley that is equal parts simple and ingenious. This DIY pulley system uses a plywood platform, some wheels, bearings, and a rope to turn your attic access ladder into a hand-powered conveyor belt.
The genius of this system is that it runs entirely on your existing attic stair. Simply pull your staircase down, and you instantly have access to a pulley that will whisk your boxes upwards into the attic without you having to break a sweat. The lifting platform travels along the rails of your attic staircase and is powered entirely by hand, meaning you don't need to be near any outlets or have a fancy finished attic for this to work.
---
3.

Modifiable DIY Ceiling Pulley Lift by Instructables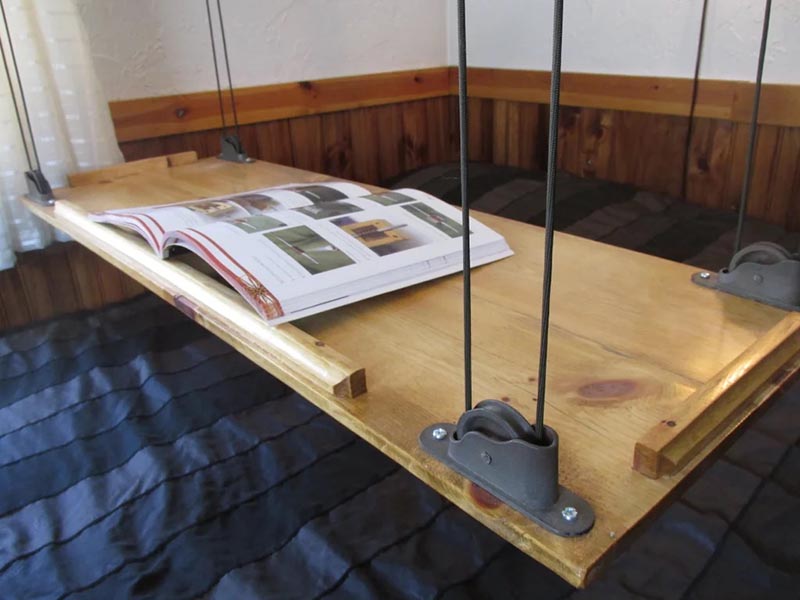 | | |
| --- | --- |
| Materials: | Paracord, wood for your platform, pulleys (x4), eyebolts (x8), wood glue, wood screw, washers, stain (optional) |
| Tools: | Router, drill, biscuit joiner, table saw |
| Complexity: | Intermediate |
This ceiling pulley system is built as a raisable desk or table, but it can easily be modified to create an attic pulley system. You can install this system over an attic access hole and create a stylish and effective attic pulley. All you have to do is build your table to size, add the eyebolts and install the pulleys above. Make sure to install the base for the pulleys adequately around your attic access. Also, make sure that your table or platform is the right size to fit your attic access.
This system has a lot of room for personal modifications. You can stain your platform and choose cords and pulleys that match your style. You can pick a wood that matches your interior. You can build the table and the framing with a specific style in mind with small details that adds to the overall aesthetic. The sky's the limit.
---
4.

Simple DIY Pulley for Lofts, Attics, and Sheds by Instructables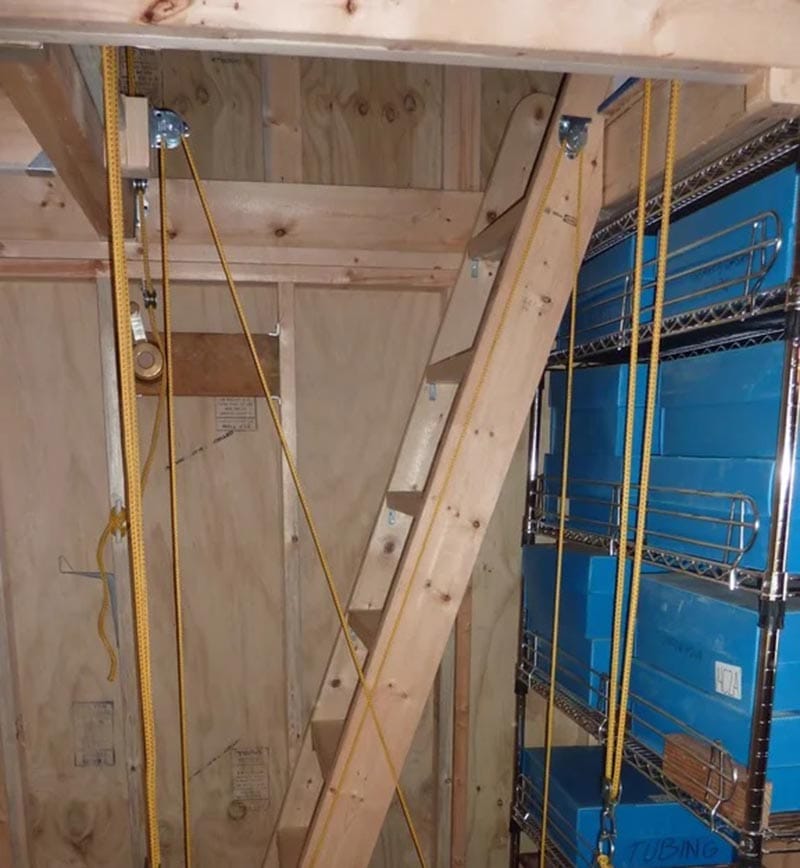 | | |
| --- | --- |
| Materials: | 50′ of line or cord, plywood or wood for the platform, pulleys (x7), heavy hooks (x5), heavy rings (x2), shackles (x2), wood screws |
| Tools: | Circular saw, drill, wrench |
| Complexity: | Intermediate to Advanced |
This DIY pulley system is described as an elevator. It is designed for use in lofts, sheds, and garages. This simple DIY elevator runs on dozens of feet of cords, a stabilizing rig, and numerous pulleys. The job can be as simple or complex as you make it, depending on where you are installing, how much weight you need it to lift, and the size of the platform. It can be customized and modified to easily fit your needs.
A small platform will be easier to rig up than a large platform, but large platforms can be reinforced and stabilized to lift hundreds of pounds if you need it to. This elevator can also be constructed without a steep investment in materials or time. In the end, the elevator will be able to travel upwards smoothly and in a straight line with minimal effort on the part of the user.
---
5.

Basic DIY Plywood Lift Platform by The Plywood
| | |
| --- | --- |
| Materials: | Crane hoist of your choice, eye bolt, 2×4 support, cables or rope, track (optional) |
| Tools: | Circular saw, drill, nail gun |
| Complexity: | Basic to Intermediate |
Simple hoists and cranes have been around for thousands of years. With the right materials, anyone can build their own hoist. These plans are built around a simple plywood platform and a hoist of your choice. You can buy a simple electric hoist that can lift a couple of hundred pounds for cheap online. You can also install a hand pulley that requires no power. All you have to do is build the plywood platform, attach the eye bolt to the top and then hook it up to the hoist system of your choice.
This is a very basic system that is flexible, easy to build, and modifiable to meet your individual needs. Some people might want to buy and install a small electric hoist, while others are perfectly comfortable lifting the platform by hand. This is a great system for a garage and can be built in a variety of different sizes.

The Ceiling Opening
The most important part of any of these DIY attic pulley systems is the ceiling opening. Some houses have adequate openings of their own that you can build around. However, sometimes you need to cut your own opening. Choosing the best spot and making the proper cuts are critically important to success. Creating the ceiling opening is the hardest part of any one of these projects and should be taken on with extreme care and attention to detail.
If you are not confident in your ability to locate, cut, and finish a ceiling opening to your attic, there is nothing wrong with hiring help or consulting with someone who has more knowledge and experience than yourself. Once you get the opening right, designing, building, and installing any number of attic pulleys becomes extremely simple.

Conclusion
As long as you manage your attic opening and access properly, building a DIY attic pulley system, hoist, or elevator can be extremely simple and rewarding. Never drag boxes of Christmas lights up a ladder ever again. These plans can be finished in a single day and can be easily customized to fit your home exactly the way you want them to. You just have to choose a style and a price point you are comfortable with and get started.
See also: How Does a Pulley Work? The Surprising Answer!
---
Featured Image Credit: Nasruddeen Alanthi, Shutterstock