7 Types of Artificial Grass: Pros & Cons (with Pictures)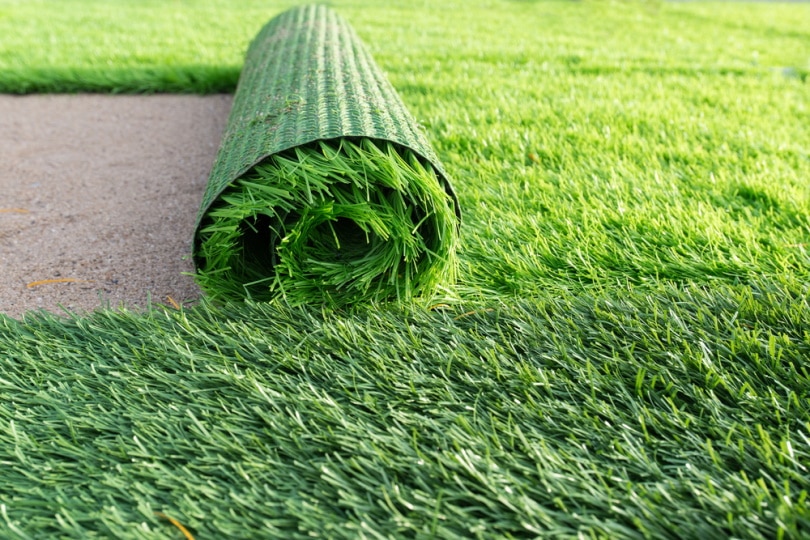 As it's made to mimic real grass, artificial grass delivers all the benefits of real grass without the demands of mowing, seeding, and weeding. It can be used almost anywhere and fits a wide variety of outdoor and indoor situations. Artificial grass stays green all year and requires no water (except for occasional cleanings). It's used in many locations, from private backyards to football stadiums, parks, and putting greens.
Today artificial grass is made using several materials and comes in various pile densities, pile heights, and colors (mostly shades of green). Below is a list of the 7 types of artificial grass you can purchase and use wherever a green, attractive, and enjoyable grass-like surface is needed.

The 7 Types of Artificial Grass
1.

Nylon (Polyamide)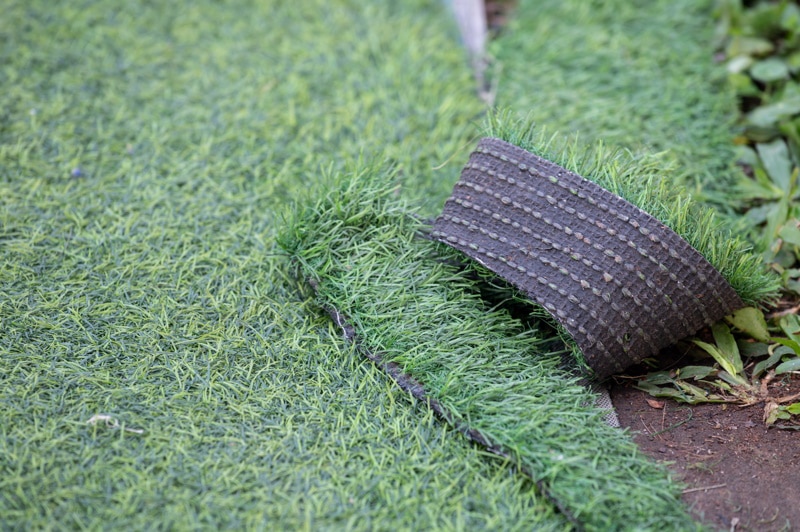 Nylon is the strongest material used to make artificial grass and is 33% stronger than polyethylene and 26% stronger than polypropylene. Because of this extra strength, artificial grass made from nylon lasts much longer than those other two materials.
One drawback, however, is that nylon artificial grass is more abrasive and thus uncomfortable for playing games.
For high foot-traffic areas, nylon is perfect. (Most homeowners use it for small spaces like a putting green or terrace.) Nylon is also used under polyethylene and polypropylene artificial grass as thatch due to its high strength.
Pros
Highly durable and strong
Lasts longer
Excellent return on investment
Cons
Expensive
Uncomfortable for play
---
2.

Polyethylene
Polyethylene artificial grass is softer than nylon and is used for athletic fields and big backyards. Interestingly, polyethylene artificial grass doesn't absorb odors because it's non-porous. Pet waste, spilled food, and other waste will easily wash away, which reduces bacteria. Polyethylene is also easiest to keep clean and needs little more than the occasional raking or brushing to look great. Lastly, artificial grass made with polyethylene looks the most like real grass, which is one reason many homeowners use it in their yards.
Pros
Wide variety of uses
Looks natural
Cleans easily
Comfortable for play
Cons
Less durable
Can be expensive
---
3.

Polypropylene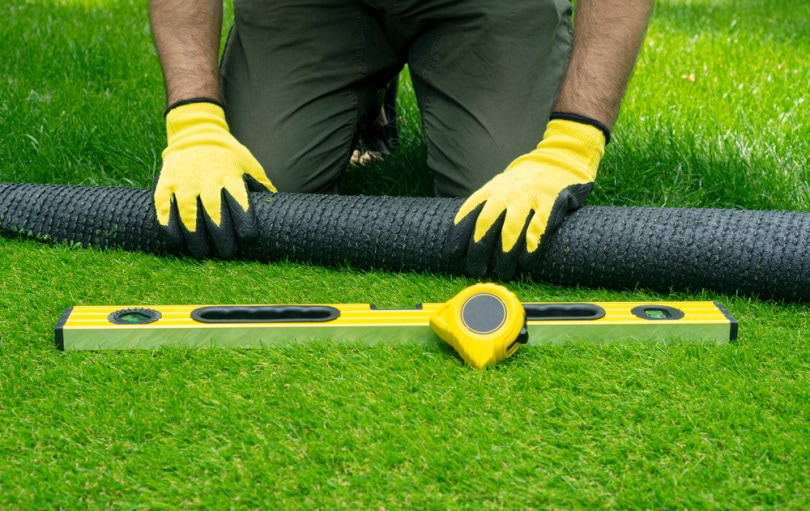 Although inexpensive, artificial grass made from polypropylene is significantly less durable than polyethylene and nylon artificial grass. It's a good choice for homeowners on a strict budget but comes with the caveat that high usage will wear it out quickly.
Many homeowners purchase it for very small areas with little to no foot traffic. However, polypropylene artificial grass can't handle extreme heat. Excessive heat can make it warp badly, which can be quite unattractive.
Cons
Least durable material for artificial grass
Can't take extreme heat
Wears out quickly
Doesn't look natural
---
4.

Short-Pile Artificial Grass
Short-pile artificial grass is anything under 30 millimeters (mm), which doesn't look as natural as taller options (Unless you like the look of a freshly cut, very short lawn). However, short artificial grass is perfect for use as a putting green and mimics a natural putting green almost perfectly.
Short grass is also a good choice for a dedicated dog playing area. It can handle rowdy canines and is easier to clean if soiled by dog droppings.
Pros
Excellent for putting greens and animal play areas
Durable
---
5.

Long-Pile Artificial Grass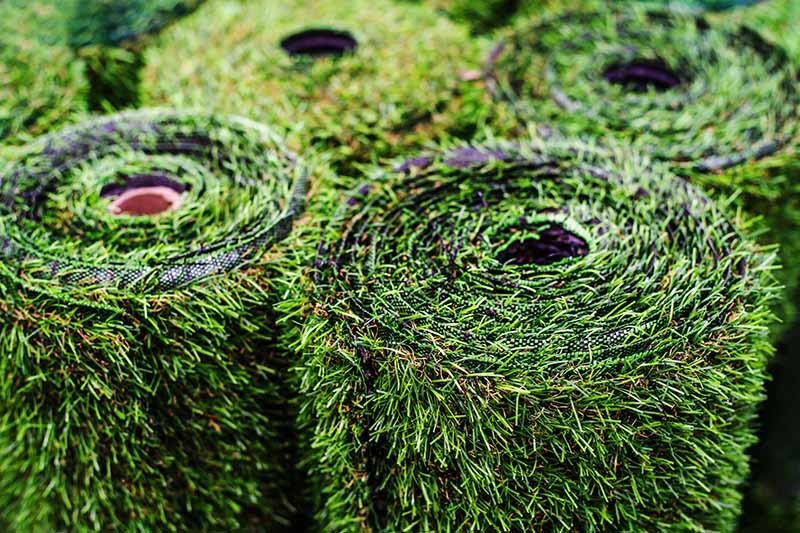 Any artificial grass between 30 mm and 38 mm is considered long-pile artificial grass, no matter the material used to manufacture it. This length is for anyone who wants a natural-looking lawn without the artificial grass falling over on itself (a problem with very long grass).
Long pile artificial grass is a great choice for families who will play in their backyard a lot. It won't become matted and thus will stay natural and fresh looking for substantially longer.
Pros
Stands up well to regular play
More comfortable for children to play on
Doesn't matt
Looks more natural
Cons
Costs more than short-pile grass
Not suitable for putting greens
---
6.

High-Density Artificial Grass
High-density artificial grass is no different from other types of grass in terms of the material used to make it, such as polyethylene, polypropylene, or nylon. Instead, the difference is the number of grass blades stitched into the backing. With more blades, the high-density grass is denser, resulting in a more natural-looking surface.
A high-density artificial grass will be between 16,000 and 18000 stitches per square meter. However, you can find some artificial grass with significantly more than that. Some brands have up to 48,000 stitches per square meter. High-density artificial grass is a great choice for high-traffic areas, playgrounds, ball fields, etc.
Pros
Looks much more natural
Looks lusher (fuller)
More durable
---
7.

Low-Density Artificial Grass
Low-density artificial grass has fewer blades stitched into the backing. That can be as little as 6,000 stitches per square meter or fewer. It's a better choice for ornamental lawns that don't get a lot of foot traffic, as well as roof gardens and balconies. However, it looks "unnatural," has low durability and even lower resistance to extreme heat.
Cons
Less durable
Low heat resistance
Looks unnatural

What to Look for in Artificial Grass
While you may see different manufacturers offering several types of artificial grass, the seven above are the most common artificial grasses. The rest are simply variations on these products, usually with a specific manufacturer's "special sauce" or a special variation they've created.
With that in mind, it's important to look for several qualities when purchasing artificial grass, no matter the type or manufacturer, to get superior, long-lasting, attractive results.
The qualities you should look for in any artificial grass include:
Polyurethane backing This backing will ensure that your artificial grass stands up to long-term wear and extreme heat without breaking down. (Avoid low-quality latex backing.)
UV-resistant coating: The UV rays from the sun can destroy an inferior-quality artificial grass product. Superior artificial grass will always have a UV coating to protect the blades from the sun's damaging rays.
Lead-free and toxin-free artificial product: Both lead and toxins are not something you want in your artificial grass for obvious reasons.
Wide, thick grass fibers.
Manufactured in the USA or inside the European Union.

Conclusion
Artificial grass can be an excellent, low-maintenance alternative to real grass and is well-suited to many applications. However, you must take care to choose the best artificial grass for your specific needs. The right grass will last longer and look better for many years.
For example, a high-density, medium pile height polyethylene artificial grass would work well for a family backyard. On the other hand, for an indoor putting green, a low-density, short pile grass would work best. Whatever you choose, we hope you get many years of enjoyment from your artificial grass!
---
Featured Image Credit: red mango, Shutterstock