12 Types of Cacti in Texas (With Pictures)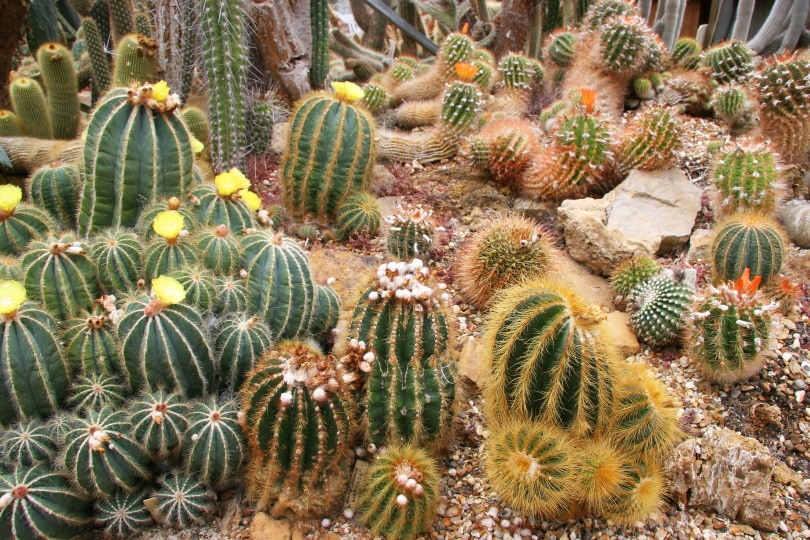 It's safe to assume that Texas is home to a wide variety of cacti plants. There are more than 100 different species, the Prickly Pear being the most common—which is also the state plant.
The cactus plant has a symbolic meaning, just the same way other plants and flowers do. Seeing as it always survives in harsh conditions, we like to affiliate it with toughness, persistence, and endurance.
So, the next time you want to gift someone a plant, get them a cactus. You'll be reminding them of how resilient they are while facing different trials and tribulations in life.

The 12 Common Types of Cacti in Texas
1.

Living Rock Cactus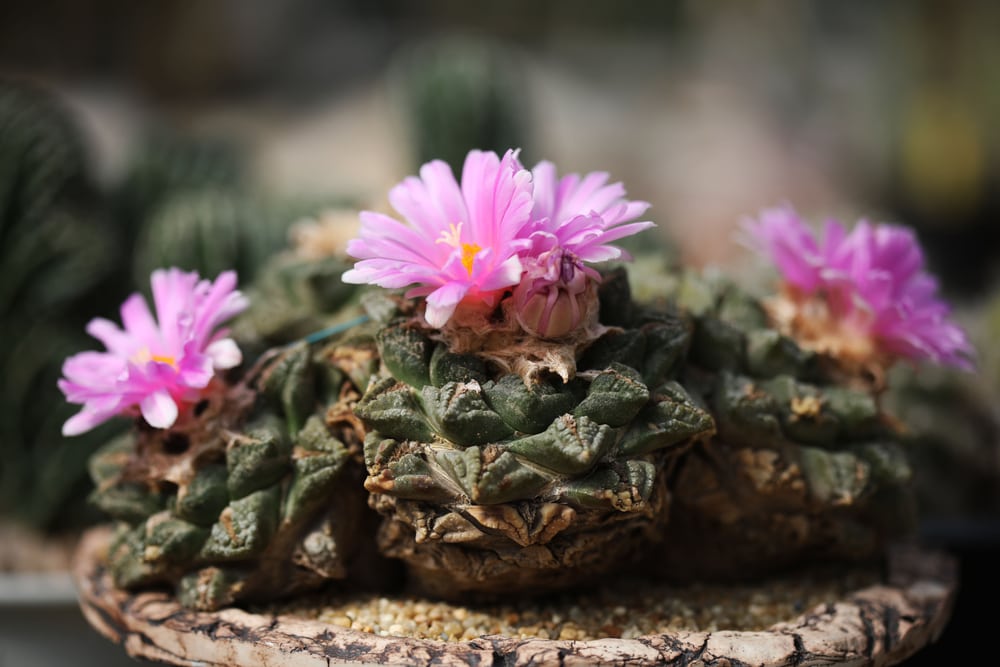 | | |
| --- | --- |
| Scientific name: | Ariocarpus fissuratus |
| Habitat: | Limestone ridges |
| Form: | Flattened disc |
In the cactus community, there are a group of spineless cacti that prefers to grow very close to the ground. And if you pay attention, you'll realize the plant's section that's above ground is relatively smaller than that which is below. It sort of looks like a rose, but a rose made of wrinkled, triangular tubes. Depending on the age and weather conditions, its color will either be green, gray, or brown.
Why did they call it the "Living Rock Cactus?"
Because it likes to shrink its stem during the dry season, to increase its chances of survival. That shrinking always makes it look like it's fully merged with the ground. Hence, making the stem even less visible. The Living Rock has inhabited the Chihuahuan Desert for generations.
---
2.

Nipple Beehive Cactus
| | |
| --- | --- |
| Scientific name: | Coryphantha macromeris |
| Habitat: | Gravel flats |
| Form: | Tuberculate stems |
If we were to describe the Nipple Beehive species, we'd say it's a small and unostentatious (but locally common) plant, with elongated tubercles. You have to be very careful while exploring their habitats because they also have approximately 8 differently-angled central spines—surrounded by an additional 10 to 15 radial spines—ready to defend the plant against any ravenous succulent eater.
The Nipple Beehive can survive the harsh desert conditions, but it prefers growing in shady positions. You're most likely going to find it partly covered by grass or hiding underneath larger plants. It normally blooms in late summer, producing purple flowers, and fruits that are pure green.
---
3.

Nickle's Cactus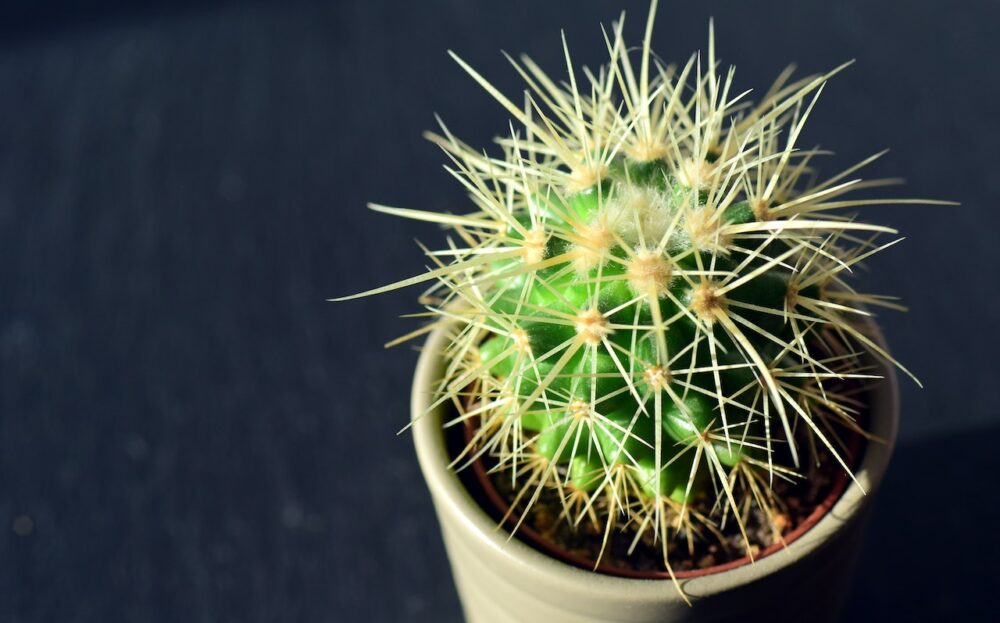 | | |
| --- | --- |
| Scientific name: | Coryphantha nickelsiae |
| Habitat: | Desert scrubland |
| Form: | Small globes |
First off, this species has an incredible range. If you're a US resident, you'll find it growing in the Chihuahuan Desert, along the eastern edge. For those who've never visited those areas, that's in South Texas, close to the Rio Grande. But it's so adaptable that it keeps on growing further south, covering three Mexican states.
As expected, this species also has conical tubercles that are very protuberant, supporting about 20 radial spines. The outer spines are mostly white, but those that are slightly hidden have shades of brown.
How long are the radial spines? Approximately 2 inches. It's a small plant that only grows 3 to 4 inches high and 2 to 3 inches in diameter.
---
4.

Robust Spine Beehive Cactus
| | |
| --- | --- |
| Scientific name: | Coryphantha robustispina |
| Habitat: | Varied |
| Form: | Spherical |
This plant usually takes the spherical form, with a slightly flattened stem. Once it blooms the flowers will be pale yellow, with stripes that are light red. We cannot really give you an exact habitat description of the Robust Spine Beehive species because it's a rare species that can be found almost anywhere.
But from what we've observed, most of them are found in the woodlands that are about 6,000 feet above sea level, grasslands, and scrublands. Even though they are just as small as their peers, they have a very distinctive appearance.
Their globes are compact, the tubercles extra-long, and the spines unusually thicker/denser. It only has around 4 central spines and more than 10 radials. You should know this particular cactus species has been listed as endangered.
---
5.

Tree Cholla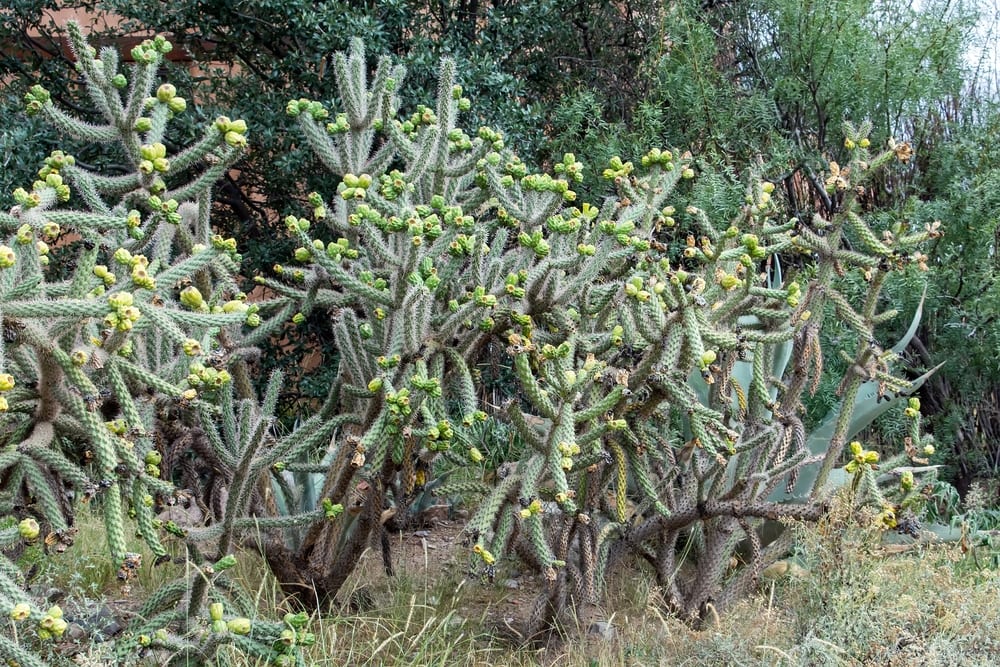 | | |
| --- | --- |
| Scientific name: | Cylindropuntia imbricata |
| Habitat: | Varied |
| Form: | Branched clumps |
Texans call it the "Walking Stick Cholla." And they decided to give it that name because its dried stems are the best companions for explorers hoping to walk with walking sticks.
You don't have to travel to the hot deserts of Texas to study the Tree Cholla, if you don't want to. They can be found in any environment, as long as it's 6,000 feet above sea level. Under ideal conditions, it can grow to a height of 8 feet. The stem is usually way above ground, held up by a sturdy central trunk.
Those living in regions characterized by cold weather will tell you its stem color is purplish, but we're used to green. The spines are light brown but sometimes white. When it starts blooming, it will produce violet flowers, and then orange fruits.
---
6.

Christmas Cholla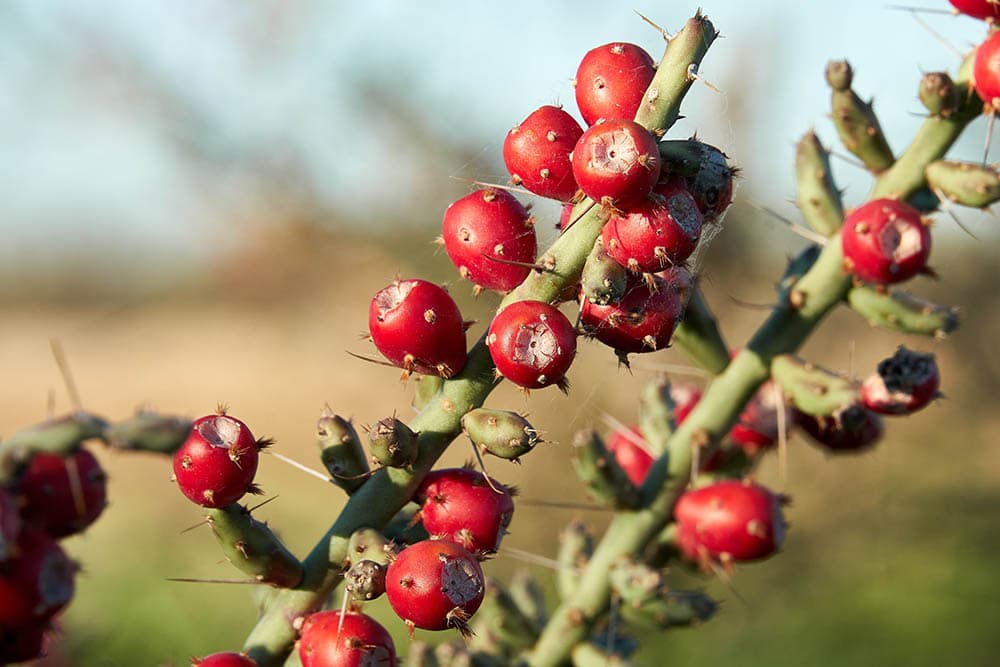 | | |
| --- | --- |
| Scientific name: | Cylindropuntia leptocaulis |
| Habitat: | Scrubland, grassland |
| Form: | Low shrub |
Another member of the Cholla cactus family decided to grace us with their presence. But unlike its cousin, it has a very thin stem, with sharp, thick spines that are easily detachable. Some people prefer to call it "Tasajillo", a Latin word that loosely translates to "Thin Stem."
The plant never drops its bright red fruits all through midwinter. That's why they name it so. Also, those fruits are the only way you'll be able to tell which species is a Christmas Cholla and which one is the cousin, the Arizona Pencil Cholla. For the record, the latter only bears green fruits.
Our spiny pal here loves to grow in the grasslands, scrublands, and along the canyons. The elevation has to be at least 5,000 feet, meaning you'll mostly find them in the Southwestern States. That is Texas, New Mexico, and Arizona.
When do they bloom? During summer, or spring. Its flower color is primarily yellow, but one that borders green. That's why some sources describe it as greenish yellow. The stems don't have pronounced tubercles and are chiefly green in color. However, we've heard of sightings where they seemed to be purplish.
Botanists speculate that the causal factors influencing that color change could be different climatic or soil conditions.
---
7.

Eagle Claw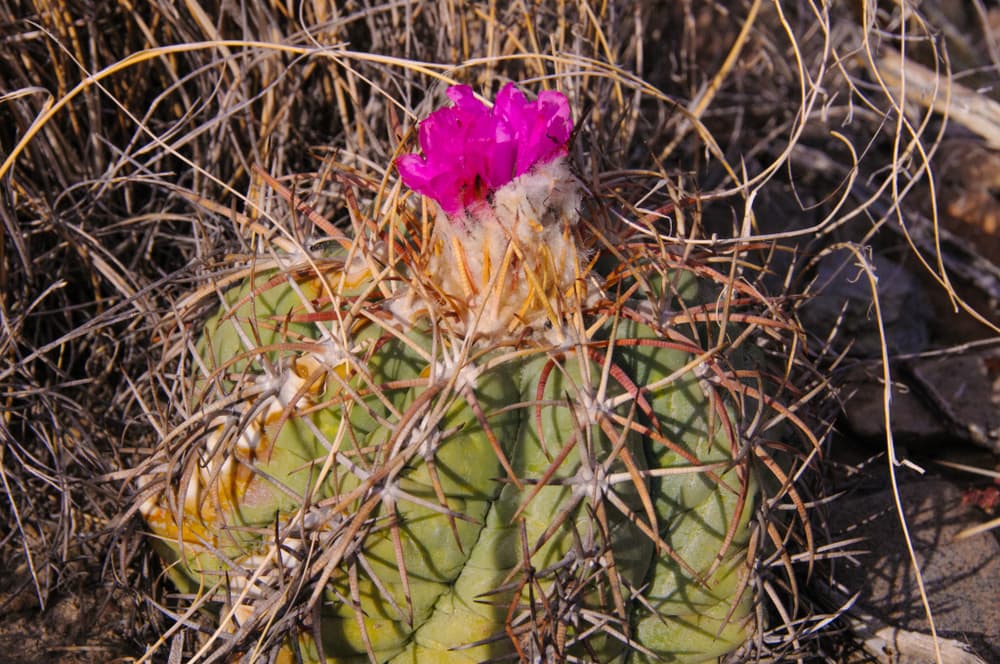 | | |
| --- | --- |
| Scientific name: | Echinocactus horizonthalonius |
| Habitat: | Arid limestone |
| Form: | Spherical |
The Eagle claw species has some interesting monikers. You see, in some communities, it's commonly known as the "Devil's Head." While in others, they've always known it as the "Turk's Head." We prefer the "Blue Barrel Cactus" because they sort of look like a barrel that has a bluish green (sometimes grayish-green) color.
But other people think that barrel shape resembles a head—a Devil's head or a Turk's head, to be precise.
Anyway, the Eagle Claw is a perennial plant that's native to the Chihuahuan Desert. Nevertheless, there have been sightings in the far south of Arizona (Pima & Pinal counties). We've also been told those species tend to be larger compared to what we're used to, as they grow to an average height of 12 inches. That's roughly 6 inches more than the typical size.
The plant usually takes a spherical form, but sometimes looks columnar. Its flower will be rose pink, but reddish at the center.
---
8.

Horse Crippler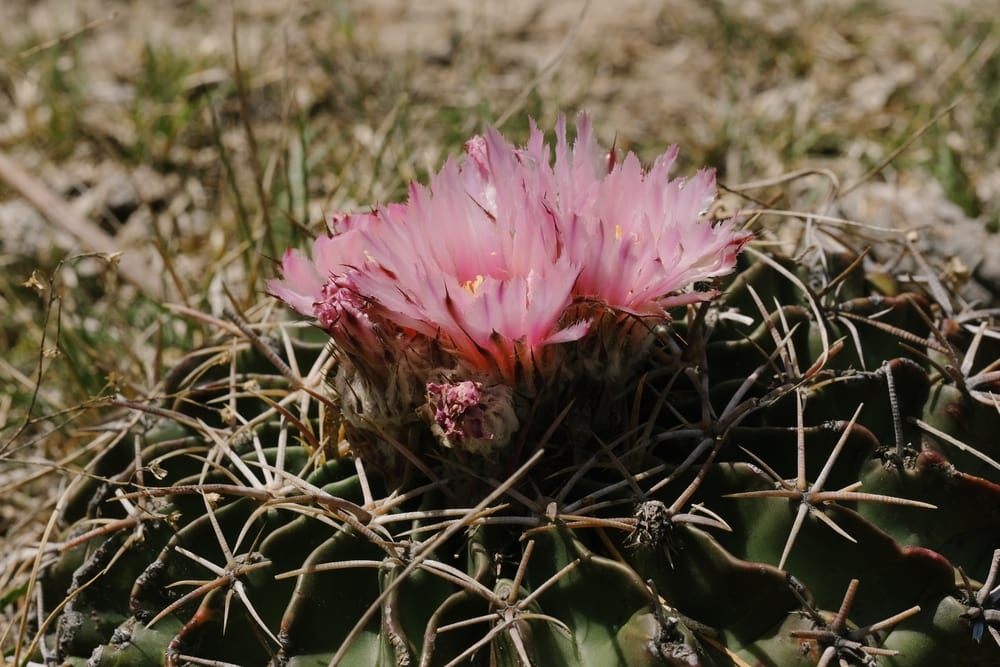 | | |
| --- | --- |
| Scientific name: | Echinocactus texensis |
| Habitat: | Desert flats |
| Form: | Depressed globe |
This species also goes by the name the "Devil's Head," "Devil's Claw," and "Chisos Hedgehog." It's a common plant in central, west, and south Texas, but very rare in the southeastern regions of New Mexico. It has a remarkable tolerance for variable rainfall and frost.
This could be the reason why they say it can survive not just in the Chihuahuan Desert, but also in places typically defined by dry and wet seasons. For example, the eastern woodlands and grasslands that are further east. Just so you know, it's the reason why this species is so popular among cacti collectors. That tolerance to increased watering makes it unique.
If you spot a Horse Crippler in its natural setting, the first thing you'll notice is that it's a solitary plant. Well, that and the fact that it looks like a miserable globe. A globe that has a diameter of around 12 inches and a height of 6. The fruits are always bright red, and the flowers are salmon pink or violet.
---
9.

Brown Flowered Cactus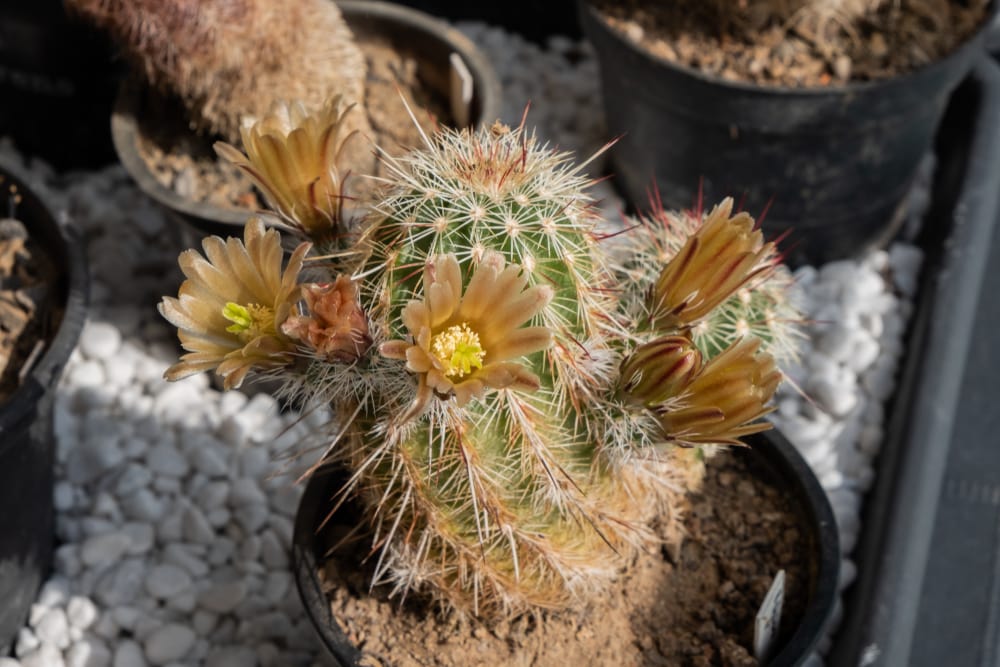 | | |
| --- | --- |
| Scientific name: | Echinocereus chloranthus |
| Habitat: | Gravely slopes |
| Form: | Single |
Scientifically called the Echinocereus Chloranthus, this species is without a doubt alluring. The kind of flowers that it produces during its blooming season is reddish-brown, and they grow around the middle and lower parts.
The Brown flowered Cactus is the official name, but some people prefer to call it the Green-flowered Hedgehog Cactus. Its height is approximately 10 inches, and the spines are always dense.
We wouldn't say that it's widely spread, considering we only get to see it whenever we visit certain regions of the Chihuahuan Desert.
---
10.

Scarlet Hedgehog Cactus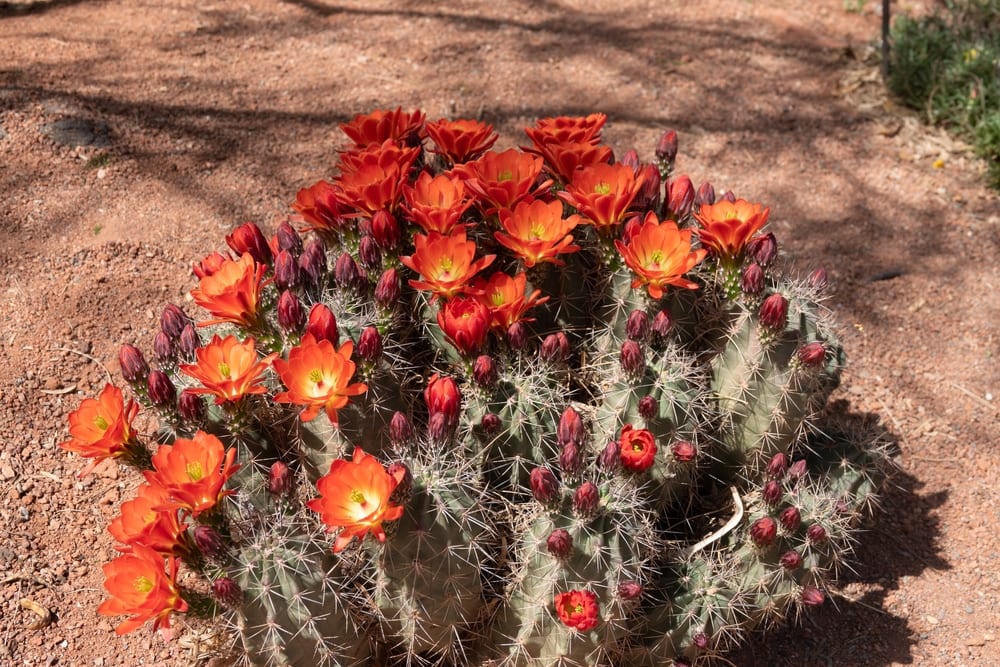 | | |
| --- | --- |
| Scientific name: | Echinocereus coccineus |
| Habitat: | Pinyon-juniper Forest |
| Form: | Low clusters |
You probably know it as the "Scarlet Beehive Cactus" or the "Claret Cup Cactus." It's very common in the Big Bend Area of West Texas, but the residents of New Mexico, San Angelo, and Arizona have told us that they are also well acquainted with the plant.
This cactus has a soil preference, and it's the volcanic kind. Unfortunately, that type of soil only accounts for roughly 0.7% of the planet's surface. They'll still survive without the soil but won't produce the bright red-orange flowers that we're used to seeing.
We feel obligated to remind you that the Scarlet Hedgehog Cactus is a subspecies or rather variant. Experts have carefully studied its morphological traits and concluded that it's closely related to the "King Cup Cactus," otherwise known as the "Mojave Mound Cactus."
This particular variant likes to grow at elevations of 5,000 feet, in low clusters.
---
11.

Texas Rainbow Cactus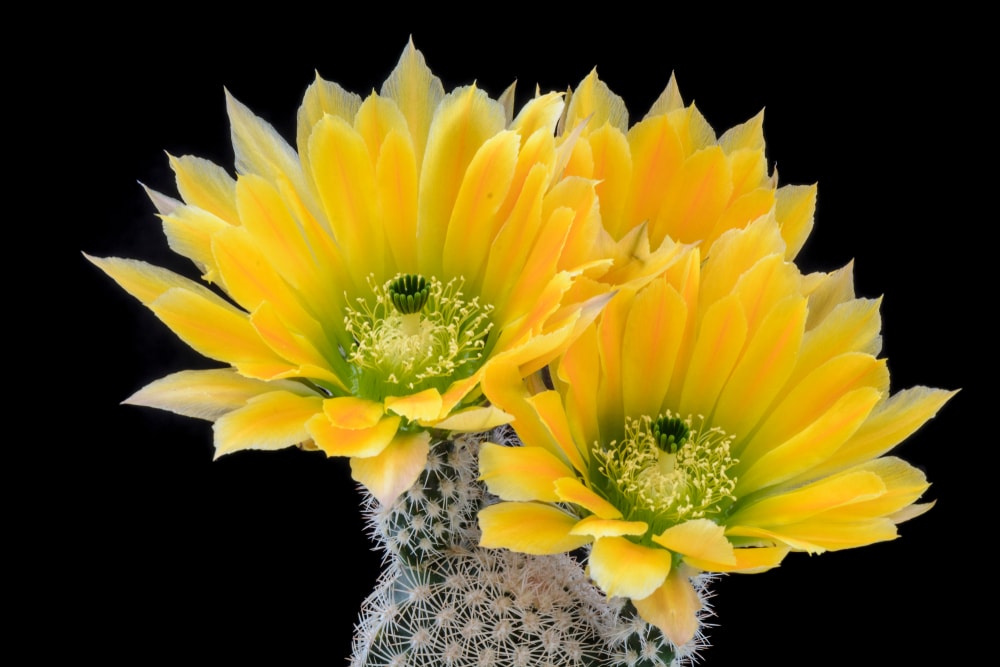 | | |
| --- | --- |
| Scientific name: | Echinocereus dasyacanthus |
| Habitat: | Scrubland |
| Form: | Unbranched |
The name says it all—it's a Texas native. And the "Rainbow" is in reference to the subtle rainbow-like bands (or rings) that appear along the plant's stem, in contrasting colors. Kindly note that not all the Texas Rainbow Cactus that you'll come across will have this rainbow coloration. Those colors are more or less a side effect of the changing seasons.
The other common names of the Texas Rainbow Cactus are the "Texas Pitaya" and the "Yellow Pitaya." It's not as widely distributed as most cacti plants, as they are only common in West Texas' Big Bend Region. If you'd wish to study one, you should visit the grassy plains that are at an elevation of 5,000 feet.
It often blooms during spring, producing yellow flowers and green fruits. The stem has a diameter of 4 inches, and a height of 12.
---
12.

Green Strawberry Hedgehog Cactus
| | |
| --- | --- |
| Scientific name: | Echinocereus enneacanthus |
| Habitat: | Low elevations |
| Form: | Large clusters |
The Green Strawberry Cactus is so easy to identify. All you have to do is look for a cactus species that has stems creating an extensive clump. The stems will have a diameter of 4 inches, and a height of 12 inches. The density of the spines will vary, but they'll either be white or yellow.
Once you've checked those markers, check the stems positioning. If it's sort of lying flat on the ground but starts to rise upwards towards the end, that's a positive sign. Its stem normally has a darker shade of green, with some parts looking yellowish. Those parts are the sections that are always exposed to strong sunlight.
The pink flowers are edible in some communities, as they taste like strawberries. The fruits they end up producing are greenish brown, but not as sweet.

Frequently Asked Questions
How Do You Identify a Cactus?
First off, are they spiny or not? We would have told you to check the leaves, but nearly all cacti species have evolved. Nowadays, they rely on spines to serve one of two functions: reducing water loss and protecting the plant against herbivores.
Some cacti species don't come with spines. The best example is the Astrophytum myriostigma, also known as the "Bishop's Cap." Myriostigma is a Latin word that translates to dots. And yes, they have features that resemble dots instead of spines.
All in all, if the plant has spines, it's probably a cactus. But if you're not so sure, you can check other aspects, including the stem color, general shape, and habitat.
What Makes a Cactus Squishy?
The weird thing about this species is that they don't appreciate water as much as other plants do. So, the more moisture you expose it to, the squishier it becomes. and believe us when we say, a squishy cactus is not appealing to the eye. It will look depressed and ready to die any minute.
The best way to show love to your cactus plant is to water it once a week, like most other succulent species. They'll store enough water in their stems and draw some when dehydrated.

Final Word
These species can make incredible houseplants. It's not high maintenance and has several health benefits. We don't know if you knew this, but the cactus fruit is a great hangover cure and can be used to fight off infections. In addition, it's high in fiber, making it the perfect remedy for the guys looking to lower their blood cholesterol levels.
So why not plant some?
---
Featured Image Credit: Dirk M. de Boer, Shutterstock