7 Transitional Kitchen Ideas You'll Love (With Pictures)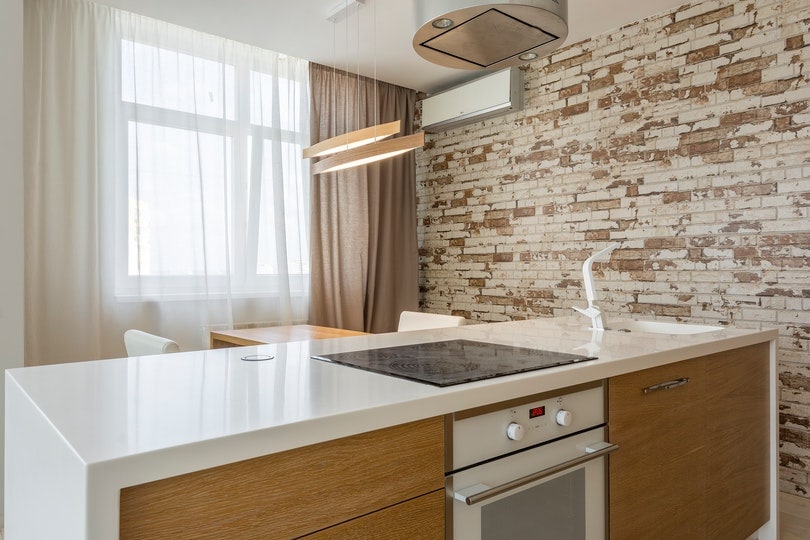 Transitional kitchens are the superstar of the kitchen world today, and everyone wants to put their unique spin on this timeless classic. Blending traditional comfort and contemporary utilitarianism, transitional kitchens have some key elements that you're probably familiar with. Let's check out some of these elements below in more detail that will help you create your very own transitional kitchen.

The 7 Transitional Kitchen Ideas You'll Love
1.

Pendant Lighting by Pretty Handy Girl
| | |
| --- | --- |
| Difficulty: | Easy |
| Items needed: | Stepladder, pendant lighting conversion kit |
Elegant pendant lights are an essential part of any transitional kitchen. Some people use them sparingly as task lighting, but you can go big with a series of caged pendant lights over the dining room for a huge wow factor. The pendants create a visually appealing contrast with the sleek, practical lines that transitional kitchens tend to have.
Hanging lantern pendant lights make great accent lighting for the kitchen, too, but use them sparingly. Brass fixtures are a great match if that's more your speed.
---
2.

Shaker Cabinets by Lela Burris
| | |
| --- | --- |
| Difficulty: | Intermediate |
| Items needed: | Table/circular/jigsaw, hammer, finishing nails, tape measure, drill, screws, pulls and knobs, painter's tape, paintbrush, paint, paint roller, wood glue, specified lumber |
Shaker-style cabinets originated from the religious movement, but they've outgrown that in a whirlwind of popularity. There are numerous decorative styles available, but transitional kitchens are largely clean and functional. Opt for plain, rectangular, box-shaped cabinetry with a simple inlaid panel. Be careful using natural wood colors here because that can make your kitchen feel country or vintage. Use matte wood finishes where possible.
---
3.

Neutral Color Palette by In My Own Style
| | |
| --- | --- |
| Difficulty: | Easy |
| Items needed: | Paintbrush, paint roller (optional), paint, painter's tape, paint tray |
White is the classic transitional kitchen color, but any light, neutral color will work as a primary color or as an accent. Beige, cream, and peach are a few favorites, but the boldest color you should use is blue. Anything too pastel or garish will detract from the contemporary feel of the kitchen. However, feel free to use pops of color throughout the kitchen area. Patterned backsplashes are a great touch because they add color in a limited area.
---
4.

Open Floor Plan by Curbly
| | |
| --- | --- |
| Difficulty: | Expert |
| Items needed: | Hammer, reciprocating saw, sledgehammer, pry bar, knife, safety gear |
This plan for knocking out a non-load-bearing wall can make a kitchen more open, but you should consult a contractor to make sure it isn't load-bearing before you knock it down.
Transitional kitchens get their name from the fact that they effortlessly flow into other rooms and corridors of your house. Judicious use of kitchen islands and clearing throughways will help the kitchen feel airier, but it ultimately depends on your home layout.
Ideally, transitional kitchens are planned before a home's construction so you can maximize how many areas the kitchen flows into.
---
5.

Consider Using Wood Flooring by Home Tips
| | |
| --- | --- |
| Difficulty: | Intermediate |
| Items needed: | Power nailer, pneumatic floor nailer, nails, hardwood, table saw, jig saw (optional, for angled cuts), circular saw (for crosscuts) |
Wood panel flooring is a classic in transitional kitchens, and you can match the type of wood to your cabinetry and walls. Timber-style flooring isn't out of the question, either! As long as the rest of the kitchen offsets the rustic flooring, you're fine. Just try to avoid using too much natural wood in your furniture. If you're on a budget, you can even use laminate flooring that looks like wood.
---
6.

Form Follows Function by Family Handy Man
| | |
| --- | --- |
| Difficulty: | Intermediate |
| Items needed: | Stainless steel backsplash (cut to order), putty knife, construction adhesive, caulking gun, drill & screws |
Transitional kitchens vary in their style, but stainless-steel appliances are usually standard. This plan is for installing a stainless backsplash, but that's only one of a hundred things you can make stainless steel in the kitchen. They're the ultimate evidence that form follows function—they're durable, easy to clean, and have sleek modern lines.
Matte counters are the perfect complement for stainless appliances and sinks, and using clean shelving lines will help accent the effect further. The aim of a transitional kitchen is to marry traditional and modern styles in a functional and effortlessly stylish package.
---
7.

Lots of Natural Light by Extreme How To
| | |
| --- | --- |
| Difficulty: | Expert |
| Items needed: | punch, hammer, prybar, razor knife, reciprocating saw, tape measure, level |
Transitional kitchens thrive with lots of windows and natural light. Adding a new window is expensive and time-consuming, so consider extending your existing kitchen windows with this DIY guide.
Sliding glass doors that lead outside or to a deck are the perfect background for a transitional kitchen but aren't possible for everyone. Venetian blinds are a great accent for larger windows near the kitchen, especially with open floor plans.

Conclusion
Transitional kitchens are the perfect combination of contemporary function and stylish, comfortable traditionalism. Consider using hardwood floors as a cozy base, then finish the room off with modern, stainless-steel appliances and neat, straight countertops. Top it all off with lots of natural lighting and some pendant lights for a finished transitional kitchen!
---
Featured Image Credit: Max Vakhtbovych, Pexels