9 Types of Daisies to Grow at Home (with Pictures)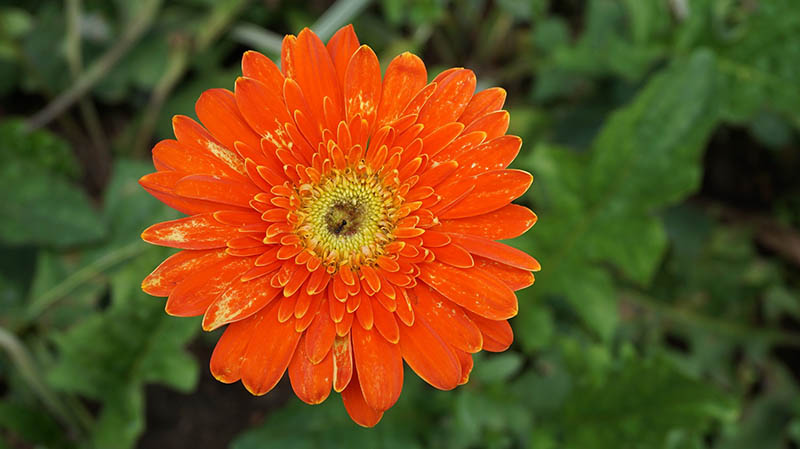 Daisies have different meanings and expressions in the language of flowers. These flowers can symbolize hope, purity, innocence, first love, a new beginning, and several things depending on your intention. For these reasons, daisies are popular flowers for home gardens.
So, are you looking for lovely, cheerful, bright, easy to grow, and swaths of sunny blooms to spruce up your garden and make it a haven of scent, insects, and nectar-sucking birds? You've come to the right place. We've sampled a list of the top nine daisies to transform your backyard.

What Are Daisies?
First, before we dig into the list of daisies, let's understand what daisies are. The word "daisy" is a broad term used to refer to a handful of flowering plant species within the vast Asteraceae family, also known as the sunflower or aster family. The word is derived from the ancient English term dæges-eage, which means "day's eye" because the flowers of the daisy family plant open down.
Asteraceae is the second largest plant category in the flower family, with over 20,000 types of daisies. These flowers are native to Africa, North America, and Asia. Today, daisies grow and are available everywhere globally except Antarctica. Depending on the location, the daisy plant can be a biennial, annual, or perennial plant.
The 9 Types of Daisies That You Can Grow At Home
Here are the top daisy species to spruce up your garden:
1.

Gerbera Daisy
| | |
| --- | --- |
| Scientific name: | Gerbera jamesonii |
| Native Region: | South Africa |
| USDA Growing Zone: | 8–10 |
| Sun Exposure: | Full |
| Height: | 12–18 inches |
The National Garden Bureau recognized 2013 as the Gerbera Year, thanks to the plant's appealing shape and its flowers' luminous colors, making it irresistible to gardeners. The species is still popular today.
This tender perennial native South African plant is hardy in warm climates, unlike most daisies. It thrives in containers, giving off fabulous cut flowers, as brides and florists can attest. These daisies, commonly referred to as Veldt or African Daisies, thrive better in the morning sun, although they can also tolerate full sun in cooler climates.
Caring for the Gerbera Daisy includes irrigating the plant at the soil level to prevent the foliage from contacting water frequently and preventing fungal diseases.
So, are you craving a daisy that gives you a classic daisy bloom and color? The African Daisy is for you. This plant's flowers grow into a spectrum of colors ranging from yellow, purple, and orange to multicolor.
These plants will not only spruce up your garden with a legion of riotous colors but also attract pollinators to take your garden's aesthetics a notch higher. The trick is to ensure that you purchase the right color combination that you need.
---
2.

English Daisy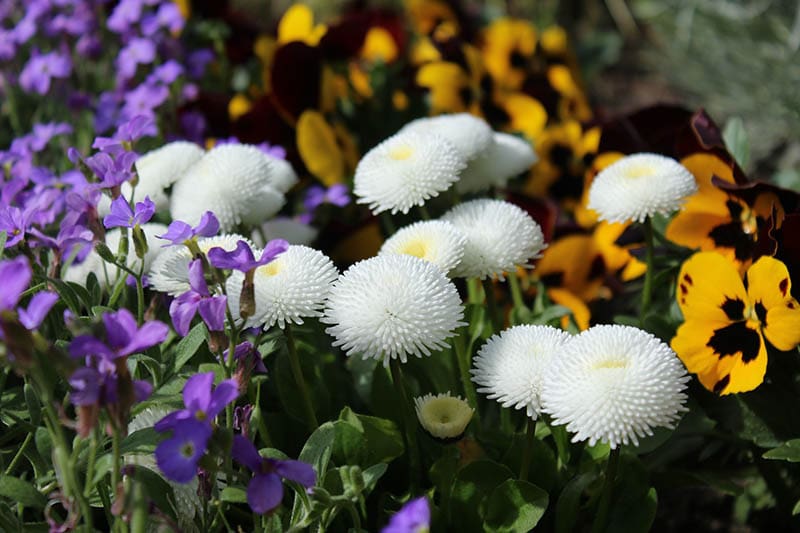 | | |
| --- | --- |
| Scientific name: | Bellis perennis |
| Native Region: | Europe, Western Asia, North America |
| USDA Growing Zone: | 4–8 |
| Sun Exposure: | full, dappled shade |
| Height: | 12–18 inches |
The English Daisy, popularly referred to as Common Daisy, is one of the widely grown daisies for several reasons. For instance, this plant comes in various colors.
Besides, it's an easy plant to spread in a garden, and sometimes it can be regarded as an invasive weed if it creeps into an unwanted area.
These species are hardy in zones 4–8. Common Daisy's hardiness and exceptional growth abilities put it on top of the most sought-after daisies for building home gardens. These plants thrive in different climates, although they grow faster in cooler seasons such as fall and spring.
The English Daisies bloom white flowers with yellow centers. However, some cultivars like Galaxy Red have semi-double and button flowers. These cultivars are better behaved and showier than primary species.
English Daisies don't need special soil attention or fertilization to blossom. Some gardeners have even claimed that these species can thrive better without fertilizers.
---
3.

Oxeye Daisy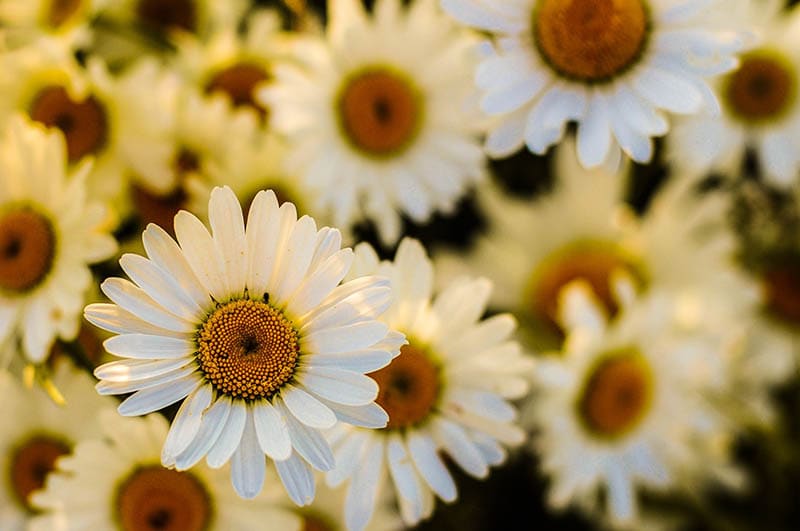 | | |
| --- | --- |
| Scientific name: | Leucanthemum vulgare |
| Native Region: | Europe |
| USDA Growing Zone: | 3–8 |
| Sun Exposure: | Full sun |
| Height: | 1–3 feet |
Oxeye Daisies appeal to gardeners because of their easy-to-tend flourishing nature. They are the perfect daisy species if you're a beginner with daisies. The species is native to Europe, serving as pasture to pests, thanks to its drought tolerance and spreading nature.
Some continental states discourage Oxeye Daisies because of their invasive nature. However, these short-lived perennials offer a perfect way to spruce up your garden during their three-month blooming time.
Pay attention to your watering schedules to avoid overwatering. The Oxeye Daisies are drought-resistant and require low garden maintenance.
The blooms exhibit a classic typical daisy appearance characterized by blooming white petals with golden centers. Most plants attain a maximum height of two feet, allowing you to maintain neat-looking gardens.
Keeping them in a small, well-maintained wildflower garden or allowing them to thrive and neutralize your garden cottages is advisable.
---
4.

Marguerite Daisy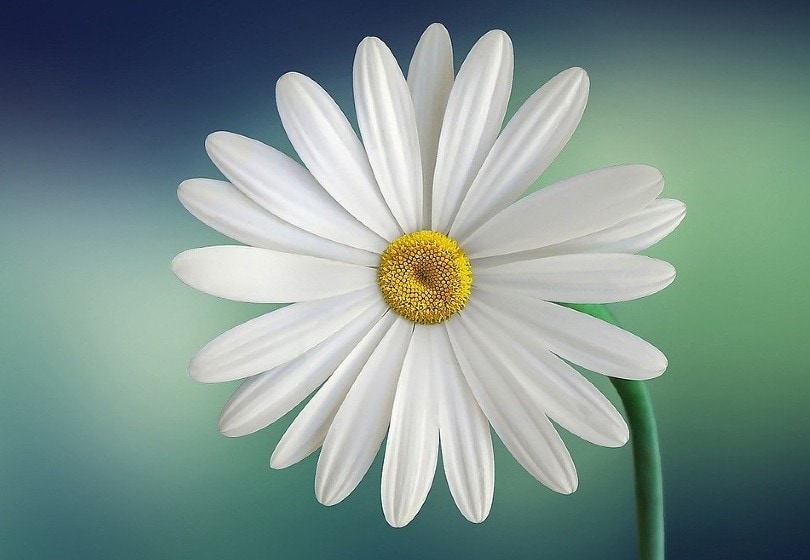 | | |
| --- | --- |
| Scientific name: | Argyranthemum frutescens |
| Native Region: | Canary Islands |
| USDA Growing Zone: | 10–11 |
| Sun Exposure: | full |
| Height: | 2–3 feet |
The Marguerite Daisy, commonly called Cobbitty Daisy, is a thrilling species for gardeners, thanks to its pink and blazing yellow color choices and demure white petal varieties. These species flourish in perennial zones 10–11, which are annuals in most areas except the warmest zones. The plants won't return after winter, but they allow you to enjoy a season of blooms for the rest of the seasons.
These daisies give their best during fall and spring when temperatures fall below 75°F at night. However, the plants bounce back and begin blooming in the short rains of autumn.
It's also worth keeping in mind that the Marguerite Daisy species flourishes in low humidity areas and mild weather throughout the year. The plants can survive in harsher winters, although exposure to frost turns them more annual than perennial plants.
The flower boasts lovely petals that deliver your garden's aesthetic dreams.
---
5.

Painted Daisy
| | |
| --- | --- |
| Scientific name: | Tanacetum coccineum |
| Native Region: | Iran, Eastern Europe, & Central Asia |
| USDA Growing Zone: | 3–7 |
| Sun Exposure: | Partial, full |
| Height: | 2–3 feet |
Painted Daisy is a top choice for gardeners, thanks to its vivid blooms and ease of care. It deserves a top spot in the cutting garden, especially if you are a beginner.
This flower thrives perfectly in hardy zones 3–7, giving you the least of troubles when caring for the plant. Blooming occurs mostly at the beginning of summer and bustles into beautiful sights to watch. If you remove the faded blooms, the plant may give a second but smaller blooming in the fall.
The plant gives fern-like leaves during spring, but you must watch out for leaf-miners and aphids that might destroy it. Start with cultivars such as Eileen May Robinson and James Kelway.
---
6.

Shasta Daisy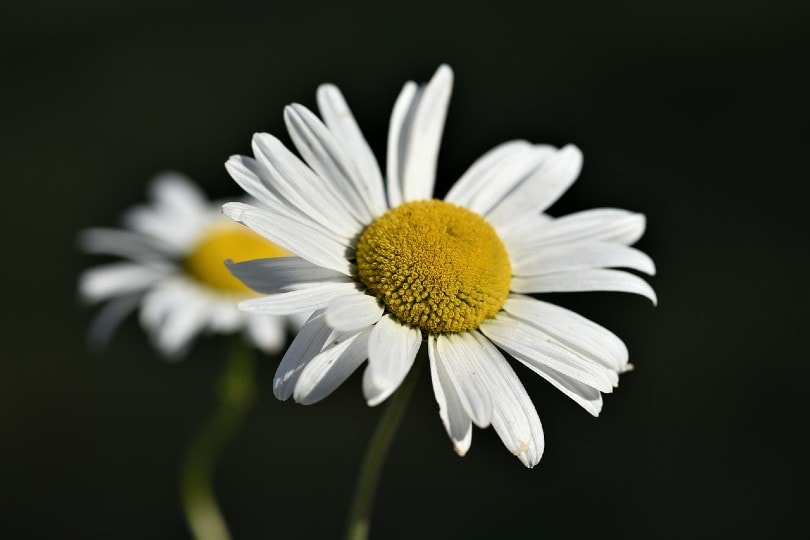 | | |
| --- | --- |
| Scientific name: | Leucanthemum x superbum |
| Native Region: | Mostly nursery hybrid but parent species native to Japan and Europe |
| USDA Growing Zone: | 4–9 |
| Sun Exposure: | full |
| Height: | 1–4 feet |
Shasta is a hybrid variety of Oxeye and three other wild daisy species.
It's one of the most famous and common species that promises hassle-free growth. The daisy cultivar derives its name from California's snowy Mount Shasta.
Shasta cultivars offer your garden a legion of looks ranging from fringed Phyllis Smith to yellow banana cream. The Alaska and Becky are popular varieties that resemble the classic daisy flower in most cottage gardens.
The Shasta Daisy is ideal if you want to spruce your garden with a classic daisy look without the reputation of invasive species. It is low-maintenance, and it thrives in rich soils but doesn't need constant watering. It's even advisable to avoid overwatering as excessive water increases the tendency of drooping. These plants may fail to appear in your garden after a soggy winter. It also doesn't require full sun to thrive.
This plant reaches the blooming peak in June and early July. However, it helps to engage in cutting back and deadheading for best results and enjoy the blooming Shasta Daisies for a couple of years.
---
7.

Swan River Daisy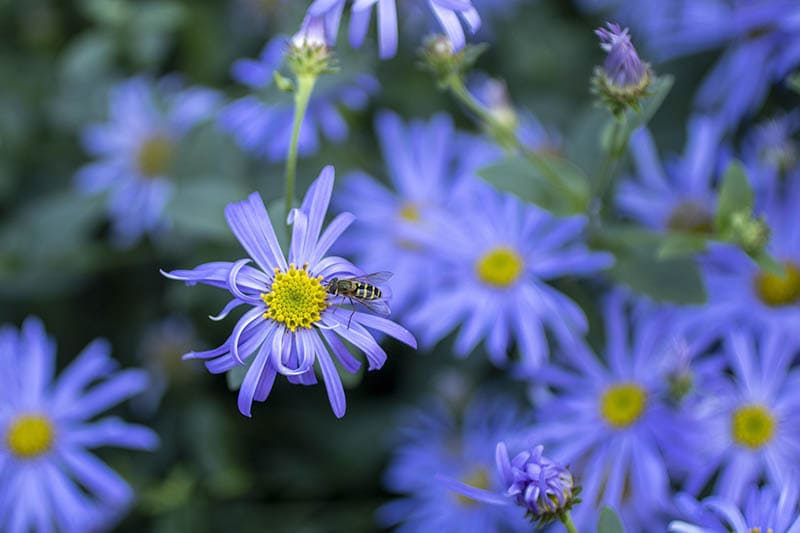 | | |
| --- | --- |
| Scientific name: | Brachyscome iberidifolia |
| Native Region: | Australia |
| USDA Growing Zone: | 2–8 for annual species and 9–11 for perennial cultivars |
| Sun Exposure: | Full |
| Height: | 1 to 1.5 feet |
The Swan River Daisy thrives in the warm, perennial Australian weather. This cultivar produces small, colorful and abundant flowers that grow to a diameter of about one inch. The flower complements other garden plants perfectly, making the cultivar an outstanding or central feature in most gardens.
The plant's blue, lavender, white, or yellow flowers bloom in abundance every summer and fall. The gray-green softly-textured foliage completes your garden's aesthetics.
---
8.

Gloriosa Daisies
| | |
| --- | --- |
| Scientific name: | Rudbeckia hirta |
| Native Region: | North America, China |
| USDA Growing Zone: | 3–8 |
| Sun Exposure: | Full |
| Height: | 2–7 feet |
Gloriosa Daisies, also known as Rudbeckias or Black-Eyed Susans, originate from North America's dappled woods and misty meadows. This cultivar is ideal for mixed borders, native gardens, open woods, meadows, and large annual displays.
The flower is technically not a daisy, but the cultivar made it to this list because it carries a daisy tag. The plant differs from most typical daisies with golden petals and dark brown or pitch black center.
This magnificent short-lived perennial plant grows to a height of between 5 and 9 inches, producing rich golden orange or mahogany red flowers throughout summer. Growing these plants in your garden is the best way to lure pollinators without worrying about intruding on animals devouring your garden, especially in deer-prone areas.
The cultivar doesn't need specialized care- all you need to do is plant it in drained soils and partial shade. Sow biennial and annual seeds in summer and perennial seeds in early spring. You may also divide the plants into spring and fall to enhance your garden's aesthetics.
Watch out for problems such as aphids, smut, powdery mildew, Ramularia, snails, slugs, and Septoria.
---
9.

Globe Daisies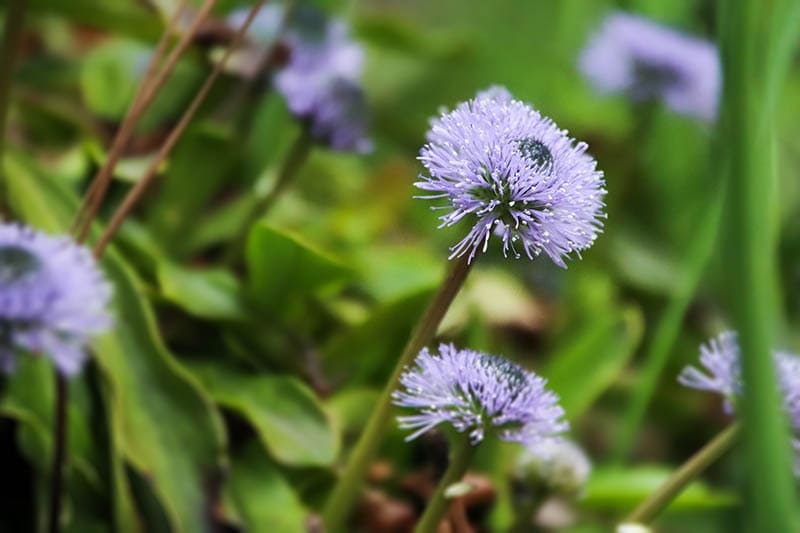 | | |
| --- | --- |
| Scientific name: | Globularia alypum |
| Native Region: | North Africa, Europe, Southwestern Asia |
| USDA Growing Zone: | 5–9 |
| Sun Exposure: | Full |
| Height: | 4 to 24 inches |
Global Daisies are evergreen, hardy perennial cultivars that grow to a height of 4 to 24 inches. The foliage remains evergreen and doesn't wilt, making the plant a perfect choice to keep your garden great even during winter.
This plant blooms throughout the spring and the beginning of summer, and it may bloom during winter if you provide the right conditions. Enjoy the sight of bright blue flowers that color the garden during summer.
Globe Daisies thrive in the partial sun and shaded areas with a soil pH of 5.5 to 7. Space the plants between five and eight inches apart when sowing the seeds. Chilling the seeds in the fridge within a bag of soil for three weeks before planting them is also advisable. Rear the seeds in a nursery for one and a half months before transplanting them to preferred spaces in the garden. Water the plants regularly and apply fertilizer to the soil occasionally.

Give Your Garden a Fresh Look With Daisies!
So, did you see a daisy you like on the list and want to try it? The English Daisy is a favorite for many gardeners. This cultivar brings a unique blend of colors. It's sustainable, easy to grow, and can thrive in multiple climates!
The Shasta, African, and Black-Eyed Daisies bloom for longer than most daisy varieties. Shasta produces flowers from July to September, and Black-Eyed Susan from June to September. If you are looking for an easy to grow daisy, you can go for Shasta. This variety prefers fertile but doesn't necessarily need well-drained soils.
Whether a daisy is perennial or biennial depends on your USDA zone. For instance, Gerbera and Marguerite are perennial in zone nine or higher.
The above list brings only a handful of the best daisies you can use to spruce up your garden. Choose your favorite daisy depending on your region and turn your garden into the envy of the entire neighborhood.
---
Featured Image Credit: naturepost, Pixabay