11 Types of Mint to Grow in Your Garden (with Pictures)
Mint is an herb garden delight, filling cooked dishes with bright flavors and the outside air with soothing aromas. While many are downright invasive when grown in a bed, these low-maintenance perennial plants are perfect for container growing. From making medicinal teas to adding zest to your favorite desserts, you've got plenty of reasons to plant mint this season.
With hundreds of plants in the Mentha family, it's a joy experimenting with different varieties to find the perfect flavors for your dishes and drinks. Get started with these 11 types of mint to grow in your garden.

11 Types of Mint to Grow in Your Garden
1.

Peppermint (Mentha x piperita)
| | |
| --- | --- |
| USDA Hardiness Region: | 5–9 |
| Mature Height: | 18–36" |
Peppermint, a cross between spearmint and watermint, is one of the most recognizable mint varieties. It boasts a potent flavor and sweet scent. The dark green foliage features serrated edges and a fuzzy texture, while purple ¼-inch-long flowers emerge around a long spike as the summer transitions to fall.
Peppermint has numerous medicinal and culinary uses. Fresh mint enhances salads and desserts, and dried leaves make soothing teas. Extracted peppermint oil broadens the herb's potential, allowing you to make topical treatments for headaches and muscle pain. It has also shown benefits in relieving gastrointestinal maladies, lowering blood pressure, and providing relief from cold and flu symptoms.
---
2.

Spearmint (Mentha spicata)
| | |
| --- | --- |
| USDA Hardiness Region: | 5–9 |
| Mature Height: | 12–24" |
Spearmint is a classic flavor for summer and wintertime refreshments, giving us much of the taste we enjoy from peppermint. The leaves are bright green, slender, and spiky, offering a mild, sweet flavor to brighten dishes and drinks.
Like its hybrid offshoot, spearmint is a popular flavoring for chewing gum, candy, and toothpaste, and it offers numerous medicinal benefits as a tea and essential oil. Studies have shown spearmint's pain-relieving qualities, and it can aid digestion, reduce stress, and fight infection.
---
3.

Chocolate Mint (Mentha x piperita f. citrata "Chocolate")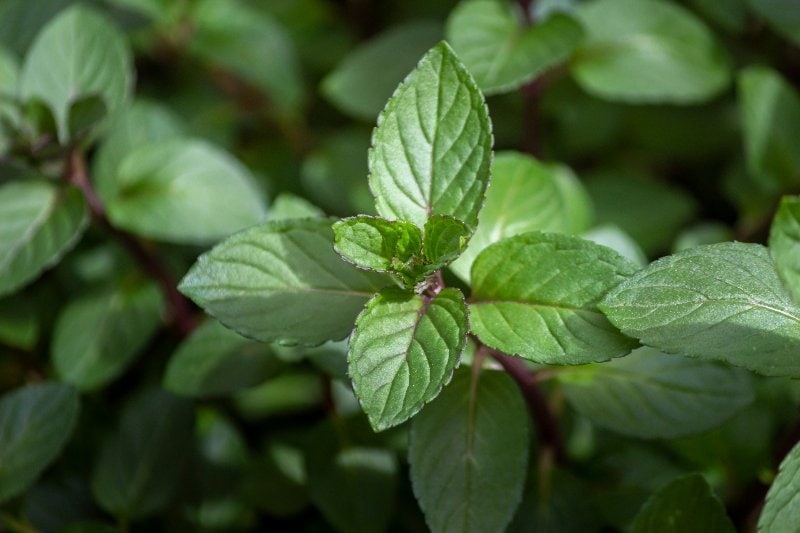 | | |
| --- | --- |
| USDA Hardiness Region: | 5–9 |
| Mature Height: | 12–24" |
Chocolate mint is a hybrid of peppermint and orange mint. While it earns its name from the mint-chocolatey aroma, the flavor is closer to the citrusy taste of its orange parent. The lance-shaped leaves resemble peppermint leaves but take on darker green hues.
Summertime produces stalks of purple buds that develop into lavender flowers. Like the related spearmint and peppermint, chocolate mint is a versatile culinary herb, equally at home in desserts, teas, and savory cooked dishes.
---
4.

Watermint (Mentha aquatica)
| | |
| --- | --- |
| USDA Hardiness Region: | 3–10 |
| Mature Height: | 12–36" |
As the parent of peppermint, watermint is one of the hardiest mint varieties and is an excellent feature in colder gardens and around water features. Watermint can survive in USDA zones 3–11, and you'll often find it thriving around waterways, ponds, and rivers.
Given its adaptability to wet environments, watermint makes an excellent soil stabilizer near water. The thick dark leaves are an attractive backdrop to the caps of purple and blue florets. Rather than grow in a flower-lined stalk, small pompoms of florets amass in intervals up the stems.
---
5.

Apple Mint (Mentha suaveolens)
| | |
| --- | --- |
| USDA Hardiness Region: | 5–9 |
| Mature Height: | 24–36" |
Apple mint offers uniquely fruity hints of flavor to take garnishes and tea flavors in a different direction. The offbeat aroma also makes a pleasant statement in potpourri. The leaves are ovate and a brighter green than some other mint varieties. As a gorgeous ground cover, this variety delights with pink and white flowers in the summer.
---
6.

Pineapple Mint (Mentha suaveolens "Variegata")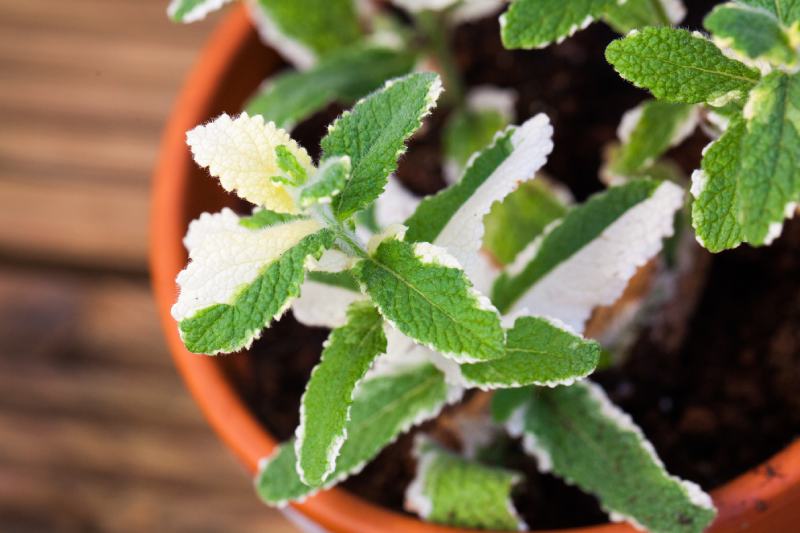 | | |
| --- | --- |
| USDA Hardiness Region: | 5–9 |
| Mature Height: | 24–36" |
Few mint varieties are as showy as the pineapple mint: an apple mint cultivar with a similarly fruity profile. The variegated leaves make it stand out, with the lush green hues accentuated by a light cream border. Foliage stays thick throughout the plant, making it a more attractive ground cover than other mint varieties that may drop leaves closer to the ground.
Like its parent plant, pineapple mint has several culinary and medicinal uses and works wonderfully in potpourri. Be wary of all-green leaves, as they are likely from the more aggressive apple mint plant, which could take over if you don't cut away the stems.
---
7.

Corsican Mint (Mentha requienii)
| | |
| --- | --- |
| USDA Hardiness Region: | 6–9 |
| Mature Height: | 0.5–1" |
Corsican mint is a low and fast-growing mint and is an ideal ground cover that supplies a splendid fragrance when crushed. Like many mint plants, it is a natural pest repellent, and given its short stature, it works beautifully for container and garden edges.
The dense matting of Corsican mint's runners provides soil stability in low-traffic areas, and many people use it as filler between garden pavers and stepping stones. Flowering is discrete, and round leaves are tiny and tightly packed, providing a different aesthetic than most mints. But in the kitchen, it's no less versatile, with the leaves adding delicious flavors to ice creams, salads, baked foods, and beverages.
---
8.

Orange Mint (Mentha x piperita citrata)
| | |
| --- | --- |
| USDA Hardiness Region: | 4–11 |
| Mature Height: | 12–36" |
Orange mint is sensory bliss; it's an aromatic and attractive plant that can enhance any garden. The rich green foliage stands out on burgundy stems, emitting a pungent citrusy smell. Also called eau de cologne mint or Bergamot mint, it's a popular additive for perfumes. In cuisine, fresh orange mint is right at home as a garnish and flavoring for desserts, sauces, drinks, jellies, and salads.
---
9.

Strawberry Mint (Mentha spicata "Strawberry")
| | |
| --- | --- |
| USDA Hardiness Region: | 4–9 |
| Mature Height: | 12–24" |
Strawberry mint doesn't grow as large or as vigorously as other mint species, but its delicate fruity flavor makes it a hit in the kitchen. It can still be quite invasive, so container growing is typically a wise idea, and the compact size makes the plant a perfect fit for hanging baskets.
The small light green strawberry mint leaves receive a purple complement in the flowering spikes that blossom in the summer. Harvest the plant to bring its fruity flavor to salads, mojitos, and desserts.
---
10.

American Wild Mint (Mentha canadensis)
| | |
| --- | --- |
| USDA Hardiness Region: | 4–10 |
| Mature Height: | 12–24" |
American wild mint is native to North America, growing as far north as Canada and parts of east Asia. Native Americans took advantage of the plant's medicinal properties, and the toothed, finger-like leaves go well in jellies and teas. In the summer, pink and lilac whorls of flowers grow up the stem for an attractive garden display.
---
11.

Cuban Mint (Mentha x villosa)
| | |
| --- | --- |
| USDA Hardiness Region: | 5–10 |
| Mature Height: | 18–24" |
A true mojito uses Cuban mint: a powerfully aromatic yet mildly flavored herb that brings beverages and foods to life with light citrusy notes. The large and colorful leaves are perfect for muddling at the bottom of a glass. In the container garden, the lush leaves receive a brilliant accent from flowering spikes during the summer.
---
Mint Growing Tips
Mint is notoriously easy to grow, and its spreading rhizomes make it a potential hazard when left unrestrained in the garden. For many gardeners, it's easier to control as a container plant, though you can also plant a slower-growing variety like Corsican mint or pineapple mint. Plant mint for its countless culinary and therapeutic uses or as a pest and deer deterrent for your other garden plants.
While some mint plants are hardier than others, they generally follow the same growing habits and requirements. Mint needs consistent moisture in rich, well-drained, and slightly acidic soil. If the soil is nutrient-rich, you may not have to use fertilizer, but mint will benefit from a compost amendment in the spring. It thrives in full sunlight but can handle partial shade, especially during hot afternoons when the sun might scorch the leaves.
Once the plant's stems reach 6–8 inches in length, you can harvest mint throughout the season by pinching the sprigs. Removing leaves before flowering will ensure the best flavor. Cut down the plant by no more than a third to remove yellowing sections and promote bushier growth with more abundant leaves.

Final Thoughts
The vibrant, fluffy green leaves and bright aromas of mint add layers of charm to landscaping, whether as a garden border or a ground cover around the patio. It's easy-growing and off-putting to backyard nuisances, but mint is a practical garden plant. Meanwhile, the benefits of mint at the dinner table make it a sound addition for any health-conscious home cook.
---
Featured Image Credit: Karolina Grabowska, Pexels