7 DIY Pool House & Cabana Plans You Can Make Today (with Pictures)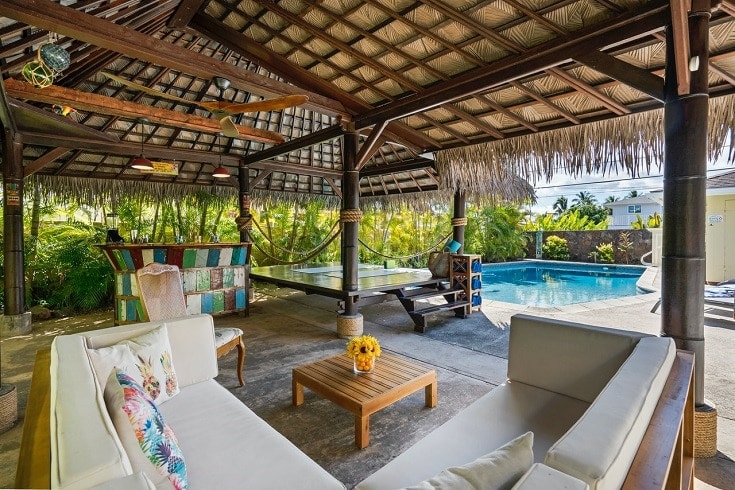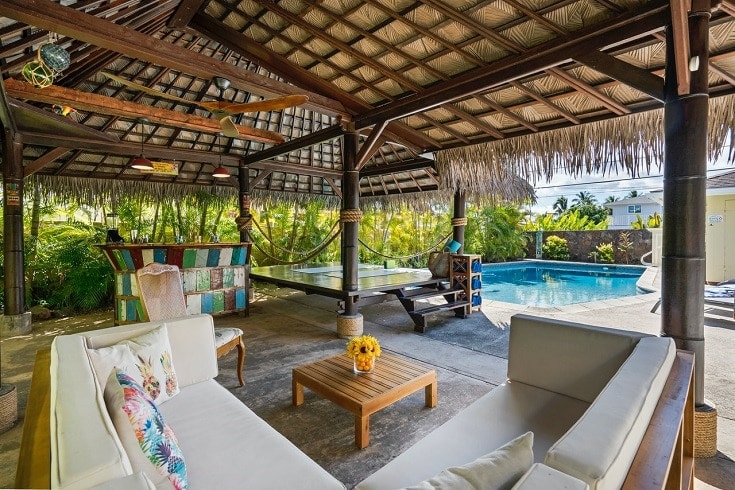 Pool houses and cabanas are a dream for some pool owners. The good news is that some of these can be a do it yourself project. The most important thing you will need is a great plan to start with. We have gathered together some free pool house and cabana plans to help get this project off to a great start. If you need some shade, or some storage, whatever your reason is behind heading down this route, there should be a plan here to suit your needs.
The Top 7 DIY Pool House & Cabana Plans
1.

12 x 16 Shed from Clever Woodworking Projects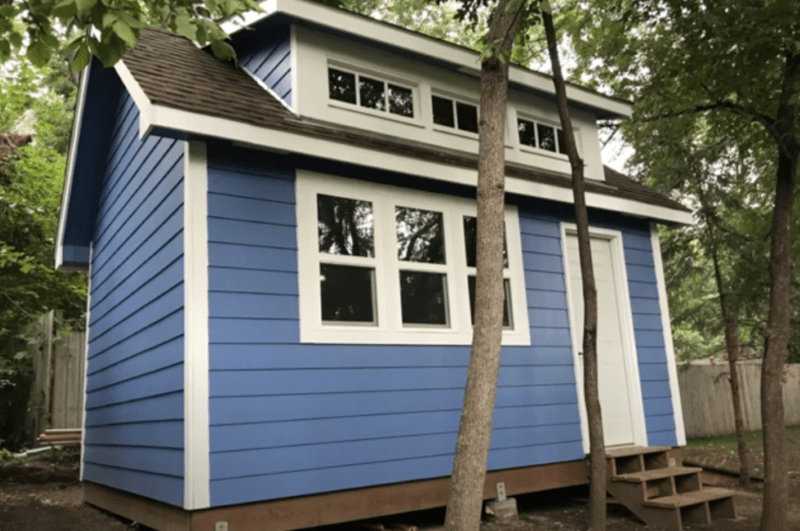 Now, you may be thinking, hold on a minute I want a pool house? The truth is a pool house, and a shed may not be that much different. If you need a place to store your pool equipment, the pool noodles, all those chemicals, a walk-in shed could be the perfect solution.
This shed is not difficult to build, and you can customize it to have all of the shelving and details that you may want. Want to hang up those pool vacuum hoses? You can simply put up a few hooks.
Sullivan Home Plans has several tutorials and videos to help make this project run smoother. The idea of a simple shed is best for those that have no prior woodworking experience and just need an essential storage closet.
---
2.

Weatherly Pergola from Ana White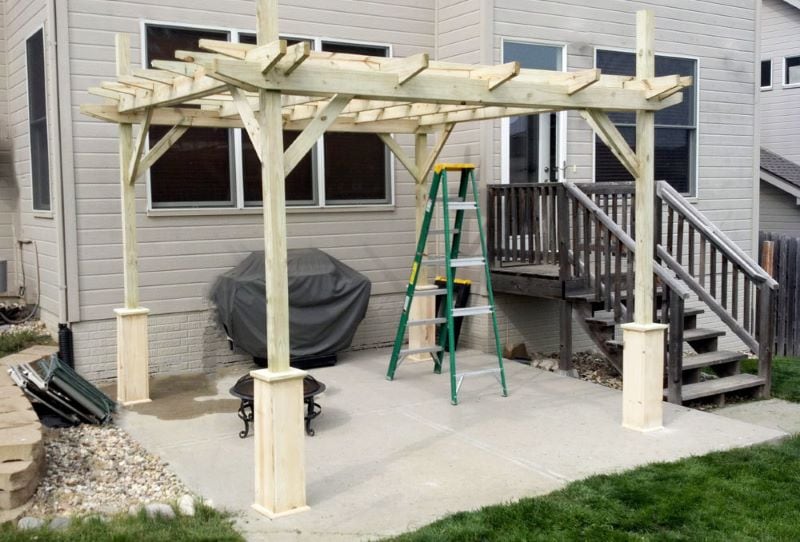 If you are looking for a simple structure to provide shade when you are in the pool area, a pergola could be a good choice. While a pergola is not going to do much to hide your pool equipment, we have seen it used in several practical ways to make back yards look even better.
When you place furniture and a storage box in and around this pergola, you can choose things that will block your pool equipment. You can also purchase curtains to hang from one or more sides of the pergola. Pull the curtains closed and keep bugs out or block the view of the pool filter.
The great thing about building a pergola is that you won't need nearly as much wood as you would need to put together a pool house or a cabana. This guide that we have found gives step by step instructions on how to get this pergola up and looking great. As you will see with many of these pool cabana plans, making sure your footing is perfect is a critical step.
---
3.

Wooden Gazebo Plans from How to Specialist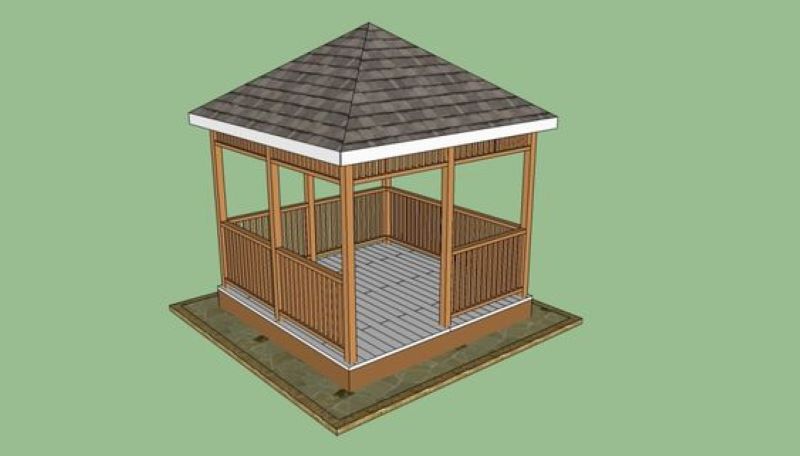 A step up from the pergola would be a gazebo-like this one from How to Specialist. Although the gazebo is going to cost quite a bit more to build, you can start for free with this thorough and easy-to-follow gazebo plan. The gazebo does not offer storage for pool equipment, but it will do a great job of blocking the view of pumps and filters. Gazebos are great for shade, and we recommend building some storage benches into the gazebo to keep some extra pool supplies.
When working with a wooden gazebo-like this near a pool area, you will need to take certain precautions to ensure its durability. The last thing you want is your gazebo to suffer water damage after only a season or two of use. Make sure to use pressure-treated wood and then finish it properly with stains or paints intended for outdoor wet area use.
This particular gazebo is a square shape, but you will find access to other plans as well. Potentially the most traditional gazebo shape is the octagon. For an octagon to fit in your pool area, your setup may need to be unique. A square or a rectangular gazebo will likely be a better fit.
---
4.

Free Backyard Gazebo from the Classic Archives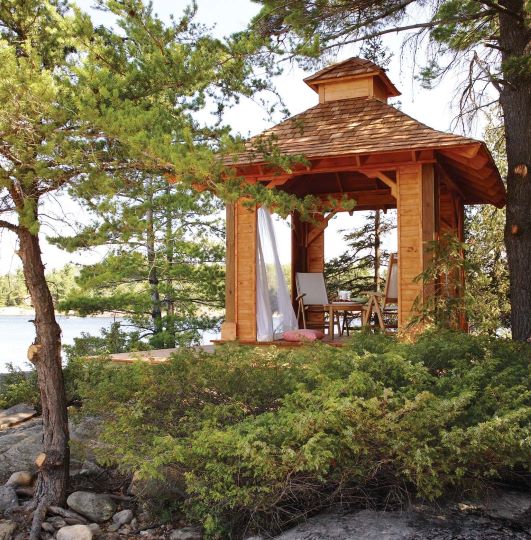 We know we need to get off the gazebo kick, but you have to take a look at this one first. This is potentially one of the most beautiful looking, open-air gazebos we have seen. Depending on this size of your pool or your yard, we could almost see one of these on either side of your pool. Take a look at the fantastic features this gazebo has with an under the deck storage spot for a cooler and more.
Notice in the picture the curtains that they have hanging in this gazebo. Very similar concept to what we talked about with the pergola. Have an ugly section of your yard or some pool equipment to block? These curtains do a great job of cleaning things up for you.
---
5.

Free Backyard Garden Storage Shed from the Classic Archives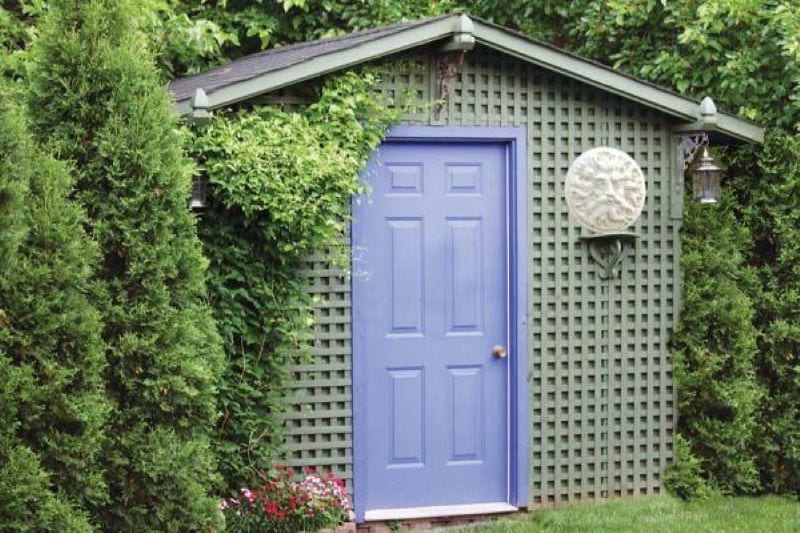 Finally, off of the gazebo kick and back to the sheds. Although this is a garden storage shed, it is perfect for pool equipment. Always make sure that if you are storing equipment and chemicals that you follow all manufacturers recommendations. Some pool equipment will need proper ventilation, and the same goes for chemicals. Always store chemicals up and out of reach of children and animals.
This shed is built on a simple platform that will be easy for those with little to no DIY skills to figure out. We love that it has a window, and we suggest making sure to include this window in your plans. The window will help not just with ventilation but with light as well.
---
6.

Gable Shed Pool House from Home Tips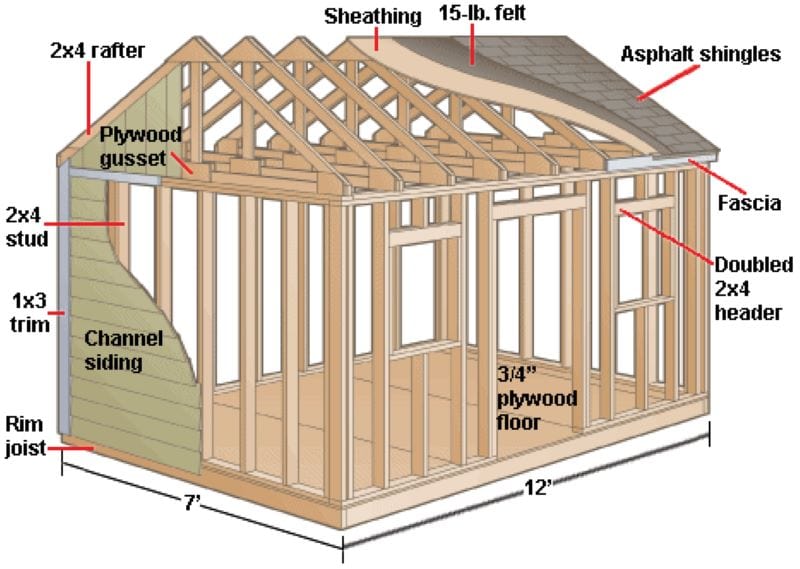 This is a design for a gable shed which will double as a pool house or a playhouse if your kids are that lucky. What we love best about this shed is the classic look and the simplicity of the design. You can easily modify these easy-to-use plans to turn this into something that works correctly for your needs.
This is a small scale shed and will only be about 7 x 12 feet. This exact design can be modified to fit the size that you need for your pool and equipment.
---
7.

Sunshine Pool Cabana from House Plans and More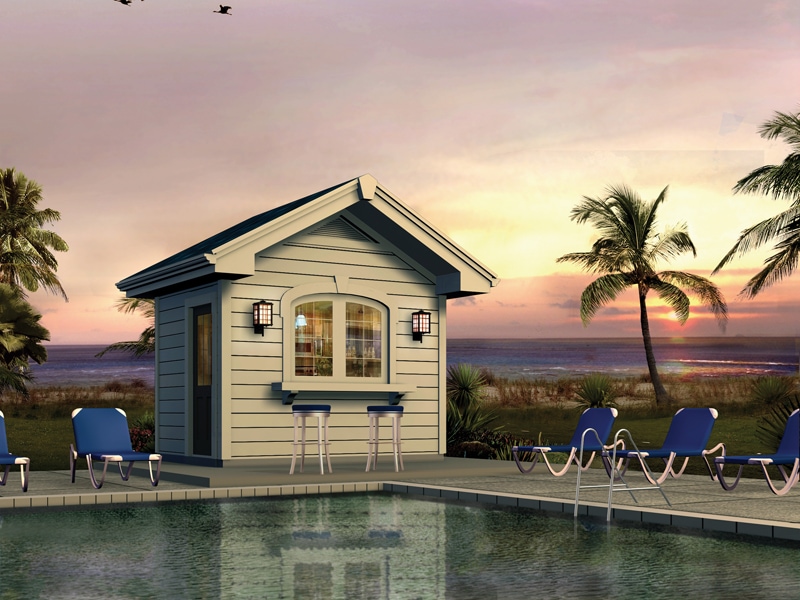 Before you check out this plan from House Plans and More, we need to disclose something. This is not a free pool house plan. This is a paid pool house plan, but we have a reason for showing you this plan. It is hardly any different than some of the shed plans we have been showing you. There are many different free shed plans to choose from that you could build almost this exact pool house from.
We think using this image as your inspiration is a perfect way to build a functional and straightforward pool house. Our favorite part about this pool house is the pass-through window and outdoor bar. What a great idea this is and so simple to add. If you are building a shed that already has a window, why not make it a pass-through window with a sink on the other side. Fantastic use of space!
The inside of this pool cabana can be built to include a changing room and some storage area as well. You can make this pool house whatever you want it to be sometimes; it just takes the correct level of inspiration.
Sunjoy L-GZ798PST-E Regency Gazebo with Mosquito Netting (Discontinued)
Includes: Mosquito netting, plant rings, corner shelves, ground stakes and center hook for hanging fan or lights
Vented double roof design helps reduce heat and wind stress on the canopy (provides 140 SqFt of shade)
Footprint: 10'x12', Canopy size 11'x13', Peak Height: 8'7", Weight: 95 lbs.
•You might also like: What Is Bullnose Tile and Is It Right for My Home?
Conclusion
These seven designs should give you access to some free information and some inspiration as well. Don't be stuck on the fact that you need an exact pool house plan to build a pool house. In reality, all you need is a budget, an idea, and some perfect measurements. Our biggest tips of advice when adding any pool house or cabana to your property is to make sure that you research local codes and ordinances before building. There is nothing worse than completing your perfect pool house and releasing it is one foot too far to the left!
---
Featured Image Credit: Jason Boyd, Pexels