3 Types of Pressure Washer Pumps (With Pictures)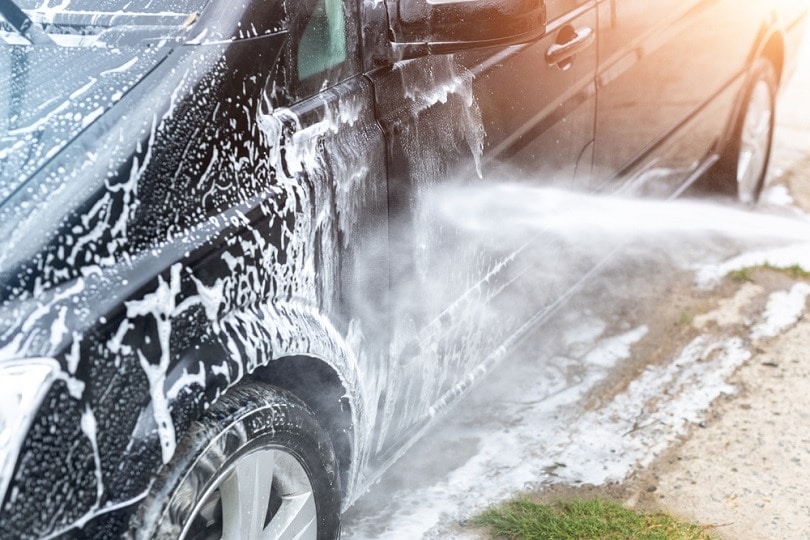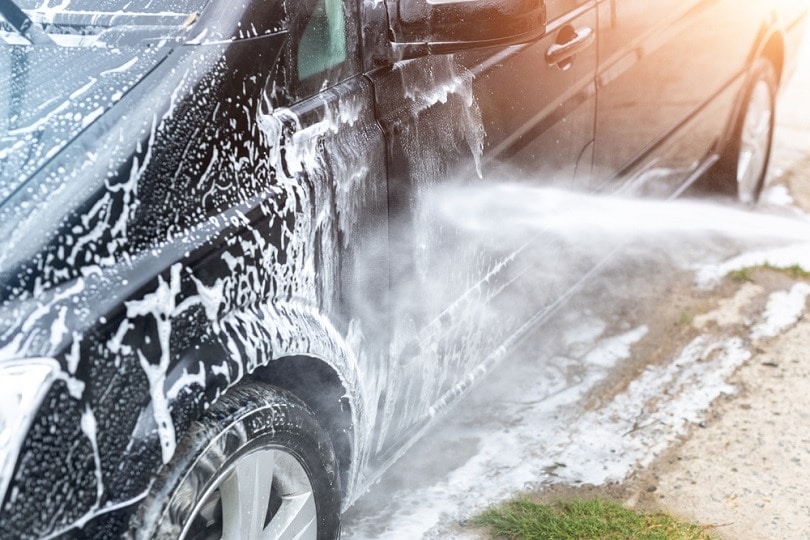 If your pressure washer just quit or will not pressurize like it used to, chances are that you need a replacement part for your pressure washer pump, or a new pump altogether.
Or maybe, you are on the market for a new pressure washer, and you don't know one iota about pressure washers or their pumps. You should still be able to make an informed decision about what kind of pressure washer you should purchase based on knowledge about pressure washer pumps.
Companies that sell pressure washers are somewhat elusive about what kinds of pumps they put in their pressure washers, making it difficult for someone shopping around to figure out anything having to do with the pump.

Why do I need to know about pressure washer pumps?
If you don't have a pressure washer, it's important to understand the basics of pumps before you buy, as it affects your initial investment. Some types of pressure washer pump are easy to repair or maintain while others might have to be replaced altogether. We are going to outline all the important information about each pump and whether a pressure washer with that particular kind of pump is right for you.
At the end of the guide, we will briefly go over what kind of pump you already have if you are just shopping for the pump. You will either find out what kind of pump you have or know the information needed in order to do the research yourself on your specific pressure washer pump.
Let's first dive into the different pressure washer pumps, how they work, and if a pressure washer with that particular pump is right for you.
(Note: Generally, power washers use heat; pressure washers do not. This guide only covers pressure washer pumps.)
---
The 3 Types of Pressure Washer Pumps
1.

Piston Pumps
There are two types of piston pumps found in pressure washers. Piston pumps work by using the pressure washer motor driveshafts. The driveshafts move the pistons to suck up water, then shoot it out.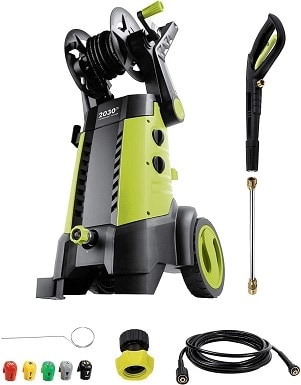 ---
Wobble Plate Pump
The first kind of piston pump we will be looking at is called a wobble plate pump. This pump is the bare bones of piston pumps; it's the most basic pump technology. You will not see this kind of pump often, which we will explain in a minute.
This kind of pump has only 70% efficiency. This is because it has resistance to the water and the springs. The pump is very complicated and has many parts, therefore, if you choose to repair it, it is expensive to repair. These pumps are often sealed shut, so there is practically no way to repair them; you are forced to replace them. You may even have to replace the entire pressure washer unit to rid yourself of a worn-out wobble plate pump.
A wobble plate pump's lifespan is 200-400 hours, which works out to be about 2 to 3 years of use before replacement is necessary.
This type of pump is best suited for medium pressure and low flow pressure washers. You will typically see this pump used for pressure washers under 2500 psi with under 2 GMP flow.
Pros
Self-priming
Can run dry
Produces high pressure
Found in the most basic, inexpensive washers
Cons
Lots of moving parts
Not economical to repair so you have to replace
Low flow
Might have to replace whole unit

Types of Pressure Washers with This Pump
Since it is rare to try to replace a wobble plate pump in a pressure washer, let's take a look at one example of a pressure washer that uses a wobble plate pump.
The Sun Joe SPX3001 2030 makes an inexpensive pressure washer in a cool green color. It's lightweight and sprays water at just under 2000 psi, which is all that is necessary for around the house jobs. It's a great pressure washer for beginners.
Is a Pressure Washer with a Wobble Plate Pump Right for You?
If you want something very basic for around the house projects, a pressure washer with the wobble plate pump would suit you just fine. However, it's difficult to find a pressure washer made with a wobble plate pump these days, and wobble plate pump replacements are difficult to find. They seem to be getting phased out of production.
You may find that when you start to wash some things, it's hard to stop. With a quick adjustment of spray tips and pressure, most things can get washed with a pressure washer. Therefore, you may want to invest in a pressure washer that has a little better pump technology than the wobble plate to avoid expensive replacement costs.
---
2. Axial Cam Pump
Axial cam pumps (also called swash plate pumps) are the second type of piston pump on this list and a higher professional-grade pump. It's got a slightly better design, therefore it's more advanced than a wobble plate pump.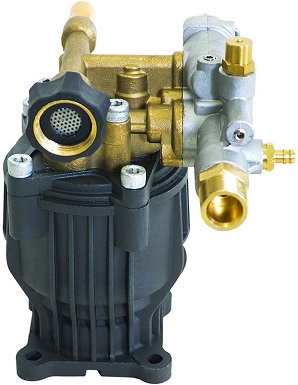 The driveshaft on the pressure washer motor spins the cylinders that pressurize the water directly. The pistons then rotate around a swash plate. The swash plate is angled to allow the pistons to suck up water on one side and push it out of the other. The design is more sleek, allowing more room for more sturdy bearings and a larger oil reservoir. These features are designed to aid in extending the life of the pump.
The lifespan of these pumps is a little longer than wobble plate pumps, about 500-800 hours. You can extend the life of these pumps by maintaining them well.
The axial cam pumps can handle a higher psi than wobble plates. Most machines that are under 3500 psi have an axial cam pump.
Pros
Lasts longer than wobble plate pumps
More efficient
Able to adjust the flow of water (in variable displacement models)
It's a smaller, more compact design.
Replacements are readily available
Cons
Runs at whatever speed the engine is running, which can be too high and make the pump too hot.
Cylinder seal on the piston head can get worn down easily
Pressure washer can vibrate too much if it's not positioned correctly

Types of Axial Cam Pumps
There are lots of axial cam pump replacements available for sale, which is great news if you find out your pump is indeed this kind of pump.
OEM Technologies 90029 Axial Cam Pump is made for Simpson pressure washers but has a unique feature for axial cam pumps. This pump has a thermal relief valve to keep the pump from overheating, a typical problem with these types of pumps. It's on the expensive side, but could be a great, long-lasting option.
YAMATIC makes multiple axial cam pumps that are more affordable and can fit many kinds of pressure washers. It claims an easy start, even with a cold engine, and comes with high ratings from happy customers.
Is a Pressure Washer with An Axial Cam Pump Right For You?
As it has better design than a wobble plate pump, any pressure washer with an axial cam pump is a great middle-of-the-road option for a pressure washer. It's not sealed shut like a wobble plate, so it theoretically can still have maintenance done on it if it runs down.
Depending on the exact kind you need, they are not completely inexpensive to replace, but definitely less expensive than buying a whole new pressure washer.
---
3. Plunger Pumps
Plunger pumps are crank-driven and use plungers. They are the best kind of pump and the latest pump technology available. Unlike the other pumps, when they run, they do not overheat, and they do not require as much maintenance, helping your pump to last a long time and keep it running while you're working away.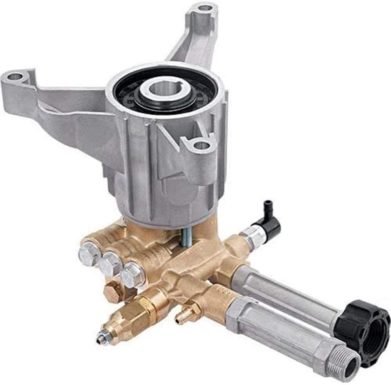 Triplex Plunger Pump
The only type of plunger pump available for pressure washers right now are triplex plunger pumps. These pumps look similar to car engines. They have a crankshaft and connecting rods, which drive the three pistons (thus the name "triplex") on positive action to suck water in and push it out. The driveshaft from the pressure washer motor powers the crankshaft directly.
These pumps run at less RPMs than their parent pressure washer engine, allowing them to be less prone to overheating. You can use them for a lifetime, so long as you perform maintenance on them at the appropriate times (which is much less work than the other pumps). They are the simplest of the pumps to repair and buy replacement parts for, and they also run at 90% efficiency.
Triplex plunger pumps are used in professional-grade pressure washers that run over 3000 psi.
Pros
Easy and minimal maintenance
Replacements are readily available
Long life span
Latest pump technology
Efficient
Tolerates high pressure
Less prone to leaks

Types of Triplex Plunger Pumps
Generally, the higher psi required for your pressure washer, the more expensive a triplex plunger pump replacement is going to be.
Annovi Reverberi RMW25G28-EZ is on the lower-end price wise for triplex plunger pumps, and they make several different kinds within the same price range. It has "EZ start" technology and users say that it is easy to install.
The AAA Pumps 90038 is a triplex plunger pump that can handle up to 3800 psi. It's made of stainless steel, so it's tough and sure to last a long time. They designed the pump with an oil reservoir window so you can see the oil level instead of using a dipstick.
Is a Pressure Washer with a Triplex Plunger Pump Right for You?
This pump really is the best you can find. If you need the best thing on the market and think it's worth the investment, a pressure washer with the triplex plunger pump is your perfect choice. They can stand years and years of use with the proper maintenance.
This kind of pump in a pressure washer will suit the beginner looking to have the best of the best, but it's not at all necessary to purchase this high-quality of a pump if it's out of your budget.

I already have a pressure washer. What type of pump do I need for my pressure washer?
Let's say you already have a pressure washer that needs a new pump or maintenance on the pump. Before you decide what kind of pump replacement or parts you need, you have to figure out what kind of pump you have, and what the max psi is for your pressure washer.
Most pressure washers these days are produced with one of two types of pumps, an axial cam or a triplex plunger pump.
How can you tell which is which?
A pump with brass knobs that point directly at your pump motor's driveshaft is an axial cam pump. This is because the motor's driveshaft power the cylinders that pressurize water directly.
A pump with brass knobs running parallel to your pump motor's driveshaft is a triplex plunger pump. This is because there's an extra step in the pressurizing process: your pump motor's driveshaft power a crankshaft that then moves the plunger rods inside the pump.
After you determine which pump you need, you will have to see how the pump attaches to your motor. Does it attach next to the engine (horizontally) or underneath it (vertically)? You will also need to measure the diameter of where it attaches to the shaft and if it is solid or hollow.
If you need more information about what kind of replacement pump you need, check the manual of your pressure washer. They may suggest or even manufacture certain models that they know work with your pressure washer. Make sure the psi for the new pump does not exceed the max psi for the pressure washer you have.
Some pumps claim to be "universal," but you should still do your research to be sure it will fit with your pressure washer motor.
Amazon has a dropdown menu when you look at some pumps to help you determine if that particular pump is made to go with your pressure washer. You could also call a professional repair service to get their opinion.

Conclusion
The world of pressure washer pumps is a little complicated, especially if you don't know anything about them. When your pressure washer pump breaks down, there's no need to fret. With the information we researched for you in this article, you will be able to face your next pressure washer or pressure washer pump purchase without any doubts.
---
Featured image credit: Gorlov-KV, Shutterstock