How to Safely Use, Handle, and Store Pool Chemicals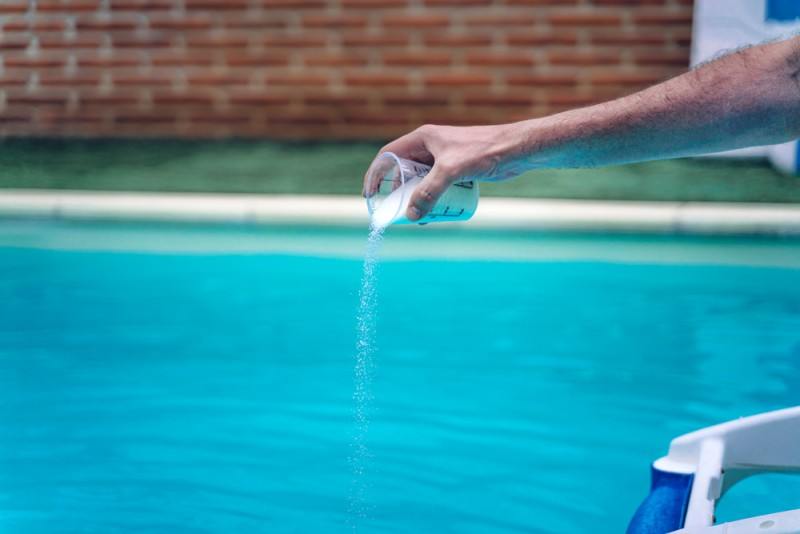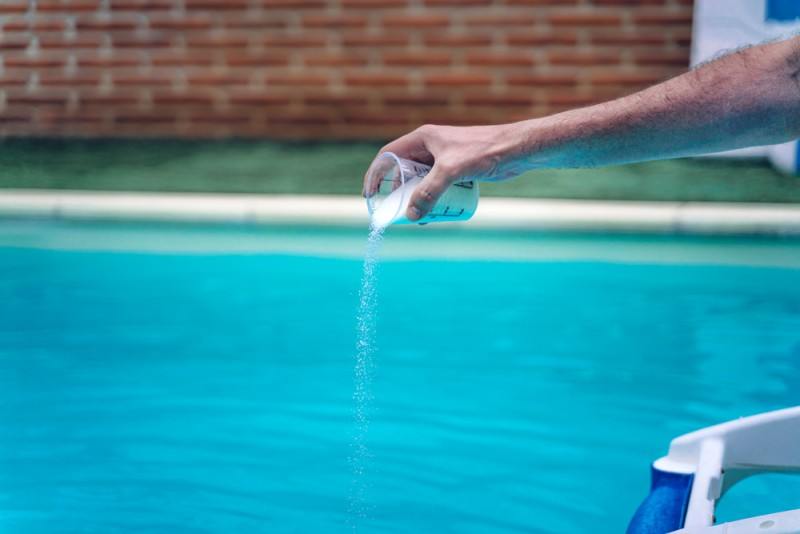 Being a pool owner can be a scary thing when it comes to safety. Pool owners have to be quite vigilant when it comes to pool swimming safety and drowning risks, but other things also need to be addressed. Pool chemical safety is paramount. Not only is chemical storage essential, but so is proper use and handling. Chlorine, in particular, is powerful and can result in injuries or death if not handled properly. So, here are our best tips and advice on how to use, handle, and store your pool chemicals.

Using Pool Chemicals
If you are sure you are handling your chemicals correctly and now it is time to use them, there are some very important guidelines to follow.
Labels: Reading the labels on pool chemicals is imperative. If you choose not to read a label, you could be putting not just yourself but your swimmers at risk as well.
Mixing: Never ever mix pool chemicals. If your pool needs to have several chemicals added to get the levels back up to par, read the manufacturer's recommendations regarding how long to wait before putting the next chemicals in. Sometimes it will just be a matter of minutes, but you don't want to mix a bunch of chemicals and throw them into the pool.
Old & New: If you always purchase the same brand pool chemicals and you just bought a new bottle, do not combine what is left of your old bottle. Even if you are trying to save space and want to get rid of a container, this can be extremely dangerous. Chemicals should never be mixed even if they are the same exact brand and chemical makeup.
Chemical Entry into the Pool: You should always add chemicals to the water and never add water to the chemicals. When you add water to chemicals before putting them in the pool, you can end up releasing harmful gases and heat and cause some severe reactions. Some pool shocks say they should be dissolved in water before putting them in your pool. If this is the case, use a five-gallon bucket of water and let the shock dissolve a bit before putting it into the pool.
Amount: Even if your pool is neon green, do not use more than the recommended amount of chemicals at any one time. Read the recommendations and follow the protocol. Even if your pool needs to be treated a few times, that is fine. Don't overdo it on the first go-around. You could end up causing harm to yourself and your swimmers by over-treating your pool with chemicals.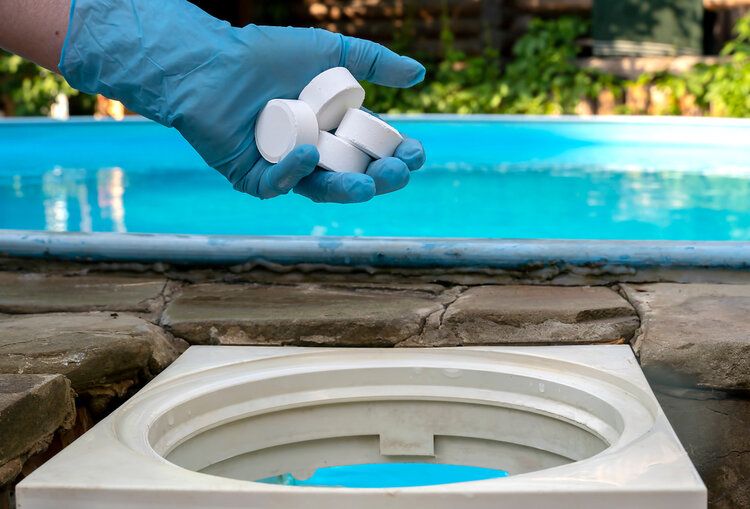 Handling Pool Chemicals
The majority of pool chemical-related injuries come from chlorine. Since chlorine is such a commonly used chemical, people tend to underestimate its strength and danger. Here are some essential tips when it comes to handling your pool chemicals.
Labels: Read all labels and warnings on any pool chemical you use. Take these warning seriously and follow all recommendations
Bottles: Never use or handle a pool chemical that was not being stored in its original packaging. If there is an old unlabeled bottle of something in your pool shed and you think you know what it is, don't use it. You may be wrong, and handling this chemical could result in injury.
Personal Protective Equipment: When handling pool chemicals, you can get some on your skin, in your eyes, or breathe in harmful gases. Anytime you are working with pool chemicals, you should be wearing gloves, goggles, and a mask if possible.
Opening: When opening the containers of pool chemicals, open them away from you. If something is to splash or a gas were to be released, you do not want that headed directly at your face. Especially when it comes to a container full of chlorine. When you open the chlorine, there will usually be a very strong smell released initially, and it will burn your lungs should you inhale it.
LANON 3 Pairs wahoo Skin-Friendly Cleaning Gloves, Dishwashing Kitchen Gloves with Cotton Flocked...
Skin-friendly - wahoo dishwahing gloves made of premium PVC material, latex-free, DEHP-free, better solutions for people with sensitive...
Soft and Comfortable - Adopts advanced flocking technology that weaves cotton and PVC seamlessly, giving you a comfortable and soft...
Excellent Grip - wahoo rubber gloves fit hands well, pull-on closure sleeves are easy to take on and off, while keeping your hands...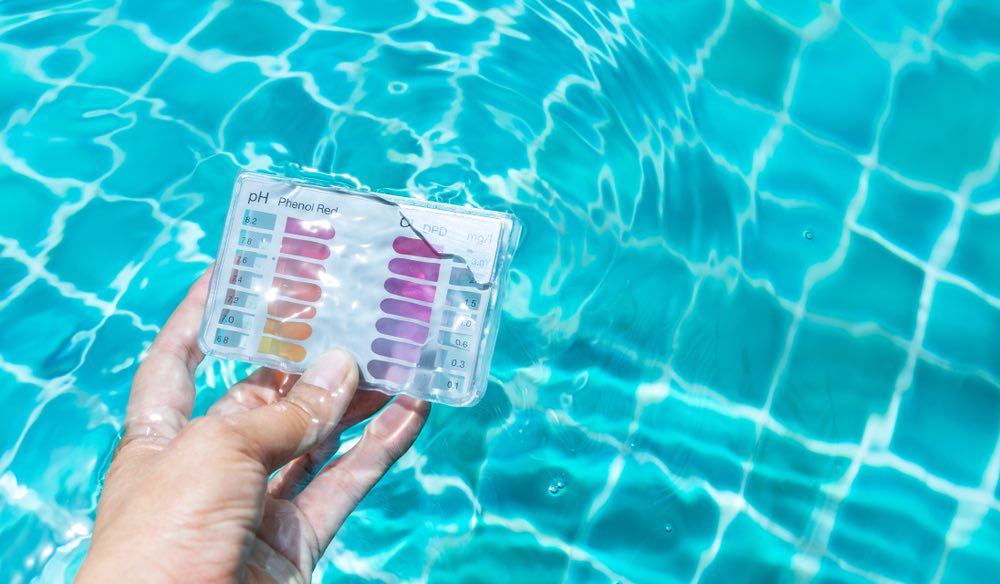 Storing Pool Chemicals
It's great if you fully understand how to protect yourself from pool chemical harm, but not everyone does. Leaving pool chemicals stored incorrectly can lead to injury or death of a child or pet. Anytime you are finished adding chemicals to your pool, make sure you take proper precautions when storing them.
Transport: When you pick up chemicals at the store, make sure that they can stay upright your entire way home. Letting bottles of chemicals roll around in the trunk is not recommended. Another important thing is to take them out of the car as soon as you get home. Letting chemicals heat up in the back of a vehicle is very dangerous.
Storing: All pool chemicals should be stored in a clean and dry location. It is best if this location is temperature-controlled, and the chemicals won't continually be heating and cooling.
Bottles: Keep all pool chemicals in their original packaging, so you always know what you are dealing with. Original packaging comes with directions and safety information should there be a problem, you don't want to be searching for this information should an unmarked bottle cause an injury to a person.
Space: Never store chlorine and acid directly next to each other and make sure that all chemicals have some space around them.
Air: Chemical storage areas should have lighting and air flow as well.

Conclusion
Being a pool owner can be a tremendous amount of responsibility. Although you installed this pool to have more fun and family time, it is your responsibility to keep you, and your family safe from the harm pool chemicals can cause. Do your research, read your labels, and proceed with caution anytime you are using pool chemicals.
---
Featured Image Credit: Cavan-Images, Shutterstock