14 1930s Interior Design Ideas (With Pictures)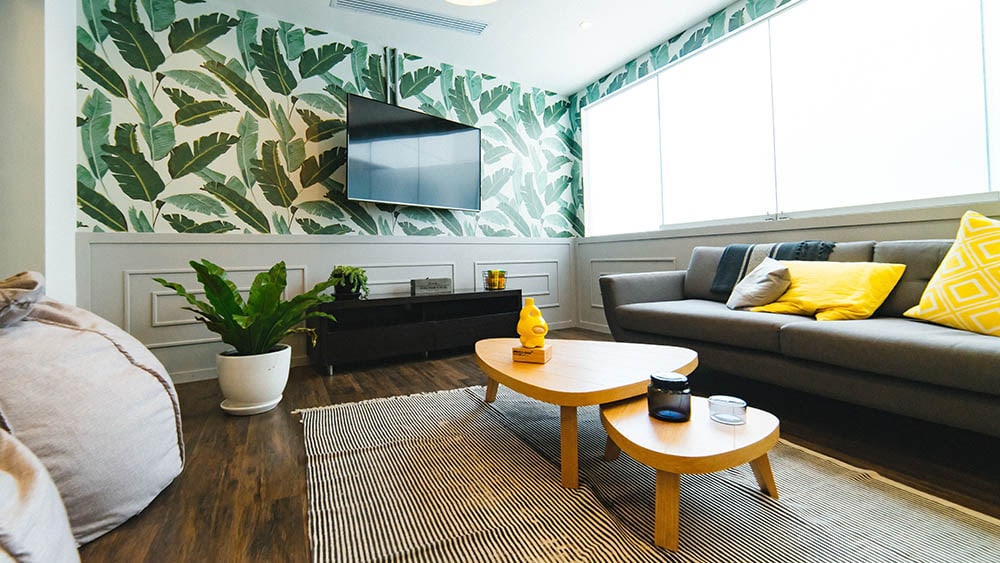 For the States, the 30s were a rough decade. The Great Depression took its toll on everyone; people were struggling to put food on the table and make it through the day. Plus, most working-class families were forced to live in horrible conditions. At the same time, artists, architects, and designers from across the country were busy creating new, daring styles and forms.
That's how in the early 1930s, Art Deco and streamlined design came to be. Characterized by long horizontal lines, curving forms, and bold colors, these designs brought something new and exciting to the world. And if you'd like to introduce some of these centuries-old yet unique elements into your interior, we have just the right ideas!

The 14 1930s Interior Design Ideas
1.

Wooden Elements and Low-Hanging Lights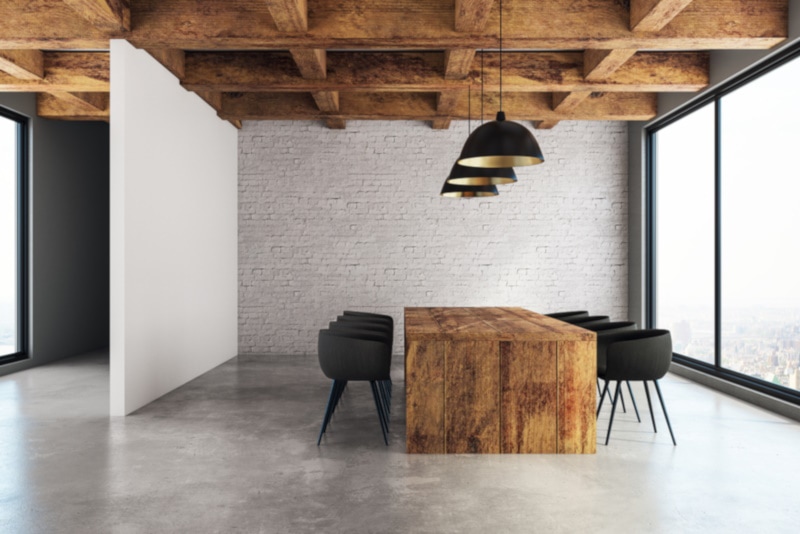 Rustic design isn't necessarily an integral part of Art Deco. Streamline Moderne is all about simplicity, though. That's why a rough-tough wooden table paired with a cheap, industrial-style ceiling works here. Besides, the rest of the room features all the key elements of interior design from the 30s, including a concrete floor, low-hanging lights, and steel legs on the chairs.
As for the huge windows and the panoramic view, you can use that to create a stylistic contrast between the industrial and rural elements. The room is spacious, too, and has minimal furniture, which goes along with another major component of Streamline Moderne: the lack of luxurious décor elements in the composition.
---
2.

Retro Designer Meets a Modernist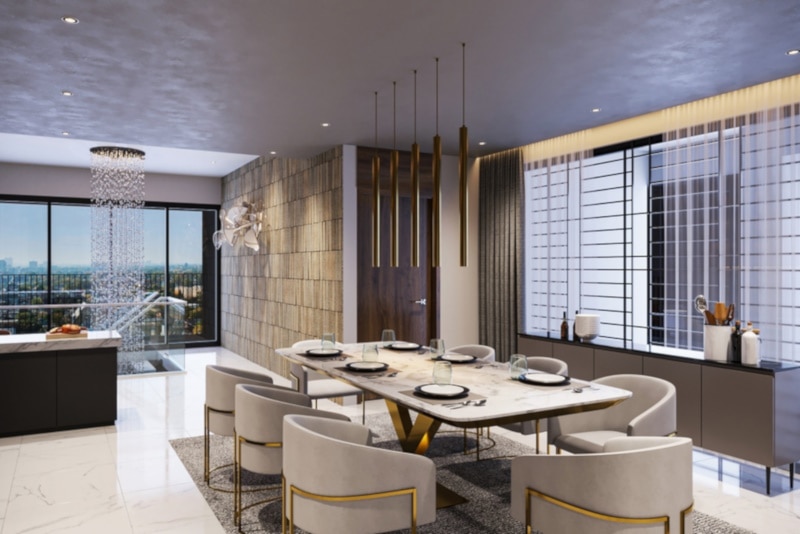 Sometimes, it's hard to choose between vintage and modern styles. You want a little bit of both, yet don't want to turn the room into a chaotic mess. Well, if you use the right approach, you will be able to marry the streamlined philosophy to a contemporary approach. One great way to do that is to choose in advance which part of the design you want to hand over to Art Deco.
For example, vintage chairs with golden elements and a metallic table will look great in a kitchen with hi-tech cabinets, furniture, and designer light fixtures. Speaking of the lights, you could experiment a bit and try hanging 30s-inspired lights instead to pay homage to vintage décor.
---
3.

Embracing the Essence of Art Deco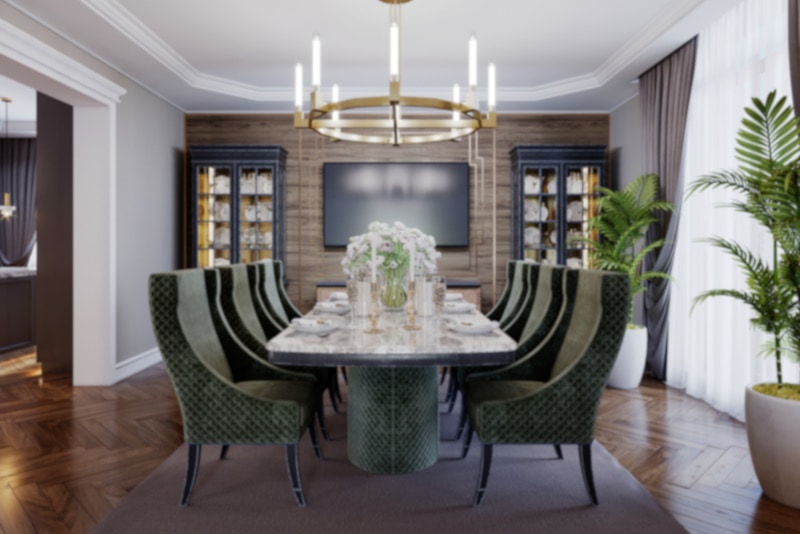 It takes a glance at this luxurious dining room to know that it's put together in Art Deco style. The vintage green chairs, expensive table, and beautiful chandelier with light bulbs that look like candles are a sight for sore eyes. The laminate floor, big TV, and tall plants, in turn, make the room feel more up-to-date and trendier without compromising the original artistic approach.
And the dominance of beige, green, brown, and white in the interior make it feel calming and inviting.
---
4.

A Huge Mirror Above the Bed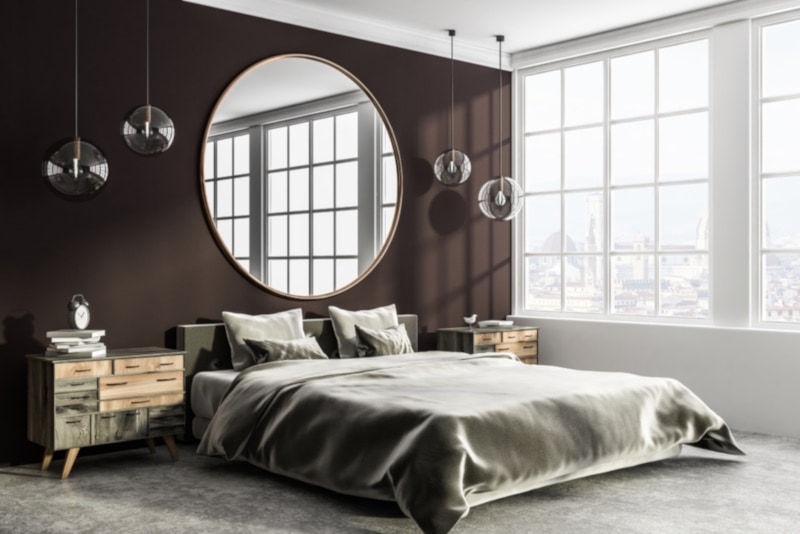 Interior design in the 1930s did a great job of embracing the "less is more" approach. That said, in the early stages, Art Deco was about grandiose, artsy objects. The idea was to add an element that could instantly stand out and grab attention. And it didn't have to be something overly expensive: a gigantic mirror hanging right above the couch or bed always works.
Or, it can be a couple of smaller mirrors, candle holders, or art pieces. In this case, the large mirror is complemented by beautiful lights hanging from a white ceiling and retro nightstands on each side of the bed. If you want to add subtle Art Deco elements to a minimalist, traditional, or Scandinavian design, this could be a safe bet.
---
5.

A Leather Couch and Big Bookshelf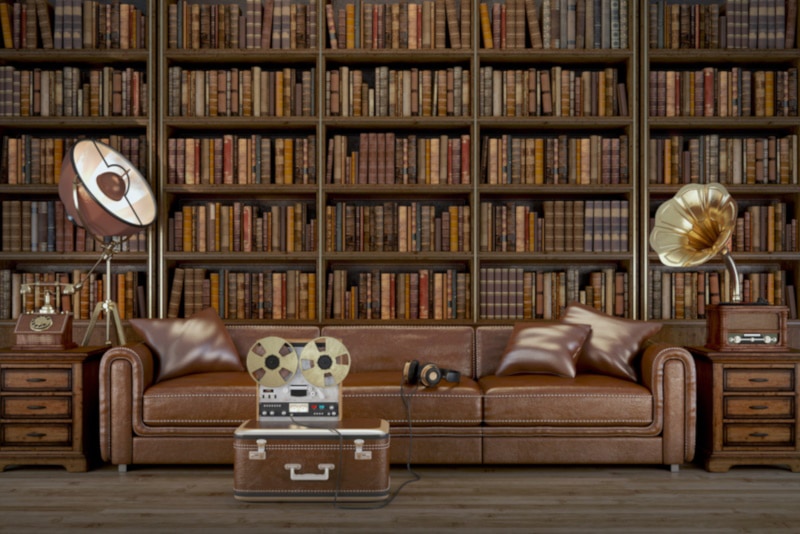 Books might not be the most popular medium for recording information today, but they sure do look beautiful on a shelf. As for the leather couch, it's a fine example of premium-quality craftsmanship, which is an integral part of Art Deco. The cabinets/drawers on both sides of the couch, gramophone, and vintage voice recorder make the room feel even more 1930s.
But you don't necessarily have to include all these décor pieces in your design. This is just a showcase of how cleverly picked items set the right tone while not taking away much from the rest of the room. Even if you install a relatively small bookshelf and leather couch in the corner, that will still invoke the right vibes.
---
6.

Minimalism and Bright Accents in the Kitchen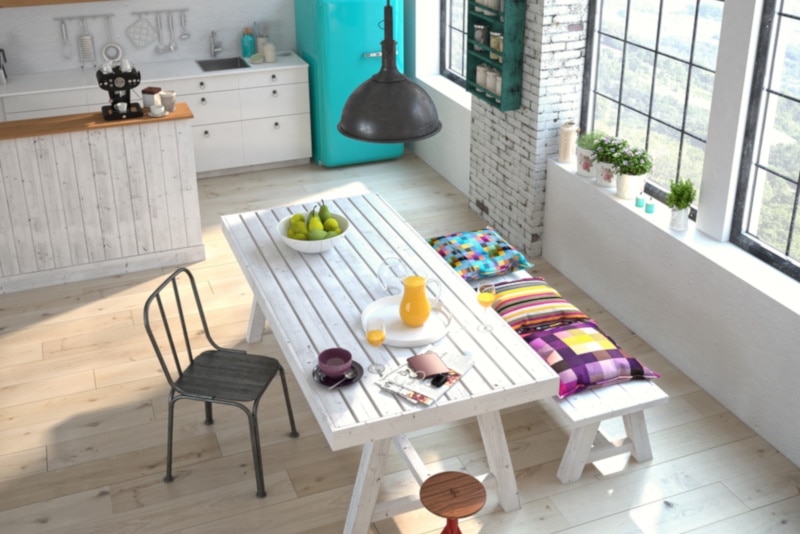 Folks back in the 30s didn't have much to begin with, which is why their interiors used to be rather minimalistic. Try and recreate that concept by putting cheap, yet sturdy furniture and stainless-steel appliances in the kitchen in a truly streamlined style. To take the idea to the next level, don't hesitate to light the room up a bit with bright colors.
A cyan/blue refrigerator with round corners, a green shelf, and some lively pillows on the bench can instantly turn the design around. Don't overdo it, though, as that could take you in the direction of maximalist or Bohemian-style designs (which isn't necessarily bad, yet it won't be a 30s interior anymore).
---
7.

Green Furniture in the Kitchen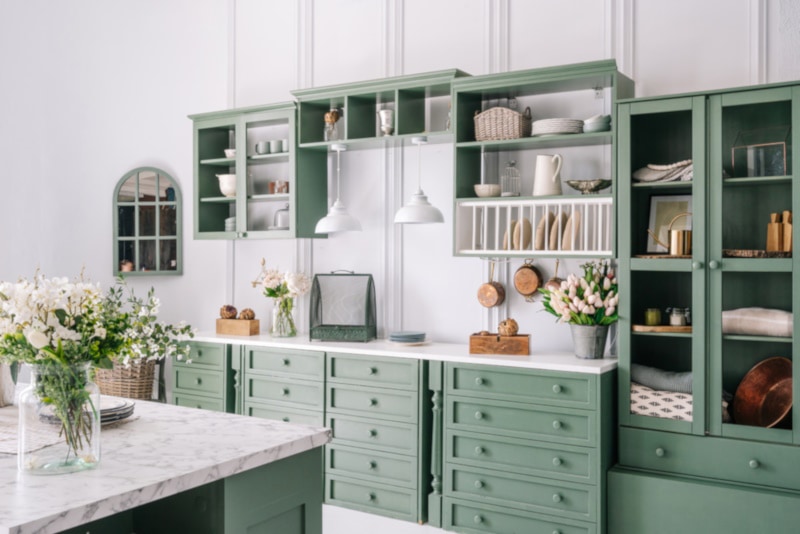 No need to hold yourself back when dealing with 1930s interiors. In this next example, we have pastel/green furniture in the kitchen, and it looks great sitting next to an all-white wall. The overall design of the cabinets and drawers also looks inspired by Art Deco and other styles that were popular 100 years ago. The marble countertop doesn't fall out of the picture, either.
But it could be replaced with a table made of glass or steel with strong lines to replicate Streamline Moderne vibes.
---
8.

Elegant Art Deco Design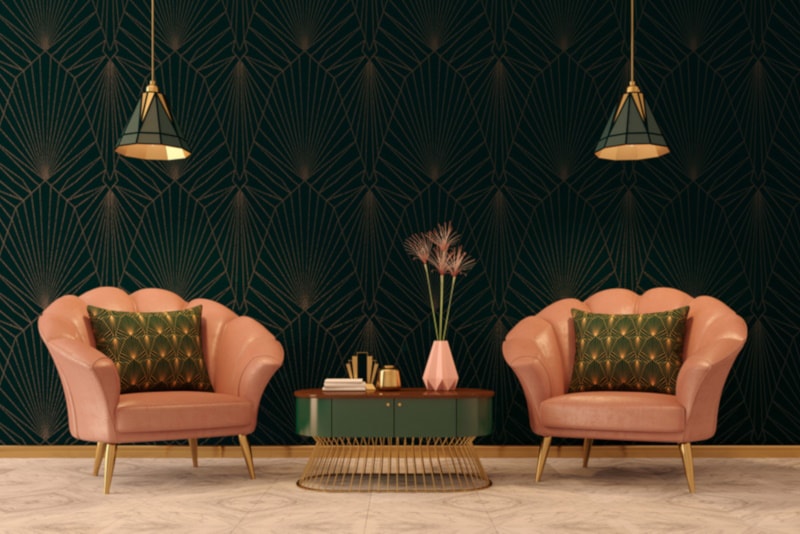 And now, let's see what earlier Art Deco used to look like. Every little detail in this room makes a statement without overcrowding the space. We have two major colors here: pink and green. The lush armchairs stand on golden legs and have a round, curved shape for extra comfort. And together with the lamps, they create beautiful symmetry.
The wallpaper is green mixed with gold—two commonly-used colors in the 30s. Do you think that the room could use a bit more furniture? Go for it! This chairs-table-lamps setup might not be the best one, yet it's perfect as a cozy corner where you can read a book or watch a movie after a hard day at work.
---
9.

Wall-Tall Curtains, Vintage Furniture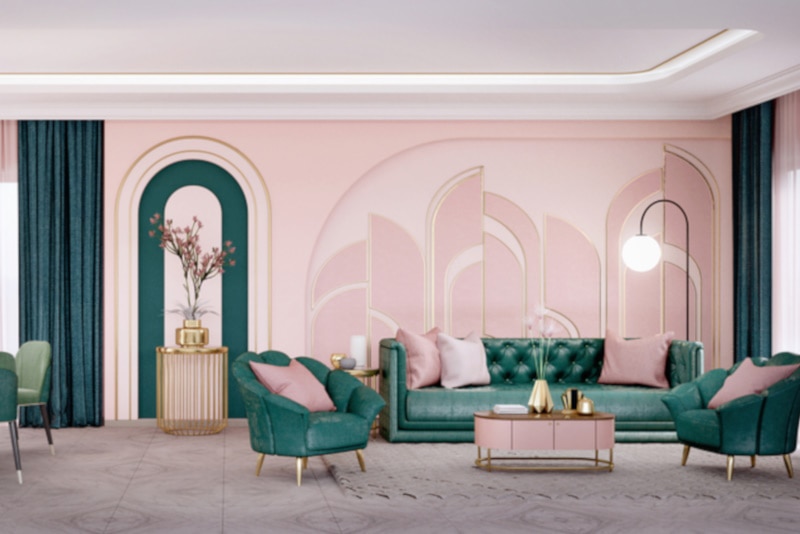 Ready to take it up a notch? This next 1930s interior design will be worth your while! First, the room is very large yet doesn't make you feel lost. It has a dining area and a lounge area on the left and right sides of the custom-made vase that sits in the middle. The soft pink on the walls, white ceiling, and green furniture are an Art Deco fan's dream come true.
This is a great demonstration of a luxurious interior that looks equally expensive and modest. And it won't take much effort to bring it into a modern-day setup. You probably don't have chairs or tables like that, but the colors, arrangements, and accents will be easy to reconstruct.
---
10.

Decorated Mirror, Retro Lamps, and a Commode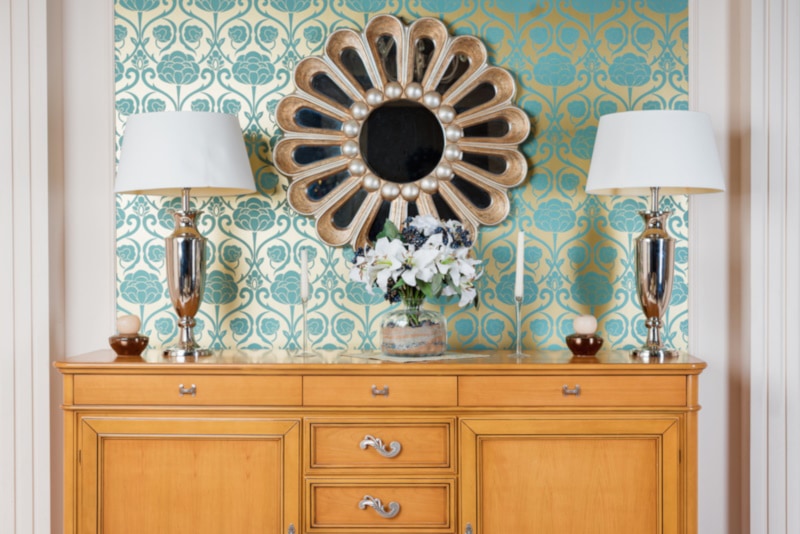 Earlier, we talked about putting a big mirror over the bed, and this time around, we'll be placing it on top of a vintage cabinet/commode. Mirrors played an important role in interior design from the 30s: they migrated from the 20s and found a new home in Art Deco. As for the lamps, they look more like they belong to the 40s but go very well with the rest of the interior.
The wallpaper deserves our attention as well. It's a very common choice in living rooms and bedrooms from the 1930s.
---
11.

Luxury and Retro in the Bathroom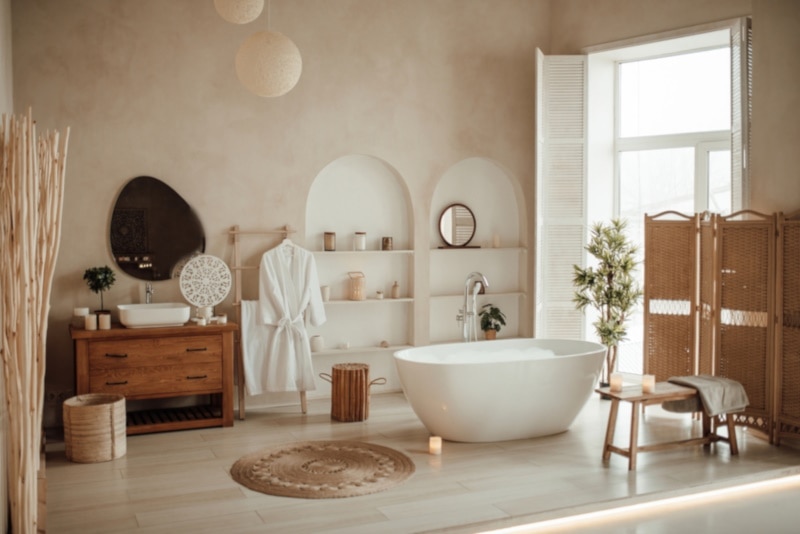 Moving on with our 1930s ideas, we have a lovely interior design that has all the essential details of a luxurious bathroom. The tub is, of course, the main attraction here, but the vintage cupboard, mirror on the wall, built-in shelves, and dressing screen are all necessary for creating the right atmosphere. Without these features, it would've been just another bathroom.
And let's not forget about the round, organic shapes, neutral tones (mostly white/creamy), and the large window. It's always the little things that turn an average interior design into a special one!
---
12.

Black-And-White Tile With a Modern Twist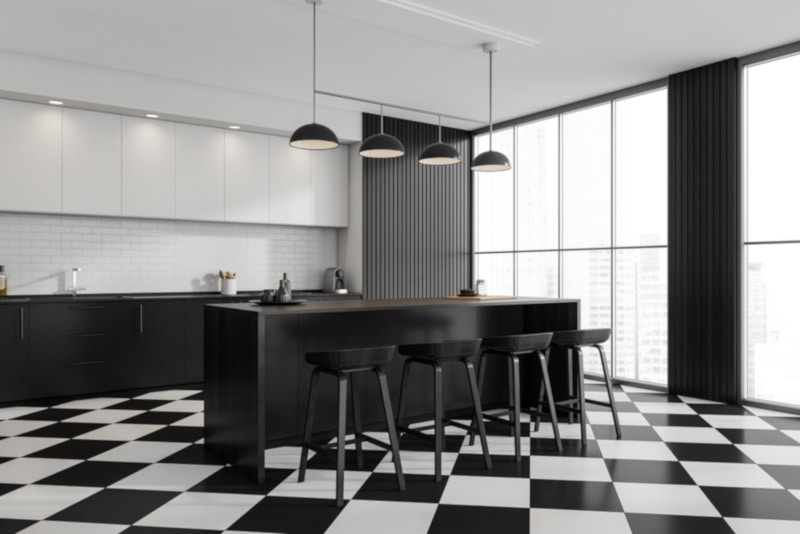 Are you a fan of movies, cartoons, and documentaries from the 30s? If so, we bet you've noticed that in that decade, tiles were a very popular choice for the floor and the walls (especially in the bathroom). And black-and-white used to be the color of choice for tile. Thus, while this kitchen is designed in accordance with modern standards, it still has more than a few elements from the 1930s.
The tall steel stools, simple breakfast table, and retro lamps also do their part.
---
13.

Why Not Go With Orange on the Walls?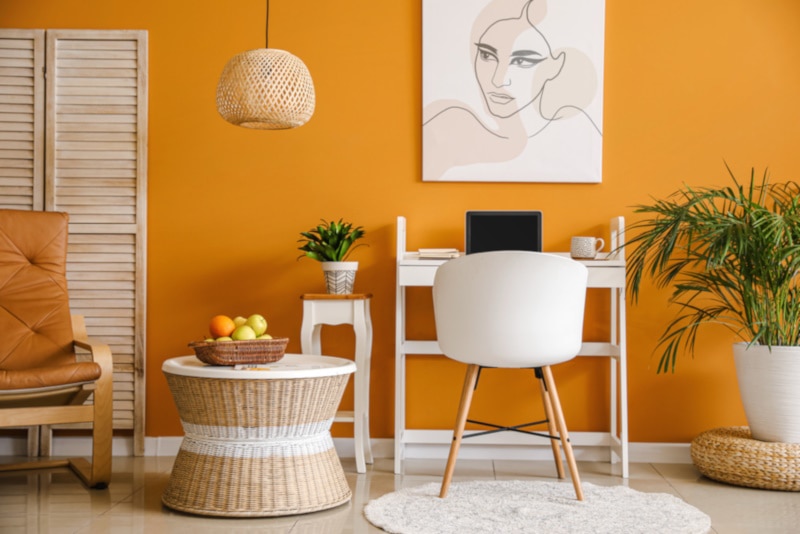 Art Deco and Streamline Moderne designers never shy away from black, white, or gray tones. Still, they mostly use bright colors that look fresh, exciting, and even a bit childish. So, don't be surprised when you see blue, pink, yellow, or orange walls coexisting with antique armchairs, concrete walls and floors, and wooden furniture or stainless-steel appliances.
The walls are actually a huge "playground" for the interior designers that live inside all of us. It's safe to say that there are no limits when it comes to colors, textures, and wallpaper choices. Over-the-top tones, silly combinations, classic hues, and abstract shapes are just some of the options on the table.
---
14.

Light Blue Cabinets and a Granite Countertop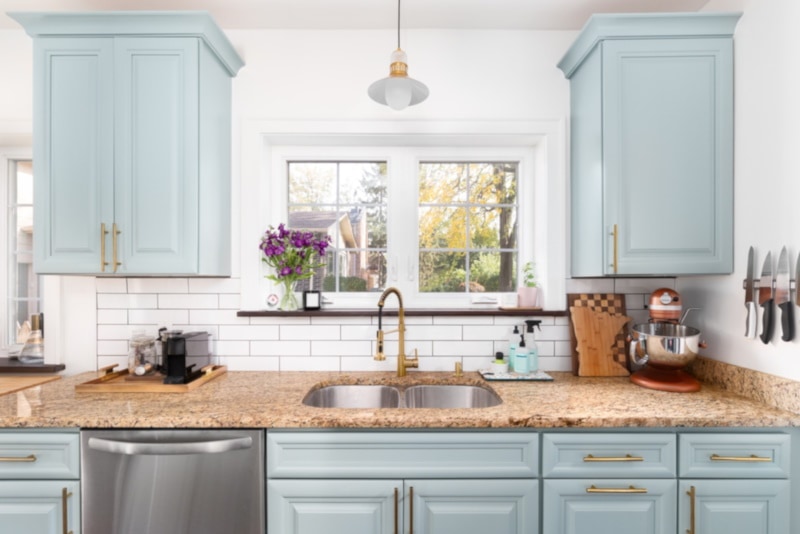 Interior design in the 1930s had a soft spot for golden handles. These could be handles installed on doors and windows, but mostly, they were found on kitchen drawers. The cabinets, in turn, were often painted light blue. That's because streamlined designs included quite a lot of nautical features. And then we've got a rustic lamp, retro faucet, and white tile backsplash.
Add a countertop (the material doesn't matter much here) and a knife holder on the wall, and you'll instantly get an inspiring kitchen design from the 30s!

Key Elements of Interior Design From the 1930s
The Great Depression forced regular Americans to choose practicality and simplicity over luxury and opulence, and that became the cornerstone of the 30s interior design. Chrome plating, heavy use of concrete, glass, and steel, and sleek, shiny, and refined surfaces defined this turbulent decade. Strong, low-lying lines, round corners, and dominance of symmetry were a part of the deal as well.
People had to say goodbye to lush elements of décor and expensive couches, beds, and chairs. And so, regular-sized homes and rooms started to look a lot more spacious! Lastly, interior design from the 30s had the no-holds-barred approach to the choice of colors and tones. Orange, gold, blue, pastel, and monochrome were the most popular picks.
How Did Art Deco Define the 30s? Who Invented It?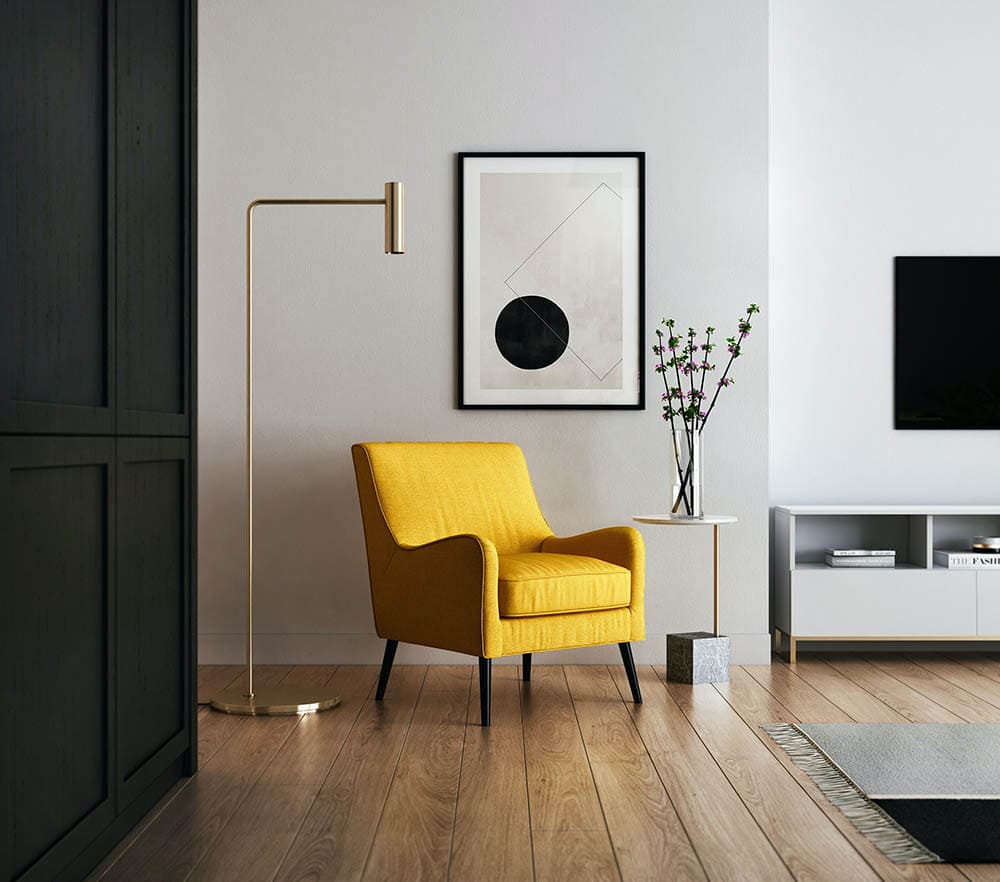 Before World War I, the French invented Arts Décoratifs, a brand-new style that influenced art, architecture, sculpture, painting, and design. By the 1930s, Art Deco was the visual style not only in the EU but also in the States. It had a heavy influence on fashion (clothing and personal ornaments), the automobile industry, and construction.
At first, Art Deco was about glamor, splendor, and technology. However, when the world went into a global depression, Deco had to adapt. That's how Streamline Moderne appeared. Instead of focusing on expensive and extravagant things, it shifted toward industrial materials, nautical elements, and modesty in design and décor.
Is Art Deco Popular Today? Should You Go for It?
Retro and vintage vibes have always been popular, simply because we like to go back to "oldies-but-goodies" every once in a while. And it's been almost 100 years since Art Deco made a debut in the United States. So, yes, interior designs from the 1930s are very much in demand today, especially when combined with other styles like rural, industrial, and minimalism.
The beauty of interior design is that you don't necessarily have to be a pro to embrace it. True, you might want to consult with a professional, but if you take the little-by-little approach, you should be able to pull it off. Painting the kitchen green, putting a retro couch in the living room, or adding luxurious touches to the bedroom will be enough to make your guests say, "Wow!".

Conclusion
Elegant, restrained, and extremely eclectic—that's the best way to describe interior designs from the 30s. By implementing exotic, rarely used colors and décor elements into the composition, Streamline Moderne could turn a boring room into a thing of beauty. The 1930s are also known for polished finishes, heavy use of industrial elements, and spacious, minimalistic rooms.
And to all the striving designers out there, please remember that you don't have to follow any of these ideas blindly. Instead, use them for inspiration. For example, you can try and fit black-and-white tiles, different color combos, huge elements of décor, and rustic/vintage furniture into a modern-day design to create a beautiful contrast. Don't be afraid to experiment!
---
Featured Image Credit: Dan Gold, Unsplash