Vitamix 5300 vs 750: Which Blender is Better?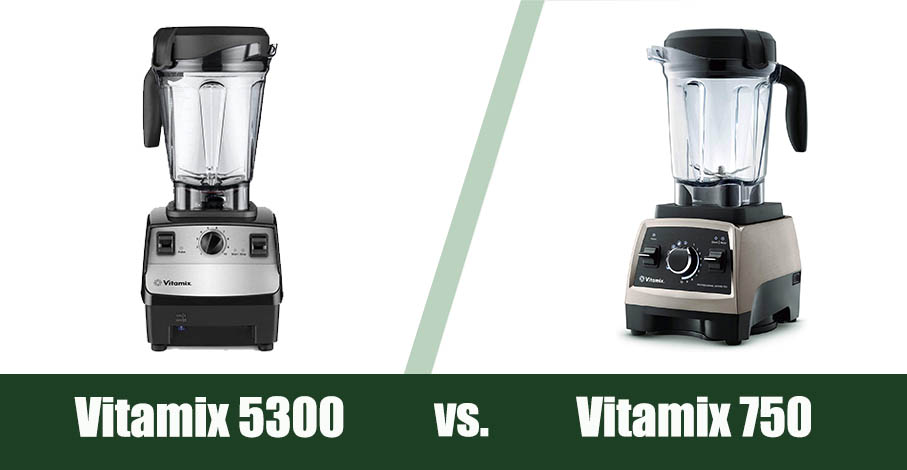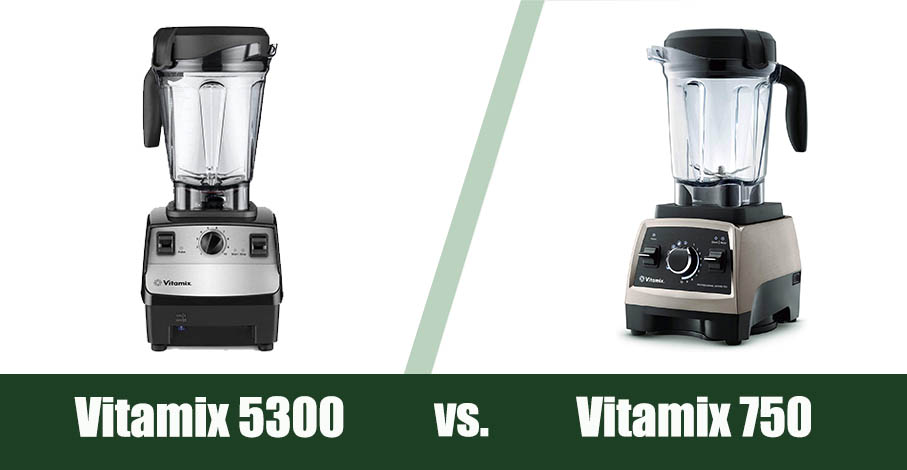 Rating
Image
Product
Details

Best Choice

Vitamix 750

Pre-Programmed Settings
Upgraded Motor Housing
BPA-free Housing
CHECK PRICE

Best Price

Vitamix 5300

More Affordable
Pulse Feature
Variable Speed
CHECK PRICE
The Vitamix 5300 is a classic that has done well to serve the needs of amateurs and pros alike since it first debuted.
The Vitamix 750 is an upgraded version of that blender, with new features that are sure to make it a classic shortly.
Today, the objective is to choose between these two high-end options. The task won't be easy, but we're here to guide you through all of the important talking points for each blender.
If you're already familiar with Vitamix, you probably know that deciding between these options won't be easy. Vitamix has been an established juggernaut in the world of blenders for years, and there's no sign of this changing.
The products that we'll be examining today are true testaments to the level of quality that has made this brand so prominent.
Both options come with 64-ounce containers, 2.2-horsepower motors, and a plethora of speed settings.
However, the 750 wins out in terms of user-friendliness, featuring an impressive five pre-programmed settings that will allow users to make anything from soup, to ice cream, to smoothies with just the push of a button.
Sounds great, right? But it comes at a price. These extra settings serve to make the 750 considerably more expensive than the 5300, making the 5300 a good option for buyers on a budget.
It's a challenging choice, right? Let's make it a little bit simpler by diving into a comparison of the two.
What are the differences between them?
Price: Point for the 5300
Chances are you already know this, but for buyers who aren't aware, you spend a lot of money when you shop from Vitamix. Their blenders are often five times the price of typical options on the market, and the same can be said of both products that we see here today.
In either case, you're going to be spending a fair amount of money. However, because the 750 is newer, and because it has more features, it also comes with a beefier price tag.
While a Vitamix blender will, unfortunately, never be a budget-friendly buying option, the 5300 is at least somewhat more reasonably priced.
The difference is not insignificant either. The difference in cost leaves enough money left over to buy a regularly priced blender.
Buyers who need to think seriously about how much they're spending will want to go with the 5300.
Motor: Point for the 750… Sort of
The motors of both of these blenders are ostensibly the same. In either case, you get 2.2 horsepower motors that can run at a wide variety of speed settings to make anything from soup to ice cream.
However, Vitamix has performed some upgrades on the motor housing of its newer product. This is something that the manufacturer often does with each new product line that they release.
The differences are slight but noticeable. Because of the new motor housing, the Vitamix 750 is going to run a little bit quieter than the 5300.
It will also cool a little bit better, which will reduce the risk of inconvenient and harmful overheating.
Ease of Use: Point for the 750
The five pre-programmed settings that you get with the 750 are going to make your life a whole lot easier. With these settings, you can make soup, ice cream, smoothies, or pureed foods with the simple push of a button. The fifth setting is dedicated to the unit's self-cleaning mode, which is also very nice to have.
The 5300 can do all of these things as well. But some users struggle to take advantage of all of the great features by using just the variable speed settings.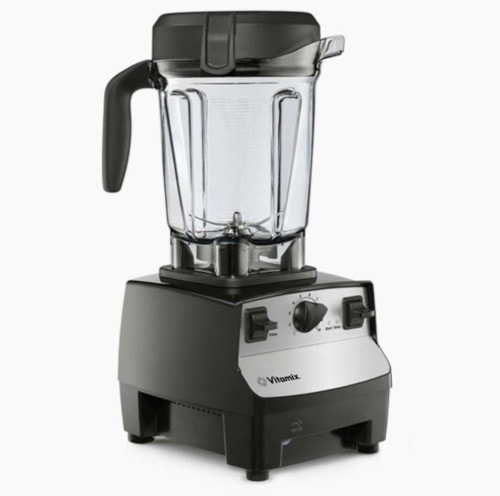 Quick Rundown of 5300:
Vitamix 5300 Blender, Black
2.3 HP motor: 120 Voltage: 50/60 Hz: 11.5 Amps:
The Vitamix 5300 offers power and convenience, with a faster, yet quieter, motor and a low-profile, 64-ounce Low-Profile container that...
Dimensions: 17.25 x 8.75 x 7.25 in. 7-Year Full Warranty
Pros
More Affordable than 750
2 Horsepower Motor
Variable Speed Settings
64-Ounce Container
Cons
Noisier than 750
No Presets
Quick Rundown of 750:
Pros
Numerous Pre-Programmed Settings
2 Horsepower Motor
Variable Speed Settings
64-Ounce Container
Upgraded Motor Housing
What the Users Say
Vitamix is always a big hit with the people who use their products, and today's choices are no exception.
The 750, in particular, receives lots of love. Thanks to its combination of presets and variable speed controls, users enjoy an incredible combination of versatility and ease of use.
As one would imagine, the ability to make soup or a frozen treat at the push of a button goes over quite well with the majority of users.
There's also a lot of praise for the new motor housing. No, people do not literally mention the housing by name, but they do mention the fact that the 750 runs considerably quieter than they would have expected it to.
While the motor is still noisy, we hear from people who say that they can blend in the morning without waking the entire house up, which is certainly a nice feature to have.
The two biggest complaints that we hear both pertain to the 5300. The most frequent concern regards the lack of presets. While this may not sound like that big of a deal, the learning curve that all of the speed settings require is more of a burden than some users are up for.
The other issue that some users report is overheating with the 5300, though to be fair, this most likely occurs because the motor is being put under undue stress.
These things aside, both options are well received.
Conclusion
In terms of quality, the 750 is the clear winner. Thanks to the presets, as well as the new motor housing, this unit has an unambiguous advantage over the 5300 that the people who own it enjoy.
However, the 5300 is also a great blender and, because it is more affordable, it also has a strong appeal.
Now, you just have to decide between maximum quality or savings. It may not be an easy choice, but we do hope that we've made it easier for you.
You might also like: