Vitamix 750 Blender Review 2023 – Pros, Cons & Verdict
We give the Vitamix 750 Blender a rating of 4.6 out of 5 stars. 
Build Quality: 5/5
Power: 5/5
Features: 5/5
Price: 3.5/5
Review Summary
The Vitamix 750 is a true powerhouse of a blender. If you are familiar with Vitamix as a company, this probably will not be much of a surprise to you.
They have a longstanding reputation for making professional quality blenders that are rich in power and features. This unit is certainly no departure from that tradition, but unfortunately, quality is not all that Vitamix is known for.
They also have a reputation for really tipping the scales when it comes to price. Professional quality performance does not come cheap, a rule that unfortunately extends to the Vitamix 750.
This blender is going to cost a pretty penny, but today's goal is to see if it is worth the expense.
With the features that this blender has to play with, your gut might tell you that it is indeed well worth the money.
The Vitamix 750 features stainless steel, all-metal housing, an incredible 2.2 horsepower motor, aircraft grade, stainless steel blades, variable speed settings, and innovative housing for the motor that is designed to keep it from overheating.
But there are also cons. As we said, this blender is very pricey. We also found that the blender emits a strange burning or metallic smell when used for long periods.
The manufacturers say that this is simply a sign that the motor is being a little bit excessively worked, but it still is not so good to see in a blender of this price range.
Of course, this surface information is not going to be enough to sway your opinion one way or the other.
With that in mind, let's now dive deeper into our Vitamix 750 review!
A Quick Look at the Vitamix 750:
Pros
All Metal Housing
Very Powerful
Variable Speed
Air Craft Grade Blades
Cons
Very Pricey
Motor Starts to Struggle With Heavy Duty Blending
Specifications
Company: Vitamix

Model: 750

Motor: 2.2 Horsepower

Dimensions: 7.72 x 9.41 x 17.4 in

Weight: 12.46 lbs
Power: Good for Blending Anything:
The raw power of the Vitamix 750 is ultimately what will give it a significant edge over competing options.

With 2.2 peak horsepower, you are never going to struggle with getting a smooth consistency on anything that you blend.

This power also allows the Vitamix to do unique things that you don't often see in a blender, like making hot soups.

The motor is so powerful that it can generate enough friction to turn cold ingredients hot, making it the perfect option for crafting something like a nice piping hot chowder.

Vitamix has also done a good job of protecting the motor. The motor housing is suspended in a way that maximizes airflow to reduce the risk of overheating.

We did mention in our product overview that if you strain this blender enough, it will eventually produce a burning smell.
This is true, but the situation would also be significantly worse were it not for features like this.

Ultimately, the power of the Vitamix 750 is going to be one of its biggest selling points.
Intuitive Container Design: Good for Storage
The container that you get with this blender is massive. Sixty-four ounces (or, one-half gallon) is going to be more than enough space to blend for an entire family.

However, in the past, this large-sized container (which is featured in most Vitamix products) has been problematic for storage.

This issue has been fixed in the 750. Vitamix has designed the container to be short and stout rather than tall and skinny. As a result, you get all the size you could need without any of the cons.
Settings: Good for Easy Living:
In addition to featuring variable speed settings for maximum control over your blending, five pre-programmed settings allow you to be a little bit less hands-on.

These settings allow you to do anything from making soups, ice cream, or smoothies, to even easily cleaning the blender.

With the settings, all that you need to do is throw in the ingredients, press a button, and let the Vitamix do the rest.
FAQ
What kind of warranty does Vitamix include?

With this and all Vitamix blenders, you get a generous seven-year warranty.

Some Vitamix blenders can make nut butter. Can you do that with this unit?

Yep! This unit can make nut-butter, and it can even do it without the need for added oils.

How noisy is this blender?

Blenders are all going to be fairly noisy, but the housing that allows the motor to breathe also does a good job of keeping this blender relatively quiet. It's quieter than many top-tier blenders, but it still may not be what you want to listen to first thing in the morning.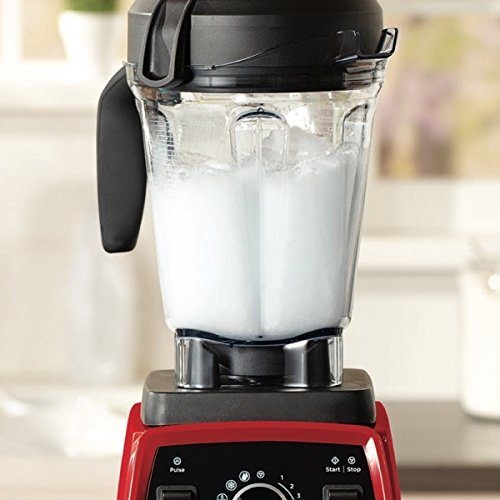 What the Users Say
As is the case with just about every Vitamix blender, users like this appliance. The power and versatility are particularly celebrated.

Users like the ability to make soup out of the same tool that they use to make ice cream. People also are just very pleased with the general results of the blender. It does a good, thorough job with whatever you throw at it, which is all that you can really ask of a blender, right?

The biggest complaint is the burning smell that we have already mentioned. Eventually, any overworked motor is going to do something like this.

Some users feel that the problem is popping up in situations where they were not overworking the motor.

Of course, it can be very difficult to judge whether or not that is the case without knowing every detail of what they are doing.

Other than that issue, the Vitamix 750 is a high performing blender with proven customer satisfaction.

Conclusion
Even though the Vitamix 750 does have a moderate con in the form of the odor that the motor sometimes releases, the biggest obstacle for most people will probably be price.

Is this product worth spending a lot of money on? Ultimately, that is going to be a personal decision. However, it is abundantly clear that this is a great product. It is very powerful, it is rich in features, and it just produces great results.

Knowing all of this, you now just have to decide if you want to add the Vitamix 750 to your kitchen arsenal.

Looking for direct comparisons of these powerful Vitamix appliances? Try: