Vitamix e310 Explorian Blender Review 2023 – Pros, Cons & Verdict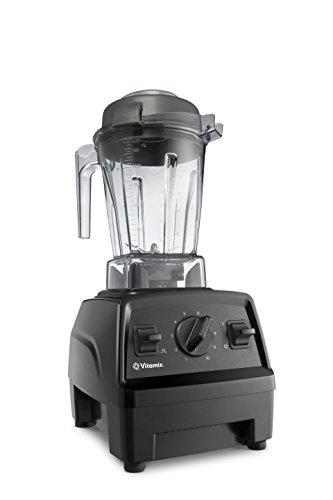 We give the Vitamix e310 Explorian Blender a rating of 4.3 out of 5 stars. 
Build Quality: 4/5
Power: 5/5
Features: 4.5/5
Price: 3.5/5
Review Summary
Vitamix is kind of like the Mercedes of blenders. In fact, many of their biggest products are often used in culinary schools.
There's no question that they've made good stuff in the past, and the Vitamix e310 certainly paves the way for them to maintain that reputation in the future.
While this option is a little bit more optimized for family kitchens than it is for restaurants, it still puts a big premium on performance.
You get ten-speed settings, a pulse feature, aircraft-quality steel blades, and a self-cleaning mode that will reduce the work you have to do when smoothie time is over.
On the other hand, it's also more expensive than conventional blenders. This is one of Vitamix's more affordable options, but it's still priced significantly higher than most blenders that you'll see at the store.
We also found that the motor struggles a little bit more than most Vitamix blenders when it comes to chopping up thick ingredients.
Do the pros outweigh the cons? Let's explore that question as we now get into the thick of our review.
A Quick Look at the Vitamix E310:
Pros
Self-Cleaning Mode
Easy to Store
Ten Speed Settings
Pulse Feature
Cons
Pricey
Struggles with high-volume blending, relative to the performance of other Vitamix blenders
Specifications
Company: Vitamix

Model: e310

Weight: 11.5 lbs

Dimensions: 11 x 8 x 17 in
Low Profile Container: Easy to Store
Traditionally, Vitamix blenders have been a little bit difficult for users to store thanks to their massive container.

Their standard container size is 64 ounces, as opposed to the 48-ounce container that you get here. The smaller size helps with the storage factor. But Vitamix has also optimized the design of the container. It's short, rather than tall, for better cabinet compatibility.

The squat design also helps with the blending process. Because the base of the container is wider, ingredients fall into the blades easier, making the blending process a little bit smoother.
Self-Cleaning Mode: Good for Everyone
Smoothies are great but cleaning up after making smoothies is not so great. It's exactly for this reason that the self-cleaning mode featured on this unit is so deeply appreciated.

All it takes to clean out the e310 is a drop of soap, some hot water, and about thirty seconds.

Admittedly, you're probably going to need to wipe it out a little bit afterward just to be thorough, but the Vitamix does most of the legwork.
Variable Speed Settings: Good for Complete Control
You get an incredible range of speed settings with this blender. Ten. With a range that considerable, you can do things with the Vitamix e310 that other blenders just aren't capable of.

Want to make cold ice cream? You can do that with some of their slower settings. On the other hand, if you like piping hot soup, the Vitamix also has you covered. On the highest speed settings, the blades produce enough friction to turn cold ingredients hot so that you can make chowder in one single container.

In addition to the speed settings, you also get a pulse mode with this blender. Admittedly, pulse features are fairly common to most blenders, but other Vitamix models have left this mode out in the past.

That being the case, it's certainly nice to see it included here.

With the pulse feature, you aren't going to have any trouble making more nuanced foods like chunky salsa or hummus.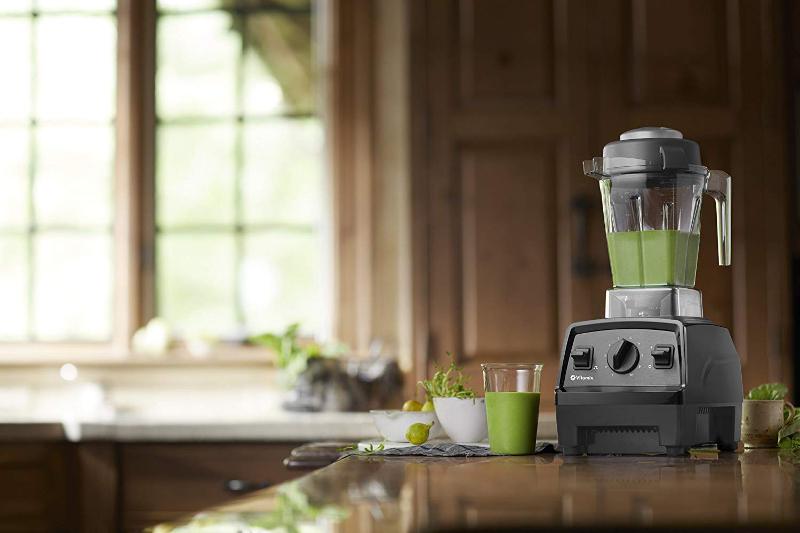 FAQ
Is this unit compatible with Vitamix's 64-ounce container?

It is! While this unit comes with a more moderate 48-ounce container, the base can be used with its standard 64-ounce container as well.

Is this blender noisy?

While it may not be quieter than the average blender, it probably won't be louder either. Most users find it moderately noisy.

What kind of warranty does this product come with?

You get a standard seven-year Vitamix warranty with this product.
What the Users Say
Most users like this blender a lot. Many people are very fond of the speed settings, which really open up the blender to a very wide range of functions.

We've heard from several people who donated their coffee grinder, food processor, and mixer after getting this blender.

People are also very happy with the self-cleaning mode; it does a great job of mitigating the post-blending cleanup.

On the other hand, users who have used other Vitamix products before tend to be a little bit less impressed with it.

While this is a great blender by most standards, it isn't quite as powerful as some of their other products. We've heard from some people who aren't able to blend bulk food as easily as they have with other Vitamix blenders.

These things aside, the majority of users are very happy with the Vitamix e310.
---
Conclusion
While this may not be Vitamix's best blender, the e310 does allow shoppers to get one of their products at a price that is not completely outlandish.

The features are still great here. The speed settings allow you to have complete control over your blending, and the performance is truly hard to beat.

Our thoughts are, that if you're looking for a high-end blender that won't completely break your bank, this is something to consider.

RELATED:
---
Featured Image Credit: Amazon