Wagner Power Painter Plus 0525027 Paint Sprayer Review 2023 – Pros, Cons, & Verdict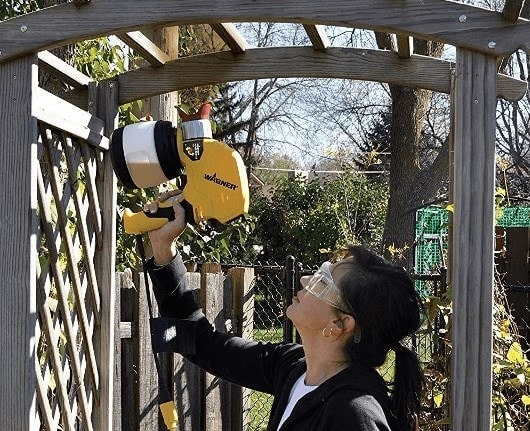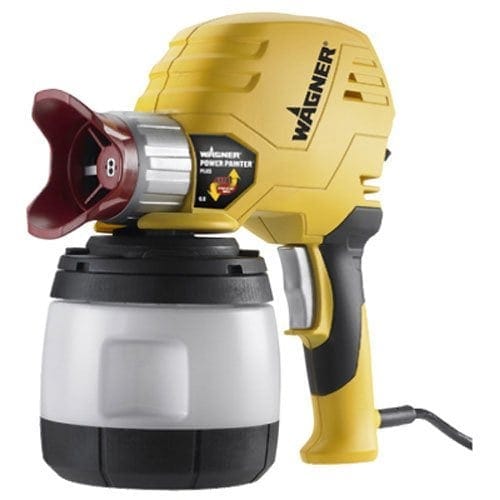 We give the Wagner Power Painter Plus 0525027 a rating of 4 out of 5 stars. 
Build Quality: 4/5
Power: 4/5
Features: 3/5
Price: 5/5
Review Summary
Today we are talking about the Wagner 0525027 Power Painter Plus (try saying that three times fast). Wagner is known for producing affordable tools for home painting projects, and this basic, but ultimately affordable and efficient, tool very much falls in line with that.
Buyers should know going in that (as the price tag may have already led them to suspect) this is a bare-bones tool.
It has a lot of power going for it, but not very much else. If you are a homeowner that needs to lay a lot of paint down fast, this will serve as an appealing alternative to the traditional brushes and rollers.
Just know what you are getting. For what this tool does right, there is plenty it does wrong. The Power Plus Painter is heavier than most newer paint spray systems. It's hard to clean, and from what many users are saying, the tool's life span leaves much to be desired.
Is this tool worth your time? Decide for yourself as we dive into a review of the Wagner 0525027 Power Painter Plus.

Wagner Power Painter Plus – A Quick Look
Pros
Very affordable
Powerful
Quick
Cons
Hard to clean
Hefty
Short life span
Specifications
Company: Wagner

Model: 0525027 Power Painter Plus

Weight: 6 pounds

Dimensions: 11 x 11.5 x 6.5 inches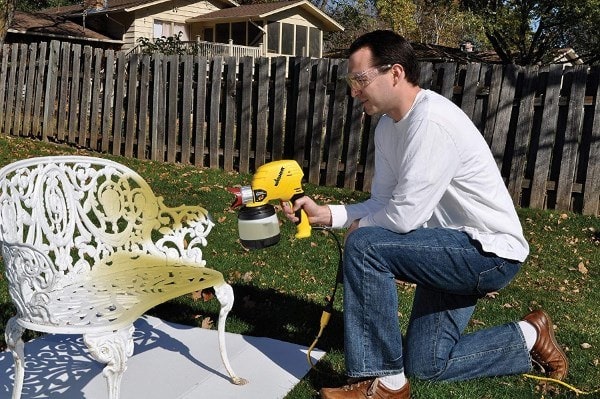 Important Features:
Good for Laying Lots of Paint Fast
One of the strongest aspects of this tool is that it is very quick. The Power Painter Plus is able to spray close to seven gallons an hour, which means you should not have any trouble painting sizeable spaces in a relatively short amount of time.

If all you are looking for in a spray system is more speed than a paint roller, this alone may be a very attractive feature for you.
EZ Tilt – Good for Tight Spaces:
The EZ Tilt flexible tube makes it easy to paint in tighter areas. Suction tubes can sometimes be very limiting in terms of mobility, which is never great to see. The flexible tube component at work here, simple though it may be, does mitigate that problem.
OptimusTM Dual Tip for a High-Quality Finish:
In spite of some problems this tool has, the end result is usually pretty good.

This is in part attributable to the OptimusTM dual tip. Describing this feature takes us somewhat to the nitty-gritty, nerdy details of paint spraying, but essentially this component of the tool just filters more paint particles into each pass with the gun.

Because of this simple but effective feature, you see results that are richer and more robust, giving your projects a more professional look.

Related Read: Wagner Paint Eater Review: Pros, Cons & Verdict

FAQ
Is this tool durable?

The build is pretty sturdy. While we did not detect any durability issues ourselves, we have heard from owners who have had the tool fall apart on them. It's always hard to determine the cause of this without knowing the situation, but this is something to look out for.

What kind of warranty does this sprayer come with?

All Wagner sprayers come with a standard, one-year manufacturer's warranty that kicks in upon purchase.

Can this tool be used for projects that require a fine finish?

Unfortunately, no. The tool is meant for spraying a lot of paint, which will make it much better at painting walls than fine finish pieces.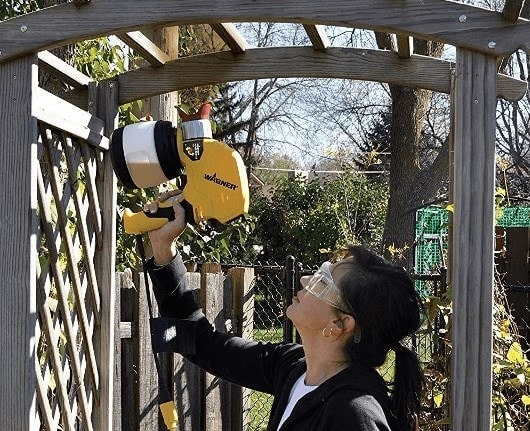 What the Users Say
User opinion is fairly mixed. People do appreciate the affordable price, and the power of the tool. There has also been a fairly positive reception of the actual results that it produces.

However, there are also a fair number of complaints to factor in as well. One thing we have heard from users almost across the board is that this tool leaves behind a big clean-up job.

As mentioned in the introduction, we have also heard that the tool gets heavy after an extended period of time, and that it is hard to clean well, which can lead to clogging.

These things are more or less to be expected of a tool in this price range, but they are also never great to see.

You might also be interested in: 10 Best Paint Sprayers – Reviews & Top Picks

Conclusion
Time to make a decision. Is the Wagner Power Painter Plus going to be right for your situation? The affordable price tag and the proficient performance should appeal to budget buyers that still want good results.

Still, big cleanups, challenging maintenance, and an uncomfortably heavy build are not usually what people look for in a paint sprayer.

Is it worth making concessions to save a few dollars? Ultimately, that is for you to decide.

Related Read: Wagner MotoCoat 0529031 Paint Sprayer Review