Wagner Paint Eater Paint Removal Kit Review 2023 – Pros, Cons, & Verdict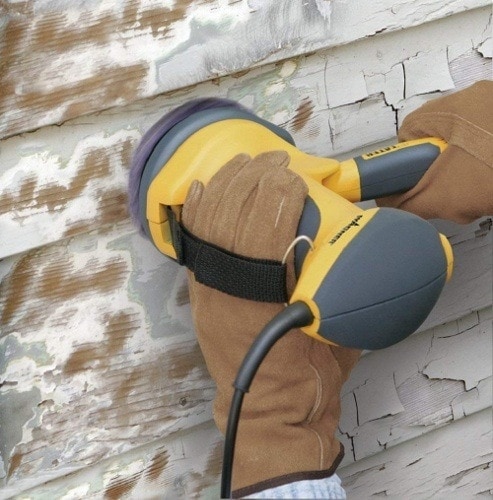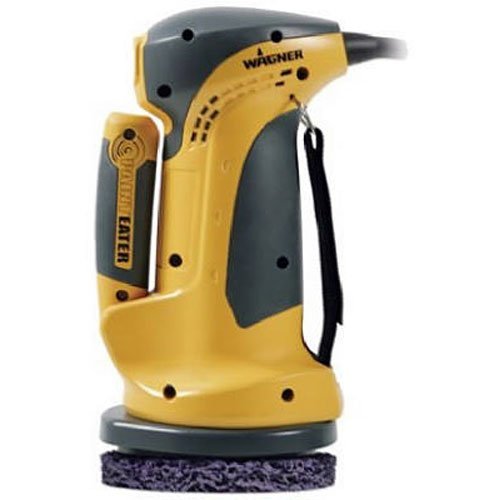 We give the Wagner Paint Eater a rating of 3.6 out of 5 stars. 
Build Quality: 3.2/5
Power: 3.7/5
Features: 3.5/5
Price: 4.1/5
Review Summary:
There aren't many tasks more unpleasant than removing paint. It isn't fun in any respect, no matter how you tackle the task. In the past, your options included nasty solvents, scrapers, sandpaper, and stiff brushes. Fortunately for paint removers everywhere, products like the Wagner Paint Eater make the chore a bit easier.
Wagner SprayTech is a German company founded in 1947 that focuses on painting chores, both putting it on and taking it off. Their product lineup includes sprayers, heat guns, rollers, and surface preparation, the home of the Paint eater. Wagner products are known for quality and functionality.
Just what is the Paint eater? Think of an orbital sander with an aggressive sanding disk, and you have the essence of this tool. Wagner houses a powerful 3.2-amp, 2600 RPM motor inside their trademark yellow housing and outfits it with a 3M spun-fiber disk. Turn it on and grind paint to your heart's content. But, not before grabbing eye, face, and hand protection. Inhaling any type of paint debris is not a good thing.
If you are facing any task that requires removal of chipping, peeling, or cracked paint and rust, you are going to appreciate the time savings a powered removal tool will provide. We think homeowners and DIYers will gravitate to the Painteater. Professionals facing a whole-house project may want something that covers more area in less time.
 A Quick Look at the Wagner Paint Eater
Pros
Powerful motor
Adjustable handle for secure single-handed use
Removes paint without damage to the underlying material
Cons
Using a 4.5" disk a bit undersized for large projects
Cannot be used on rough-surfaced materials like cedar shakes
Outdoor use on non-lead paint only
Specifications
Brand name: Wagner SprayTech

Model: Wagner Paint Eater, #513040

Voltage: 120VAC, 60Hz

Motor: 3.2 Amp

RPM: 2600

Disc size: 5"

Weight: 3.5 pounds

Dimensions: 10.6 x 9.5 x 5.3 inches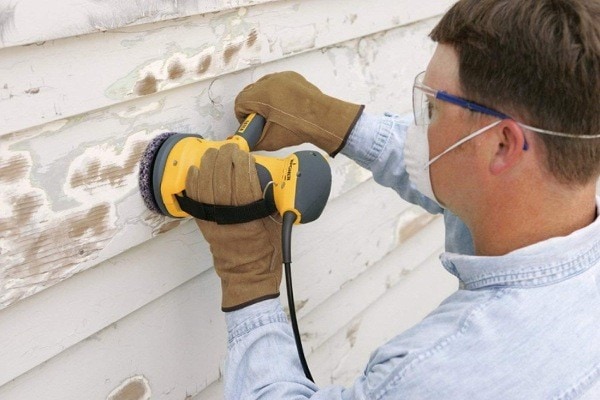 One or two-handed operation
Operating any type of rotating tool requires a sure grip. The Paint Eater accommodates both single and two-handed use with its folding handle. When you need to apply a bit more muscle or are in an awkward position, the two-handed option is very useful.
So, it allows for two-handed use, is it hard to control?
It has a powerful 3.2 Amp motor and runs at a fairly low 2600 RPM so, it is not especially hard to control. As we mention above, you always want a firm grip on any hand-held rotating tool, and the Paint EATER is no exception.
Flex-Disc mounting system allows sanding of uneven surfaces
The PaintEATER uses a spun fiber disc, and when combined with the Flex-Disc mounting system, the tool can remove paint from uneven surfaces like masonry or brick. It will not remove all the finish on surfaces with routed details (molding) or decorative designs.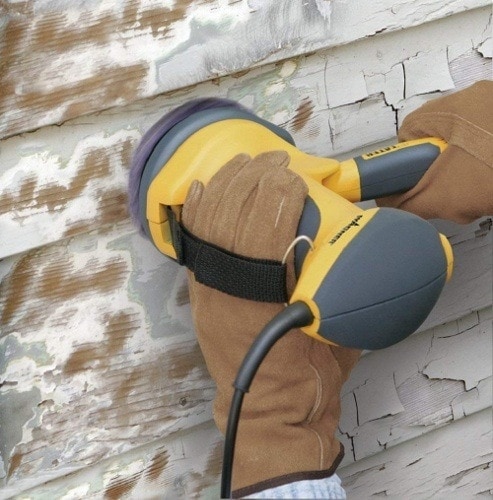 FAQ
Can you use the Paint eater with paint stripping gel?

That is not a good idea. It is designed to be used dry, and the manual even states not to use it with solvents. The reason for this? You will be slinging solvent gel in every direction and creating a colossal mess.

How long do the discs last?

The discs that the tool uses have a fairly long life. The actual life of a disc depends on a lot of factors, though. For example, they will last longer on smooth surfaces with thinner paint coats than of cinderblock painted with waterproofing paint.

Is there any way to connect the tool to a dust collection system?

There is no provision on the tool for connecting a dust collection system like a shop vac. Because it generates so much dust and small particles, it is best used outside only.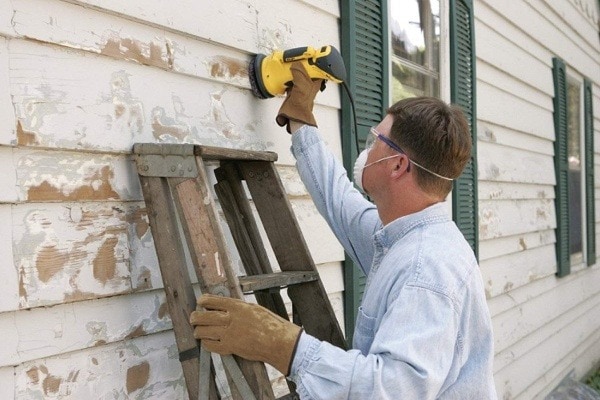 What the Users Say
And now, the moment you have all been waiting for, "What do users of the Paint Eater think?" As is our practice with these reviews, we search out the reactions and feelings of others who have used the tool and taken the time to share those feelings online, both good and bad.

Taking the good points first, quality of the job done tops the list. When users are finished with their paint removal projects, they frequently speak of the fine, smooth finish left behind. This eliminates a sanding step and provides a pristine surface for the new paint, varnish, etc.

Able to reach tight places is also frequently mentioned. The tool cannot get all the way into a corner, but it can reach right up to the edge of the area being prepared. This brings up an important point; you may need to protect surfaces adjacent to the project area to prevent the disc from removing their finish. A perfect example is protecting the trim molding next to a floor being prepared.

Value comes up frequently as well. The tool is reasonably priced, and users are pleased with the build durability of the PaintEATER.

Let's give those with less than favorable opinions their say. A common gripe has to do with an internal thermal fuse designed to protect the motor from burning out. When the motor reaches a certain temperature, it blows. The motor is protected, but users cannot access the fuse to replace it. They must return it to their store for warranty replacement/repair. A real pain in the middle of a project.

The shaft lock pin can break. It doesn't prevent the user from changing discs but makes it a lot more difficult because they must use a replacement for the pin like a hex key. Users rate the tool down for this issue.

"Eats" a lot of pads, making it expensive to use. Contributing factors to short pad life are many and varied; including, rough surfaces, thick coatings, and pushing too hard on the tool. Make sure you have some extra pads so you can keep working if one wears out.
Conclusion
When you have a paint or surface finish to remove, the Wagner Paint Eater can make short work of your job and leave a nice smooth surface behind, ready to be recoated. Homeowners and DIYers will find this reasonably priced tool a nice addition to their workshop.

But if you don't want to do the paint removal process yourself then we recommend using something like Bidvine to find a service professional who can get the job done.

Related posts: