What Are Mosaic Tiles? Advantages, Disadvantages, & FAQ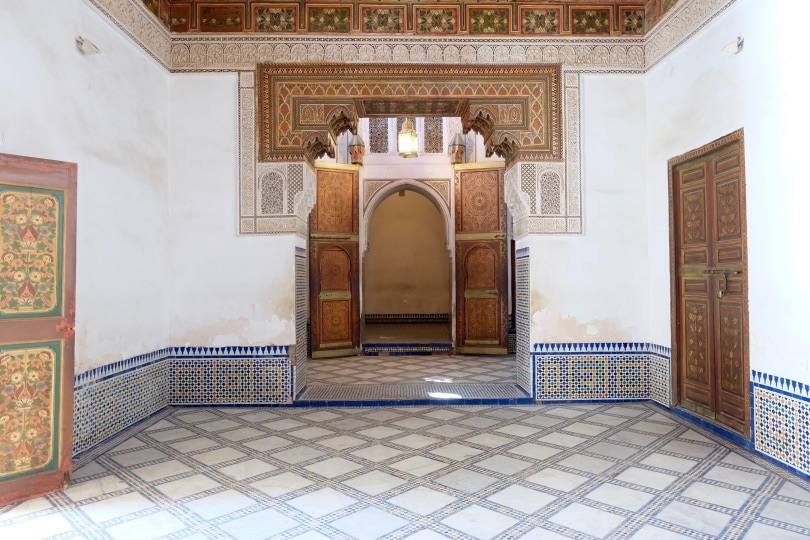 Nothing brings style to your tile like mosaic patterns. While your everyday tile arrangements may be functional and long-lasting, it's easy to lose interest over the many years they'll last. With the artistic intrigue of mosaic tiles, you'll create a fashionable display that will continue to wow guests and delight your family.
Mosaic tiles come in countless colors, materials, shapes, and sizes, giving you unlimited possibilities to add character to backsplashes, shower floors, hearths, and more! We'll show you how to add a stunning aesthetic upgrade to your tile layout by exploring mosaic tiles and the best places to use them.

How Does It Work?
Mosaic tiles are small pieces, often no more than 2 inches wide, that come together to create a cohesive and exciting pattern. Patterns vary in complexity and can be random or repeating. They'll often combine to form a picture. Individual tiles can be any color or include patterns to add unique texture and depth.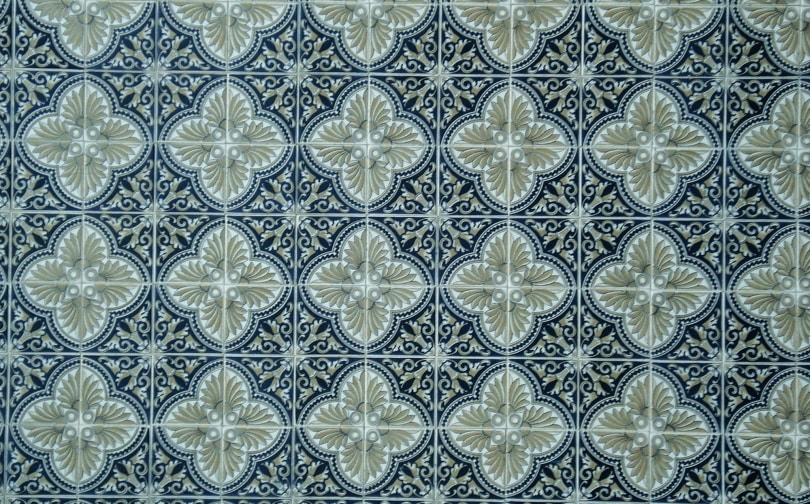 What Are the Different Types of Mosaic Tiles?
Because they add an extra aesthetic element with all the utility of standard tiles, you'll find the broadest selection of tile materials in mosaic varieties. There are typical ceramic, porcelain, and natural stone options. But many manufacturers also use glass, metal, river rocks, or even iridescent Mother of Pearl from shells.
Along with materials, mosaic tiles present an extensive range of color and shape options. Tiles can be any shape, from basic rectangles to hexagons to curving organic forms.
Beyond color, shape, and pattern is the tile installation type. Rather than arriving in a box of separate tiles that force you to lay out and attach each piece one at a time to create the pattern, mosaic tiles often come pre-arranged on a backer.
The backer is usually a mesh screen that sits atop the thin set and below the grout. With it, you eliminate the need for spacing and building the pattern. You can purchase individual mosaic tiles to flex your creativity, but being able to lay whole blocks of the design cuts down your installation time and difficulty significantly.
Where Is It Used?
Mosaic tiles can appear in numerous places throughout the home or outdoors. The small size makes them practical in bathrooms and shower floors, while their patterns allow you to bring creative flourishes to backsplashes, countertops, feature walls, and fireplaces. They're ideal as an accent for other tile work, either as an eye-catching central design or an elegant border.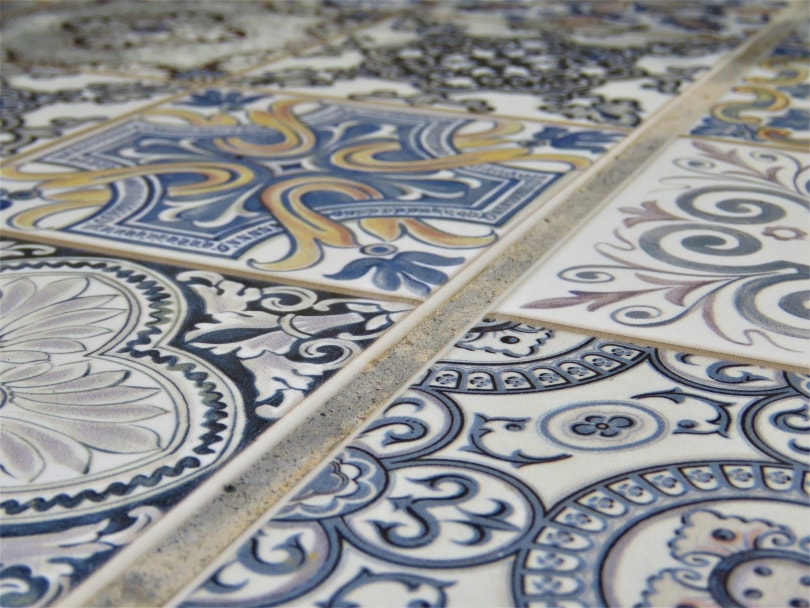 Outside, mosaic tiles are attractive enhancements for swimming pool floors and patios. Throughout the backyard, mosaic tiles make ideal adornments for fountains, garden accents, and other hardscaping elements. Because mosaic encompasses numerous materials, you can use them anywhere you would put ordinary tile. As with any other type of tile, the best application has more to do with the material than the pattern.

Advantages of Mosaic Tiles
While mosaic tiles can be as durable and waterproof as any other type of tile, they offer numerous practical advantages with their incredible aesthetic benefits.
Ease of Installation
Looking at a mosaic tile installation, you'd think it was born of a tedious pursuit of precision, but in many cases, it's easier to lay mosaic tiles than larger tiles.
The primary efficiency factor is the backing. Laying your tile, cutting around edges and fixtures, and ensuring everything is level becomes much faster by turning individual pieces into blocks of pre-spaced tiles. There's no need to add a million spacers for each tile.
The other advantage of mosaics, whether you use pre-arranged spreads or individual tiles, is the flexibility. Since they're so small, they can follow curvier shapes. That can make an enormous difference when tiling a concave shower drain or creating curving tile features on a wall or garden ornament.
Anti-Slip
A wet large-format porcelain tile can be slicker than an ice rink, and you can imagine the potential safety concerns. Mosaic tiles, on the other hand, offer a convoluted surface with less slippage because they're so small.
The varied tile texture combines with the short spaces between grout lines, which are considerably grippy compared to tile, to ensure a firm foothold. Although many people buy them for aesthetics, the anti-slip benefits make mosaic tiles a practical choice for showers, pool decks, and other slippery spots.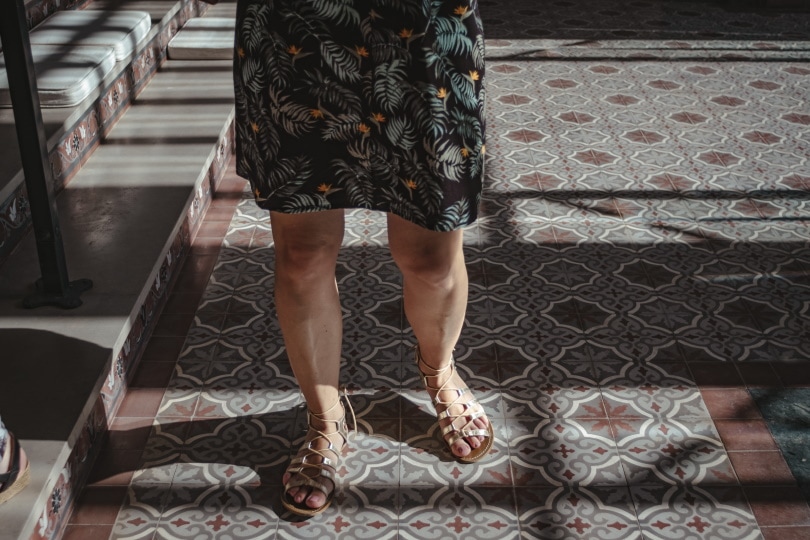 Customizability
In the tile world, mosaic is where the opportunity lies to add a stylish flair to your personal space and stretch your imagination to the max. Home improvement stores feature vast arrays of incredible patterns covering every style, from traditional to modern.
Venture online, and the possibilities truly have no end. With advances in design technology and manufacturing processes, 100%-customizable mosaic tiles are more accessible than ever.
Design firms offer services to help create patterns to your preference. Many others let you provide the image or design for them to recreate in a mosaic layout. Today, you can turn nearly any image into a high-quality mosaic tile layout, whether it's a dynamic modern pattern, a flowing floral design, or just a picture of your dog.

Disadvantages of Mosaic Tiles
Mosaic tile has the same downfalls as any other kind of tile. It's slippery when wet, extremely firm and unforgiving, and not without its maintenance needs in the way of regular re-sealing to prevent moisture intrusion and staining. Compared to alternative flooring or backsplash options, it's also challenging to install.
Tiles are also more expensive than other materials. With so many constructions available, there is a broad range of prices for mosaic tiles, and they're generally no more expensive than standard tiles. The one exception is when you work with a custom design tile manufacturer. You'll pay more for the design and creation service with a custom design than the actual material.
One essential drawback to mosaic tiles compared to larger tiles is the grouting. While applying assembled mosaic tiles to thin-set may be simpler, smaller tiles mean you'll need more grout and, subsequently, closer attention to detail. It can be much more challenging to ensure haze-free tiles and clean grout lines with so many pieces.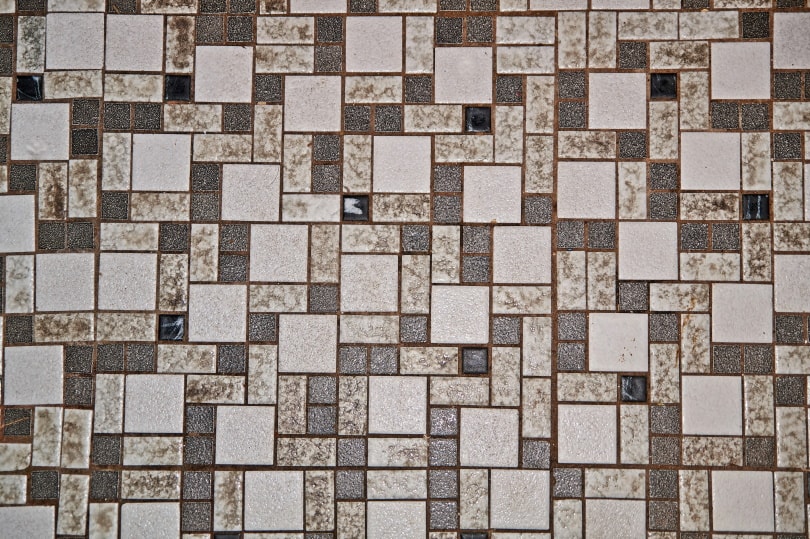 Frequently Asked Questions (FAQs)
How Do You Take Care of Mosaic Tile?
Maintenance will depend primarily on the setting and style of the mosaic tile. For instance, glass tiles resist moisture without issue. Porous stone mosaic tiles, however, will need a new sealant application once a year or more in high-traffic areas. No matter the type of tile, sealing your grout lines will be crucial to prevent wear and moisture penetration.
How Do You Clean Mosaic Tile?
Always avoid acidic substances like vinegar or harsh chemicals like bleach or ammonia when cleaning your mosaic tiles. The glaze, some tile materials, and grout can face damage from aggressive cleaners. Instead, use gentler pH-balanced cleaners like baking soda and water paste or 3% hydrogen peroxide to remove dirt and stains.

Conclusion
You can do almost anything with mosaic tiles, thanks to design technology fueling customization and innovative designs making the installation more DIY-friendly. Unlike other materials, mosaic tiles can fit any color scheme or personal style. With so many affordable and versatile options available, the only limit with mosaic tile is your imagination!
---
Featured Image Credit: Piqsels