What Is the Best Wood for Floating Shelves? What You Need To Know!
Floating shelves can make great additions to any room. They look nice and are easy to keep clean because there is nowhere for dirt to hide. These shelves are inexpensive and easy to install if you go the commercial route, and they are also an excellent DIY project for woodworkers. When it comes to the best wood for floating shelves, there are several great choices, so keep reading as we look at each one and discuss other considerations, like installation.
The Best Wood for a Floating Shelf
Almost any type of hardwood works well when creating a floating shelf. However, you'll probably have the best success with oak, maple, pine mahogany, and solid walnut. Each variety is strong and either looks attractive or accepts stains well, which helps you tailor the appearance to your requirements. Pine is likely the easiest to find and least expensive of the varieties listed here, while oak is regarded as one of the most durable materials on the market right now and is easy to clean and maintain. Maplewood is a popular choice for instruments, and its highly attractive wood grain can help you create fantastic-looking shelves. Mahogany has a dark red color that many people love, and walnut has a natural beauty that lasts a long time.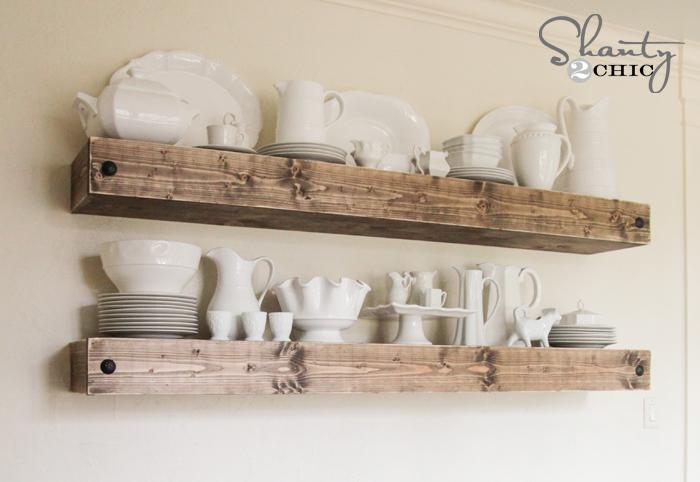 What Is a Floating Shelf?
A floating shelf does not have the visible supports that a traditional shelf has, so it appears quite modern. The lack of supports can make it seem flimsy, but it can be quite sturdy if you install it correctly. The floating design also makes it easier to see what's on the shelf from multiple angles that might not be available with other designs.
How Do I Install a Floating Shelf?
Installing a floating shelf is a two-step process. The first step requires you to screw a long shelf bracket into the wall. This bracket will have several long pegs that extend out from the wall. The second step requires you to line up the holes in the board with the pages and slide them into place. The pegs in the holes should have a snug fit so the shelf doesn't slide away from the wall easily. Some people also screw the board into the wall from below for extra support.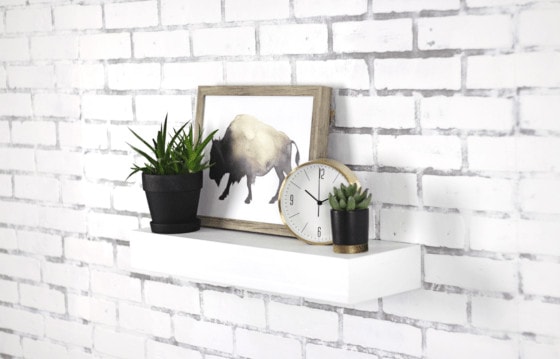 How Much Weight Can a Floating Shelf Support?
As expected, floating shelves cannot support as much weight as a standard shelf, but they can still be quite versatile and are more than capable of holding picture frames, knick-knacks, books, plants, and similar objects. In addition, longer and thicker pegs inserted into the shelf will make it sturdier and control how much weight the shelf can hold.
How Thick Are Floating Shelves?
Most of the floating shelves that you can find, both commercially and homemade, are about 2 inches thick. This thickness enables you to create holes for good-sized pegs that will allow the shelf to hold more weight without causing the entire design to become too heavy for the wall. This thickness also looks good from a distance and helps it appear sturdy without being bulky.
Problems With Floating Shelves
While floating shelves are a great choice for many people, they are not perfect for everyone. They can't support as much weight as shelves with supports. So, you can't use them for heavy objects, and since there are no sides, some objects can fall off easier, especially round items. Floating shelves are also usually smaller than standard shelves, which means there's less space to put things, and you may need more to fit everything.
Summary
If you are looking for the type of wood that will provide the most stability and longest lifespan possible for your floating shelf, we recommend oak. If you want something attractive with a nice grain, we recommend maple, and if you want something inexpensive and easy to find, we recommend pine. Pine is also a great choice if you are building the shelves from scratch because it's easy to stain and has a nice grain.
---
Featured Image Credit: Instructables