Bosch JS260 Jigsaw Review 2023 – Pros, Cons, & Verdict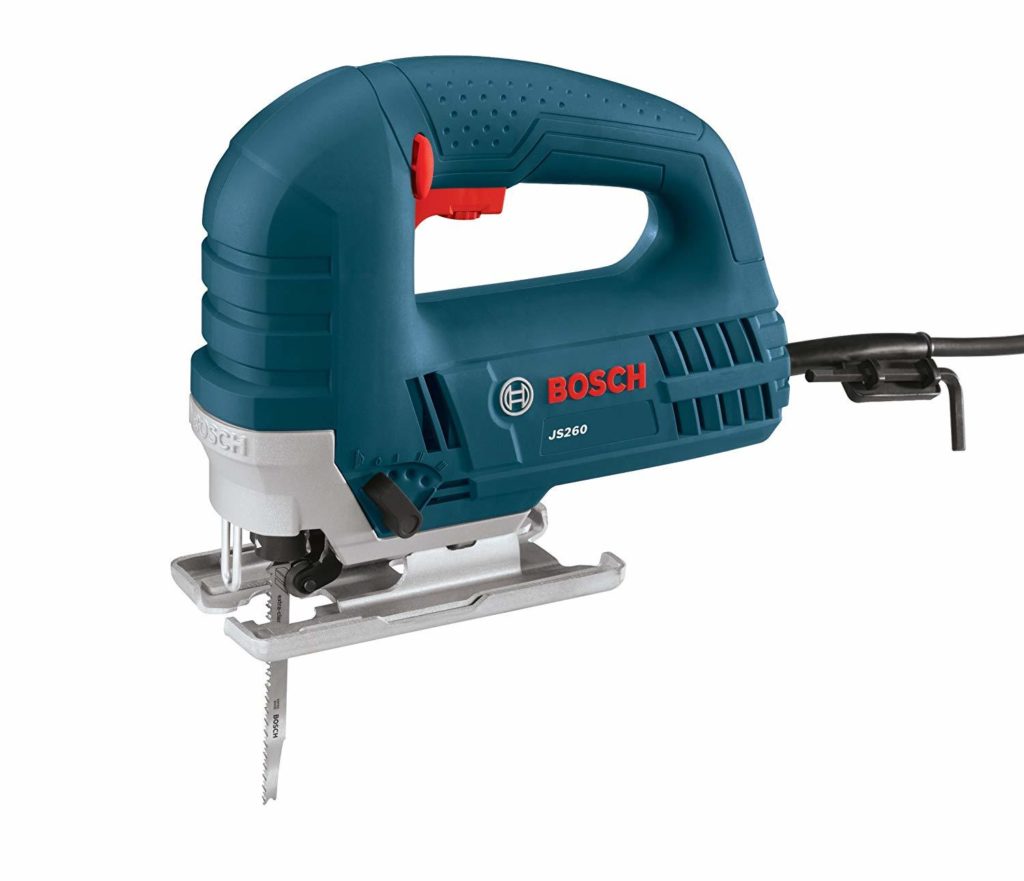 We give the Bosch JS260 Jigsaw a rating of 4.5 out of 5 stars. 
Build Quality: 4.7/5
Power: 4.5/5
Features: 4.5/5
Price: 4.5/5
Review Summary
The Bosch JS260 is a great tool for the home workshop and DIY projects. It's extremely easy to use yet powerful enough to tackle any job. It's easy to control, and you can use it to make all types of cuts. It's priced right for most non-commercial use, and it will last many years.
Let's take a closer look at the facts and figures of this jigsaw, so you can decide if it's the right purchase for you.
---
Bosch JS260 – A Quick Look
Pros
6-amp motor
3,100 strokes per minute
Multidirectional blade clamp
Precision machined plunging mechanism
Dust blower
Steel footplate
Ergonomic handle
Ambidextrous lock-on button
Includes carrying bag
Cons
Strong vibrations
Sometimes hard to insert the blade
---
Specifications
Specifications
Brand Name: Bosch
Model: JS260
Voltage: 120 Volts
Hertz: 60
Amperage: 6 amps
Item Weight: 6.89 pounds
Motor Size: 6-amp
Dust Blower: Yes
Color: Blue
Height: 7 inches
Length: 9 inches
Width: 3.5 inches
Speed: 500 – 3,100 strokes per minute
Power Source: Electric (cord)
Blade Change System: Tool-less
Dust Blower: Yes
Plunging Mechanism: Yes
Lock-on button: Yes
Orbital Action Settings: 4
---
6-Amp Motor
The Bosch JS260 has a powerful 6-amp motor that reaches speeds of 3,100 strokes per minute, easily cutting through most woods and even steel pipe with ease.
---
Variable Speed
You can adjust the speed of the Bosch JS260 anywhere between 500 and 3,100 by using a rotary dial that sets the maximum speed and a variable speed trigger that lets you select any rate up to that point. Slower speeds are better for harder materials like steel, aluminum, fiberglass, and some hardwoods. Faster speeds are best for cutting softer materials like pine, plastic, particleboard, and plywood. Variable speed also makes it easier to start a cut more precisely.
---
Steel Footplate
The steel footplate uses heavy gauge steel that won't bend or warp, providing smooth movement and accurate cutting over your project's surface. It also helps stabilize the tool as it vibrates.
---
Tool-less Blade Change
The tool-less blade change allows you to change blades quickly without reaching for your toolbox. The redesigned system grabs the blades tighter, so there is less risk of slipping or damage.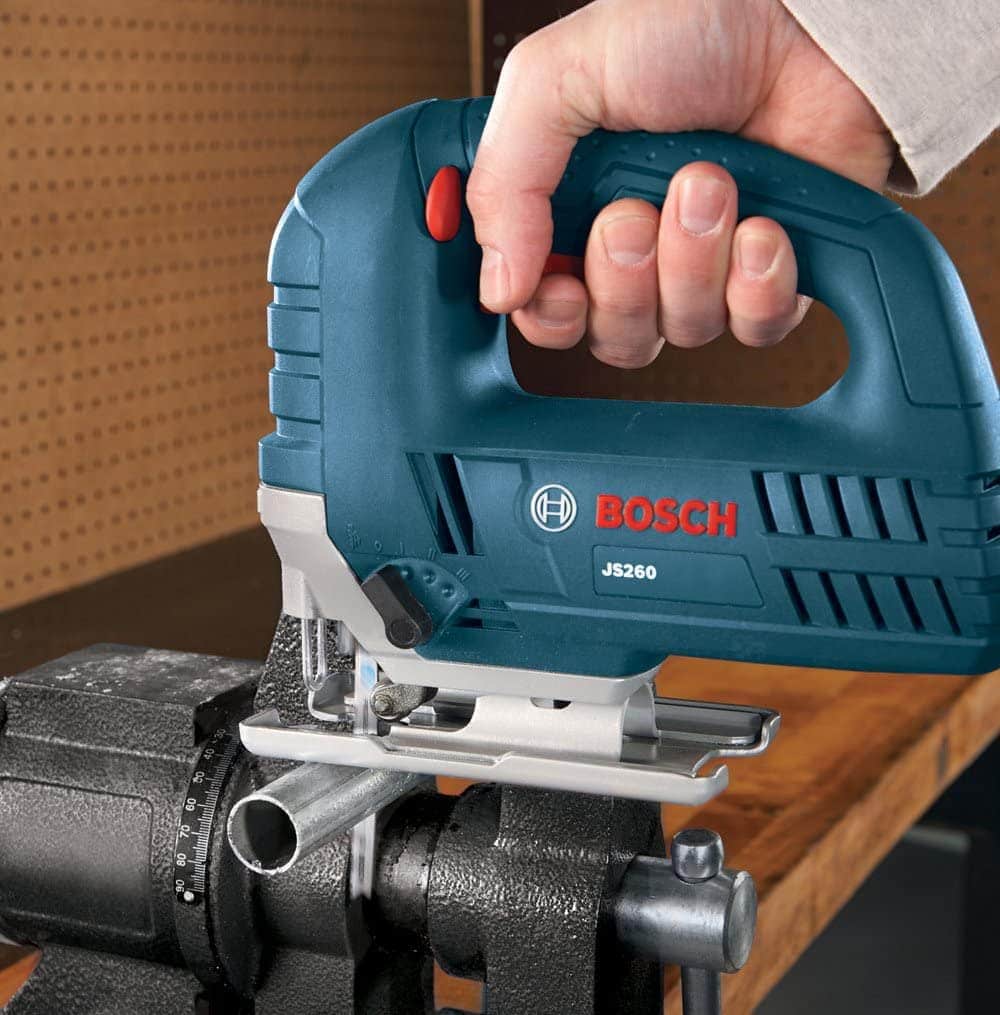 ---
Orbital Settings
The orbital setting on the Bosch JS260 changes how the blade travels as it moves up and down. It's perfect for clean and straight cuts where you need a smooth edge. An orbital setting causes the blade to tilt slightly positively when traveling down and negatively when moving back up. Higher orbital settings force the blade to tilt more, and this action causes the tool to cut through the wood much faster, but it will also leave a rough edge that gets worse with higher settings. We use orbital settings primarily for cutting curved lines that can bind up a blade moving straight up and down.
The Bosch JS260 gives you straight up and down plus 3 orbital settings that will help you make straight and smooth cuts or artistic, wavy lines.
---
Dust Blower
The built-in dust blower is always on and helps remove sawdust and other contaminants from the surface as you cut. It keeps the cut line visible so you can make more accurate cuts. It will also help prevent pollutants from entering the motor or trigger, potentially causing damage to the tool. Unfortunately, the dust blower does not connect to a vacuum or collection bag, so it will not remove the dust from the air. When using it, you will still need to have plenty of ventilation and use a dust mask.
---
Ergonomic Handle
The soft grip ergonomic handle makes it easy to control the Bosch JS260 and helps to reduce vibrations. It allows you to work longer without becoming fatigued and enables you to make more precise cuts.

FAQ
Where is the Bosch JS260 made?
The Bosch JS260 is made in China using a global network of suppliers, including the United States and Europe.
Does the Bosch JS260 use T-Shank blades?
Yes, T-Shank blades are the only type that will work in the Bosch JS260.
Does the Bosch JS260 include a storage case?
The Bosch JS260 does not come with a hard case, but it does come with a soft carrying bag for easy storage.
What is the distance from the blade to the edge of the footplate?
There are 1.5-inches of the baseplate on either side of the blade.
What is the depth of the cut?
The depth of the cut will depend on the material. You can cut 2 11/16-inch into the wood and .18-inch into steel.
Is the bevel only 0-degrees and 45-degrees, or can I set it to any angle?
You can set it to any angle from 0-degrees to 45-degrees.
Can I use the Bosch JS260 to cut plywood and 2x4s?
Yes, you can use the Bosch JS260 to cut any wood up to 2 11/16-inches thick.
Does this tool require Bosch blades?
You can use any brand of T-Shank blades with the Bosch JS260.
Does the quick-release break easily?
We did not have any problems with the quick release breaking. However, the mechanism can collect sawdust that can make it difficult to get the blades in and out.
Which blade do you get with the Bosch JS260?
The Bosch JS260 comes with one wood cutting T-Shank blade labeled T144D.
Is there a dust collection kit for this tool?
The Bosch JS260 does not have a dust collection kit.
Is the 6-amp motor powerful enough?
Yes, we had little trouble cutting all wood types and even used it to cut through metal with little trouble.
Does the Bosch JS260 have a lock-on function?
Yes, the Bosch JS260 has an ambidextrous lock-on mechanism that you can use from either side of the tool.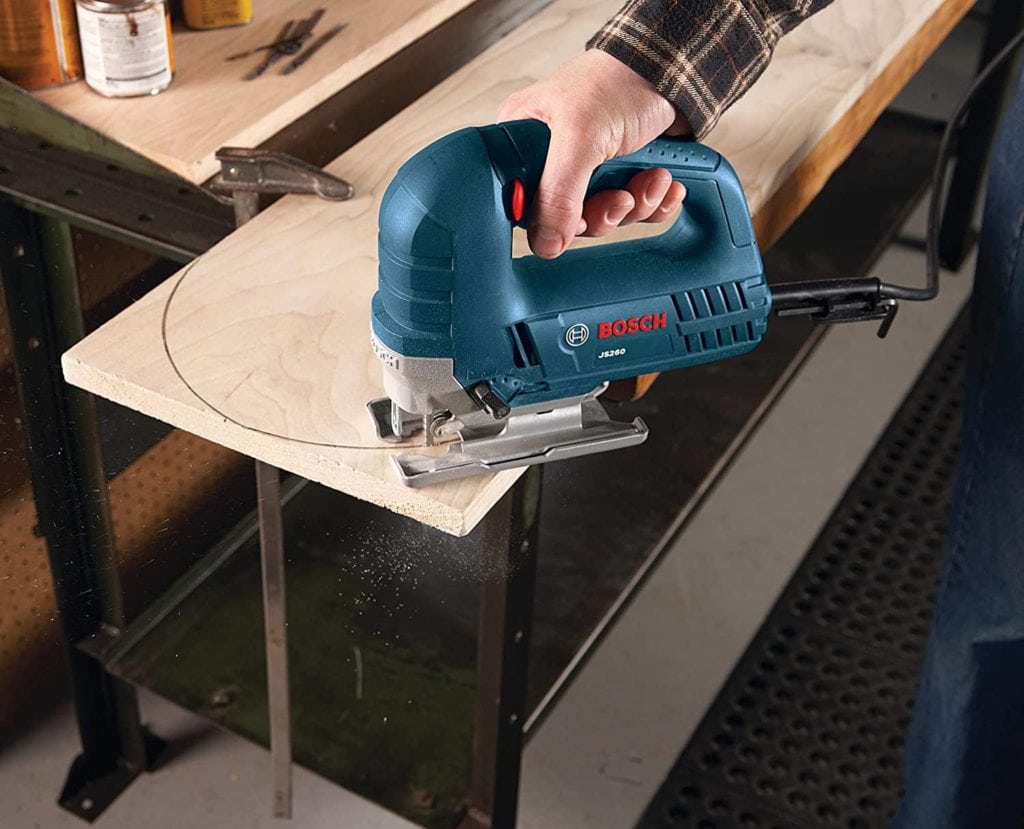 What the Users Say
We've searched the internet to find out what other people are saying about the Bosch JS260, and here is what we found out.
Most people feel that the tool performs exceptionally well.
Many people comment about how powerful the tool is.
Many people say it's easy to maneuver the Bosch JS260 around curves.
Many people have mentioned that the Bosch JS260 is not as loud as other jigsaws.
Many people like the price.
Some people thought it was a little heavy.
Some people found it hard to set the correct angle.
Some people mentioned that it produces strong vibrations.
A few people complained that the base is not flat.
A few people didn't like the anti-splinter plunger.
A few people said it was hard to change the blades in the Bosch JS260.

Conclusion
The Bosch JS260 is a useful tool that features a powerful 6-amp motor capable of producing 3,100 strokes per minute. It's perfect for woodworking and projects around the house. It accepts any T-Shank blades and switching them is easy with the tool-less blade change feature. It's a rugged tool with a soft rubber handle that improves grip and reduces vibrations. It's perfect for beginners and experienced users.
We hope you have enjoyed this in-depth look at one of the most versatile saws available. If we have answered your questions and convinced you to add one of these tools to your workbench, please share this guide to the Bosch JS260 on Facebook and Twitter.