What Size Ceiling Fan Do I Need? (Ceiling Fan Size Guide)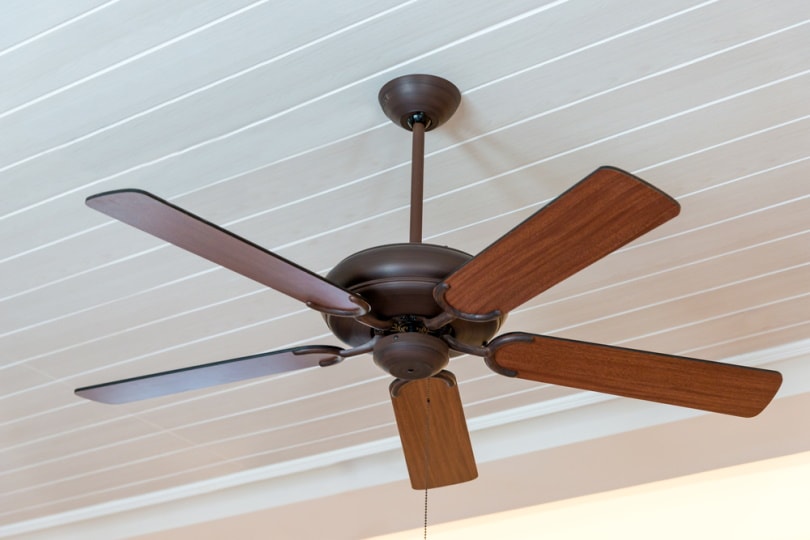 Ceiling fans are useful home appliances that help move cool air or hot air down from the ceiling to make a room more comfortable. These appliances come in a range of shapes, sizes, and styles. To ensure maximum comfort and performance, you should choose the right size ceiling fan. The right size ceiling fan will do more than just keep your room cool and well ventilated; it will also save you money in operational costs.
So, how do you determine the ceiling fan size needed in a room? You first need to know the size (square feet) of the room you will be mounting and installing. You also need to determine the diameter and CFM of the fan blades and compare it with the Ceiling fan Size guide offered by the American Lighting Association (ALA). The chart will show you which is the most appropriate size of ceiling fan you need based on your room size, blade diameter, and CFM.
In this article, we will look at various ceiling fan sizes ideal for different rooms in the house. We will also look into the two main methods of measuring the fan size, which is one of the most vital aspects of sizing ceiling fans.

How to Determine the Size of Your Ceiling Fan
Many people simply buy small ceiling fans for small rooms and large fans for large rooms. However, many factors determine what ceiling fan size you need. First, confirm whether the fan will be used indoors or outdoors and if it will be installed in a room with high or low ceilings.
To maximize the efficiency of a cooling fan, you need to customize the size of the fans for each room.
Installing a fan too small for the space will not circulate the air sufficiently to make the room feel cool.
Similarly, a fan too large for the space will overpower the room with strong currents even at a low setting.
Unfortunately, many homeowners tend to get the size of the ceiling fan wrong. To determine the best size for your room, you need to understand the ceiling fan blade diameters, CFM, and room square footage, which is not easy. This is where most sizing mistakes are made.
The appropriate size of a ceiling fan required in a room is determined by the diameter of the blade. Since most ceiling fans do not have an equal number of fan blades, it can be difficult to determine the diameter by measuring the lengths of the blade.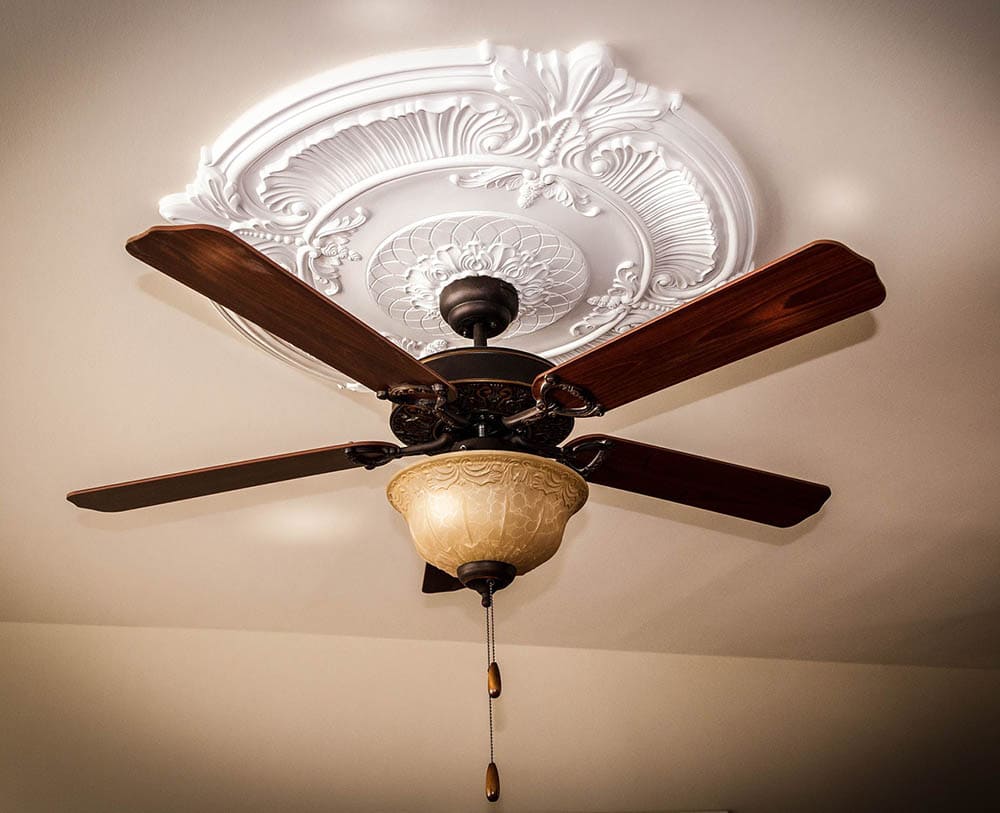 But generally:
If the ceiling fan has an odd number of blades, measure the tip of one blade to the center of the fan.
If the fan has an even number of blades, measure the distance between the ends of the opposite blades to get the diameter.
A more accurate way of determining the ceiling fan size is by focusing on the airflow generated by the fan blades measured in cubic feet per meter (CFM). The diameter of the blades is proportional to the CFM that a ceiling fan can generate. So, to adequately size a ceiling fan simply means determining how many CFM ceiling fans you need.
An easier, though slightly less accurate method of sizing a ceiling fan is checking the ceiling fan blade diameter and room square footage. You can check the fan blade diameter against the room's square footage from the ceiling fan size guideline of the American Lighting Association.
Fan Size Requirements According to Room
1.

Ceiling Fan for Bedroom
Bedrooms are some of the most important rooms to install ceiling fans in a house. A properly sized bedroom ceiling fan will circulate the air to keep the atmosphere in the bedroom cool and comfortable. Furthermore, the bedroom ceiling fan creates a quiet humming noise that blocks out ambient noises that can interrupt your sleep.
There are two common ceiling fan size options for standard bedrooms. A regularly sized bedroom measuring 144 to 225 feet will require a fan with a blade span of 44 to 50 inches. You will want to confirm whether the fan's CFM rating is between 1600 and 4500. If your bedroom ranges from 50 to 75 feet, the correct size of the fan should be anywhere between 29 to 36 inches. The higher the CFM rating, the more air the fan will be able to move.
---
2.

Ceiling Fan for Living room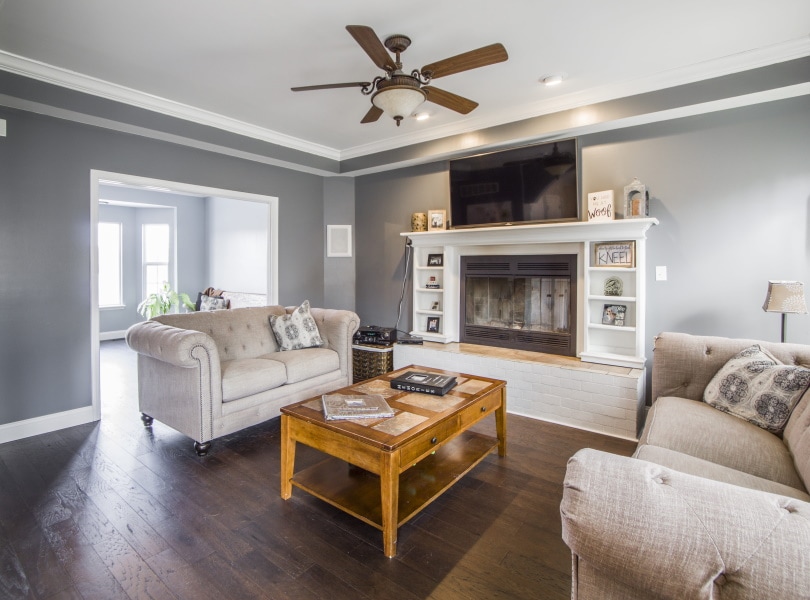 The living room is often where we entertain guests or relax and lounge after a hard day at work. When shopping for an appropriate ceiling fan for the living room area, emphasis is mostly placed on the style of the fan. However, while the style of the fan may be a worthwhile consideration, it does not account for the size or CFM required to cool the living room.
Living rooms, drawing rooms, and family rooms differ in terms of size. Some have high ceilings, while some have low ceilings. So, you must focus on the total square footage of your room and compare it to the fan size guide to find the appropriate fan size.
Most living room areas with high ceilings will require large ceiling fans that range between 52 to 56 inches. They will efficiently move air from spaces ranging from 175 to 350 square feet. By finding the appropriate CFM and blade span for your living room, your living area will remain sufficiently cooled even in the hot summer season.
---
3.

Ceiling Fan for Office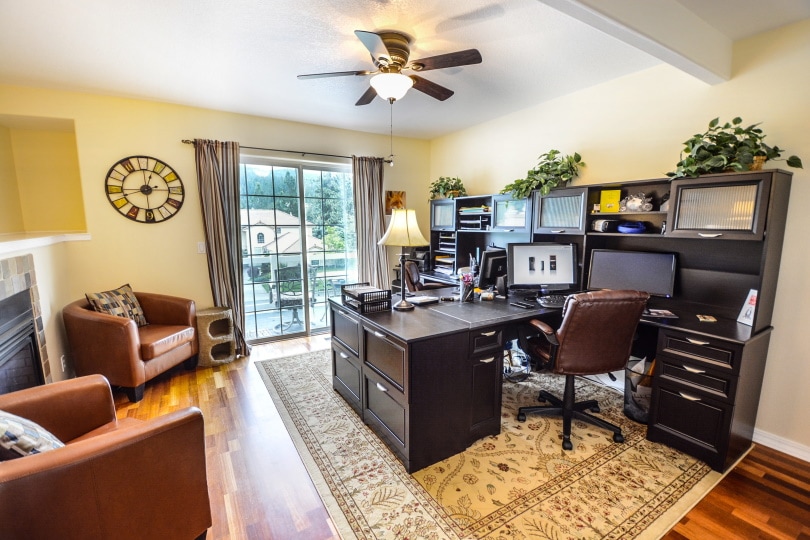 As more people embrace employee satisfaction initiatives, several office planning concerns arise. One of the most common concerns for employers is whether or not they should install ceiling fans in their offices to make the workers more comfortable. Frequently asked questions include, "will the ceiling fans blow the papers off the desks?", "can a ceiling fan even fit in our offices?", and "will ceiling fans complement our office style?"
These questions are all normal and very valid. Yet, the ideal fan size for your office should be able to provide gentle air circulation and bring a sleek, and modern style to your office. Many closed-plan offices have spaces ranging between 75 to 175 square feet and can benefit from a ceiling fan 42 to 48 inches in size. Since most ceiling fans fall into this category, you can have a great range of style options with this fan size.
---
4.

Ceiling Fan for a Garage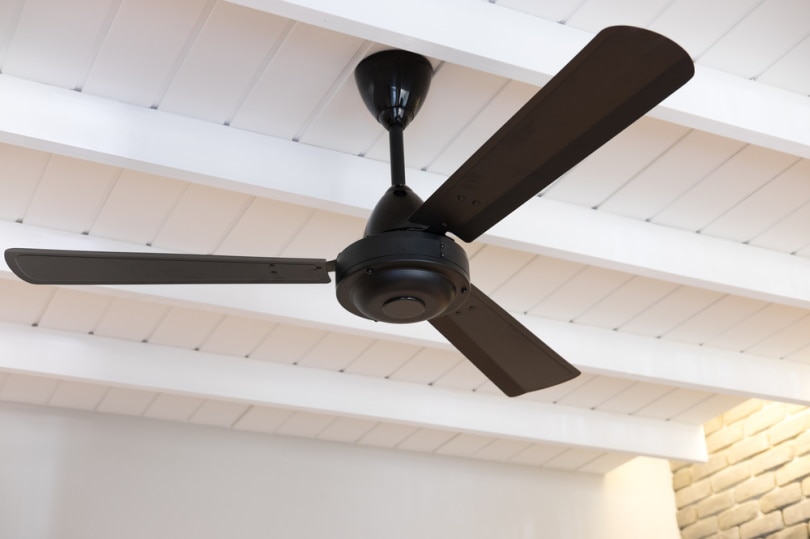 A garage is the perfect room for storage, work benches, and other indoor activities within these four walls that require a cool climate. Whether going to the garage for a little gym time or, if you want to get some overdue DIY project accomplished, you should feel comfortable in your garage. Since garages are some of the dampest rooms in the house, you will want to install a ceiling fan with a damp listing or a UL wet.
When determining the appropriate size for your damp-rated ceiling fan, remember that standard garages typically measure 175 to 350 feet and require a blade span of 50 to 60 inches. For larger garages, a greater-sized fan with a blade span of 62 inches is recommended. Just make sure you consult ALA's fan size chart guide before deciding on your new fan size.
---
5.

Ceiling Fan for Outdoor Living Spaces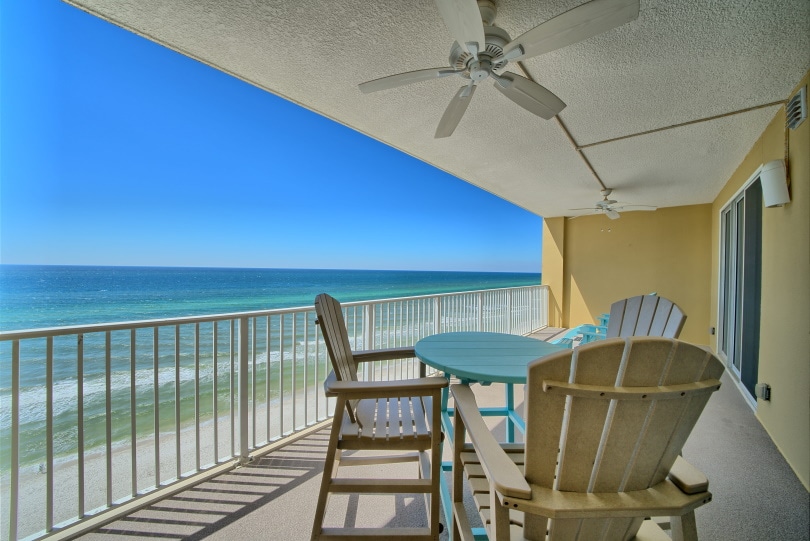 Whether a pergola, a patio, or an outdoor kitchen, outdoor living spaces equipped with an outdoor ceiling fan provide a cool and relaxed environment for you to enjoy your time. These outdoor cooling fans will allow you to enjoy a cool breeze without disturbance from pesky flies and mosquitoes.
An outdoor ceiling fan size will depend on the type of outdoor area in which you want to install your fan. Balconies and porches that measure up to 144 square feet may only require a small ceiling fan. However, larger areas like gazebos measuring between 225 to 400 square feet will need a larger ceiling fan with a higher CFM rating to handle the task.
For outdoor ceiling fans, pick a model with the appropriate Underwriters Laboratories (UL) and Electrical Testing Laboratories (ETL) rating. Otherwise, you could end up experiencing issues such as damage to the fan due to exposure to humidity or rain. UL and ETL ratings are further divided into categories. So, pick a ceiling fan that best fits your environmental conditions.
---
6.

Ceiling Fan for the Bathroom
Most of us begin our days in the bathroom when preparing for work and end our day in the bathroom washing off make-up and the grime of the day. In the bathroom, the ceiling fan provides both functionality and form. The fan can cool the bathroom's atmosphere after a hot shower. Also, a fan can be used as an ornamental piece, adding elegance to your bathroom.
Bathrooms will vary in size, ranging from half-baths to spa-styled washrooms. Therefore, you must measure the square footage of your bathroom to determine the best size bathroom ceiling fan by comparing it to ALA's size chart. The other important considerations include the damp and wet ratings of your bathroom ceiling fan.
Smaller ceiling fans with a blade diameter of fewer than 29 inches are ideal for small bathrooms that measure approximately 50 square feet or less. These small fans are also great for narrow hallways and mudrooms.

Conclusion
Ceiling fans are great at keeping your home cool and comfortable all year round. There are many different types and options of ceiling fans on the market, so you should do thorough research before making a purchase.
In general, the size of the ceiling fan determines the performance you get from the appliance. Fans with more blades will be able to move more air and be more effective at cooling down larger areas like outdoor living spaces. Just make sure they are equipped with UL and ETL ratings if you want to install a fan in a moist environment.
If you want to install a fan in a smaller room like a bathroom or a small bedroom, consider going for the smaller fans with blades that measure less than 29 inches. We hope you can now install the right size ceiling fan in your room to increase the circulation and beauty of your room without damaging the fan. If inexperienced with DIY home installations and repair, hire an expert electrician to avoid the risk of electrocution.
---
Featured Image Credit: Supermop, Shutterstock