8 White Kitchen Appliance Trends in 2023 – Design Ideas For A Modern Home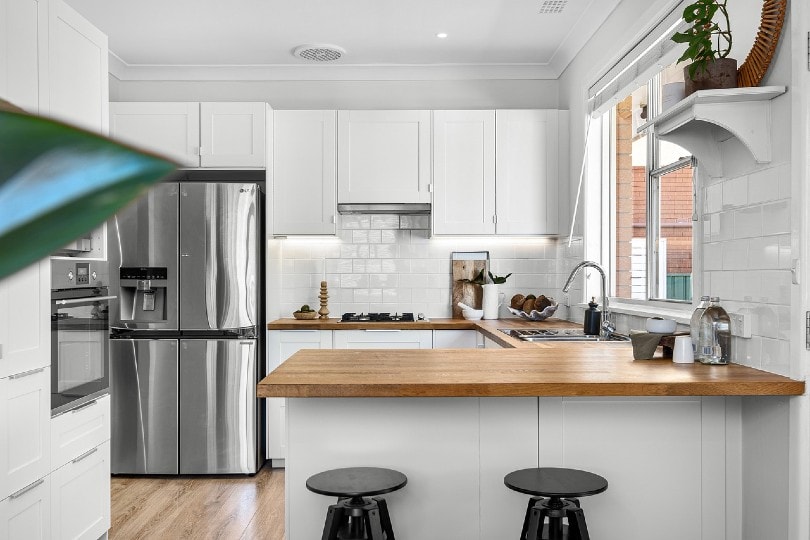 Is it looking like the 80s in here? Nope, white appliances are just making a comeback. Over the last few years, major appliance makers have drifted back into offering sleek new white appliances. If you're looking at a kitchen redesign, you'll find a few ideas below to get your creative juices flowing. Read on for ideas on how you can incorporate some of these stylish whites into your life.

The Top 8 White Kitchen Appliance Trends for 2023
1.

Contrasting Colors
There is something confident about contrasting colors, and they were bound to be a trend as white appliances gained popularity again. Picture the white appliances offset by green or blue cabinets. Or how about grey cabinets with marble backsplash to bring your beautiful new appliances popping to the front? Enough money was probably spent on them, so they might as well take the front stage.
---
2.

Mix' n' Match Black and White
They say opposites attract. Well, they look incredible together too. Nothing quite says eye candy like black and white contrasting when it's done right. Because on the other hand, if a black-and-white design is done poorly or without much thought given, it can quickly turn into a distracting mess that gives us anxiety.
However, when it's done right, there's something about the contrasts many people love. Careful planning is recommended with any kitchen renovation due to the high cost, but perhaps even more so with black and white.
---
3.

Bronze is the New Black
One of the most common colors to accent white has always been black. As our second trend showed, black and white are still alive in kitchen design. But another growing trend is to have bronze finishes on white appliances. We are seeing this on ovens, fridges, and many other appliances. Unlike black, bronze adds a certain softness to the contrast. It's almost as if it allows white to be the soft color it was born to be.
---
4.

White with Wooden Accents
Wood doesn't have to look old-fashioned and dated, but that is often what comes to mind when one pictures white appliances and wood. This is not the case anymore. Now, some really neat white appliance designs are old-fashioned in a chic way. When incorporated into a wood-featured kitchen, the results are often warm and familiar while still being modern. Many wood accents complement white, such as hardwood floors, wooden counters, or raw wooden cabinets.
---
5.

Everything is White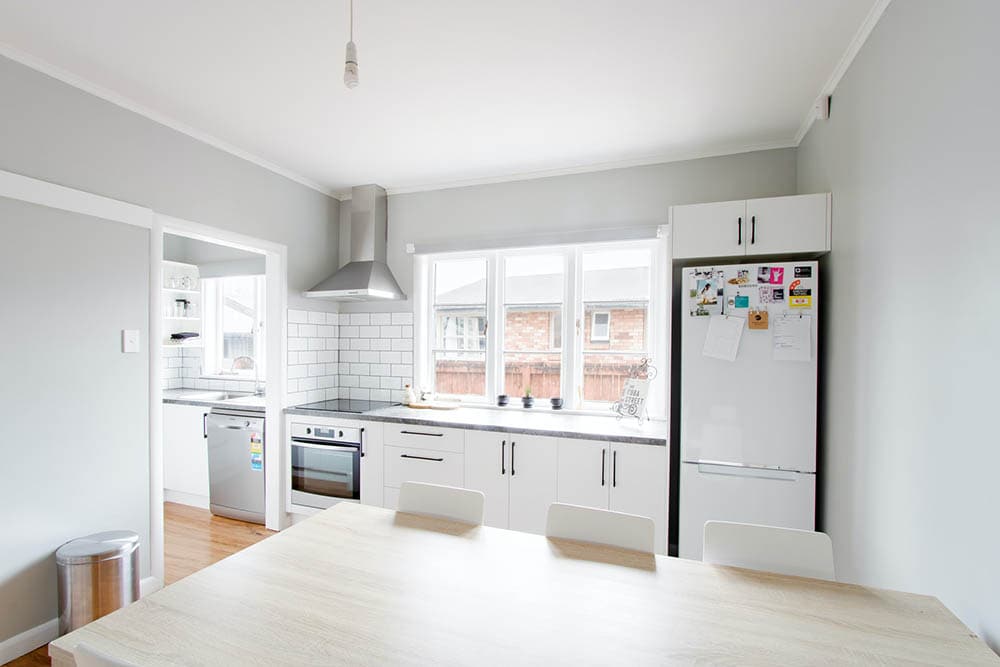 Forget any accents. Some homeowners are going for a whiteout look, which can be surprisingly appealing. Obviously, going this route can result in a sterile-looking kitchen. But if various shades of white are used and different textures, it can be a very clean, minimalistic choice. More people are trying to live minimalistic lifestyles, and having that environment can encourage the lifestyle.
---
6.

Boho White Kitchen
This style is an eclectic and exciting way to assemble any room by nature. There is no right or wrong way to do a boho style, but lots of texture and contrasting colors usually characterize it. So, you can imagine how unique a boho style paired with white appliances would be.
One person's chaos is another person's eye candy. A bohemian style often incorporates plants as well. So, let your imagination run wild for combining white appliances in this fantastic design.
---
7.

Complimenting White Tiles
White appliances already have a clean look. At times this look can come across as sterile. Tile can help give some depth to the style. The neat thing about tile is that there are so many varieties. You name it, square, rectangle, or octagon; there is probably a tile in that shape. Finding a lovely white tile that compliments your appliances and the rest of your kitchen can make a massive difference in the overall feel.
---
8.

Marble Counters Compliments White
Marble can elevate pretty much any space. Combining those lovely whites and grays that are so characteristic of marble with a crisp, clean white ice-finished fridge or stove gives the kitchen such a glamorous or romantic feel. The downside is that real marble can be costly, depending on your counter space. However, some artificial materials look exactly like marble nowadays. For example, Corian can be ordered to mimic marble, and it's exceptionally durable.

White Ice Finish for the Modern Human
For many years, stainless steel has dominated the appliance market as the preferred finish. Then, a few years ago, Whirlpool came out with a finish called White Ice. This started a modern appliance color movement. Now, many manufacturers are creating new white appliances that make stainless steel feel like the dated option.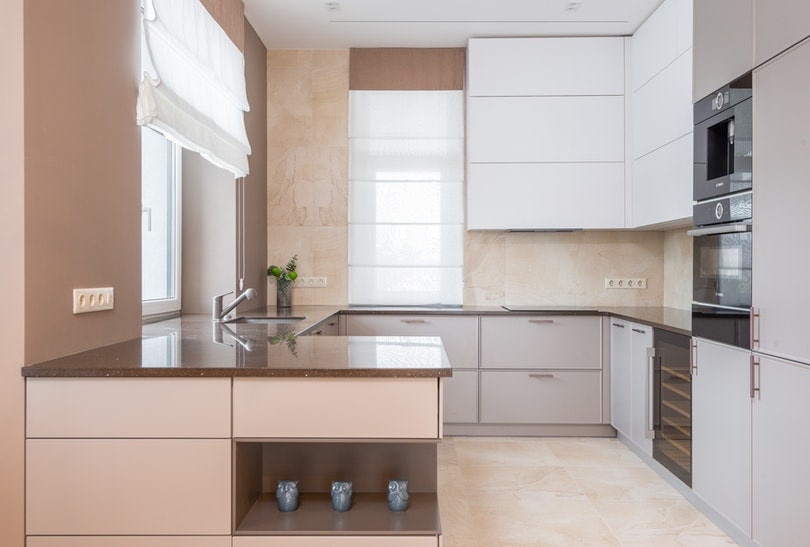 White Appliances: The Pros and Cons
There are pros and cons to the color choice and style of your appliances, like any interior design. Here are a few pros and cons of choosing a white appliance.
Pros
No fingerprints
Versatile color option, but requires contrast to work well in most cases
Can create a very dynamic-looking kitchen with the right accents
Ultimately, stainless steel and black are premium options, so white appliances are often cheaper.
Cons
More cleaning is involved because white does not hide dirt
White is more prone to color fade if it's in direct sunlight
It can appear dated if not done correctly

Conclusion
White doesn't have to be dated or boring. As more manufacturers jump on board the white interior design trend, more options become available every year. Because of white's versatility, these appliances can accommodate virtually any design you can dream up.
---
Featured Image Credit: Lisaphotos195, Pixabay