Why Gray Kitchen Cabinets Are So Popular? 5 Reasons
If you've been to enough open houses, you've probably noticed that most kitchen cabinets are gray. So what is it about gray that makes it the most popular color for kitchen cabinets and kitchen tops?
Well, gray cabinets fit in almost all house aesthetics and have a timeless appeal. The only color that comes close is rustic wood. Gray also comes in various shades and can be tweaked in various ways to give your kitchen more warmth and authenticity.
In this article, we'll talk about why gray kitchen cabinets are so popular and how to choose the right shade. Read on to find out more:

The 5 Reasons Why Gray Cabinets Are Popular
In addition to having a timeless appeal, gray kitchen cabinets are popular for the following reasons:
1.

Gray Is a Calming Color
According to science, some colors can relax your brain and lower stress, and gray is one of them. Although most people avoid it because it's often associated with being boring, dull, and depressing, the opposite is true. It can create a soothing atmosphere when paired with blue and white elements.
---
2.

Gray Cabinets Are Easy to Clean
One of the benefits of having gray cabinets is that they are pretty easy to clean. They also don't show dirt as easily as white or blue cabinets. Additionally, since gray is a light color, it does not show scratches and blemishes as easily as other darker colors. Therefore, if you have kids or pets that can reach the cabinets, gray is a good choice of color to have on cabinets.
---
3.

Gray Cabinets Are Affordable and Versatile
Gray cabinets are versatile and can match any color scheme, style, and aesthetics. Since it's a light color, you can add paintings and some calm decorations. They are also very affordable, so you can get the perfect look without paying a ridiculous price. If you are considering adding gray cabinets in your kitchen, you can easily find a painter to do it.
---
4.

Gray Cabinets Can Open up the Kitchen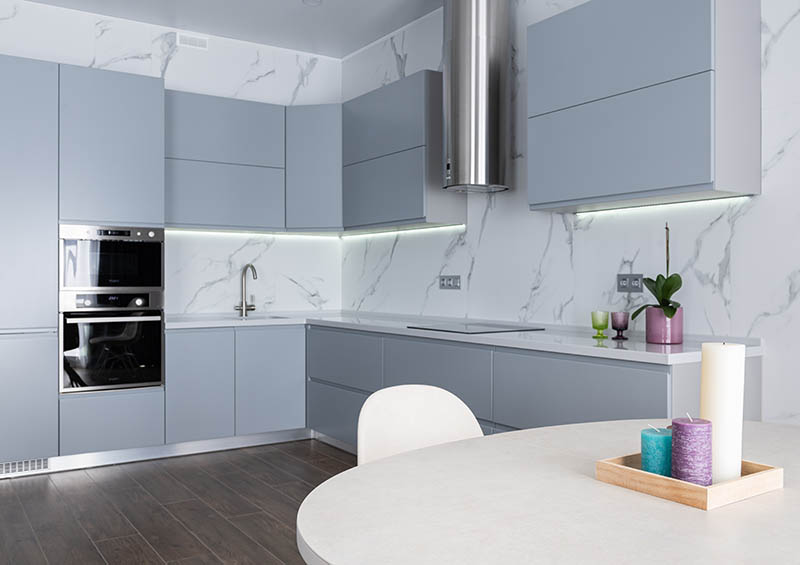 Gray cabinets and lighter colors can help open up the space by making it feel airier and larger. This is because light colors reflect light and make your kitchen feel brighter. Gray cabinets also help the room look more modern and updated, which makes your room look more welcoming and accommodating. It will also never go out of style, and you don't have to keep changing the cabinets often.
---
5.

They Match Most Countertops
Most countertops are made of marble, laminate, or tiles. Whichever type of countertop you have in your kitchen, gray cabinets will match them and bring the kitchen design together. They also play nice with most statement accessories on countertops and kitchen walls.

Tips for Using Gray Cabinets in Your Kitchen
If you are set on installing gray cabinets in your kitchen, you might want to make it look more lively and soothing. Luckily, there are several affordable ways you can do this. They include:
1.

Brightening up the Room with Eye-Catching Lighting
If you feel like gray is too dull of a color, you might want to add a few colors in the kitchen. A good kitchen theme reduces shadows and creates warmth. Try pairing gray cabinets with bright electronics and other accessories. You can add light fixtures and pendants if your kitchen has dark gray cabinets.
---
2.

Choose a Design Theme
Gray cabinets can fit both a modern and traditional kitchen. It's vital to consider which aesthetics you'll be going for so that you can choose the right shade of gray for the cabinets. In most modern kitchens, the electronics and materials are typically stainless steel. In such cases, charcoal gray is a softer version of gray and goes with most stainless steel appliances and modern countertops.
Stainless steel appliances look good in a gray kitchen and create a harmonious space. Gray wall tiles will also look good with gray cabinets. Ensure you avoid using excessive gray equipment in the kitchen—the cabinets, floors, and counters should not be in the same shade of gray.
---
3.

Use a Touch of Gold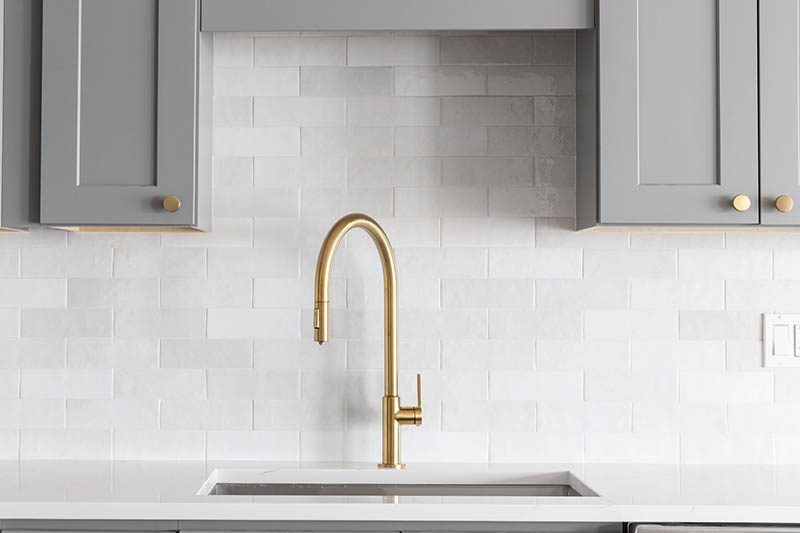 Gold and gray complement each other. You can use gold sparingly on the inlays and handles to add a more stylish look in traditional and contemporary gray kitchens. Adding these touches will make your kitchen look timeless and regal. Metallic finishes such as brass can enhance monochrome kitchen cabinets.
Adding gold or brass tapware and cabinet knobs adds warmth to the simple design and make it look brighter. You can also subtly add metallic light fixtures and gleaming metallic details above the kitchen island.
---
4.

Add Bright Decorations
Gray can appear stark, and adding a few pops of color can help create a warmer kitchen. Adding a vase of bright flowers or cute wall fixtures might be the thing you need to brighten up your space. You can also hang a decorative bright apron and tablecloths in the kitchen.
---
5.

House Plants
Green plants can complement a gray kitchen by adding some fresh décor to the house. If your room has enough light coming in through the windows or the sunroof, you can add climbers and vine drapes all over the windows or cabinets. You can also hang potted plants and herbs near the window.

What Floors Go Well With Gray Cabinets?
If you decide to go with gray countertops, you must pick the right floor to complement it. Luckily, gray cabinets pair well with most floor types. They include:
1.

Natural Hardwood Floors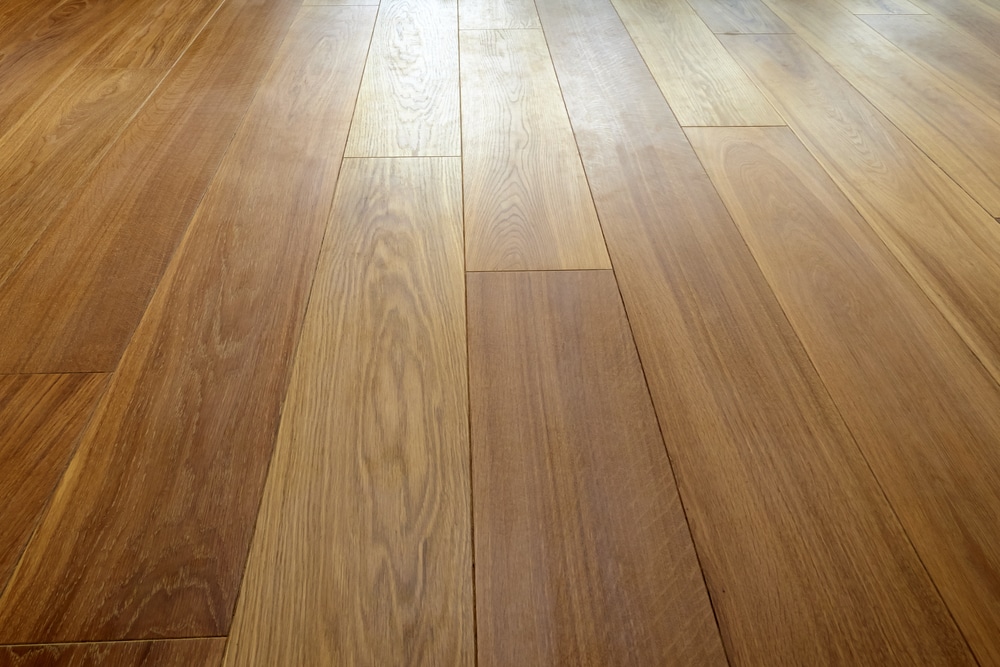 Whether you choose to go with maple, oak, or walnut hardwood floors, they will pair well with gray cabinets, especially if they are a lighter shade. This type of floor looks good in traditional kitchens since it looks more rustic.
---
2.

Light Hardwood
Light hardwood flooring also brightens up your gray cabinets. They give the kitchen a warmer and more welcoming look despite the cooler tones. Light hardwood floors are also easier to install and don't go out of style.
---
3.

Engineered Hardwood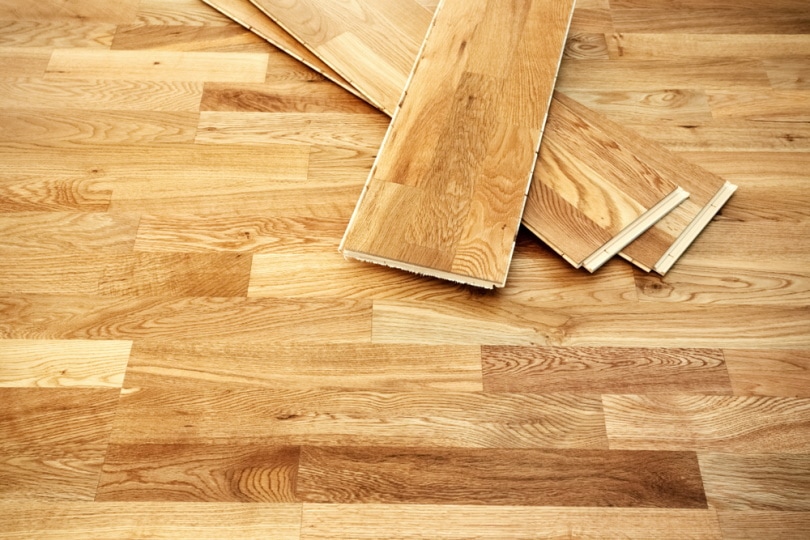 Engineered hardwood is made by combining layers of solid hardwood and plywood, which gives you the look of hardwood at a lower price. It comes in various colors, and you can get one that plays well with your appliances and cabinets.
---
4.

Slate
Slate is a better option if you don't like wood floors or are afraid of them growing mold during the wet season. The darker tones of the slate tiles play well with the gray cabinets, especially when the room has adequate lighting. Slate flooring also looks more traditional and chic and is an ideal choice for a farmhouse.
---
5.

Concrete
Concrete floors are best suited for a more modern style kitchen. It pairs well with steel appliances and electronics and is super low maintenance. Concrete also reflects light and helps the room appear brighter. However, for this to work, the lighting has to be sufficient. It works best in a kitchen with ceiling-to-floor windows.
---
6.

Vinyl
Vinyl is an affordable alternative to hardwood floors and is easier to install. It also presents a similar look, which few people can tell apart. Vinyl goes well with gray cabinets and helps the room look chic and classy. If the gray cabinets are in a darker shade, you should consider using light-colored vinyl floors to make the room brighter.
---
7.

Laminate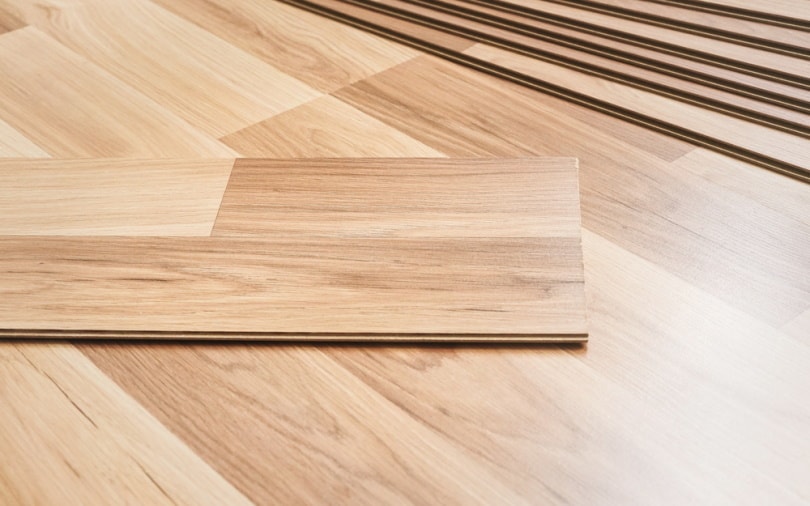 Like vinyl, laminate also looks like hardwood floors. However, the material is softer and warmer to the touch compared to real hardwood floors. It comes in various colors and shades, and you can pick one that fits your aesthetic and meshes well with the gray cabinets.

Helpful Tips for Choosing the Right Color for Your Kitchen Cabinets
Paint can transform how a space looks and feels. The colors in your kitchen matter a lot, especially since your family will be spending a lot of time there. Some of the tips to consider when choosing the color of your kitchen cabinet include the following:
1.

The Style of the Cabinets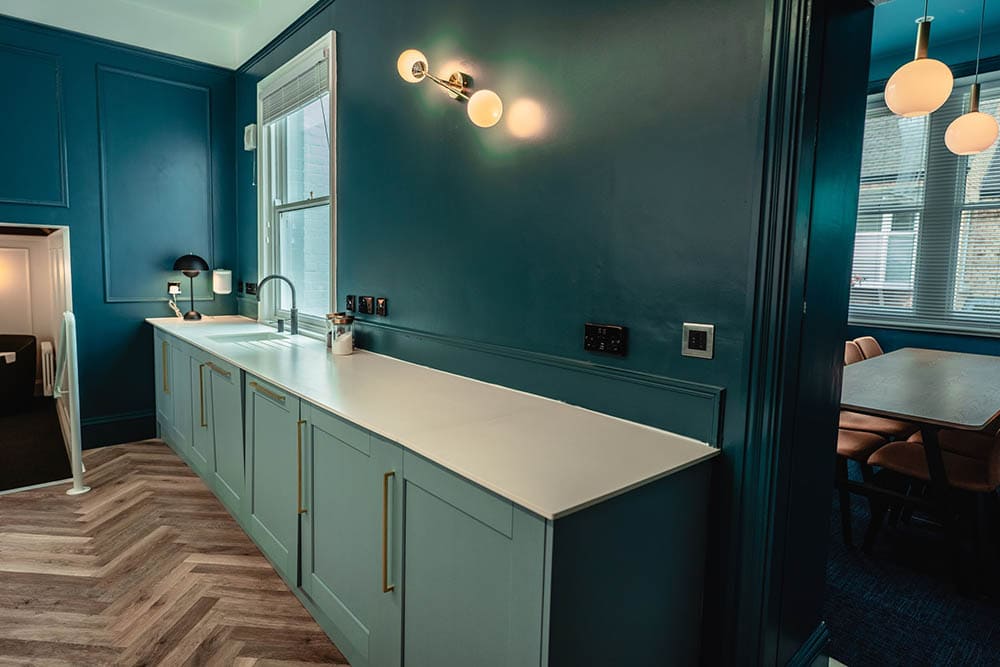 Some cabinet designs fit better when they are either cream or white. Also, bright and rustic colors will do if you have a traditional kitchen. When working with a modern design, you can use contrasting tones and bright colors such as red, green, and yellow.
---
2.

Size of the Cabinets 
Before choosing the cabinet colors, you need to consider whether your kitchen is big or small. The amount of light entering the kitchen should also be a top consideration. The color of the cabinets can either enhance the space and warmth in your kitchen or oppress it. A small kitchen will look bigger and well-lit when the kitchens are painted lighter, while darker colors work well in a bigger, well-lit kitchen.
---
3.

Probability of Selling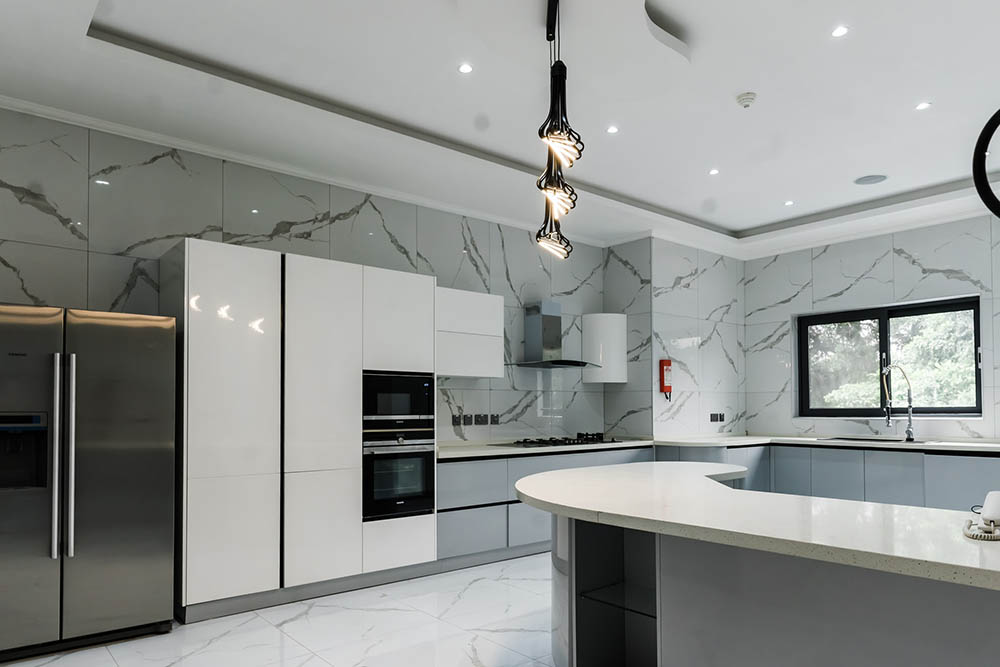 If you are unsure if you'll be living in your house forever or for an extended period, it would be unwise to pick trendy colors and patterns. If there is even a slight chance that your house is going to be on the market in the future, stick with neutral and light colors such as white, cream, and gray. This way, your home will appeal to a larger audience. In addition, painting brighter colors reduces the number of offers and might lower the house's market price.
---
4.

Contrast
It's important to create contrast when picking the right color for your cabinets. For example, you create greater contrast when gray cabinets are paired with white walls. Gray cabinets look great when paired with a light kitchen design.
---
5.

Stains
If you have kids or pets in your house, you need to consider colors that are hard to stain, hide dirt well, and are easy to clean.
---
6.

Multiple Colors
If you are feeling bold, you can try painting your cabinets in multiple colors. To play safe, pick a light solid color such as white or gray to be the base and add a brighter color. This works well when the bright color is used sparingly. Try painting the kitchen island first to experiment and see how well the colors merge.

Conclusion
Your kitchen aesthetic needs to match the rest of the house. If the house has a modern design, the kitchen design must also reflect that. Also, the colors you choose for the cabinets, walls, and floor should fit that aesthetic. For example, white walls go well with modern kitchens and gray cabinets, while rustic and warmer colors go well with traditional homes.
Ensure you use a similar tone of the same color throughout the kitchen to unite the kitchen space and give the room some flow. Pale floors, walls, and cabinet doors create the perfect backdrop for accessories and bold countertops.
---
Featured Image Credit: Max Vakhtbovych. Pexels