8 Window Treatment Trends in 2023 – Blinds, Coverings, and More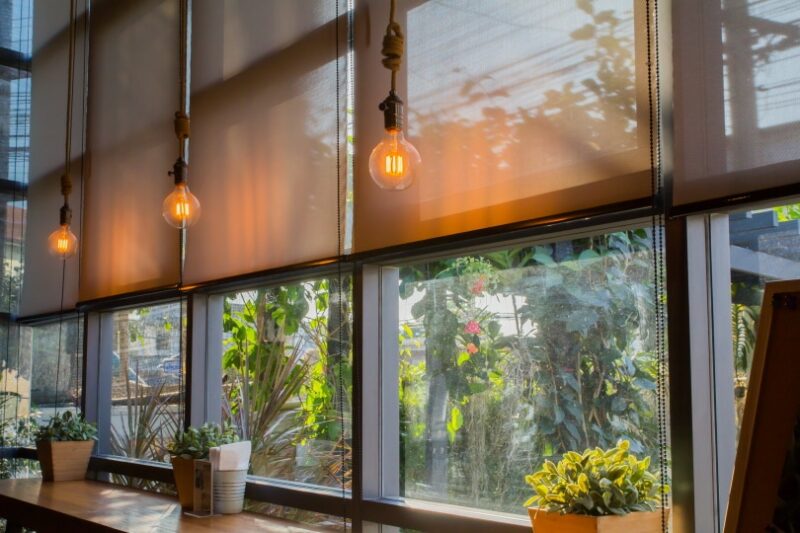 Window treatments have two purposes – practical and aesthetic. You want the coverings to look nice, but you also want them to cover the windows when you need them to. Therefore, you don't just need to look with your eyes; you need to ensure that the coverings actually work as well.
In this article, we'll take a look at some of the top trends that fit both of these categories. All of these trends will help you decorate your house appropriately and have functional curtains as well.

The Top 8 Window Treatment Trends in 2023
1.

Roller Shades
Roller shades are the new trend today. There are so many different things you can do with roller shades. Plus, they are also extremely practical. Many of them do a great job of blocking the light when you need them to.
The texture can make a great statement piece and bring some interest into the room. These products are also available in a wide variety of colors, so you can find something for just about every room.
Brown is the most common color for these treatments. However, greens, lavenders, and blues are also common. They do best for modern designs due to their clean lines and classic look. They have a simple and clean look that is highly recommended for modern, sleek homes.
---
2.

Plantation Shutters
Plantation shutters are a great option if you want to add a bit of character without getting too far out there. They're very easy to operate and quite effective too. You can find wood and faux wood shutters in most colors. However, you can also choose other options. We do not recommend wood for high-moisture areas, as they can damage and warp.
---
3.

Blinds
Blinds are some of the most common window treatments. They are very easy to use and effective at blocking out light, though some light will still sneak through the cracks. However, they come in a wide variety of different types. Some are fancier and nicer than others.
Therefore, we recommend taking some time to research your options. Wooden blinds are an easy choice.
While blinds can be very cheap looking, they can also look very stylish if you do them correctly. This style is a bit harder to pull off, but it is still a big trend this year.
---
4.

Technology
Adding technology into window coverings is extremely common in today's world. There are simply many pieces of technology you can add to make your life easier and your window coverings trendy. For instance, many people add automatic blinds to their windows, which allows you to open and close your windows remotely.
Some of these systems aren't super trendy, though. Some are focused more on the technology than the overall style of the blinds, which can be a problem. Either way, technology should be considered for all window treatments. There are simply too many options on the market today not to.
---
5.

Metal Hardware
Metal hardware is absolutely trendy right now. Many people like accent rods, which can really make the window coverings seem fancier (even if they are not). We highly recommend selecting your hardware carefully, especially if you already have fancy curtains. Hardware can quickly be too much. Therefore, we highly recommend you only utilize metal finishings if your curtains are simpler.
When it comes to metal hardware, there are a lot of things that you can do. Take your time to look at all of the different metal finishings out there.
---
6.

Black Window Frames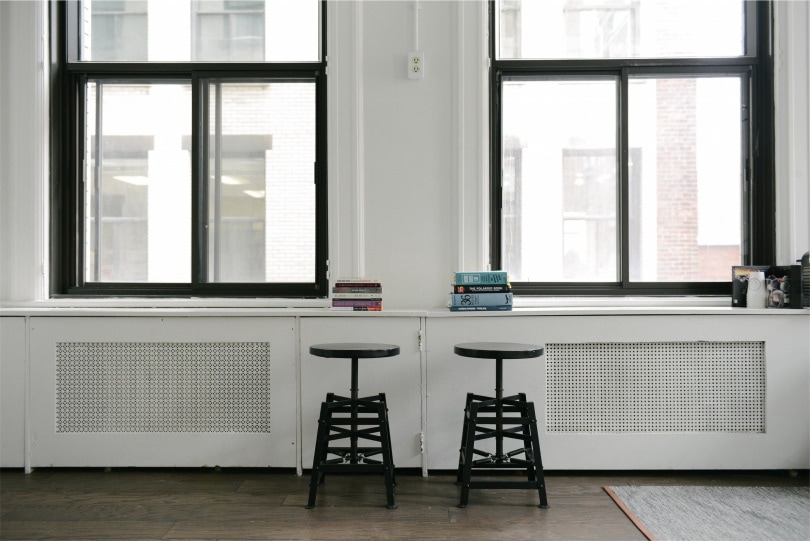 Black window frames are an easy way to spruce up your windows and make your home stand out. They are becoming more and more popular. If you select this option, don't add much more to the window, as you don't want to over accent it.
Of course, you have to put these windows in when you first build the house – or pay to have your windows completely redone. Otherwise, these options are not going to be quite cost-effective.
---
7.

Minimalistic
When in doubt, your best bet is to choose a minimalist style. The combination of simple shades and a pure black frame is often an excellent option. However, there are other ways to be minimalistic too. When in doubt, less is often more with windows, as they often aren't the focus points of rooms. (Unless, in fact, they are. In this case, you will want to pay plenty of attention to them).
For this reason, we highly recommend selecting sleek and simple windows. Often, you don't want something that is too flashy. Still, practicality is vital. For instance, these tilt windows are a great option for those that want something simple that works.
---
8.

Wooden Windows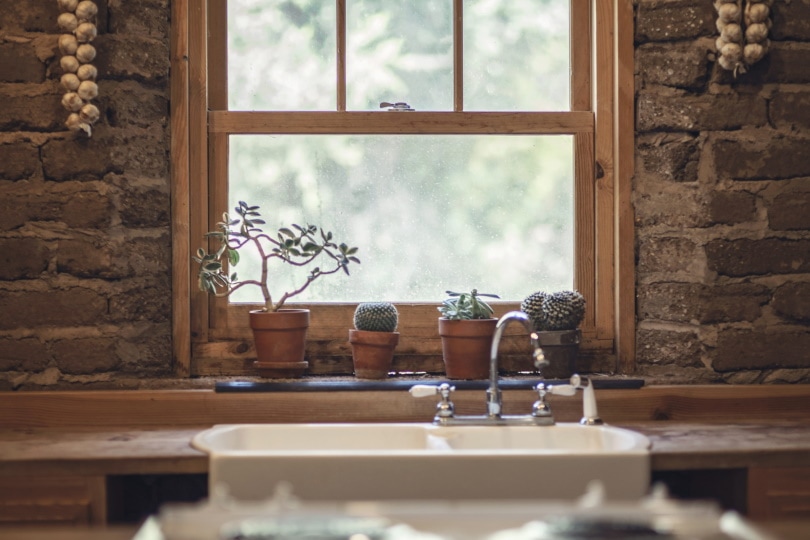 While they aren't as trendy as they once were, wooden windows are making a comeback. These windows are great when you want to add a little interest to the home, but don't want anything that is going to stand out too much. Plus, they come in many different styles, allowing you to choose whatever would best fit into your home.
Of course, like many options on this list, wooden windows are only possible if you're installing or replacing your old windows. You can't just switch out your windows otherwise.
Wooden windows tend to stand by themselves, so you won't have to put in much more effort in designing them. Therefore, they are also a good option if you don't want to put too much thought into your window design.
Related Read: How Much Does It Cost to Replace Windows? What You Need To Know!

Conclusion
There are quite a few options you can choose from when it comes to dressing up your windows. In today's world, there is a lot of technology packed into window design. For instance, you can now choose smart windows that can open and close on command without you needing to lift a finger.
Luckily, many of these advanced windows often come with a modern design, too. You'll find plenty of straight, sleek lines and minimalistic designs.
With that said, you can also choose from some older styles that are still trendy. For instance, wooden windows have been around forever, but they are still a great design choice.
When it comes to window coverings, you need to consider the overall design of the window as well as its practicality.
---
Featured Image Credit: kunmom, Shutterstock