10 Best Lawn Edgers of 2023 – Reviews & Top Picks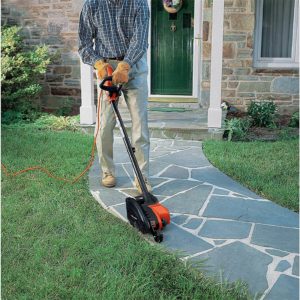 For a well-put-together lawn, you need a lawn edger. These nifty machines allow you to remove vegetation that grows alongside driveways and sidewalks without using chemicals. Sometimes, a weed eater can double as a lawn edger. But this is a newer feature that most weed eaters don't have.
For many people, they will need to purchase a separate lawn edger. Luckily, these machines aren't expensive, and many of them are very well made.
Of course, you do need to do some research before purchasing a lawn edger. Some of them are very easy to use and very durable. However, others are not. Our reviews are a reliable place to start. Below, we have reviewed ten of the best grass edgers on the market so you can choose the ideal option for your yard.
A Quick Comparison of Our Favorites in 2023
Rating
Image
Product
Details

Best Overall

BLACK+DECKER 2-in-1 Landscape Edger

Converts to landscape trencher
Cord retention system
Three-position depth adjustment
CHECK PRICE

Best Value

AMES Saw-Tooth Border Edger

Cuts clean borders
No assembly required
Steel handle
CHECK PRICE

Premium Choice

McLane Gas Powered Lawn Edger

Depth control
Gas-powered
Made in the USA
CHECK PRICE

Greenworks 27032 Corded Edger

Adjustable blade depth
Inexpensive
12-amp motor
CHECK PRICE

Truper Tru Tough Rotary Lawn Edger

Strong handle
Rotary design
Requires little maintenance
CHECK PRICE
The 10 Best Lawn Edgers
1.

BLACK+DECKER 2-in-1 Landscape Edger – Best Overall
Black+Decker often makes excellent tools, and their BLACK+DECKER 2-in-1 Landscape Edger did not disappoint. It is easily the best grass edgers we reviewed. It features an exclusive pull-up edge guide, allowing you to transform it from a straightforward edger to a landscape trencher. It is far more versatile than most edgers currently on the market. The three-position blade depth adjustment allows you to choose the cut's exact depth and makes the machine more useful in a variety of situations.
We liked the built-in cord retention system, which keeps the cord secure and out of the way. While this machine does allow some assembly, it is tool-free and straightforward to do. We recommend giving the instructions a once-over before you begin, as there are a few points you should be aware of before you start sticking pieces together.
This edger also comes with an extra blade replacement. You can use it for quite a while before you need to invest in a new replacement blade. The 12-amp motor is decently powerful. It can tackle most vegetation and creates a pretty well-defined trench.
Pros
Converts to landscape trencher
Three-position depth adjustment
Cord retention system
Easy assembly
12-amp motor
---
2.

AMES Saw-Tooth Border Edger – Best Value
If you have a tiny yard or don't want to spend much at all on an edger, you may be able to get away with the AMES Saw-Tooth Border Edger, our pick for the best yard edger for the money. This straightforward tool is designed to edge. It requires a decent amount of elbow grease, though, as it isn't mechanical at all. It is incredibly cheap, though, especially when compared to electric and gas-powered options. It cuts clean borders around beds and walkways very easily. It may just take you a bit longer to do it than it would with a powered option.
It also removes sod very quickly and requires no assembly. We liked that it was relatively straightforward to use and makes edging small areas very easy. It has a steel handle and a sawtooth blade. Both components are very high-quality. The serrated blade cuts through the grass in one movement, and the T-grip is very comfortable. The footplate ensures you always cut to the same depth, though you cannot adjust this depth.
While this tool is an excellent option for some, it just isn't suitable for larger areas. It requires elbow grease and manual labor to use. It also takes a bit longer to use, as you have to stop and push it down every few feet.
Pros
Inexpensive
Cuts clean borders
No assembly required
Steel handle
Sawtooth blade
---
3.

McLane Gas Powered Grass Edger – Premium Choice
For those who have a lot of land to edge, the McLane Gas Powered Lawn Edger is a reliable option. It is quite large and expensive. In exchange for the extra money, you're getting an easy-to-use machine designed to tackle more extensive areas. It features a single blade clutch and has depth control, allowing you to select precisely how deep you want the cut. It is very precise. Most users will have no problem making a straight line over a long distance. The cutting head is machined for maximum accuracy.
This machine is extremely versatile. Unlike most machines, the blade can be turned along any angle. This allows you to edge against surfaces that go at an angle. You can quickly tilt the blade as you work, producing less downtime and helping you get done faster.
As you might expect, this machine does meet safety standards. It is incredibly safe. It is also made in the USA and has a quality to match.
Due to its premium design, this machine is quite expensive. It is likely not suitable for most homeowners for this reason. However, if you have a large area to edge, you will likely find the extra cost worth it.
Pros
Blade can be adjusted to almost any angle
Depth control
Gas-powered
Made in the USA
---
4.

Greenworks 27032 Corded Yard Edger
Greenworks makes very inexpensive yard equipment. As we expected, the Greenworks 27032 Corded Edger was very inexpensive as well. It has a 12-amp motor, which allows it to tackle most vegetation and edge accurately. Most homeowners will not need a more expensive edger. The blade is 7.5 inches, allowing it to edge most areas with ease. The front wheel is spring-assisted. This feature allows it to vary the blade depth.
The auxiliary handle is adjustable. You can adjust it to match your height, making the edger much more comfortable to use for those of us who are taller or shorter than average. The cord-lock feature prevents you from accidentally disconnecting the cord while you're working. This may seem like a small feature, but it can eliminate a lot of frustration.
This edger is not made to be very durable. You can tell that Greenworks cut some corners when designing it to reduce the cost. It is not going to last as long as other edgers.
Pros
Adjustable blade depth
Inexpensive
12-amp motor
Adjustable handle
---
5.

Truper Tru Tough Rotary Lawn Edger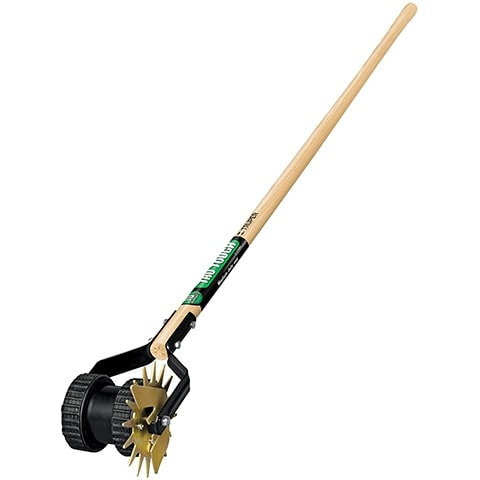 The Truper Tru Tough Rotary Lawn Edger is another manual edger. However, it is designed on a rotary system. You push it along, and the blade spins using the energy created from the wheel. It works a little faster than some other manual systems. It is a bit more expensive, though. For this reason, if you're looking for a budget option, it may not be the correct edger for you. With that said, it does work very well for those who are looking for an easy-to-use option that doesn't require electricity or gas.
It has a 48-inch lacquered handle that is made from North American ash. It is vital a durable, even though it is made of wood and not metal. You can easily clean the edger with a garden hose, and it doesn't require much upkeep at all.
To work correctly, this tool does require a bit of strength. You will break a sweat while using it. However, this could be said for just about any manual edger. This tool is also a bit expensive for what it is. There is little reason for it to cost as much as it does.
Pros
Strong handle
Rotary design
Requires little maintenance
Cons
Expensive for the design
Requires elbow grease
---
6.

WORX WG896 Electric Grass Edger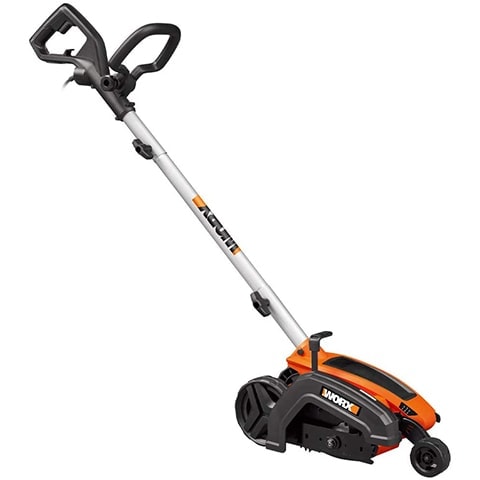 With a 12-amp motor, the WORX WG896 Electric Lawn Edger is about as powerful as other options on the market. It has a 7.5-inch blade that digs deep and runs quite fast. It can revolve around 4700 revolutions per minute. It can cut down to three different depths: 1-inch, 1¼-inch, and 1½-inch. Switching between these settings is extremely easy and takes only a second. The cutting line indicator helps you stay straight and up against whatever you are edging.
The shaft is adjustable, making it comfortable to use at a variety of different heights. The D-grip handle is also extremely comfortable. You can use this machine for a long time before fatiguing, especially if you take the time to get the shaft to the perfect length. We loved that this tool comes with a 3-year warranty.
This WORX edger is not suitable in damp situations, though. It tends to gunk up when the ground is wet. Furthermore, it is corded, so it does have to be plugged into work. This may be fine if your yard is small and you have a bunch of extension cords. However, it does limit its reach.
Pros
12-amp motor
Three different cutting depths
Adjustable shaft
Cons
Doesn't work in damp conditions
Corded
---
7.

Southland Walk Behind Gas Lawn Edger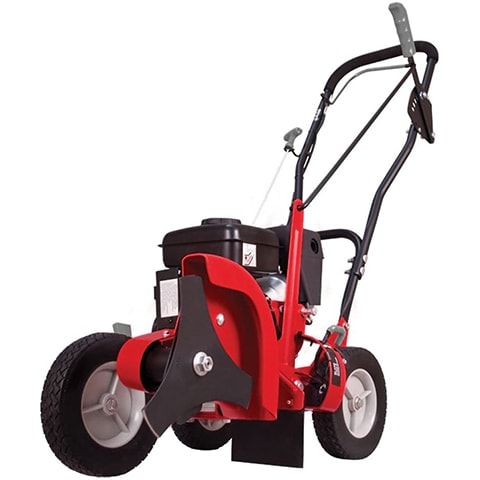 The Southland Walk Behind Gas Lawn Edger is quite expensive. It is powered by gas and designed to be used in larger areas, though. You are getting what you pay for. It has a metal frame and a blade guard, which improves the machine's safety and longevity. It is adjustable to five different depths and can reach up to 2½ inches deep.
The blade can be adjusted to various angles if you need to edge an area that is not vertical or horizontal. It has a two-year limited warranty. While this warranty is useful in some situations, it is minimal. We recommend reading it before making your purchase, so you know exactly what it covers.
While this edger has many bells and whistles, it doesn't seem to be very well made. The blade is always spinning when the machine is on. You cannot turn the machine on, roll it to the area you need to edge, and then start the engine. If you do, you'll end up with a line cut across your yard. The throttle is poorly made as well. You have to push it open with your fingers, which is not ideal at all.
Pros
Five different depths
Metal frame
Blade is adjustable to different angles
Cons
Blade always spins
Poorly made throttle
---
8.

UKOKE Cordless Electric Power Edger
The UKOKE Cordless Electric Power Edger is both an edger and a trimmer. It can convert between both modes very quickly. However, it doesn't perform either function very well.
The battery doesn't seem to be as high-quality as it should be. While the lack of a cord makes it quite portable, the battery's low-quality complicates matters. It doesn't run for very long and doesn't seem to last long either. There are quite a few reports of the batteries breaking, refusing to charge, or not registering in the edger.
It does have two wheels, which is mostly useful for the edging function. However, the wheels are useable while trimming if you choose to use them.
It is also covered by a 1-year warranty if some of the parts break before the warranty ends. However, this warranty is a bit shorter than what other company's offer.
Pros
Two wheels
Edger and trimmer
Cons
Short warranty
Low-quality battery
---
9.

Ryobi ONE+ Lithium-Ion Cordless Grass Edger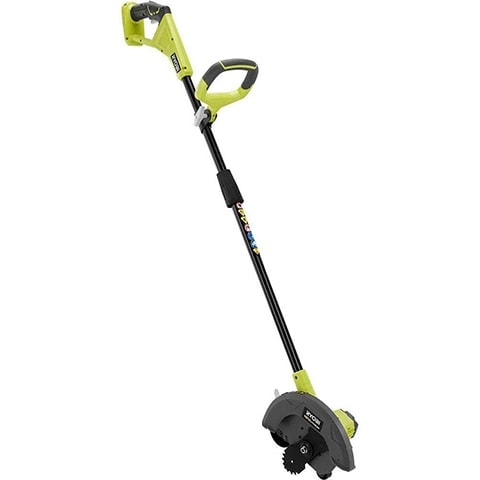 Ryobi usually makes pretty decent tools, but we did not like the Ryobi ONE+ Lithium-Ion Cordless Edger very much at all. This tool is pretty lightweight, and it has four different depths you can choose from. The blade is dual serrated, while the front and back wheels add quite a bit of stability. We found the handle to be quite comfortable. You should be able to use it for an extended period without any problems.
If you have other Ryobi tools, you may also enjoy that this edger is compatible with Ryobi batteries, which you may already have lying around.
This edger is not nearly as powerful as some of the gas or corded options out there. You just can't get that amount of power out of a battery. It does seem to have some quality control problems too. There are many reports of it breaking quite quickly for some users. The battery will only get you about 10 minutes of runtime. You will likely need to purchase a second battery to get much use out of it.
It also can't cut very deeply at all – only 1½ inches at most.
Pros
Four different cutting depths
Lightweight
Cons
Doesn't cut deep
Short run time
Not super powerful
---
10.

  EARTHQUAKE 23275 Walk-Behind Lawn Edger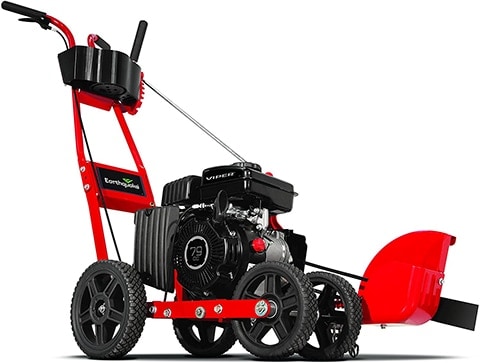 The EARTHQUAKE 23275 Walk-Behind Lawn Edger is quite expensive compared to your average trimmer. It is designed to be a premium trimmer with plenty of bells and whistles. However, it is poorly designed and not worth the high cost.
The assembly is not complicated, but it is time-consuming. You will be spending at least an hour putting it together. We recommend having a friend to help you go faster. The instructions are easy to understand, but they are very vague. It takes some brainpower to get everything put together.
The edger does not sit in line with the ground, which makes accuracy difficult. You can make adjustments to get it close to level. But this is challenging and time-consuming. It often gets stuck for this reason.
It isn't durable either. The wheels, in particular, seem to be poorly made. They fall apart very quickly and are not durable by any measure. It also doesn't cut at an angle. While most edgers do not cut at an angle, an edger that is this expensive absolutely should.
Cons
Time-consuming assembly
Not level
Not durable
Expensive
---
Buyer's Guide – Choosing the Best Lawn Edger
A grass edger is not a minor purchase. They can be quite expensive unless you purchase a straightforward manual edger. Many edgers come with a variety of different features, which can be hard to sort through. For this reason, it can be challenging to choose the exactly right machine for your situation.
In this guide, we will precisely discuss what features you should look for when choosing an edger for your yard.
Types of Edgers
There are two main types of edgers: electric and gas. Electric edgers can either be corded or cordless. Cordless versions run on batteries.
Corded models have a shorter reach, and you will often need to purchase a suitable extension cord. This can reduce the machine's power, though, and not all of them will be able to run on cords. These are the  best yard edgers for smaller yards or those who just want to edge areas close to the house.
Battery-powered models can be taken anywhere, but the runtime of the batteries constrains you. Some can run for upwards of half an hour, which will be plenty for some homeowners. However, others will only run for 10 minutes at a time. This is not long enough for most uses, so that you will need another battery as a backup.
Gas models are the most potent option and are not constrained by a set runtime or a cord. However, they may require that you mix the gas, and you will need to purchase the fuel. They are also more expensive in general, which may be limiting for some users.
There are manual options as well. These don't have any sort of external power. They are either jammed into the ground by hand to cut the grass or work on a rotary system. These are very inexpensive, but they do require quite a bit of elbow grease. They're much more straightforward than powered options, so they tend not to break down as often.
Versatility
While some edgers can only be used to edge in a straight line, others can be used for a wide variety of tasks. Some have adjustable blades that can cut at an angle, which is very useful if you have something in your yard that isn't a straight line.
Others can convert between an edger and a trimmer. This 2-in-1 tool can save you quite a bit of money. Still, it is essential to ensure that they are well-made. Sometimes, the conversion is an afterthought, and the trimmer action isn't very high-quality.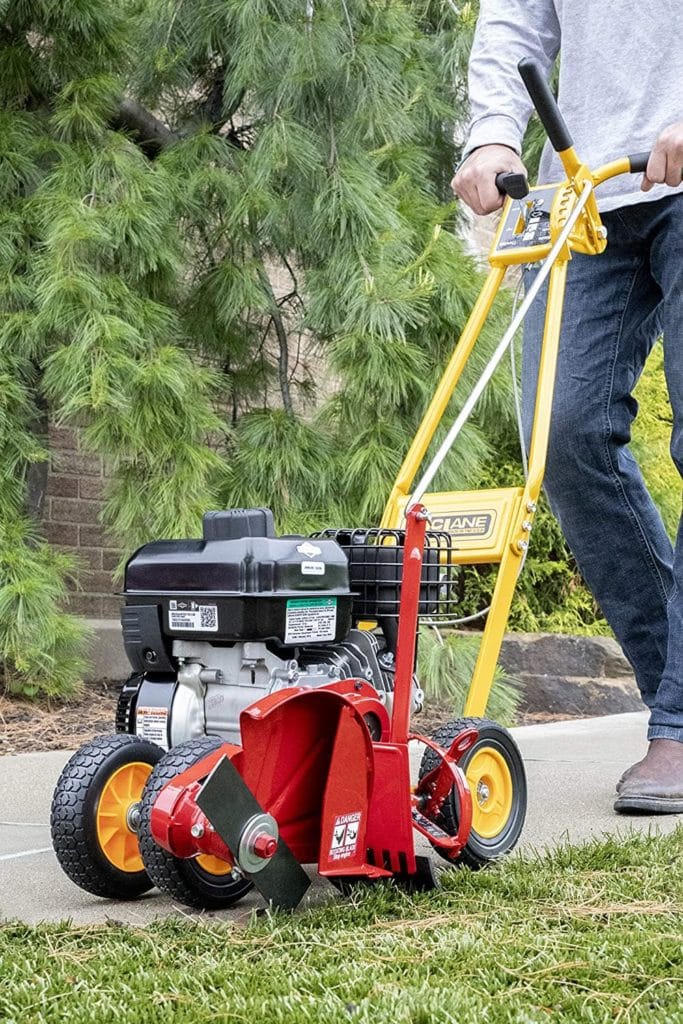 Cost
For most people, the cost is going to be a factor. Sometimes, these machines can be quite expensive. Other times, you can choose a manual option for very cheap. It just depends on what you purchase.
If you're on a strict budget, there are options out there for you to choose from. We recommend figuring out your budget before you start shopping. That way, you know what edgers you can even look at. If you need a budget option, we have several inexpensive edgers in our review section.
There are expensive, premium options for those who want the best-of-the-best grass edgers as well. These are more appropriate for huge yards and professionals. Most homeowners will not get enough use out of a premium option for it to be worth the extra money.
Accuracy
You want an edger that is easy to keep in a straight line. Some are not level with the ground, which can affect their accuracy. Not only will this cause a wobbly line, but it will also make the blade or line get stuck in the ground.
Depth Options
Many edgers allow you to choose different depth options. Not all homeowners are going to be excited about this feature. You may not particularly care how deep your edger goes. However, this feature is a must-have for some.
You want an edger with a range of depth options, preferably. Each option should be decently far apart from the others. Otherwise, you aren't going to tell much difference between the different depths.

Conclusion
Out of all the edgers we reviewed, we can easily say that the BLACK+DECKER 2-in-1 Landscape Edger is the best grass edger on the market. It allows you to adjust the depth and has a reliable cord retention system.
We also liked the AMES Saw-Tooth Border Edger as a budget option. It is a manual edger that requires quite a bit of elbow grease to work. However, it is incredibly inexpensive and works well.
Hopefully, this article helped you figure out the best lawn edger to clean up your yard. Our reviews are the best place to go if you need help choosing a particular edger, while our buyer's guide explains everything you need to know about choosing the perfect model.